Ecommerce is quickly becoming a way of life. But if you're trying to get your slice of the online shopping pie, then having an effective online store is a must. And if you're using WordPress to do this, then you'll need an amazing WooCommerce Product Gallery, that will showcase your products and give your online store that extra wow-factor.
We're going to take you through everything you need to know about creating the best WooCommerce Product gallery. But first, let's take a quick look at what you'll need to get started.
If you're looking at creating a product gallery, then we can assume that you have (or are starting) an online store. There are various platforms for doing this, but if you want to use WooCommerce, then you'll need a WordPress site. WordPress is an easy-to-use solution that offers you a versatile platform for your online store.
This versatility comes mainly from the fact that you can select the plugins that you need to create your ideal ecommerce site. There are hundreds of plugins to choose from, but for ecommerce you'll probably want to use WooCommerce. You can then find other plugins that work for you, such as an image optimizer, a gallery plugin, and so on. This will give you the tools you need to not only create an online store, but also set up your WooCommerce product galleries.
Once you have your plugins installed and working, you can start creating that stunning product gallery.
WooCommerce Product Images
The first step in creating the best product gallery, is getting the best product photos. If you're a photographer or designer, and selling your own work, then this won't be a problem. But if you're selling something other than photos or artwork, then you need to ensure that your product photos stand out from the crowd.
Luckily, there are plenty of tips and helpful guides available online, like this Beginner's Guide. But one of the main things to aim for is great quality images. Your photos shouldn't be blurry, and should clearly show off your products. Try for a nice mix of product photos and ensure they are relevant to your audience.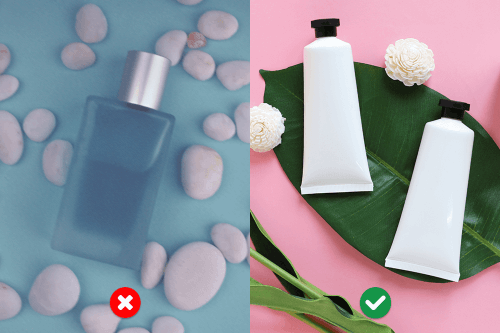 Once you have your product images, there are a few things you need to bear in mind when using these on your site. Firstly, you'll be tempted to use hi-res photos to show off your products. But very hi-res generally means very big, which often results in a slow page load. And this can mean that your customers will go elsewhere to shop.
The solution? Resize and optimize! For image-heavy websites, this is essential. Resize your images before uploading them – huge photos will take up too much space on your server and will result in a longer loading time. It is also important to use an image optimization plugin when uploading images to your site. Look for a tool that will strip unnecessary metadata from the image and compress the size, without sacrificing too much on the quality.
You may also want to consider your image dimensions. Selling products on your own site means that you aren't governed by the image size requirements of marketplaces. But if you want all images to be the same dimensions, you will probably need to edit and crop them before uploading. (Quick note: using a gallery plugin saves you this hassle, as you can set the image thumbnail size. This means that, regardless of the full-size image dimensions, your gallery thumbnails can all be uniform.)
And finally, when you upload your images, remember to include captions and alt text. A good caption can drive audience engagement and improve conversions. Alt text is also an important factor, as it helps search engines identify what is happening in an image (potentially bringing in more customers) and helps visually impaired users understand your images.
Creating a WooCommerce Product Gallery
Now that you have product images, you need to display them on your site. One of the more effective ways to do this is by using a photo gallery.
A gallery is a good idea for several reasons. Firstly, photo galleries are designed to showcase your images. When it comes to showing off your products, this is a huge benefit. The better your products or images look, the more likely you are to generate sales. Photo galleries also make use of different layouts and customizations which can help you make your product images look as good as possible.
Using a product gallery makes it easier to manage your photos. You can group and categorize your products into different galleries and use filtering within galleries to make it simpler for users to find the products they're looking for. Features like pagination and lazy loading also make it quicker for your customers to load product galleries (which makes it easier and quicker for them to purchase).
When it comes to WordPress, the easiest way to create beautiful product galleries is to use a gallery plugin. While WordPress offers a basic gallery, you'll probably need something with more advanced features. There are plenty of free gallery plugins available on WordPress.org, and these will give you a great customizable image gallery. But if you're looking to create a WooCommerce Product Gallery, then you may need a paid-for plugin.
We're going to take a more detailed look at what a product gallery is below and how you can use it to showcase your products, exploring some must-have features as we go. We'll be using FooGallery PRO Commerce as an example, as this comes with WooCommerce integration.
What is a Product Gallery?
Put simply, a product gallery is a collection of your products in the form of a photo gallery. When we talk about a WooCommerce product gallery, we're referring to a photo gallery that displays your WooCommerce products.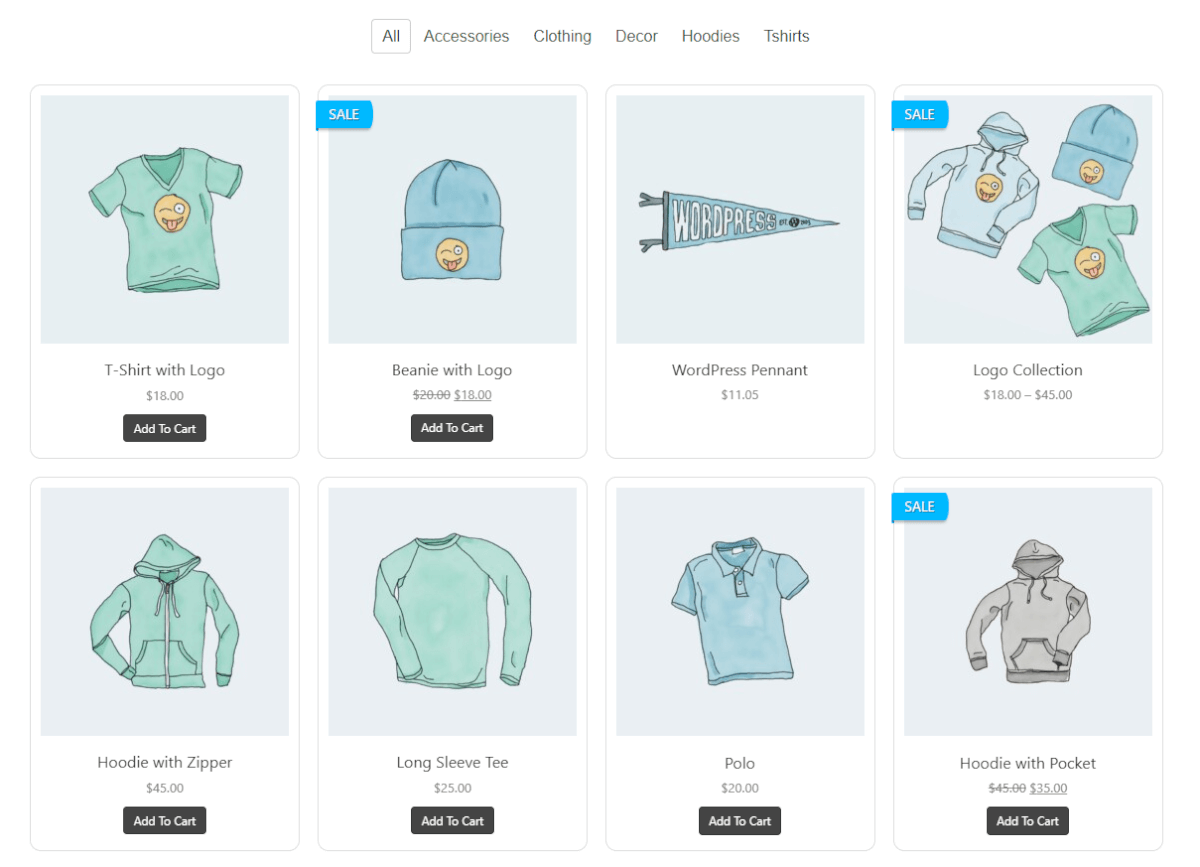 A good product gallery will not only display your products, but also give additional information about these items, include prices and make it easy for customers to add products to their WooCommerce cart. FooGallery PRO Commerce makes this easy to accomplish, as it allows you to create a dynamic gallery from your WooCommerce products. Products can be pulled directly from WooCommerce into your gallery, bringing with them all of the necessary details (and saving you from having to add this information again when creating your gallery).
Customizing Your Gallery
When setting up your gallery, you want to pay attention to its appearance. After all, you've put in the effort of taking great product photos – now you need to do them justice. For this, try a clean, clutter-free gallery that lets your products speak for themselves. You also want the ability to adjust and customize your gallery so that it works with your products and your online store.
The first thing you need to do, is find the right layout. A masonry or justified gallery might look great, but aren't as clean as a grid layout. FooGallery PRO Commerce gives you several gallery templates, including a product gallery layout. This gives you a clean, uncluttered look, and focuses on displaying the products.
You can then customize the gallery even further, adding hover effects, adjusting the size of your thumbnails, using a light or dark theme, and so on. You can add shadows, adjust the borders and make use of loaded effects. The main idea here is to create a gallery that makes your products stand out, and one that suits the look and feel of your online store.


With FooGallery PRO Commerce you also have the ability to add more elements to your WooCommerce product gallery. This includes Sale Ribbons, which highlight any items on sale or promotion. Plus you can make use of buttons, to make it even easier for customers to Add To Cart. Buttons can be added to the thumbnails and/or in the lightbox, giving you the best opportunity to make a sale.
At this stage, you can choose to make use of several other features, depending on your needs. The product gallery layout comes with frontend filtering already set up. However, if you're using a different template, then you may want to enable filtering for your product categories – this makes it easier for customers to find the items they're looking for. Enabling Search for your gallery can also help.
Depending on the size of your gallery, using pagination may be a good idea. This will allow you to split your WooCommerce product gallery into manageable pages, or you can utilise the Load More button. Doing this means that your customers don't have to load the entire gallery in one go (which is preferable for a better page speed), and makes browsing a bit easier.
Using A Lightbox With Your Product Gallery
It's always a good idea to set your gallery to open your full-size images in a lightbox when a customer clicks on one of the gallery thumbnails. This gives your customers a chance to see the product in a bit more detail, which can make all the difference when it comes to making the sale.
The FooGallery lightbox opens the fullsize images above the gallery page, allowing customers to scroll through the product images for all of the items in the gallery. The lightbox in the product gallery will also show descriptions of each item and include an Add to Cart button. And if you have product variations, these are displayed in the lightbox – we discuss this in a bit more detail below.
You can also customize the lightbox to match the theme and appearance of your gallery, creating a cohesive style for your online store.
Product Variations
With WooCommerce you can add product variations. This means that if you have the same shirt in four different colors, for example, or you have an image download in five different sizes, you can add these different options to a single product. The benefit of this is that you don't need to create separate products for each variation – which can save you a lot of time; instead you have one product with variations.
But what happens in the gallery? How do you show your customers that there are product variations? FooGallery PRO Commerce solves this problem by displaying the variations in the lightbox. For any product with more than one option, the Add To Cart button will not display on the gallery thumb – rather, customers will have to open the product in the lightbox, allowing them to choose the correct color, size or other variation.
This means that your gallery is less cluttered, but you can still offer your customers the full range of items.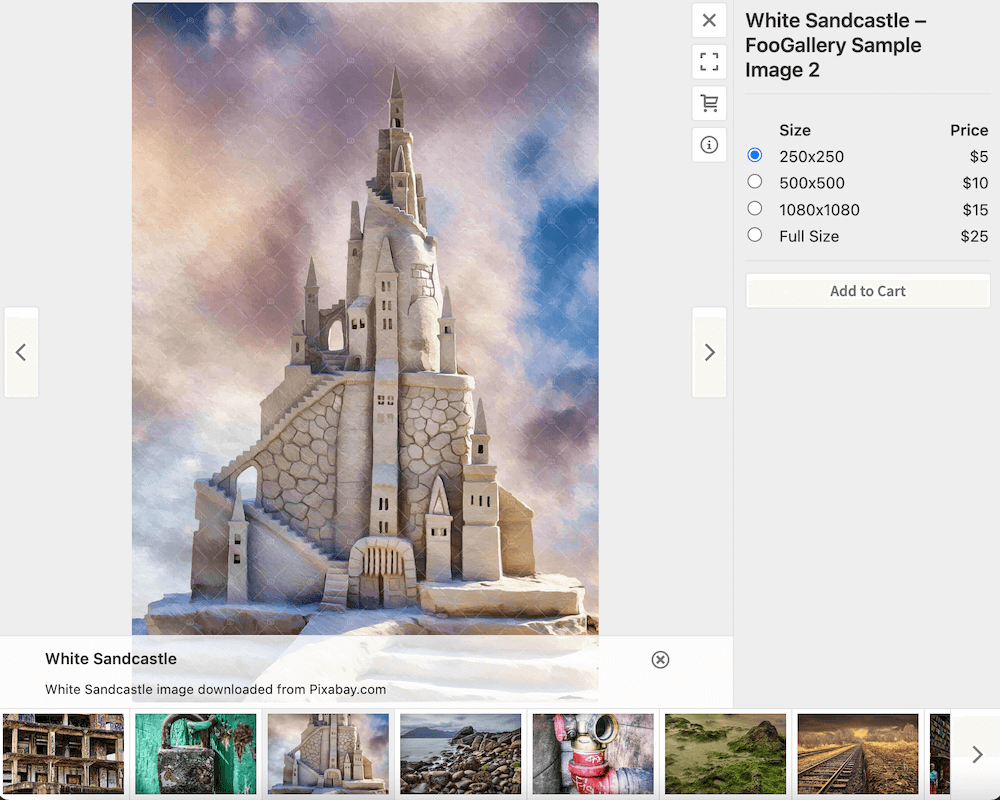 Single Product Gallery
A WooCommerce product gallery will typically display a selection of your products. But you may want to rather display several images of a single item. In this scenario, you could create a product gallery for each item and then combine your galleries into an album. In this way, you can group similar products together, while displaying multiple images for each product.
You may think that this will take a lot more time than just setting up a regular gallery. But FooGallery PRO Commerce includes a handy feature that will make this process quite a bit faster: the master gallery. With this feature you can set up a master gallery, choosing the settings and style that you want to use for all or several of your other galleries. Then, whenever you create a new gallery, you can simply set it to follow the master gallery, and it will inherit all of the settings from the master template.
Then, once you have created all of your product galleries, you can simply group these into an album, giving you the ultimate WooCommerce product gallery.
Final Thoughts
Ecommerce has become a part of our lives; but because there are so many online stores, it's essential to make yours stand out from the crowd. One way to do this is by creating stunning product galleries.
If you're using WordPress and WooCommerce for your online shop, then it makes sense to use a gallery plugin that integrates with WooCommerce. This will save you time when it comes to setting up your gallery, but will also streamline the checkout process for your customers.