Have you been looking for a Slider Revolution alternative for your WordPress website? For photographers, illustrators, and web designers crafting websites for clients, the functionality to add responsive slideshows and image galleries is a sought-after, easy way to make image-rich websites more user-friendly.
Slider Revolution is one of the most popular plugins for this functionality, especially since it's commonly bundled with WordPress themes. However, it may not be the best fit for you. In this article, we look at possible reasons why you might be looking for a Slider Revolution alternative and the top five best WordPress slider plugins on our list.
Why Should You Look for a Slider Revolution Alternative Plugin?
Slider Revolution's popularity is warranted – it's a high-quality plugin, and well-priced (especially if you only need it for one website), with a lot of flexible payment options. The main issue with Slider Revolution is that, despite the name, it's not just a slider plugin. It's far more than that and is better described as a fully-fledged visual editor for WordPress websites. It includes live editing where you can move around and customize almost every element on your web pages – templates, layers, modules, and much more. So why wouldn't you want this?
If you just want a simple way to add responsive sliders to your website, then you may find Slider Revolution's impressive interface overcomplicated and time-consuming to master. The plugin is ideal for beginner to mid-level designers, but not necessarily your average WordPress user or eCommerce site owner. You might want a more straightforward plugin with a simpler interface.
Plus, if you are already comfortable with Gutenberg or another page builder like Elementor or Divi, then Slider Revolution may feel largely redundant.
Every plugin you add to your WordPress site can add bloat and slow down your site. If you were going to use all of Slider Revolution's functionalities, then this would be a fair trade-off, but if you'd only be likely to use a fraction of Slider Revolution's capabilities, then it could make more sense to opt for a simpler, lightweight plugin.
The Top 5 Slider Revolution Alternatives for 2023
The popular plugins we list below all let you add sliders and other types of image galleries to a WordPress website and some include additional functionality that you might be interested in. We've specifically looked at plugins that we think will be easier to use for the average WordPress user than Slider Revolution. Let's run through them.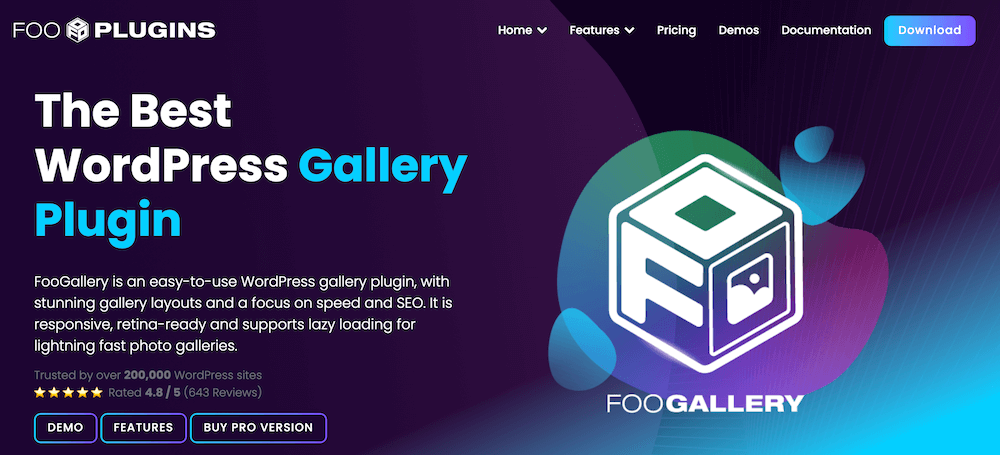 FooGallery is an easy-to-use WordPress gallery plugin with a variety of stunning gallery templates and a focus on speed and SEO. Because it provides functionality for things like watermarking images, adding EXIF data, and a lightbox, it's popular with photographers, but can also be used for a variety of scenarios where you want to display lots of images in an engaging way.
There are different plans available from FooGallery. Unlike Slider Revolution, FooGallery offers a free version, with seven gallery templates, so you can "test-drive" the plugin before you move up to a paid plan. None of these offer a Slider layout, but the Carousel gallery is probably the closest; see the different templates here. In order to create slider galleries, though, you'll at least need the FooGallery PRO Starter plan, which includes the Slider PRO template. This plan costs just $29.99 a year, making it more affordable than Revolution Slider.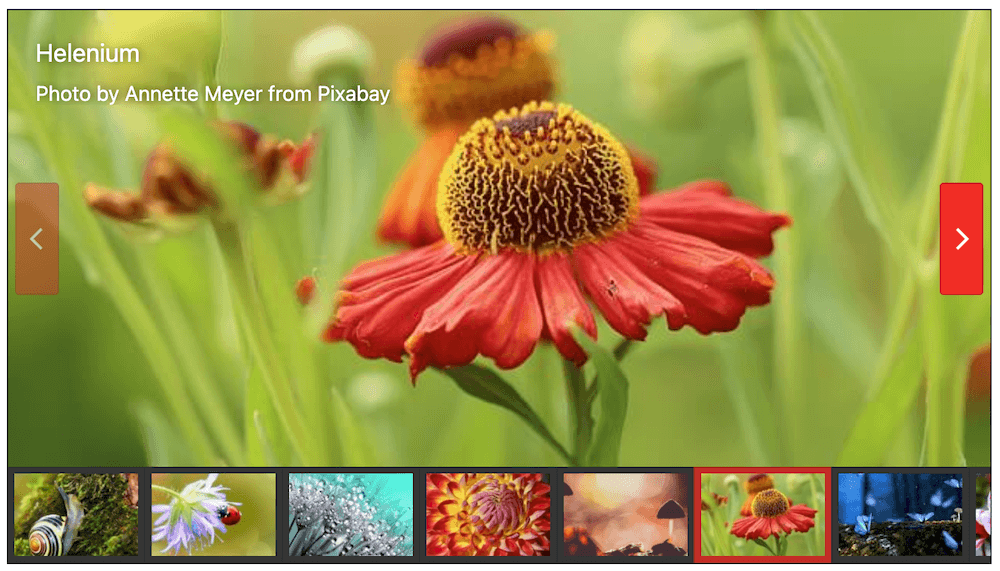 Want to make your slider galleries even more engaging? FooGallery PRO Expert lets you add videos to slider galleries, which you can import from YouTube, Vimeo, Facebook, TED, and Dailymotion. Alternatively, you can import self-hosted videos. PRO Expert has other useful features like filtering, which will make your galleries more user-friendly if they contain lots of images or videos.

Meanwhile, the premium version, FooGallery PRO Commerce, lets you add WooCommerce products to your galleries, making it easy for eCommerce customers to compare products within a slider gallery before adding them right to their cart. If you own an eCommerce store or want to sell photographs from your own site, find out how to create great WooCommerce product galleries.
Using FooGallery's Slider PRO template, you can leverage some great features and functionality:
Create horizontal or vertical sliders (the default is horizontal)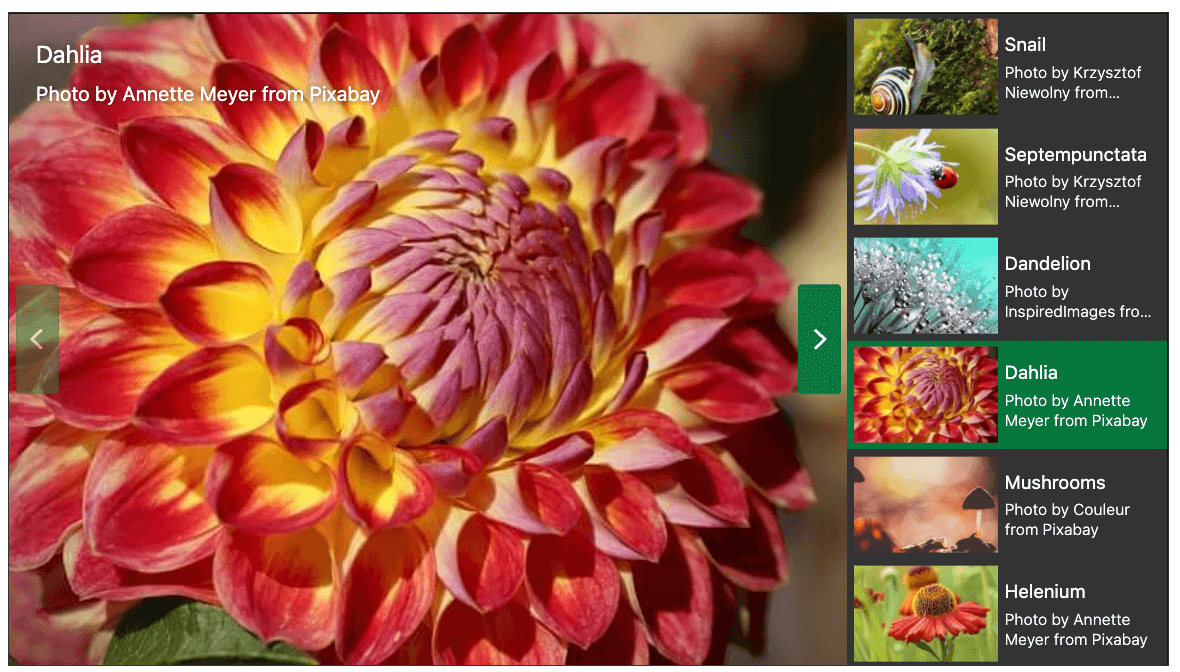 Turn the navigation buttons on or off
Choose a dark or light theme
Choose from five predefined highlight colors or use a custom color
Turn thumbnail captions on or off
Add effects to images or change the aspect ratio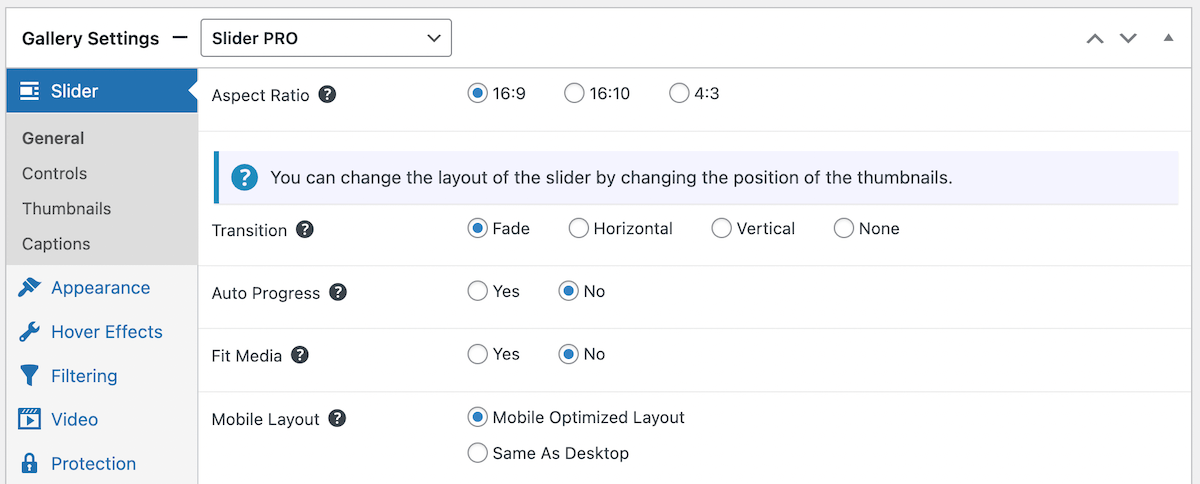 Create video galleries
Add image tabs on the side or below the viewport, making your slider galleries a great way to show step-by-step instructions (as a use case)
FooGallery's PRO plans offer a great alternative to Slider Revolution if you're looking for an advanced slider gallery plugin that's affordable and easy to use. Additionally, the plugin comes with nine other gallery options so you'll always have exciting layouts to work with when creating image galleries.


Smart Slider 3 is an obvious alternative to Slider Revolution, as it's a plugin that's dedicated to creating responsive image sliders on a WordPress website. Its interface is somewhat similar to Slider Revolution and does offer a free version – but it's very basic. Meanwhile, the Standard and Premium plans include drag-and-drop editing, live previews, functionality to add effects, and much more. They also include an astonishing 120+ templates – but you'd need to pay a minimum of $47/year to access all of them – and do you really need that many?
Smart Slider 3 comes with some intriguing features, like its Ken Burns Effect, which lets you give still images the illusion of motion through a zooming or panning effect. You can also add visual punch to your sliders by adding moving shapes and lines, dots, triangles, and polygons, with the Particle Effect.
Ultimately, this is a simpler plugin to use than Slider Revolution – but it may still feel like overkill for the average WordPress user who wants a quick and easy way of creating engaging sliders, without spending time playing with a host of features. Watch this video to get an idea of how to create a slider using Smart Slider 3.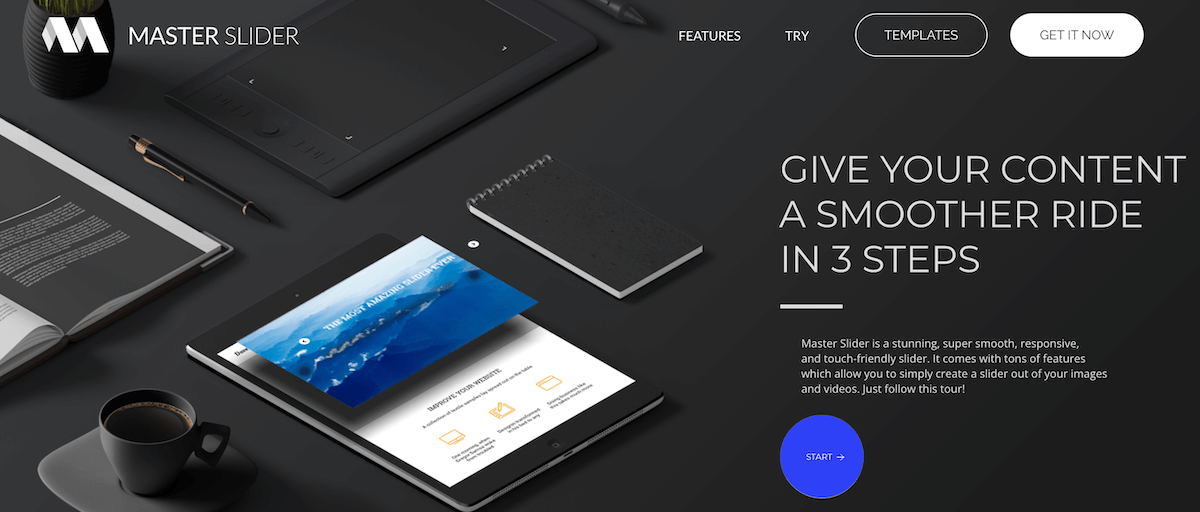 This slider plugin will be much easier for the average WordPress user to use than Slider Revolution; it has fewer editing features but 90 slider templates to choose from, which is ample. In fact, as with Smart Slider 3, it's possibly an overabundance. You would need to pay for the pro plan ($34/year) to access these templates. Compare all the features of the free and pro plans – including a standalone JQuery plan for HTML projects.
An interesting feature of Master Slider is that it lets you add multiple image layers and move them around to your liking – meaning you can add branding, text, or graphics to the initial image, making Master Slider (pro version) a useful plugin for creating slider presentations of various kinds.
We do think this is a good plugin, but also keep in mind that if you might want other types of image galleries down the line like carousel, grid, or polaroid, you may find yourself a bit limited by Master Slider.

This freemium WordPress slider plugin is popular as a Slider Revolution alternative and we can see why. It's purely focused on creating smart sliders and comes with a user-friendly interface you'll feel at home with right away – the drag-and-drop slider builder is very intuitive. It's a good plugin for creating image sliders, video sliders, product sliders, and so on.
MetaSlider builds sliders very well and gives you all the tools you need for slider optimization. It's easy enough for anyone to use but, as with Master Slider above, you may find it limiting if you want other types of image galleries to work with too. Arguably, even the single-site plan is quite expensive for what is still just slider gallery functionality. There are three different plans, with the only difference being you can license MetaSlider for one, five, or unlimited websites.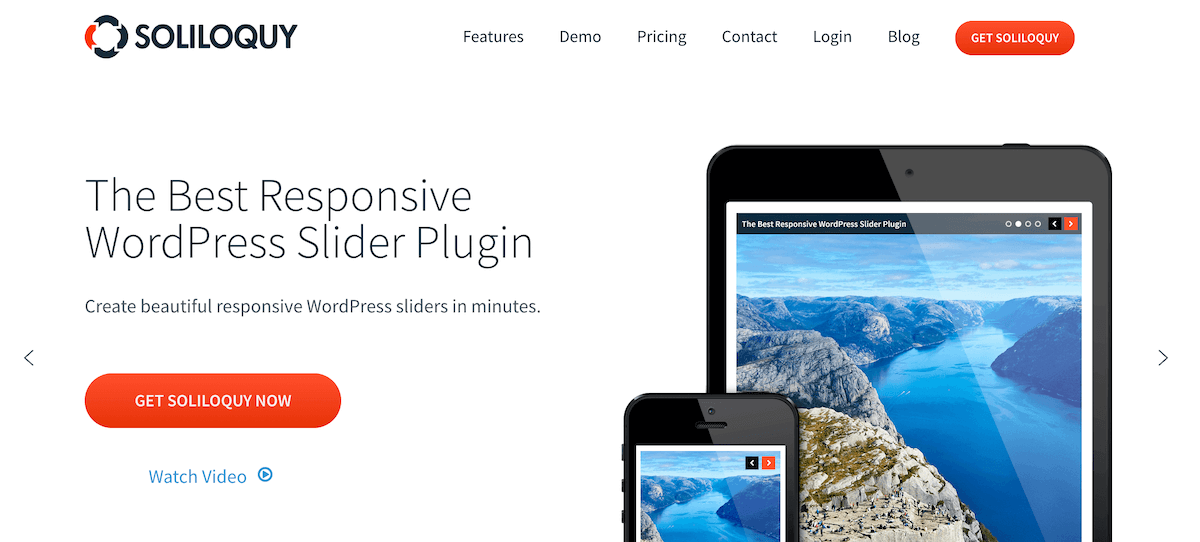 Soliloquy is a very powerful plugin with unique features like Instagram and Pinterest integration. It's also easy to use, responsive, and optimized for SEO. With this plugin, you can expect super-fast load times. These are the gallery types you can create with Soliloquy:
Carousel Slider
Featured Content Slider
Lightbox Slider
Video Slider
Slider with Captions
Slider with Transition Effects
Slider with Thumbnails
Instagram Slider
Slider Themes Demo
Custom HTML Slider Demo

The beginner plan goes for $17/year but it has extremely basic functionality. From there, the higher plans get expensive and, if you even want some basic extras like a carousel layout or WooCommerce integration, you would need to pay for the Developer plan which costs $89/year. By comparison, FooGallery PRO Starter, at $29/year, is much more affordable.
And the Best Slider Revolution Alternative is … FooGallery PRO
What's our reasoning?
Slider Revolution, while being a great smart slider plugin, may feel too over complicated if you're an everyday WordPress user looking for a quick and easy way of adding sliders – or other image or video galleries – to your website.
Smart Slider 3 is equally impressive but likewise comes with more functionality, features, and templates than you're really likely to need. Master Slider is an excellent plugin for sliders – but not a right fit if you want to have the option of building other types of galleries besides sliders. The same goes for Meta Slider. Soliloquy is a versatile and impressive plugin but the higher-tier plans are expensive.
This makes FooGallery PRO the best option on our list, as it lets you create slider galleries very easily, and, depending on the plan you choose, you can embed videos and even WooCommerce products for eCommerce purposes. It's also a great option because it includes nine other gallery layouts that are just as easy to configure, meaning it's not limited purely to sliders, as some of the other plugins are.
At just $29.99 per year, FooGallery PRO Starter delivers winning value for money, giving you all of the following features, and more:
Unlimited galleries
Stunning pre-made templates
Instant gallery previews
Password protection for galleries and albums
Drag and drop reordering of images and galleries
Lazy loading
Simple pagination (dots)
Custom CSS for both galleries and albums
Improved CLS performance
Slider PRO Template
Grid PRO Template
Polaroid PRO Template
Built-in PRO Lightbox
PRO Hover Effects (hover presets)
PRO customizations (thumb filters)
Ready to start building engaging yet simple slider galleries and more? Then get started with FooGallery PRO Starter – and feel free to get in touch with any feedback, comments, or queries. Thanks for reading!