If you've been trying to sell photos online but feel like you're not having much success, or you're just starting to pursue a passive income online, this article should help you to unlock the income potential of selling photographs online.
To get you started, we're going to look at where to sell photos online. There are plenty of options, so we'll take a closer look at the best platforms to choose from, including your own WordPress site. Having your own site is preferable for a number of reasons, so keep reading to find out how you can make the most of this.
And then, we'll take you through the tools, best practices, and top tips that you'll need to start selling your photos online.
Choosing The Right Online Platform To Sell Photos
There are plenty of platforms available to professional photographers, or beginners, who want to sell their images. These include stock photography sites like Shutterstock, eCommerce platforms like Etsy, or, as many photographers choose to do, you can set up your own website using WordPress.
There are advantages and disadvantages to all these routes. For example, when selling via stock photography sites, you get to benefit from their wide market reach and marketing efforts – but when you sell, you pay a commission. So let's take a look at 10 different options in a bit more detail; this will give you a better idea of the right choice for you.
Stock Photography Sites
A stock photo site is essentially an online marketplace where you can make money selling your own quality images, but you do so under the terms of the site. In other words, images will have to meet specific requirements, and you will pay a commission for selling them via the site. Here are a few popular options:

Adobe Stock is free to use and you keep the rights when you upload photos. But there are a number of conditions: all of your content will be reviewed before it is accepted on Adobe to ensure that it meets the requirements (such as high quality, keyword accuracy, legal standard, and commercial value). You'll also need signed model releases for any images of recognizable people or release forms for private properties.
The other point to note is that the royalties that you earn start at 33%. And you can only request payment after you reach at least $25 in royalties, and at least 45 days have passed since you first sold an asset.

Shutterstock is another popular platform from which you can sell your images. Again, you need to have full ownership or copyright of the images before you can sell them, and you'll need release forms for any models, private property, artwork, trademarks, and so on, that are featured in your images.
While you retain ownership of all of your images, you also enter into an agreement with Shutterstock, giving them permission to use your images. Your account will be regulated to ensure that you follow the guidelines and adhere to regulations such as using relevant keywords.
The royalty payouts work on levels, which are based on the number of image licenses you sell. You start at level 1, which is 15%, for up to 100 image licenses. From 101 to 250 licenses, you get 20%, and so on until you get 40% for over 25 000 licenses. Videos work in a similar way, although the number of licenses differs for each level. And you only start getting paid out when your payout rate is at least $35.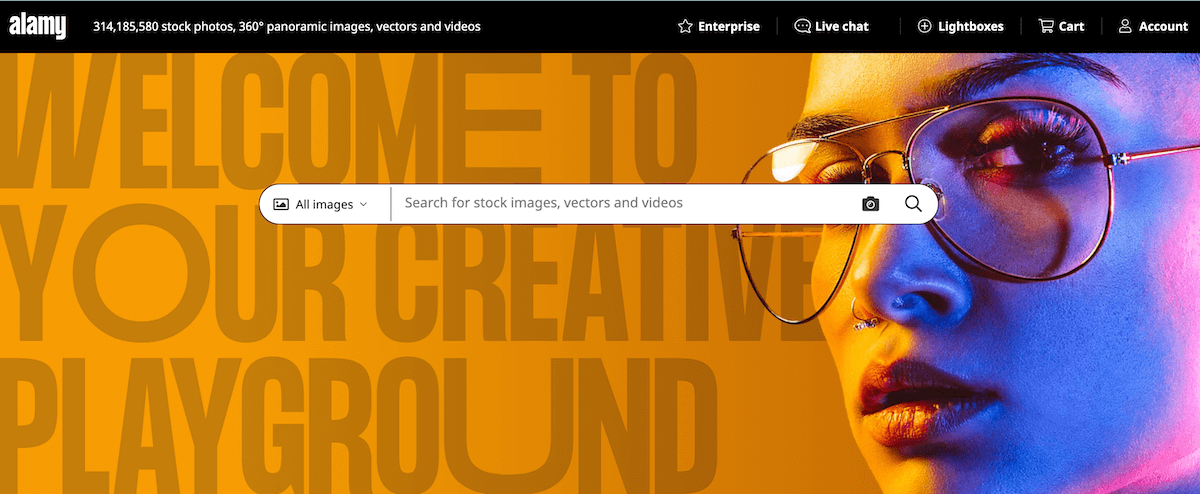 With Alamy, you can sell stock photos, panoramic shots, vectors, and videos. Your contract allows you to submit content that meets Alamy's requirements, and then have Alamy sell this for you. But you do have control over your submissions, with Alamy saying they won't be edited.
Their commission ranges from 20% to 50% depending on the tier you are on, and students could earn up to 100% commission for 2 years "for any direct image license sold on Alamy". However, Alamy is entitled to set the sale price of your content.

iStock bills itself as a site created by creatives for creatives. So it's looking for a range of photos and videos that its customers can use to create their visuals. As it is a part of Getty Images, the selling requirements and payment structure are the same. Take a look below.

Getty Images boasts more than 800 000 users, giving you a wide audience to whom you can sell your photos or videos. But to do so, you first need to apply by uploading original content via their app. If you then get accepted, you'll be sent a non-exclusive agreement to get started.
If you do become a contributor, your content could be shown on both Getty Images and iStock (see above). Royalties can be between 15% and 45% on licenses sold, with the opportunity to earn higher commissions when you become an exclusive contributor. You keep the copyright to all of your content.
As you can see, while there is plenty of opportunity to submit photos, it may take a while to start earning. And while there is the potential to earn quite a bit, there is also a lot of competition. So to make money, you'll need to sell a lot of stock images.
Photography-Sharing Platforms
These sites are different from your usual stock photo website as any photographer can join and build their portfolio, without having to get approved first. However, they still take a commission on whatever you sell, and you will have to 'compete' with other photographers who may have more visibility on these platforms.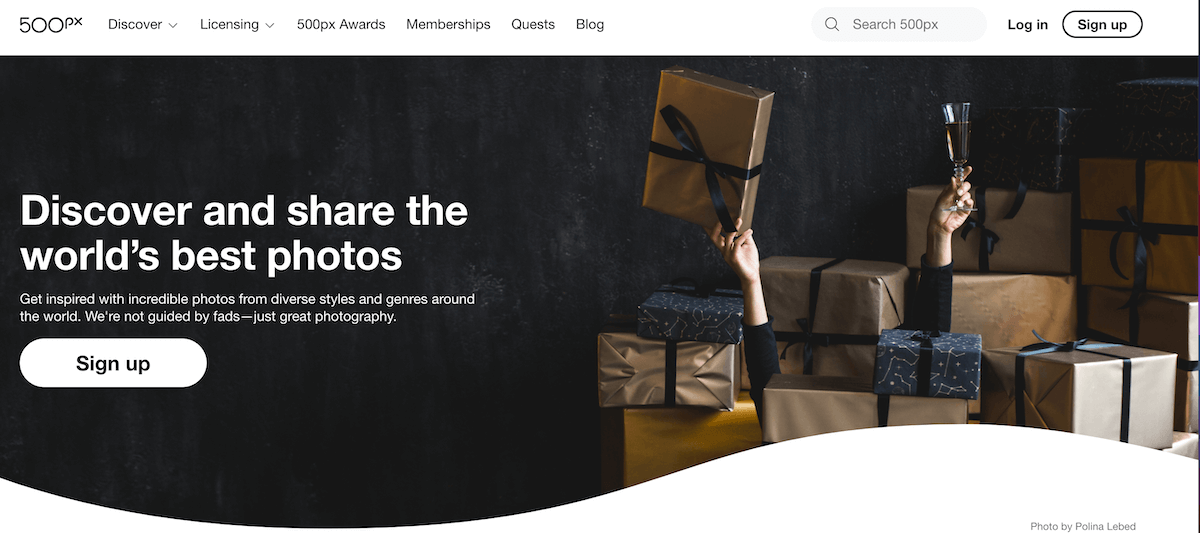 With 500px, joining up and getting started seems like a simple process – download an app and start marketing yourself as a professional photographer. You will also get royalties from what you sell, but the higher-end royalties only come when you license exclusively with 500px. The community also boasts 16 million users, so standing out will take some work.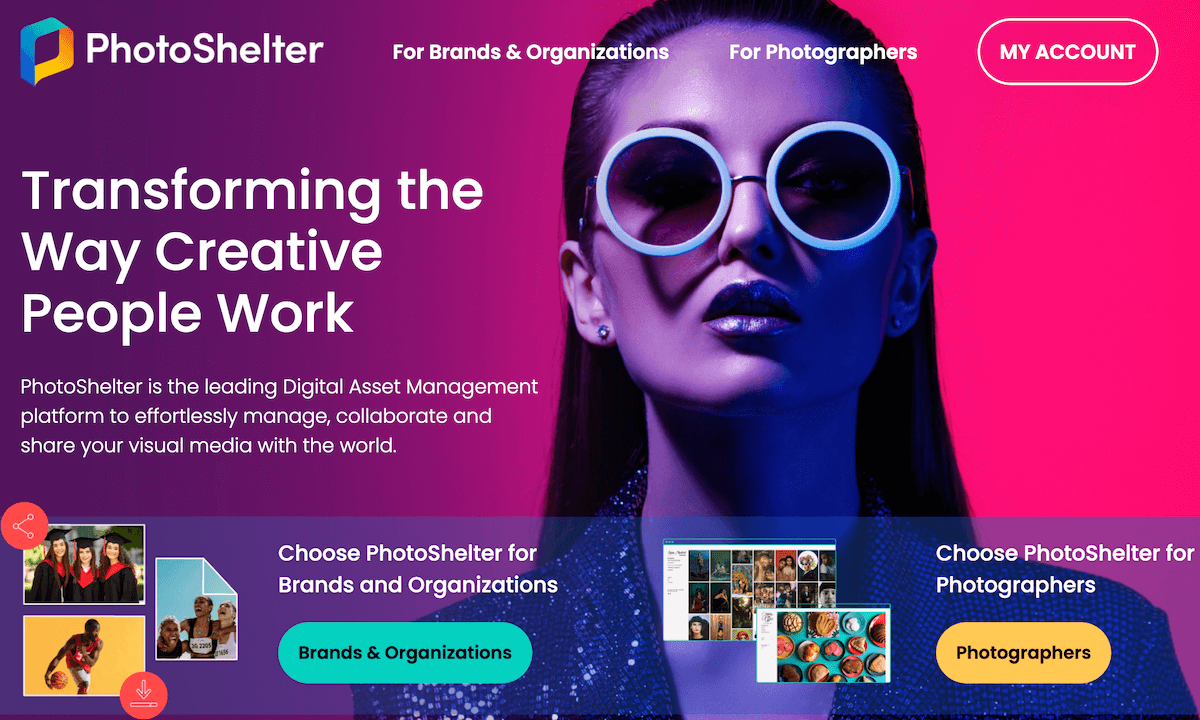 PhotoShelter is a cloud-based platform from which photographers can store, promote and sell their work. Photographers can create a portfolio, price and sell prints or image licenses, and deliver files to customers securely. But portfolios are limited to the features and cloud storage provided, determined by the plan you take. Each subscription tier will come at a set cost, with additional fees being applied when necessary.
Ecommerce Platforms
Another option is to sell your photos on popular eCommerce platforms. As with previous platforms, there will be costs, such as monthly fees to run your store and a fee on every transaction. There's also the added disadvantage that many shoppers on these sites may not be looking for photos, so the potential audience is quite narrow.
If you decide to go this route, here are some options:

Etsy is a worldwide online marketplace, where vendors can sell creative goods. Joining Etsy is free, but there are fees for listing and selling items. Once you've signed up, you can sell a range of items, including your photos. But while it is versatile and user-friendly, you may struggle to find an audience dedicated to photography.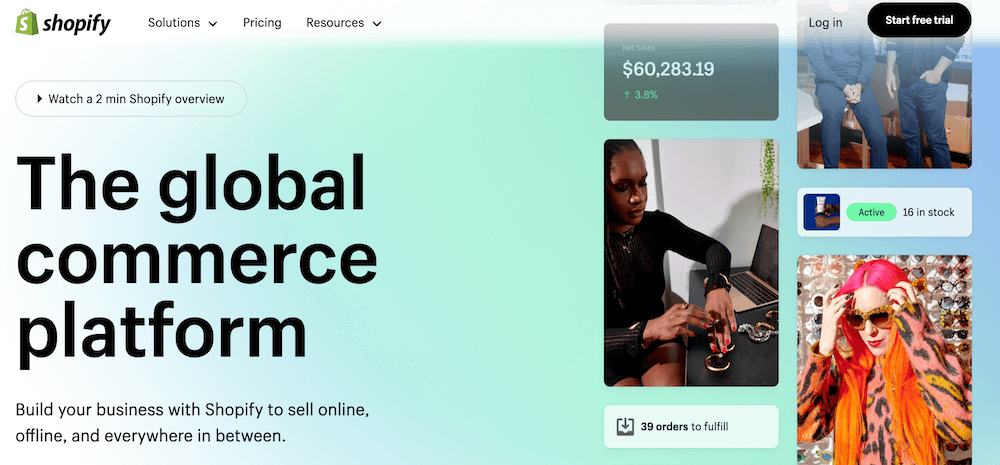 Whereas Etsy is a marketplace-style hub where you can sell your products, you can use Shopify to create your own eCommerce website. The costs to use Shopify vary significantly, though you'll likely only need the most basic features that come with the Starter plan. Upgrading to a higher plan probably won't be worth it for your particular needs, but you'll be missing out on a few important features such as advanced reporting.
Your Own WordPress Site
Your final option (number 10), which is the one we recommend, is to set up your own WordPress site. WordPress sites are affordable to set up – you just need a managed WordPress host, a good theme, and a few plugins. You'll pay for most of these as annual or yearly fees, which are usually very reasonable.
Best of all, you have full ownership over your website and your content, and you won't have to pay any commission fees on any photos you sell. Plus you can set your own prices, unlike many of the platforms you've already discussed where you need to adhere to their pricing rules.
One slight drawback is that you won't have any help with distribution or marketing, but because WordPress is a very SEO-friendly platform you can try to make your content rank so that people find your photos.
When it comes to displaying your images, you'll want to use a performance-optimized gallery plugin like FooGallery. This is an essential plugin for photographers as it lets you set up stunning image galleries anywhere on your website.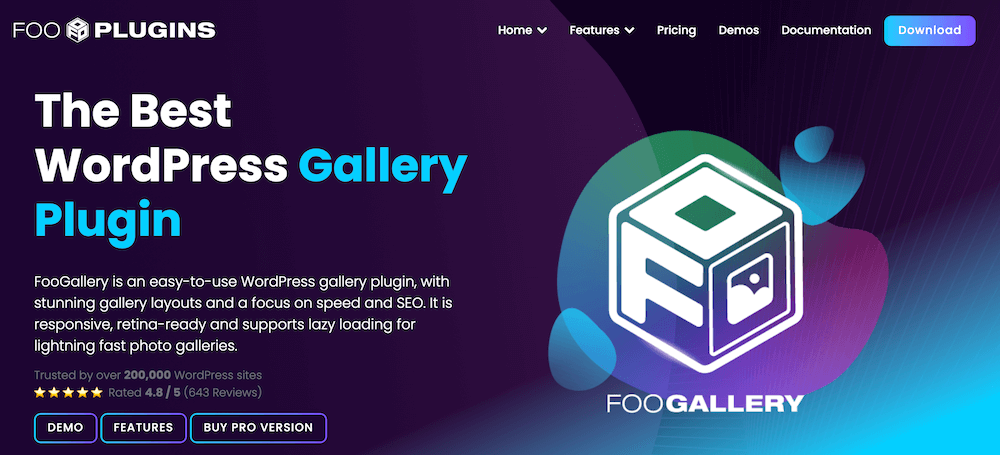 FooGallery comes with all the layouts and customizations you need to show off your images. Apart from adjusting the look of your gallery, you also have access to some really useful features like pagination, frontend gallery filtering, and search. FooGallery is also optimized to ensure optimal performance.
There are 10 gallery templates available in the PRO plans, along with an additional product gallery layout in FooGallery PRO Commerce. This is the plan that we recommend for anyone wanting to sell products on their WordPress site. FooGallery PRO Commerce integrates with WooCommerce, so you can sell your photos directly from your gallery.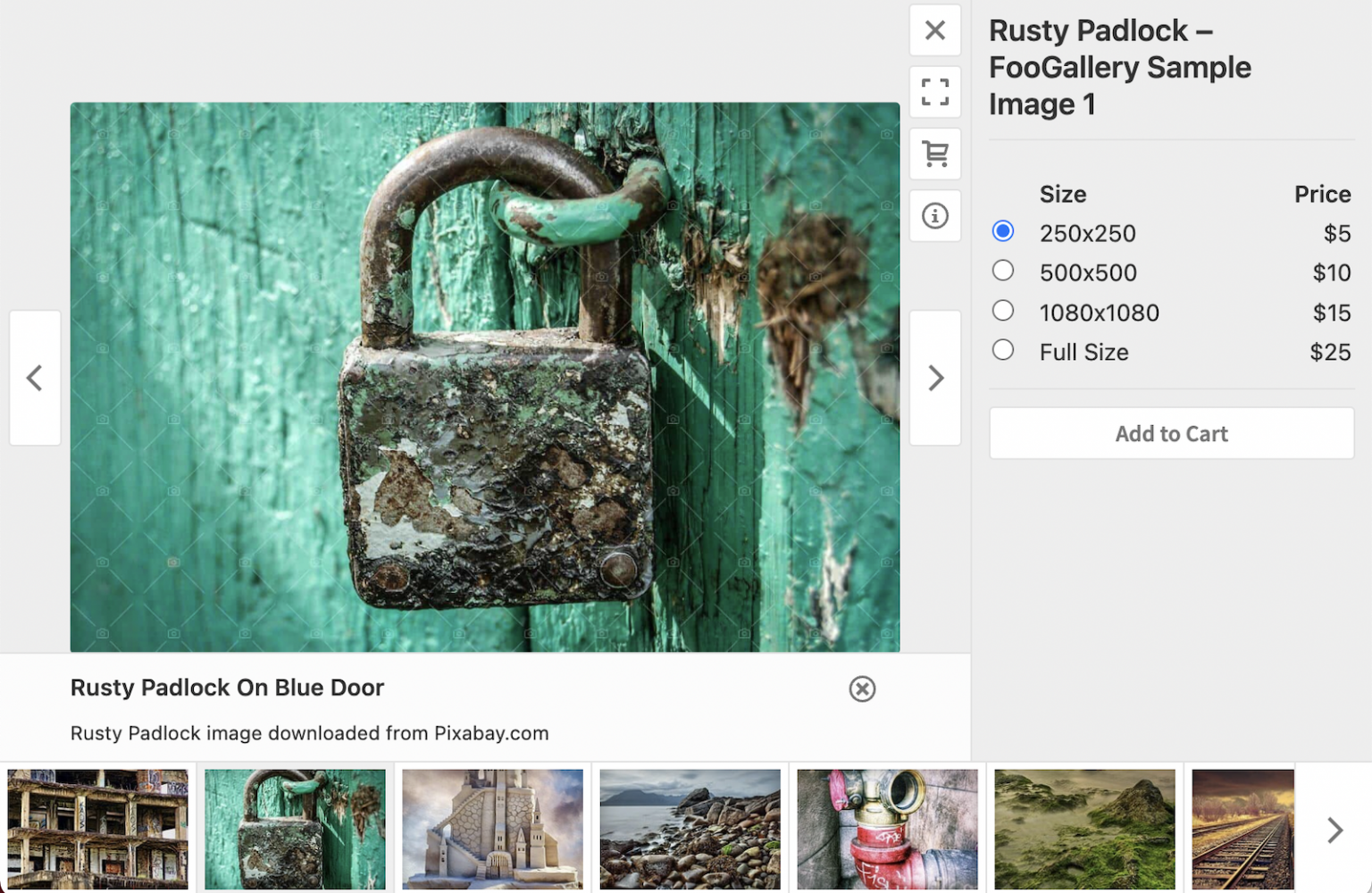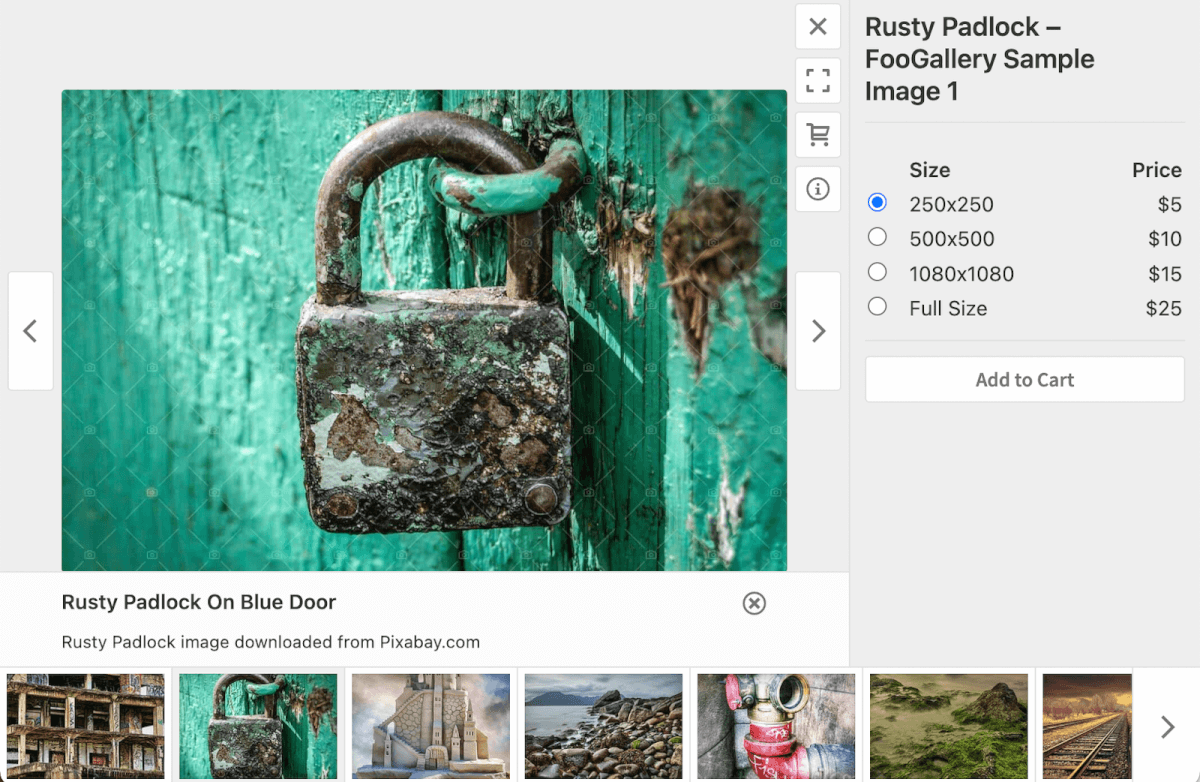 Additionally, the plugin allows you to include Add to Cart buttons (or CTA's) on your gallery thumbs and/or in the lightbox. You can also add ribbons to your gallery images, and use watermarking to protect your photos. Plus, if you're selling photos, the Master Product allows you to set up a single product and link gallery items to this, saving you hours of time. In short, FooGallery PRO Commerce is an essential tool when it comes to eCommerce.
Top Tips For Selling Photos Online
Looking at all of the options above, it's clear that using your own WordPress site is probably the most beneficial way to make money in the long run. You have more control over how and what you sell, and you're not limited by marketplace requirements or hefty commissions.
To help you make the most of your WordPress site, we've put together some of our top tips:
Defining A Niche For Your Photography
As a photographer, you probably have a particular passion – for photographing people, nature, architecture, or something else. It's a good idea to build your reputation as a photographer specializing in one area, because customers will know to come back to you for similar work in the future, and it's a good way to stand out from other, more generic photographers.
For example, being a nature photographer is a broad field. But perhaps you have a passion for macro or micro photography. Or maybe you specialize in long-exposure shots of waterfalls. By defining your niche, it's more likely that you'll build an audience of people who are interested in the exact kind of photography you sell.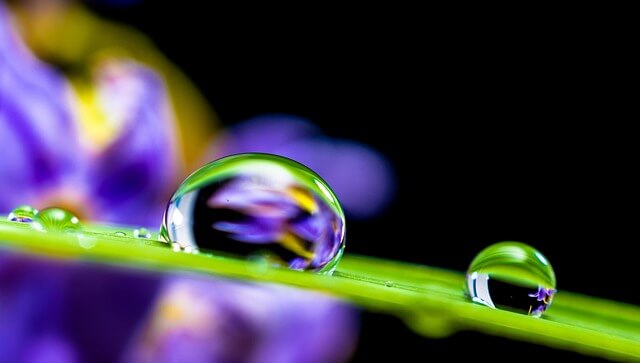 Another strategy is to align your passion with what the market wants to buy at a particular time, and that's changeable – for example, did you notice how many images popped up in 2022 featuring the national colors of Ukraine? During the COVID-19 pandemic, people wearing facemasks were in demand. You can use tools like Keywords Everywhere or SEMrush to research what people are looking for online.
By contrast, there are some classic photographic themes. Just take a look at some of Shutterstock's top-selling photos. You may be surprised by how unremarkable a lot of these images are, but there is clearly a common need for brands to visually articulate everyday activities like buying a car, buying a house, or shopping online.
If you can manage to align your niche passion with market demand, you'll be off to a good start.
Installing The Right Tools To Sell Photos Online
Once you've built a functional WordPress site, you'll likely need some additional digital tools – or "plugins" – to both display and sell your photos more effectively. There are thousands of plugins available for WordPress but we recommend you focus on the three biggest assets for selling photos online: a gallery, a lightbox, and eCommerce functionality.
First, you'll need a digital gallery. A website gallery lets you display your images in their best light, makes images scrollable and mobile-friendly, and lets you add supporting information to all of your photos.
FooGallery PRO Commerce is the ideal plugin for this, particularly because it integrates with WooCommerce (another essential plugin for an online store). This makes it easier to set up and sell images directly from your gallery. With the WooCommerce integration, customers can add photos to their carts from the gallery itself, making it easier for them to complete a purchase.
Then you would benefit from installing a lightbox (for this we recommend FooBox), which will give you the functionality to display your gallery photos (as well as other important website elements, like capture forms or important announcements) without other website content distracting the viewer.
Below is an example of a gallery that uses a lightbox – built with FooGallery and FooBox. If you click on one of the images, you'll see how the lightbox works!
Finally, you want your customers, wherever they are in the world, to be able to buy your digital photos effortlessly, which means having eCommerce functionality on your site. WooCommerce will provide you with the basics, but you may find that you need one or two of the WooCommerce extension plugins, for invoices, payment gateways, and so on.
Note: If you plan on doing a lot of photo editing before you upload photos to your website, consider installing photo editing software like Photoshop or Adobe Lightroom on your desktop. You can upload images directly from Lightroom to WordPress.
Protecting (And Respecting) Legal Rights Online
Allow us to state upfront that the following is by no means official legal advice; we're techies, not barristers. This section provides a general overview of legal factors you will need to consider if you want to sell photos online. It's important to do your own research or consult a legal practitioner to ensure you have clarity on your rights, as well as on how the rights of others might affect your work.
The most important thing to know, whether you are selling digital images from your website or from stock libraries, is that you should license your photos for different purposes so that you are not taken advantage of. Even when you put your photos on a free stock photography website like Pixabay, they need to indicate licensing. Some common types of image licenses:
Commercial use This allows users to use your photos in their marketing and advertising efforts.
Retail use Users can use your photos in the production of physical retail items – like coffee mugs and tote bags.
Editorial use This permits the use of your photos in newspapers, blogs, magazines, and similar publications – but not in any form of advertising.
Exclusive rights This will give an exclusive image license to an individual who purchases the photo, meaning they'll be the only person allowed to use it. Naturally, you would charge more for such a photo, since you will only sell it once.
Rights managed Customers can buy one-time licenses to use a photo, with restrictions on how they distribute the image (e.g., digital-only, no print). Further use requires additional licenses.
Creative Commons This means your photo can be used for free, but with provisos. For example, you might require users to credit you as the photographer.
Royalty free Users can use the photo for any purpose they want.
Public domain These photos have no copyright claim and can be used for any purpose, by anyone. You are unlikely to use this one.
When you caption your photos in your website galleries, you can add the relevant license type in the caption field. You could also create galleries specifically housing differently licensed photos, or add a gallery search filter for commercial, editorial, or other kinds of licensed images.
The different licenses you denote will affect how much you can reasonably charge for your photos, so do a bit of research on pricing strategies.
Of course, there are legal aspects for you to follow, too …
For example, right of publicity. This means that, when you take photos of people, they will have the right to determine how those images are used. You'll need to get their "right of publicity" before selling these photos. They need to know that you intend to sell their image, and for what purpose, and they need to sign an agreement. If you are unsure of how to draw up the relevant paperwork, ask a seasoned portrait photographer what they use for model releases.
In a similar way, if you photograph identifiable property – establishments, homes, restaurants, or even privately-owned plots of land – you need to get a property release form – even when they are considered public spaces, like parks or shopping malls.
Be careful if your photos contain work that might be protected by copyright themselves, such as if you take a picture of a painting or sculpture in a gallery.
If third parties commission you to take photographs – weddings, conferences et al.- you cannot use them for commercial purposes, and you should make sure the third party is happy for you to display those photos on your website or social media platforms.
Marketing Your Photos Online
There are several ways to market your high-quality photos and stimulate online sales. A simple one is to run limited-duration sales for customers, to create a bit of urgency. There are many plugins that will allow you to add sale or special offer announcements, banners, countdown clocks, and CTAs to your website galleries (you might like to try FooBar, our notification bar plugin).
Social media can play a central role in your marketing, and you should consider how best to use the different platforms. Instagram is a great place to post your most visually striking images, Facebook could be the most suitable for things like family portraits or wedding photos (just remember the right of publicity) and LinkedIn would be a good place to promote your more commercial images (a couple buying a car) or formal portraits. Twitter is great for humorous images. All of these platforms allow you to boost or sponsor posts and set them to target a relevant market.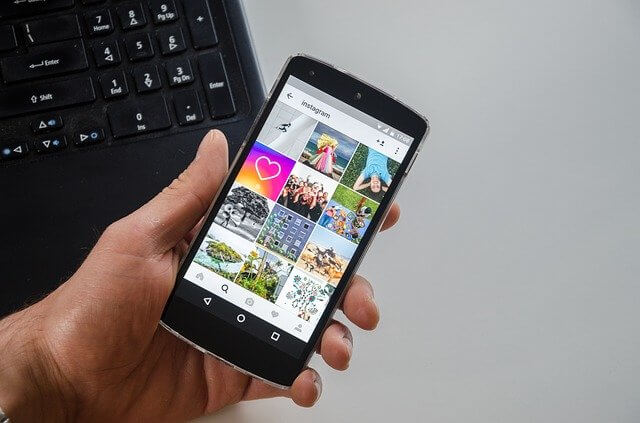 Blogging is a way you can give the market insight into how you approach the craft of photography, instilling your photos with more value. True photography connoisseurs will appreciate insights into the way you work and what sets you apart from other photographers. You could also write tutorials on certain subjects, themes, or styles of photography.
Your blog posts can be adapted into both social media posts and emailers to your growing email database. Email is a great way to build a captive audience and remind them about your work on a regular basis.
Finally, testimonials from previous happy customers are a great way to build respect for your work – never be afraid to ask a satisfied buyer for a quick line or two for a testimonial, which you can put on your website and social media platforms.
This article about photography marketing goes into a bit more detail about the different marketing strategies you can take.
Adopt SEO Practices
Lastly, it's important not to forget about your SEO (Search Engine Optimization). Doing simple things like optimizing your photo descriptions and adding relevant keywords can give your WordPress site a better chance of ranking. One way to do this is to customize your captions.
FooGallery allows you to add captions, descriptions, alt text, and a title to all of your images, which is an invaluable SEO practice. With FooGallery PRO you can also customize your captions – this feature pulls captions from available fields, so you can add more effective descriptions, links, pricing, and so on to your photos. While this is helpful for your customers, it also gives search engines a better understanding of your content, which can help improve your ranking.
FooGallery has also been optimized to reduce page load times and improve Core Web Vital scores. Plus it integrates with popular SEO plugins to ensure images are included in your sitemap. But it's also a good idea to use an image optimization plugin, caching and even a CDN to improve page load times. Here are some plugins that could help you with SEO performance, file caching or other important aspects of your site.
Sell Photos On Your WordPress Site Today
It's not easy to make money online by selling photos, as there is a lot of competition. But from all the platforms we've discussed, we think WordPress is the best option. It gives you full ownership of your photos and sales. You don't need to compete with other photographers, and by keeping our top tips in mind you'll have a better chance of increasing your online presence and sales.
Having the best tools in place will make your life a lot easier. FooGallery is an essential plugin if you want to have a great-looking image gallery on WordPress, especially as you can integrate with WooCommerce to sell your photos directly from your gallery.
So try out FooGallery today to start selling your photos on WordPress!