Yes, but with qualification.
As a professional photographer, or anyone selling images online, watermarking is a good protective measure against the theft of your intellectual property – but it is not something that you should use all of the time, and there are best practices to follow when you watermark images.
Watermarking In A Nutshell
Watermarking, which means adding a copyright sign or logo to an image, is not a new practice. Remember the good old "print" days, when photographers would send or hand you prints with the word "copy" or "proof" all over them? Then you would order the prints you want and they would produce clean prints for you with the words removed (you may be a millennial, of course, but that is how things were done back then).
Nowadays, most photographers have moved their portfolios online and those who watermark images do so digitally; adding text, a logo or a symbol onto images as a way of preventing internet users from stealing them.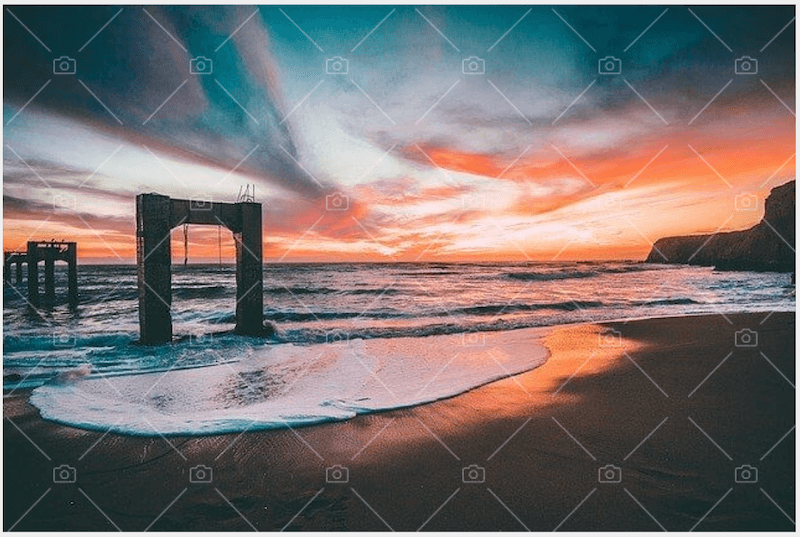 The Great Watermarking Divide
There are many photographers who avoid watermarking, for a number of reasons:
Photography is about aesthetics and splashing a large watermark across a stunning image of an iceberg or badger goes against that fundamental; it's an eyesore that could lower viewers' appreciation of the image.
However, make a watermark too small – like adding a small © to the corner or border of the photograph – and there is a risk that someone could crop or Photoshop it out.
Watermarking may deter other websites from featuring/backlinking to your gallery images, preferring to display clean images. This can dent your site's SEO.
If you use your company logo as a watermark, then one day update your logo, you will have to go back through all of your old images and update their watermark.
Watermarking does not guarantee 100% image protection – some digital thieves may have tools and tactics for getting around it if they are patient and determined.
On the other hand:
Watermarking can elevate your personal brand, with Internet users coming to associate your watermark/brand with a specific genre or style of photography. In an online environment saturated with a flood of imagery, this can prove useful. Think of the watermark as your artistic "signature" (it can even take the form of your signature).
When you watermark images, it may encourage internet users to search out your website in a quest to view more of your work, especially when your images get shared around social media platforms, photography groups, etc.
When best practices are followed and watermarking is used in tandem with additional protective measures, it is a fairly strong way of protecting what's yours.
When To Watermark Images – Or Not
We examined the issue of watermarking in an earlier blog a couple of years ago, and our viewpoint from then stands: you should watermark, but you needn't watermark all of your images. For instance, online images that are small enough or low-resolution enough that nobody would realistically see the value in stealing them don't need to be watermarked. Watermarking should be reserved for your most precious large-size, high-quality images.
Easy Watermarking Solutions
Using the right digital tools is the best way to add "quality" watermarks to your images before you upload them to your site, and there are a lot of them out there. You can look into tools like Adobe Photoshop, Watermark, cheap-as-chips Watermarquee or Watermarkly, which is free to cheap.
When selling images from a WordPress website specifically, look no further than our FooGallery PRO Commerce plugin, which comes with in-built functionality to add a professional watermark to your images; whether a watermark design from our library (see below) or one you create yourself (for example with Adobe Creative Cloud Express).

To save you time, the watermark is applied to all images in a selected gallery at a gallery-level, rather than you having to apply it to each individual image as or before you upload it. You should therefore house all images you want to watermark in the same gallery/galleries.
The watermark only appears on full-size images which website visitors open in the lightbox; it will not be visible on the gallery image thumbnails. Depending on your settings, you can choose to show a singular watermark, or you can repeat it across the image.
As an added security measure, PRO Commerce also includes the option of right-click image protection for your galleries, so that the only way visitors can view high-res full-size images is in your gallery lightbox, where they will be watermarked.
It may be worthwhile, for your most valuable images, to go a step further every now and then. There are tools you can use to search the internet for your images, see who exactly is using them, and assess whether they are doing so legally. Look at Google Reverse Image Search, duplichecker or Tineye.
Some Watermarking Tips
If you do decide to watermark images in your WordPress gallery, then there are a few things to remember:
Always make the watermark the right size. If it is too big it will destroy the appeal of your images. If it is too small no one will see it, or it will be easier to remove. It is ideal for the watermark to be around 1/16th the size of the image.
Avoid placing your watermark across the entire image. It's always better to place it in a corner or in the border where it will make the least "noise". However, you may want to replicate sites like iStockPhoto who repeat the watermark on their images – if you do this, copy suit and keep the watermark fairly transparent.
Watermarks should have little or no colour to them and be neat and simple if graphic. If text, legible.
They should be semi-transparent, to let more of the image show through.
A lot of people say that the best way to protect your images is simply to not put them online. Yet in the age of ecommerce that's simply impractical. However, you can professionally watermark images and add right-click protection with FooGallery PRO Commerce. This, together with some occasional sleuth work in your browser's search box, and you should be able to keep your images in the right (paying) hands.