Are you worried about Internet users stealing original images of your photographs, art, or WooCommerce products? Then adding watermarks to your images is a good countermeasure to take.
The risk of people infringing on image copyright is higher than you may think. A 2019 report by Copytrack showed that 3 billion images were shared every day – and that 85% of them were unlicensed. It's important to protect your work online so that no one tries to pass off your photos, art, or WooCommerce products as their own. Fortunately, watermarks are an easy way to protect your images from being used without permission. They can also be used to add copyright information, brand logos, or customized messaging to your images.

By installing a quality plugin to your WordPress website, you can add watermarks automatically to your images when you upload them, for instant peace of mind. In this article, we'll explore our top 6 WordPress watermark plugins and show you how to use our favorite one.
Who Would Benefit From a WordPress Watermark Plugin?
Anyone who doesn't want images stolen from their WordPress website would benefit from a watermark plugin, but there are two specific scenarios in which watermarking is important:
Photographers or artists who sell their visual content online should definitely install a watermark plugin. Imagine you're a wedding photographer and a wedding photographer from another country steals your images to populate their own online portfolio, effectively profiting off your work. It can be extremely hard to act against someone who is profiting off your own images (although there are platforms like Pixsy that can help you fight image theft).
It's really important for online businesses to watermark their product images. If you have a WooCommerce store with high-quality images of your products, an online scammer might steal your images and use them to market cheap, low-quality goods in the same product category – or to con people out of their money altogether, through a fake online storefront.
As a photographer or artist, tasteful watermarking can elevate your personal brand, with Internet users coming to associate your watermark/brand with a specific genre or style of photography or illustration. In an online environment saturated with images, this can prove valuable. Think of the watermark as your artistic "signature" online (it can even take the form of your actual signature).
When you watermark images, it may encourage Internet users to search out your website in a quest to view more of your work, especially when your images get shared around social media platforms, photography groups, etc.
When best practices are followed and watermarking is used in tandem with additional protective measures like image right-click prevention, it is a good solution for protecting your intellectual property.
You may be concerned that adding watermarks to your images will cheapen them or disrupt their composition but, in reality, it's quite possible to add watermarks that are subtle and unobtrusive, while rendering your images unusable for other people. If you're deciding if you want to go down this route, check out our earlier article which discusses when you should or shouldn't watermark your images, best practices for watermarking, and more.
Our Top 6 WordPress Watermark Plugins
There are both free and paid plugins for watermarking images on WordPress sites and we'd be remiss not to include some of the best free plugins, as options. Yet while these are fine for basic watermarking purposes, you may prefer to install an all-in-one gallery plugin if you want watermarking functionality within a broader suite of features for optimal image display, gallery customisation and image protection. Let's go through the list of our six plugins with watermark functionality.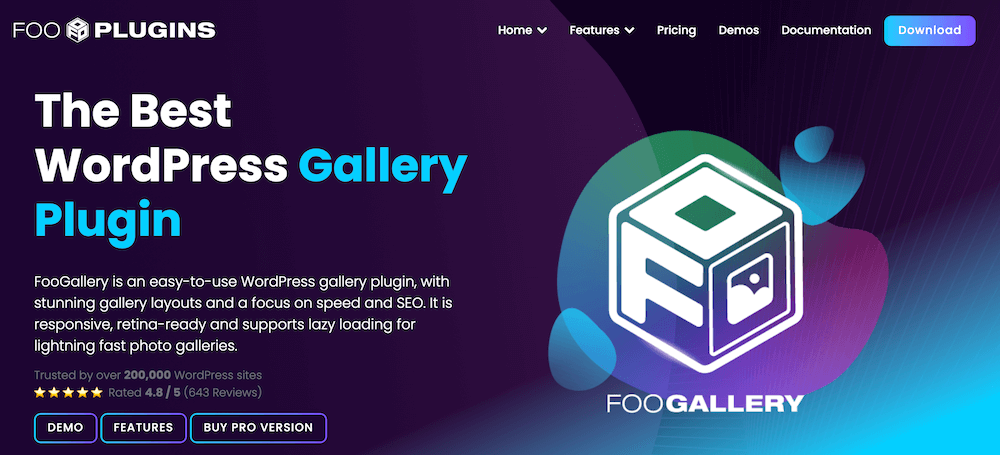 FooGallery, a freemium plugin, is more than a watermarking plugin. It's an all-in-one gallery plugin for anyone who wants to create beautiful image galleries on a WordPress website, as well as add watermarks to their images. It's a popular plugin for photographers, artists and ecommerce store owners. Some of FooGallery's notable features:
Up to 11 responsive image gallery layouts, depending on your version of the plugin (there are four plans for subscribers, including the free plan and three PRO plans). These include a masonry gallery layout, ideal when working with different image sizes.
A lightbox feature with all three PRO plans that is fully configurable – adjust colors, captions, border effects and more.
Tag filtering and multi-level image gallery filters to help website viewers easily search large image galleries.
The option to create video galleries, or to mix images and videos, on the top two PRO plans.
WooCommerce integration on the premium PRO Commerce plan, allowing you to sell images or products direct from your image galleries!
Current topic in mind, FooGallery PRO Commerce, also comes with comprehensive watermarking and right-click image protection, to keep your images out of the wrong hands.
To watermark images, you can select one of the plugin's predesigned watermark images, or upload your own custom image – your photography studio or eCommerce store logo, for example. You can choose whether the watermark appears only once, or repeats across the image, and you can set the size and opacity of the watermark, to make it as subtle as you want.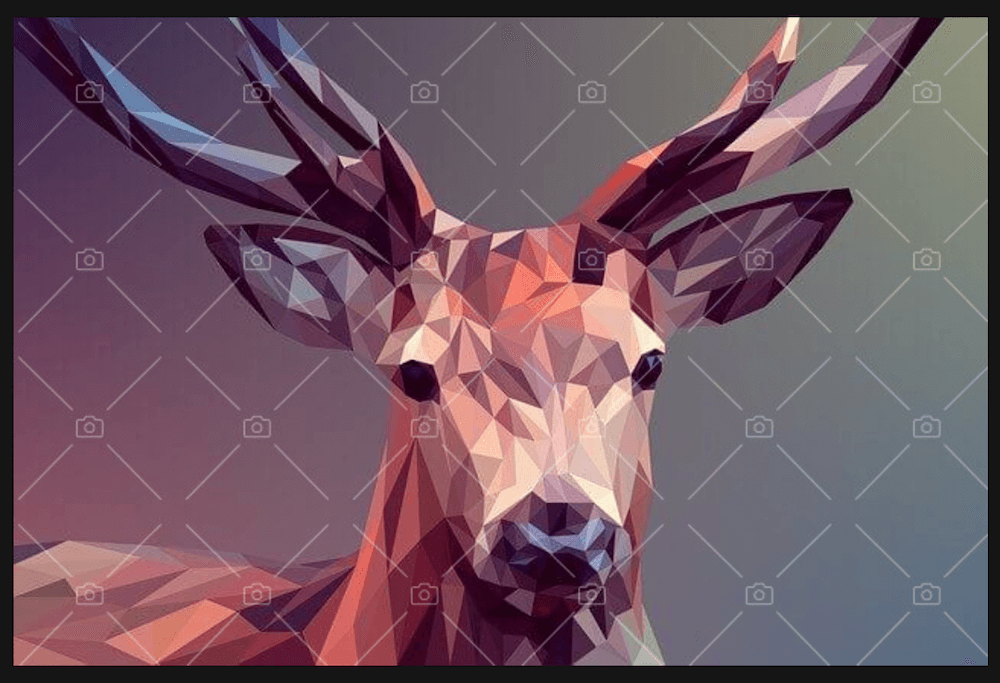 To save you time, the watermark is applied to all images in a selected gallery at gallery-level, rather than you having to apply it to each individual image, as you upload it. You should therefore house all images you want to watermark in the same gallery, or galleries.
Note that the watermark only appears on full-size original images, when website visitors open these in the lightbox; it is not visible on gallery image thumbnails, which do not need watermarking, being too low-quality for anyone to steal and use effectively.
This functionality means that your visitors can appreciate the images in your WordPress galleries without having a watermark overlaid, while you can still protect your full-size images.
As mentioned, PRO Commerce also includes right-click image protection for your galleries, so that the only way visitors can view high-res, full-size images (before paying for them) is in your gallery lightbox, where they will be watermarked.

Modula is comparable to FooGallery in the sense that it's also a comprehensive gallery plugin, not just a watermark plugin. It has both a watermark extension and a right-click prevention extension. Modula has decent watermarking functionality but no predesigned images, which means you'll need to work with a custom watermark, making the experience slightly less user-friendly. We've put FooGallery and Modula head to head a few times and FooGallery always comes out on top. Still, some good Modula features worth mentioning:
SpeedUP™, which keeps gallery images sharp and crisp but ensures that your website isn't slowed down.
Creating galleries is very easy – however Modula only has four main gallery layouts: custom grid; creative gallery, masonry and slider.
Modula enables responsive galleries, easy to view on either a PC or smartphone.
Modula has good customer support, if you get stuck on anything while using it.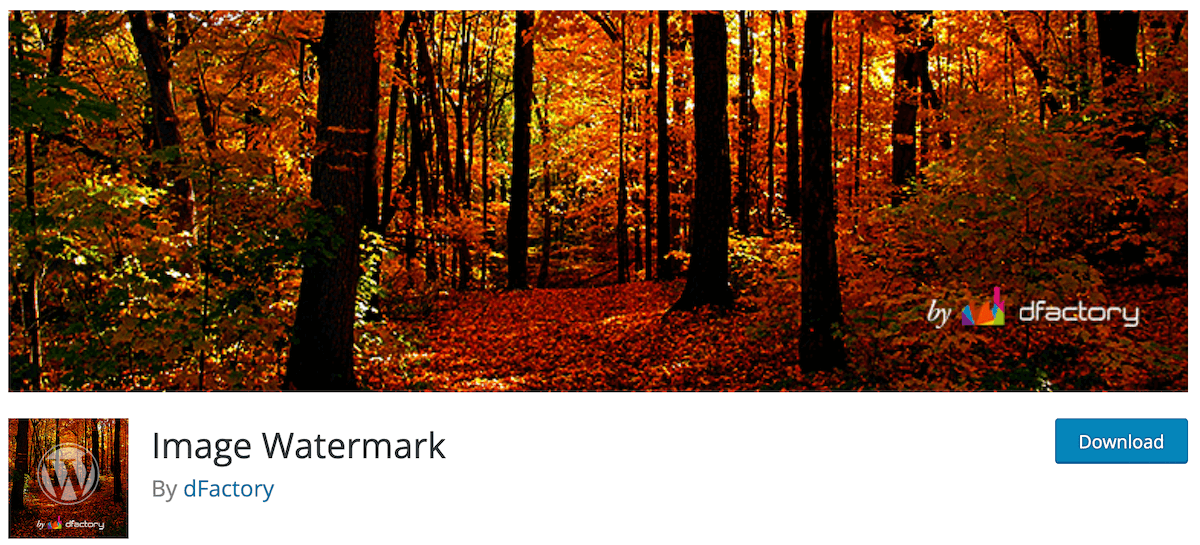 This is a free plugin with over 50 000 downloads to date. Conveniently, it allows you to automatically watermark images uploaded to the WordPress Media Library, as well as bulk watermark previously uploaded images. Image Watermark also lets you disable right mouse click on images (right click prevention, in other words).
The plugin lets you choose the position of the watermark image, set the watermark offset and choose from three watermark sizes – original, custom or scaled. You can also set the watermark transparency and opacity.
While this is a pretty solid – and free – plugin if you just want to watermark images in a basic fashion, it won't suffice if you'd rather have an all-in-one gallery plugin that lets you create and curate stunning image galleries, as well as add image protection.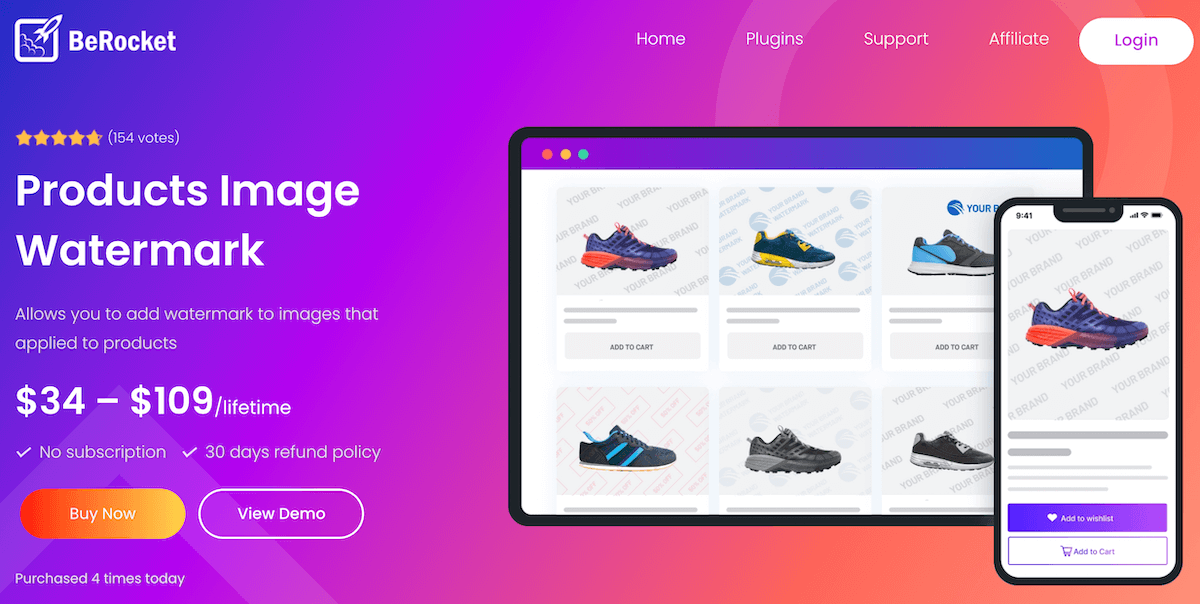 This plugin is purely for products displayed within WooCommerce. While this makes it a good solution for eCommerce store owners, it may limit your options. For example, you might want to display galleries with product images elsewhere on your website, like on your home page. In such a case, your product images still wouldn't be fully protected.
If you're a photographer selling photos online, you'll likely have a dedicated gallery page or pages, sitting outside of WooCommerce. You would not be able to watermark images in those galleries with this plugin.
Within WooCommerce, the plugin has some great features, such as different watermark options depending on the image type, the ability to add up to five watermarks per image, repeatable text watermarks, and the ability to manage text rotation angle, color, size, and more.
Here you can check out a demo of this plugin's watermarking capability. As you will see, it enables highly configurable, unobtrusive watermarking without disrupting image quality.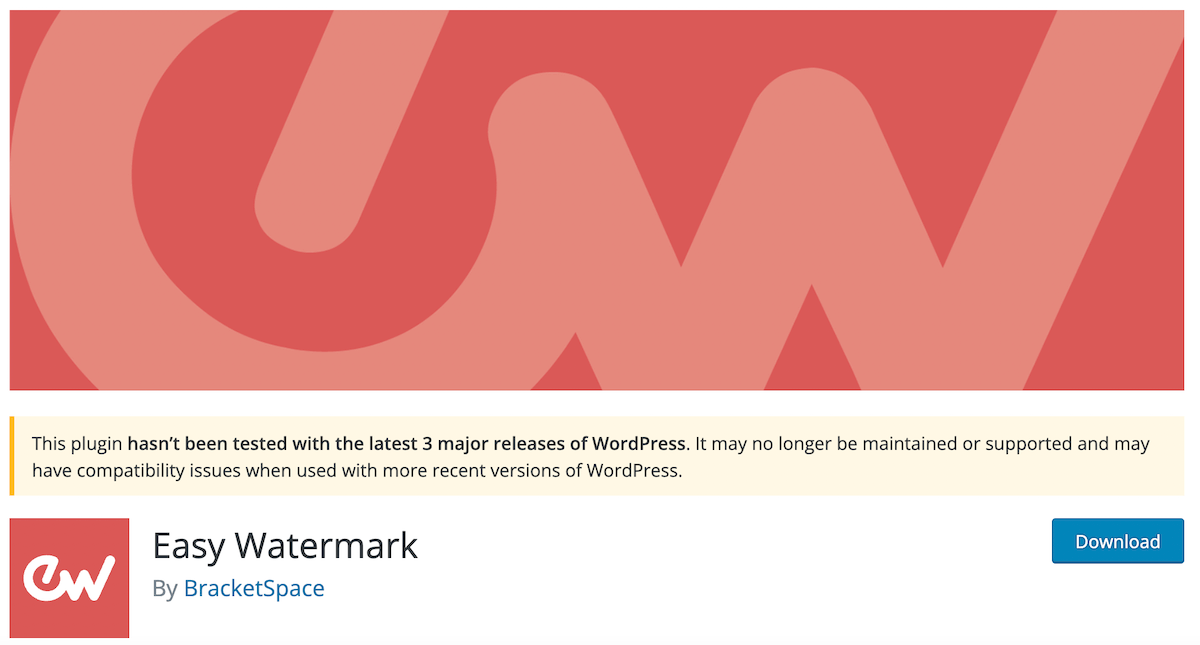 This is a free and popular image watermark plugin with over 50 000 downloads to date. However, it hasn't been tested with the latest three major releases of WordPress (as of March 2023). This means you may run into issues when using it.
Assuming the plugin is compatible with your site, it should be fairly easy to use. You can add a watermark in nine different positions, either as text or images. However, bear in mind that you'll need to upload the watermark image yourself – there are no default options to choose from, which may feel a bit cumbersome. You can add a watermark to images as they are uploaded to the WordPress Media Library. You can also watermark existing images already on your site, either as single images or with bulk watermark.
If you're looking for an easy watermark plugin, you could see if this plugin still works without any problems.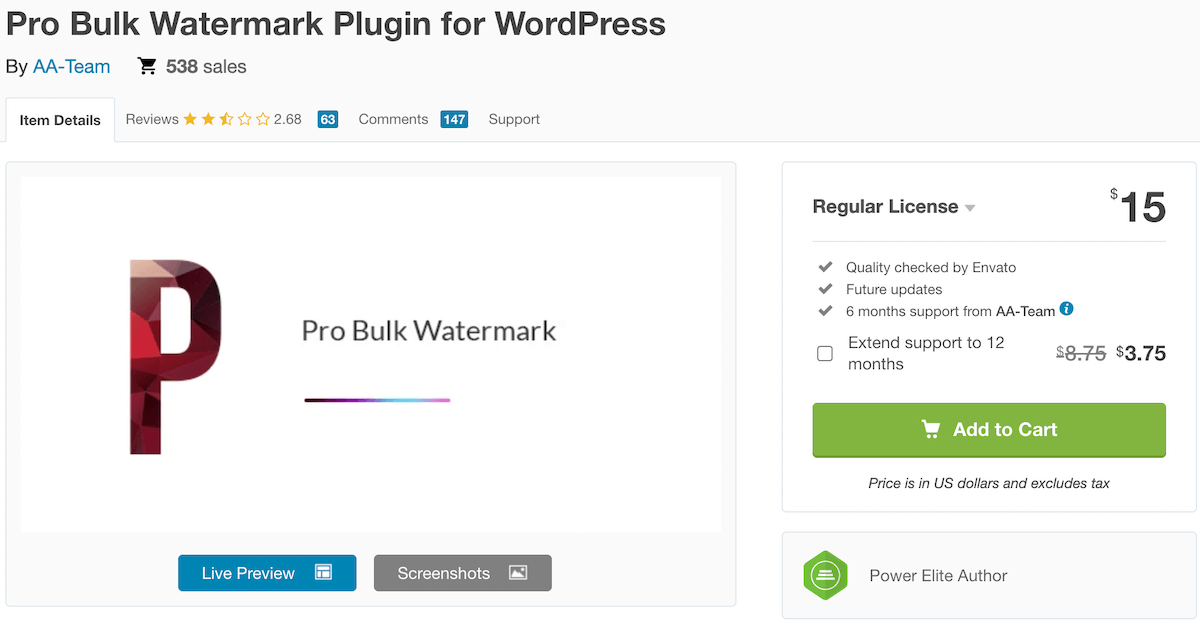 On paper, this plugin is easy to use if you want to bulk watermark your images. It's also very affordable. It comes with some useful features: you can add text or image watermarks; adjust opacity, size, margins and more – and you can exclude specific images or folders from watermarking. However, this plugin is at the bottom of our list because many users seem to have had issues with it, and it only has a rating of 2.68 stars on CodeCanyon's website.
Additionally, this is a poor choice for photographers and artists, since customers who pay for an image won't be able to download a watermark-free image. So it's a plugin you're more likely to use for watermarking product images in an ecommerce store.
Our Top Watermark Plugin and How To Use It
Some of the plugins on this list have limited watermark functionality. One is confined to product images in WooCommerce. There is one that hasn't been updated for some time – and another that seems to have given quite a few users problems. So the plugin that tops our list is FooGallery PRO (premium).
FooGallery PRO Commerce provides an all-in-one suite of tools for managing, optimizing and customizing WordPress galleries, for under $100 per year. This makes it a leading gallery plugin. However, when it comes to watermarking specifically, this plugin ticks all the right boxes in terms of watermark flexibility and ease of application. You can choose from the watermark templates provided or upload your own. Enabling watermarking at gallery-level is easy, and right-click prevention completes the image security package.
So how easy is it to watermark images with FooGallery PRO Commerce? Take a look at the screenshot below: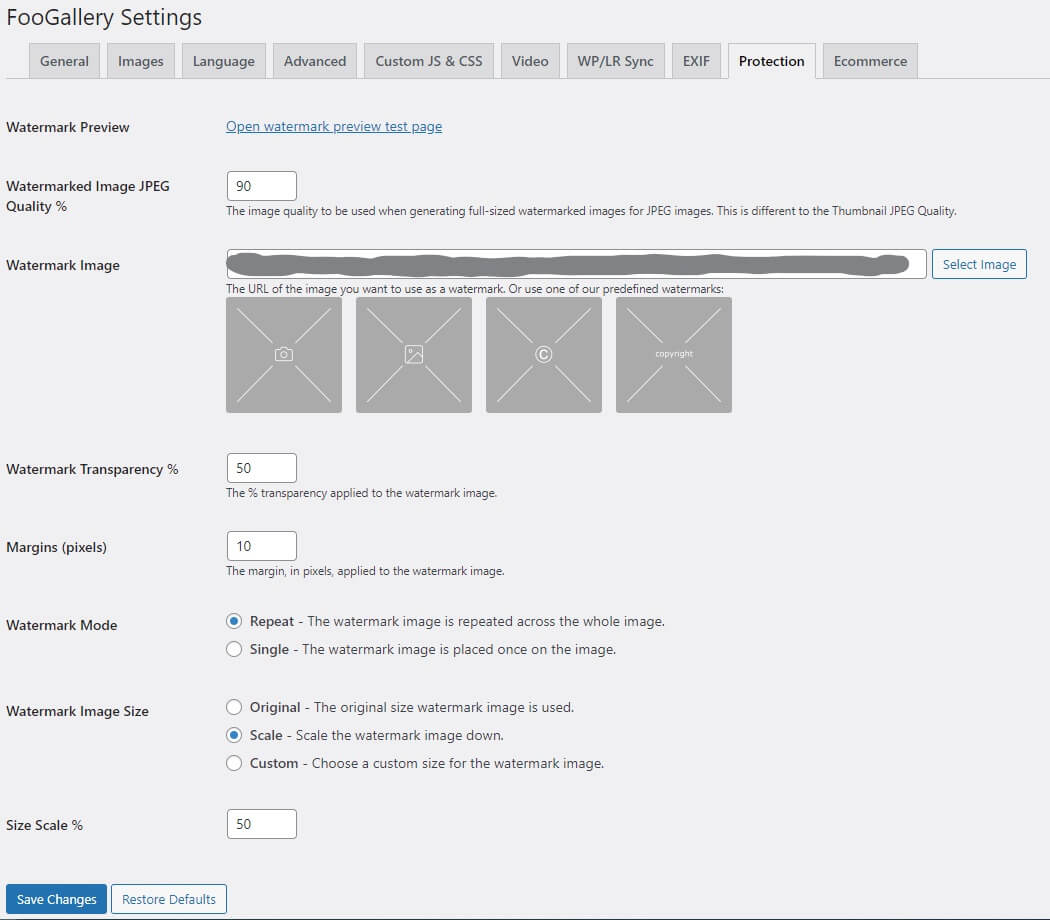 Alongside your other global gallery settings – EXIF, Custom JS & CSS etc. – you'll see Protection. Click on this to open up the watermark settings. Here you can select a predesigned watermark or choose one of your own, once it's uploaded to your media library. Then, you can adjust the various watermark settings to your liking – size, scale, opacity, margin, transparency, watermark position, and single or repeat. You can then preview your finished watermark design, to see how it will look at the frontend (see top of screen above).
Then it's simple to enable watermarking on your individual galleries. To do this, go to any gallery to which you want to apply your watermark. Under the Protection tab, click on Use Watermarked Images, then save your gallery. Below this, you'll see the Protection Status, indicating how many of your images have been watermarked. Click on Continue Generating to start watermarking your images.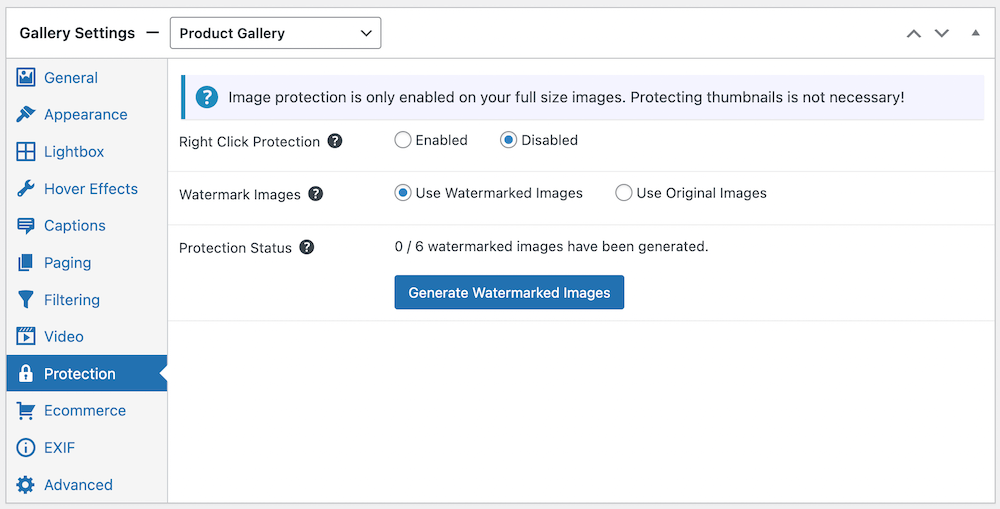 Now let's look at the end result, below. This is a live gallery whose images are protected by both watermarking and right-click protection. Click on the thumbnails to open full-size watermarked images:
Below, you can also see the same functionality at work in this screenshot of a WooCommerce product image: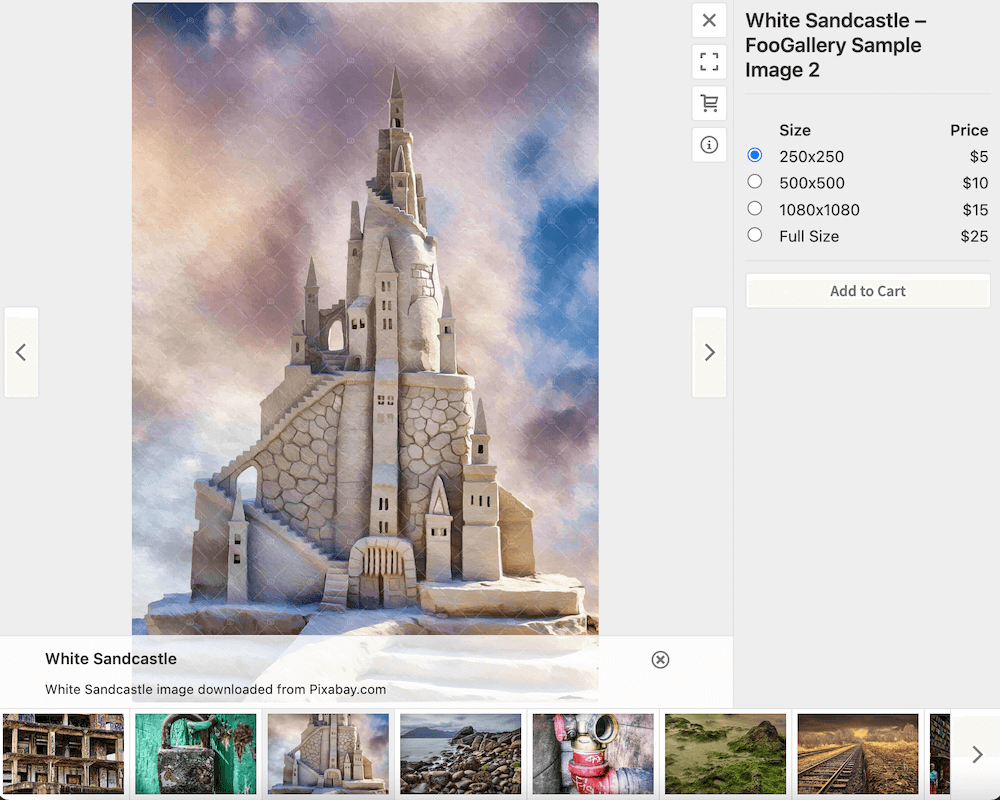 Add Watermarks to Your WordPress Images With FooGallery
Whether you sell images online, or products displayed in images, you'll no doubt agree that watermarking is a prudent step to take – and now you have the ideal plugin to begin.
All of our FooGallery plans offer great features for your image gallery needs – but FooGallery PRO Commerce is the one you need if you want an all-in-one gallery plugin with easy, effective image protection included.
View FooGallery's pricing plans and select PRO Commerce to try the plugin out today. If you like it, we would welcome your mini-review in the WordPress plugins directory.