With most people searching for products and services online, having a professional website is essential for photographers. WordPress is a popular choice for building one, because it offers creative freedom in terms of design and because its plugin library enables you to add advanced functionality to your site, with no developer experience. We cover the must-have elements of a WordPress photography website, some extra options and best practices.
WordPress Photography Website Essentials
Website Builder And Host
To start with, there are actually two WordPress sites, so don't get confused, as many people do: WordPress.org is the official site of WordPress's open-source software, while WordPress.com is a free, simple blog site that runs the WordPress software. The latter is popular for bloggers who don't need much functionality, but to build a proper photography website, you need WordPress.org.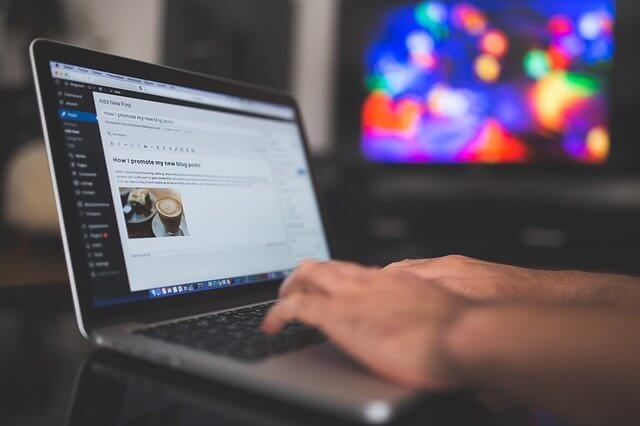 You'll also need a hosting provider to host your site – take a look here for more info on selecting the right host. The hosting provider you choose will guide you through the first steps of launching your WordPress website.
Website Theme And Galleries
The first step to building your website is to choose a WordPress theme, which is a customisable design template that will give your site its overall look and feel. As a photographer, it's always a good idea to position yourself as a niche specialist in a certain type of photography for which you can become known, and your choice of website theme should reflect that niche.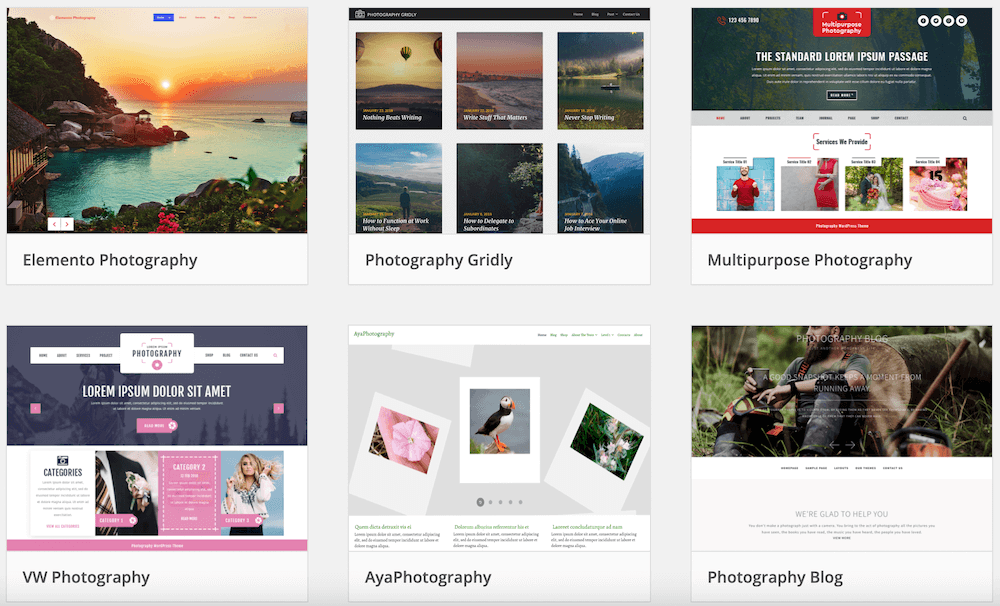 Depending on your focus, you might search for food, wildlife, wedding, fashion or corporate WordPress themes. Have a look through the options and settle on a theme that reflects not just your niche but also your style of photography – be it gritty, fun, elegant or retro.
To present your photographs professionally online, you should invest in a gallery plugin like ours, which will display your images in their best light, make them easy to browse – even on mobile – and allow you to add captions and descriptions. Some gallery tips:
If you specialise in more than one type of photography, create a different gallery for each type.
Even if you specialise in one niche – weddings, for example – you should still organise images into different galleries (like indoor, outdoor, colour, and black and white).
Try to limit each gallery to between 10 and 30 of your best images (after all, if your best images fail to compel visitors, cramming your galleries with more won't help – and too many images can slow down your site's speed).
For best viewing, set the display resolution of your gallery images to at least 800 x 600.
Contact Details
The main principle in website design is to always place priority content "above the fold" – meaning that it is visible on the web page before visitors scroll down to less important content. Above the fold on the home page, you should prioritise displaying the website menu, your best photograph, a short introductory note and your contact details (the one thing you want to be is easy to contact).
Make sure you feature your location prominently on your home page, too, especially if the purpose of your photography website is to generate commissions for weddings or other events.
It's a good idea to also have a dedicated contact page with a simple contact form (look into the popular WPForms plugin for this page). The golden rule for anyone marketing their products or services online is that you can never be too easy to contact. 
About Page
Often, people aren't just drawn to particular photographs, but to the vision or personality of the photographer behind them. Use your About page to discuss your passion for photography, why you chose to specialise in a certain type of photography, or how you like to approach the relevant subject matter. Such insights will fill in the backstory behind your images and articulate what makes you unique in the field – making you a strong contender for customers' business, against the many other photographers online. This article has some great tips for creating a compelling About page.
Social Media
Lastly, you should already be using social media to grow awareness of your photography, so link your website to your social media profiles and display the linked icons in an obvious place on your website. Some gallery plugins may come with functionality that lets visitors share images directly from your galleries to their own social feeds, increasing your exposure.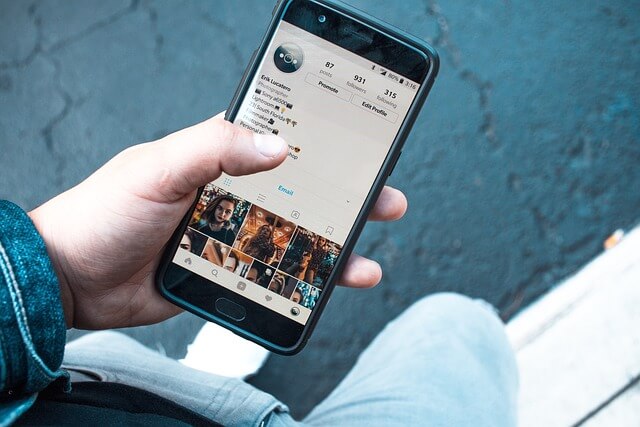 Additional WordPress Plugins
Selling Images And Prints Online?
If you are primarily concerned with selling digital images or physical prints from your photography website, you will need an efficient ecommerce component, for easy and secure orders and payments. The obvious choice is WooCommerce, the most popular (and free) ecommerce plugin for WordPress.
If you create your image galleries with our gallery plugin, FooGallery PRO Commerce, it has the advantage of integrating seamlessly with WooCommerce, letting you place "Add to cart" CTAs directly onto gallery images, so that customers can jump straight from photo selection to payment. FooGallery PRO Commerce also integrates seamlessly with FooBox, our lightbox plugin. Find out more about lightboxes, and the value they can add to your image galleries, in this article.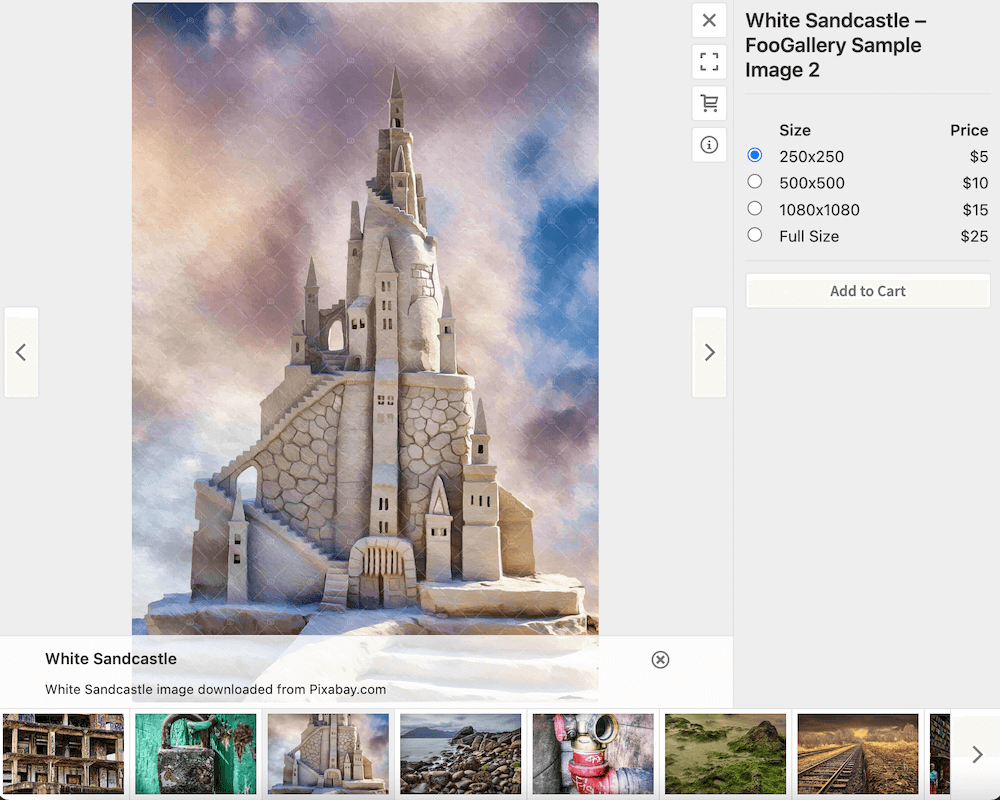 To help you drive sales of your images or prints, you can add dynamic notification bar functionality to your site, via a suitable plugin. A notification bar lets you add eye-catching floating notifications to your site, to alert visitors to special offers, sales or new gallery additions. Find out more about how notifications bars can help you sell, in this article.
Looking For Commissions From Clients
If the purpose of your website is to secure you commissions for on-site shoots (weddings, events, advertising, etc.), you should add a booking form to your site, via one of these recommended plugins. It will improve customers' experience on your site, and make your busy life easier, too. 
Word of mouth carries a lot of value in the selection of a photographer for shoots, and you might consider installing a plugin that encourages previous clients of yours to post reviews and recommendations on your site. Here are some popular plugins for this purpose.
Online Security
Having put in all the work to create your website, it's a good idea to "insure" it, by protecting it against crashes and data loss through the integration of a backup plugin. It's also a good idea to build in protection against cybercriminals, if your site incorporates e-commerce. WordFence is a popular security plugin for WordPress. 
Best Practices For A WordPress Photography Website
Pricing
As a courtesy to visitors and to avoid wasting their time, or yours, it's a good idea to mention pricing on your home page. You don't have to go into specific pricing, but state what your pricing starts from whether for digital images, physical prints and/or shoots. That way, when an enquiry comes through from a potential customer, you'll already know they're comfortable with your basic pricing.
SEO
With so many photographers competing for new business online, it's important to nurture effective SEO for your website. One way to do this is by adding accurate and detailed titles and descriptions to all of the photos in your galleries. This will help your website, or even specific photos from your site, to come up in online search results. We discuss image captioning in detail, in this article.
Blogging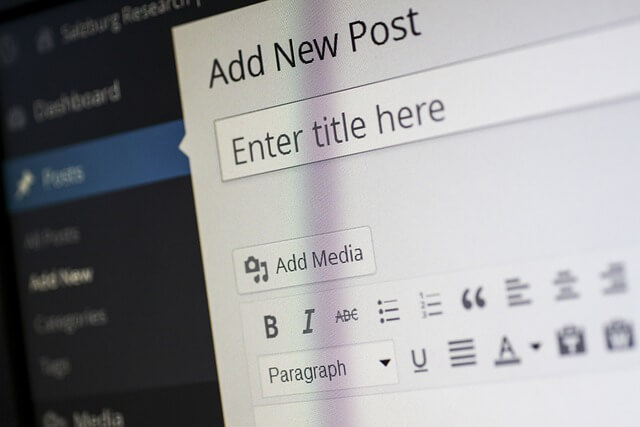 Having a blog page, and regularly posting content to it, will also contribute to robust SEO and increase engagement with your website. Try to post topical content once a week around SEO-friendly topics, like:
Five must-read tips for food photographers
My best digital cameras of the year
Ten steps to professional product photography
How to select the best wedding photographer
My best landscape photograph ever – and why
Selling on stock libraries – yes or no?
Your content can be directed to potential customers or other photographers, or cater to both, but positioning yourself as a photography thought leader will undoubtedly add value to your images or services.
Responsiveness
People are increasingly browsing and shopping on their mobile phones rather than desktop, so it's important that your website is designed to be responsive – that is, it should load and run equally well on both large and small screens. Google also ranks websites favourably if they are designed to be "mobile-first." Although this article about building a mobile-friendly website caters to online store owners in general, you will find many of the tips it contains helpful.
Image Management
When it comes to securing your photos against online theft, you may want to look into digitally watermarking them. Whether to watermark or not is an ongoing debate; it can have both pros and cons. In this article we discuss watermarking in detail, including some best practices if you decide to use it.
For an enjoyable and brisk user experience, it's important to optimise all images on your site, especially your gallery photos. Image optimisation helps a website to load faster and prevents visitors logging off out of frustration. If you're not familiar with image optimisation best practices, you can draw on this guidance.
Next Steps For Your Photography Website
In this article, you'll find some handy guidelines for selling photographs online, both from your website and in other digital spaces. We wish you the best of luck on all fronts!