In this article we look at some different options for selling photos online. We're doing so based on the assumption that you already take high-quality professional photographs but aren't sure how, or more specifically where it is best to sell them online. Let's see if we can help you out.
Selling Photos From Your Own WordPress Ecommerce Site
Most photographers agree that, when it comes to selling photographs online, the best place to do it is from your own website – because you don't have to pay royalties to a third party and have complete control over things like creativity and licensing. What's more, your images do not have to compete for visitors' attention with the images of your competitors.
Many photographers – amongst more than 40% of all websites globally – choose to use WordPress for their websites, because it's highly flexible and customisable and you do not need the experience of a web developer to understand the basics of building a workable website with it. WordPress comes with a great variety of themes, which are what give a website its look and feel – have a look at these themes created specifically for photographers.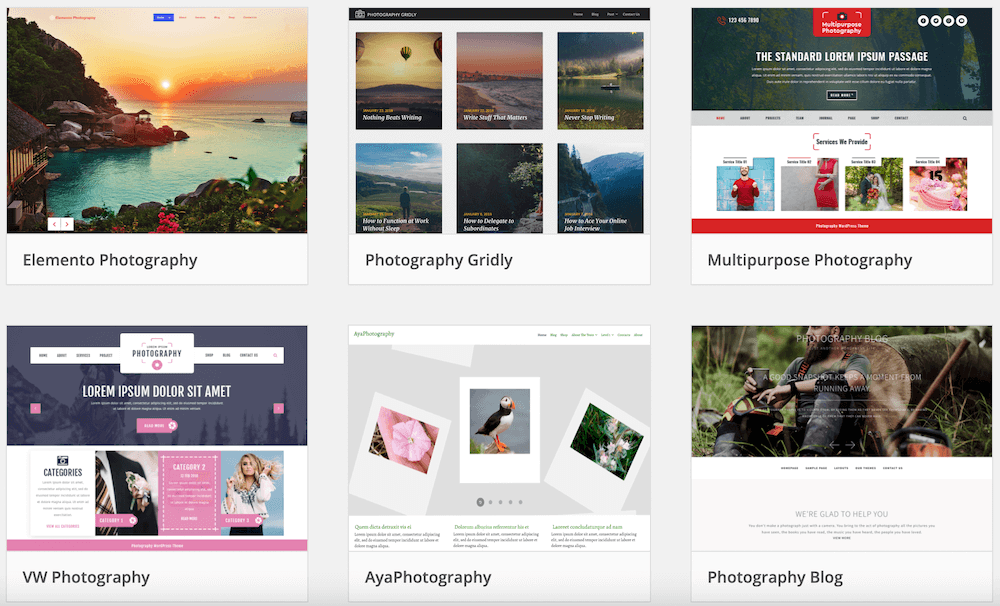 Once you have built and populated your WordPress photography website, you'll need to configure it further to optimise its ability to sell your photos. The key to that lies in the vast bank of WordPress plugins, which are applications that you install to your WordPress website to give it additional functionality of various kinds (like better SEO, an improved user experience or multiple payment options) . When it comes to selling photos, there are thousands of plugins to choose from, both free and paid – but there are three kinds we recommend you look into first:
An ecommerce plugin like WooCommerce (the most popular), which will turn your website into a smart online store (take a look here for an overview of additional e-commerce plugins to consider); 
A gallery plugin that will enable you to house and display your photos in easy to navigate galleries, like our FooGallery, whose PRO Commerce option will also integrate your galleries seamlessly with the WooCommerce payment portal; and
A lightbox plugin, to display your photos to site visitors in all their high-res glory.
Here's a more details guide on how to go about selling photos with WordPress.
Selling Physical And Digital Prints On Marketplaces
We're convinced that an owned website should be your core platform for selling your photographs, but you can also have a "side hustle" selling physical prints online, as prints or canvases, as well as selling digital images for use, on everything from pillows and wallpaper to clothes and coffee mugs. This article outlines some of the top third-party marketplaces where you can start selling, including Etsy, which has over 80 million buyers. It's a fully-fledged online marketplace on which you can set up your own online store.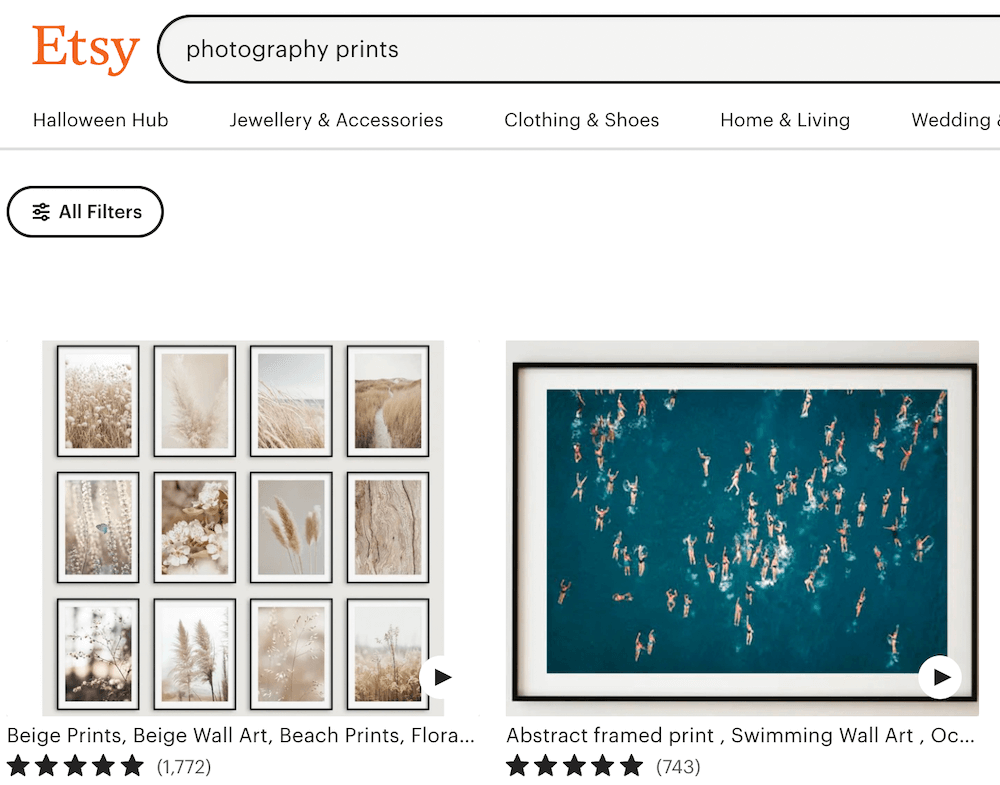 Here's everything you need to know to get started on Etsy – and here's how to integrate it with your WordPress site, so that your Etsy prints or products can also be displayed on your website (and if you want to take some time creating your website, you can always get started on Etsy so long).
Selling Photos From Paid Stock Photography Sites
There are both pros and cons to selling photos through the paid stock imagery sites. The pros include being able to engage their large customer bases and leverage their marketing spend – plus the potential for unlimited ongoing income if you're fortunate enough to have a "hit" with a specific image. 
The cons include the royalties they take for themselves with every sale of an image; the different terms and conditions that photographers must meet (for example, images that you may think are well worth submitting may often be rejected), and the fact that your stock images will always be competing with scores of others with the same theme. Nevertheless, if you want to sell photos online for commercial purposes, you can't really avoid having a presence on at least a couple of the paid stock image sites.
Which ones, though? That is question to which almost everyone you ask will have a different answer. Getty is one of the most established and respected. Shutterstock is one of the biggest. Adobe Stock is the oldest. Alamy offers a high degree of flexibility. Dreamstime has a great app for selling photos directly from your phone. Every year, there are more to choose from. The key variables to consider when partnering with a stock site, or sites, include: 
What percentage do they take in terms of royalties?
Do they require exclusive licensing of photos, or not?
What other terms and conditions should you know about?
How likely are your photos to be accepted?
How much of a marketing push will be put behind them?
How secure will your images be against theft?
Because the choice of which paid stock sites to choose is such a hotly debated one, our advice would be to ask fellow photographers about what their personal experiences have been, while reading a lot more online articles on this subject. Success will not come overnight, and you should probably consider selling via the stock libraries as well as through other means. 
Displaying Photos On Free Stock Photography Sites – Yes or No?
As with the paid stock sites, there is a lot of debate about the value of the free stock sites, more of which go live every year. For freelancers, entrepreneurs and small businesses requiring stock images on a budget (of zero), they're a huge help – but some people suggest that giving away photographs for free is de-valuing the craft of photography. Our feeling is that there is some use for them, as long as they are attracting people to photographers' websites to view more of their work.
If you have a particular niche you operate in, like landscape photography, or food photography, you have nothing to lose by putting a few of your many images onto the free stock libraries, where they may amplify brand awareness and draw visitors to your website.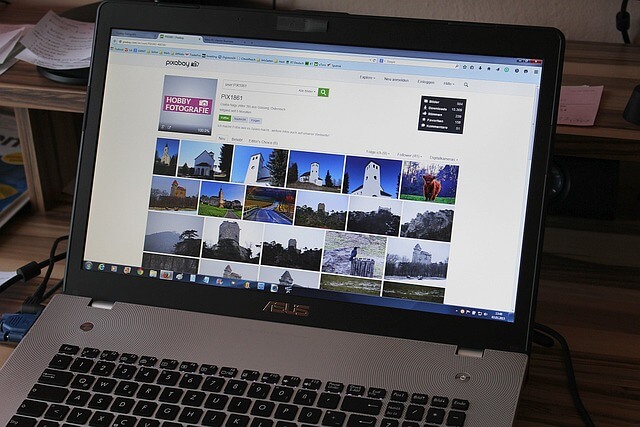 Again, which ones are best? Ask around, but we would suggest looking at Unsplash and Pixabay, for starters.
Selling Photos On Social Media
Social media platforms offer a lot of potential for marketing your photographs, and you should spread your efforts across several of them. Don't worry about posting every day; a strategically considered post once or twice a week will probably hold more value. 
Because Instagram is so visually driven, it's the obvious platform to showcase your best photos on. The key to success on Instagram is choosing the right themes at the right time and using the right hashtags. For example, when winter comes around, you could post season-specific landscape images and tag them #photography #landscapes #winter. If you're an animal photographer, diarise World Wildlife Day for some suitable posts. Mother's Day or Father's Day? Time to bring out those character-rich portrait photos.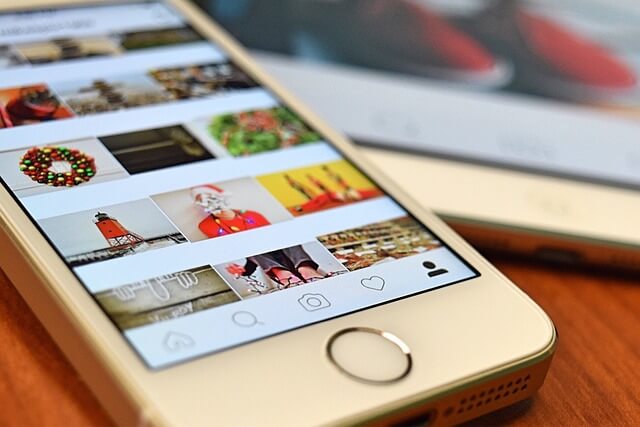 Always link your Instagram posts directly back to the original high-res images in your website galleries and, if you're using FooGallery PRO Commerce, visitors will be able to purchase them in just a few clicks. It may also be worthwhile spending a bit of money on sponsored posts, to engage a wider audience.
LinkedIn is a great platform to target brand managers, creative directors and other decision-makers relevant to professional photography. Create a LinkedIn company page, build your network of Connections personally, and then invite them to follow your page. LinkedIn also has powerful sponsorship functionality to help you put your photos before the right eyes.
Facebook is still worth using, for two reasons – older people, who aren't necessarily on the other platforms, are guaranteed to be on Facebook, and you wouldn't want to neglect them as an audience segment. You can create a Facebook Business page, in a similar way to what you'd do on LinkedIn. Also, on both Facebook and LinkedIn, don't forget the potential for valuable networking in the many groups you can join – like this one. 
What about the video channels, YouTube and Tik-Tok? These are great places to bring your images to life: think behind-the-scenes clips from photoshoots, sneak peeks at locations you like to shoot, or mini-lessons on your photography techniques, to build your reputation as a photography pro. 
This article outlines some of the most useful WordPress plugins for leveraging social media and integrating it with your WordPress site. The list includes our own FooBox PRO, which is a lightbox plugin that allows you to add single-click social media sharing functionality to every image in your galleries, to widen their audience.
Here's an interesting perspective on using social media, from Nick Dale; a working photographer himself.
Curating A Marketing Mix
The best approach to selling photos online is probably a selective spread of channels and tools:
A WordPress website configured for galleries, e-commerce integration, and effective SEO.
Perhaps two paid stock image sites and two free ones.
Three or four social media channels, with a bit of marketing spend allocated.
Selling digital or physical prints on one or two established marketplaces.
In closing, here are some other useful articles you may want to look at, about navigating the legal aspects of selling photos online, optimising your images for SEO in WordPress, watermarking photos for security and how to caption photos effectively for e-commerce purposes. 
Wishing you every success behind the camera – and online!