Using a scheduling or booking plugin on your WordPress site can make for a more efficient photography business. Automating your bookings, allowing visitors to view your calendar or allowing customers to make online payments are all efficient ways to reduce your workload while improving user experience.
To help you find the best solution for you, we've rounded up seven WordPress plugins that can optimize your booking and scheduling process.
BookingPress

The BookingPress plugin is a one-stop solution for scheduling appointments for photographers' websites. Many small businesses use it, as its dynamic and filled with features that make booking appointments easier.
Any sort of business can use the BookingPress plugin to manage event bookings, appointments, and retail.
Key features include:
Scheduling from the front-end of your website
Bookings from any page on your website
Recurring bookings
PayPal payment gateway (Offline Payment option also available)
Customer management from inside WordPress
All-in-one dashboard for managing customers
Dashboard widgets for displaying live availability, upcoming events and custom messages on your sidebar
Analytics so you can see which hours are best for scheduling and which days you need to work on events
Email reminders
PayPal integration – accept payments straight into your PayPal account.
Salons, barber shops, spas, tutors, consultants, wedding planners, dealers, house inspection, doctors, rental property brokers, gym and yoga trainers, and restaurants all benefit from BookingPress. It's a free WordPress booking plugin that can handle all of your appointment scheduling needs.
BirchPress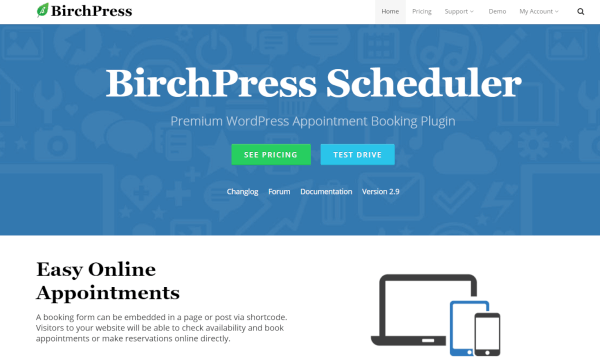 BirchPress is a feature-rich calendar and booking plugin. It allows your users to easily check your calendar and make a booking. The booking form is customizable, so you only need to show the fields that are relevant to you.
It syncs with a number of other calendars, such as Google Calendar, and updates your availability. Another useful feature is that you can configure notifications and send email reminders for bookings, reschedulings and cancellations. Plus you can integrate it with Paypal, or other payment gateways through WooCommerce.
A free version is available on the pricing page, or you can opt for the Personal or Business plan. You can find out more about the pricing and the available features on BirchPress.
Booking Calendar
Booking Calendar is a versatile plugin that lets you manage your bookings easily. It has a responsive front-end design, and while it's ready to use out-the-box, it can be easily customized to suit your needs.
Users can search availability, book time slots and make payments. This makes it a useful tool for any type of scheduling or rentals, such as photo shoots or studio rentals. You can also set up email notifications.
You can download from WordPress for free. Alternatively, it is available on several plans on Booking Calendar.
Bookly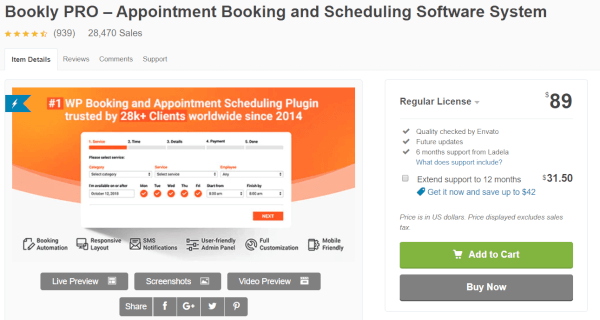 Bookly PRO is an automated booking and scheduling WordPress plugin. It gives you a stylish booking platform for your website, that allows for payments and notifications.
You can filter, sort or search the booking list. On top of this, you can group services into categories and assign them different colors, so they stand out on the calendar.
The plugin syncs with Google Calendar. Plus you can add various integrations, such as PayPal Express Checkout or WooCommerce. One nice feature is the built-in analytics, from which you can look at your booking stats.
There is a free version of Bookly, available on WordPress, or you can buy the plugin on CodeCanyon.
Gravity Forms
Gravity Forms is an essential tool for staying on top of customer communication. It isn't a scheduling plugin as such, but if you prefer customers to submit a booking request, for example, then this may work better for you.
With this WordPress plugin, you can generate the forms you need to get the information you want. Plus you can set up notifications, so you know when forms have been submitted.
You can create a variety of forms, from a simple Contact Us form, to something more advanced, like a booking form. You can set fields to appear based on the previously selected items. Using this functionality, you can even get your form to perform calculations.
The bonus with Gravity Forms is that it integrates with so many other services, like Mailchimp and Dropbox. Or you can make it even more powerful with the available add-ons, such as GravityFlow.
There are three different pricing options for Gravity Forms. You'll also be able to find plenty of the add-ons on WordPress.
MotoPress Appointment Booking Plugin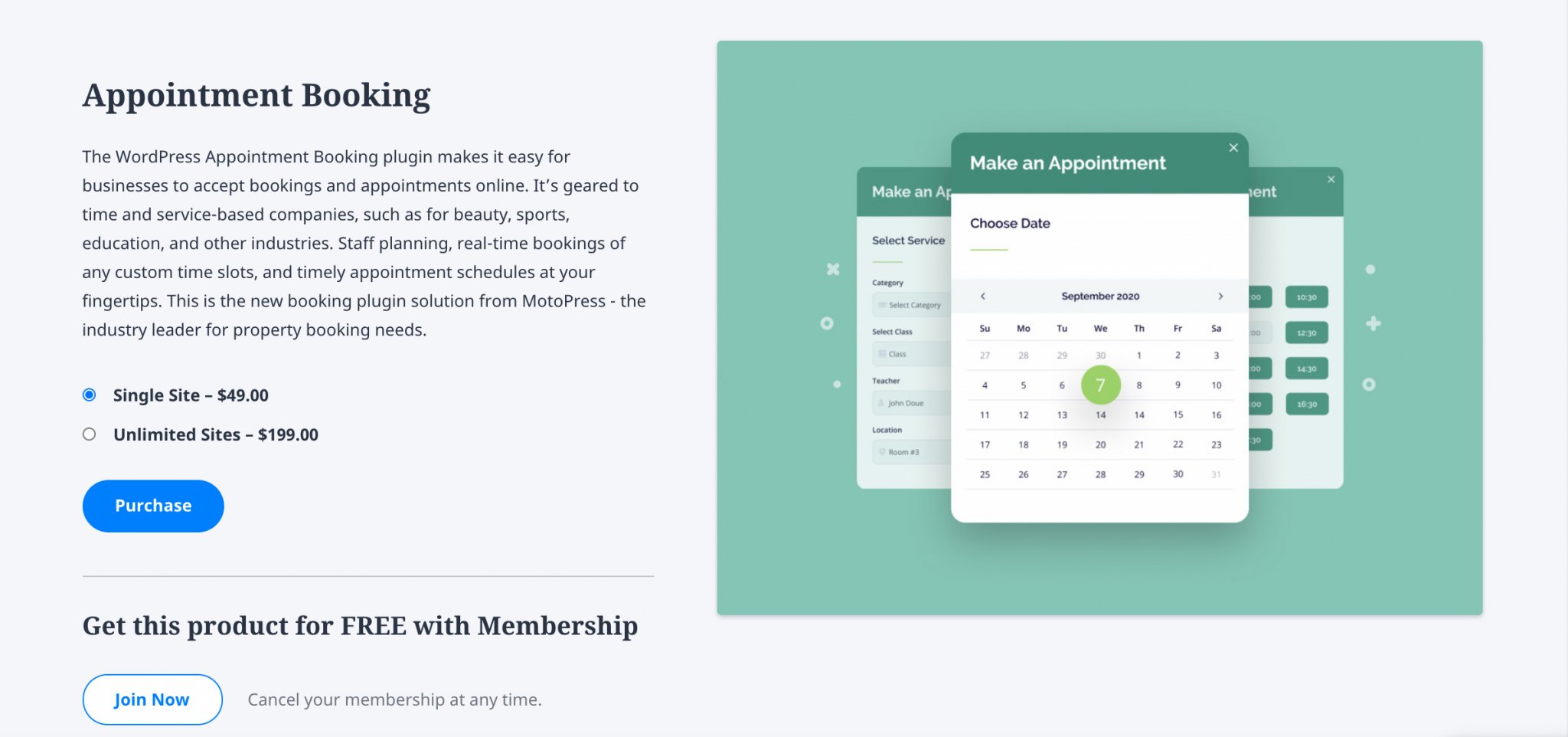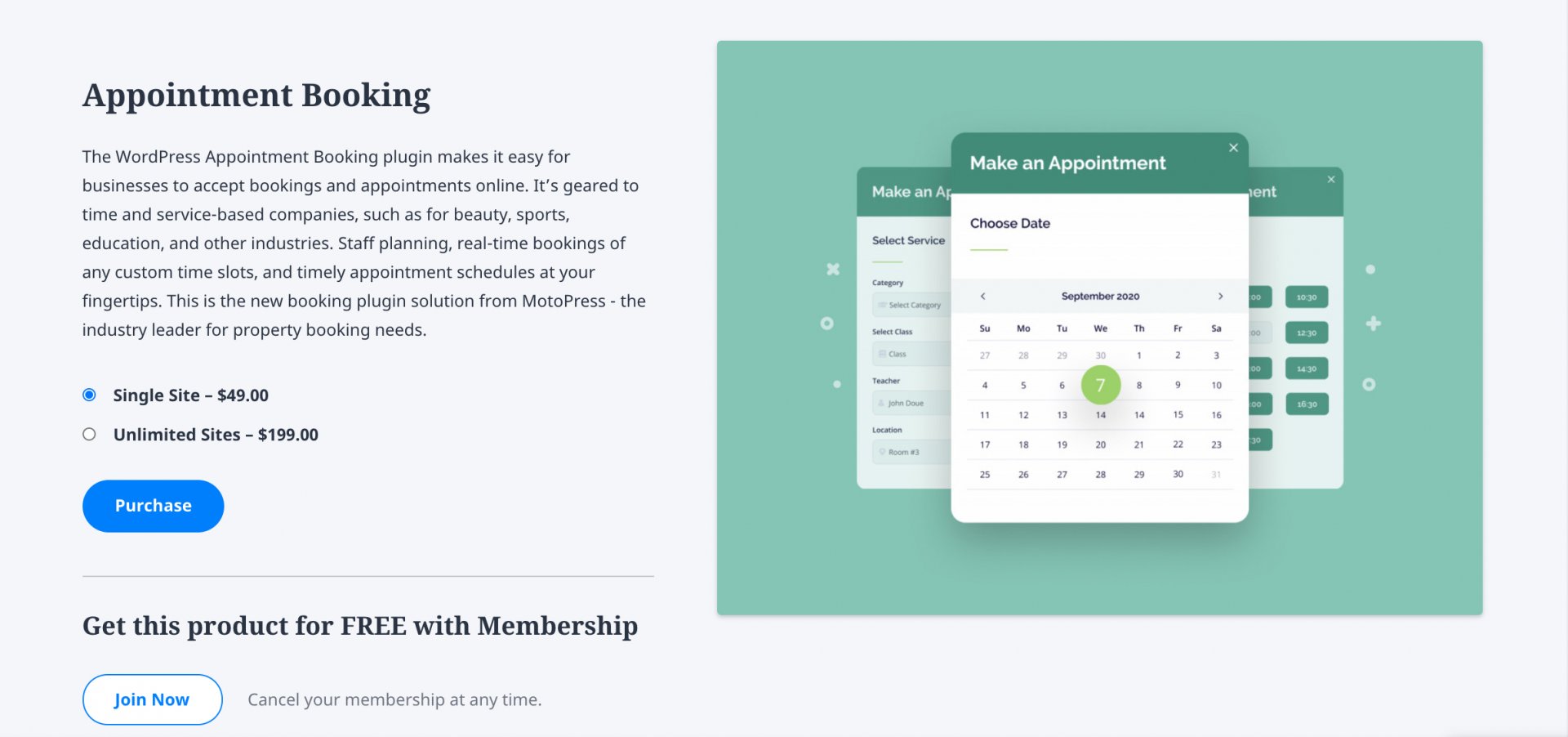 Developers of the MotoPress Appointment Booking plugin made sure it would facilitate the management of bookings to the maximum. The engine suits both specialists working on their own or an entire team of employees working with hourly appointments.
Website admins can fill in the detailed profiles of each staff member and set their individual schedules. The profile details include a person's photo, description, and a list of skills. When assigning schedules, you can set up both work time as well as lunchtimes, breaks, days off & vacations.
Clients have a pleasant experience with a three-step booking form and a one-page booking wizard for clients. The form is 100% responsive and lets clients reserve an appointment in one minute from any device.
StartBooking
This StartBooking WordPress plugin allows your customers to make bookings without having to leave your site. The plugin integrates with the StartBooking software for managing your bookings.
It's a feature-rich plugin that makes scheduling a whole lot easier for you and your customers. For example, you can make single or multi-appointments, book free or paid services, and build customer profiles. There is an appointment overview, a check-in or check-out feature, and plenty more.
StartBooking places emphasis on site performance (by not slowing down your site) and conversion (ensuring your users become customers). The plugin is customizable and allows you to optimize the booking flow, so you can make it work to your advantage.
There are two pricing options, for individuals or for a business. Take a look for yourself at StartBooking.
WooCommerce Bookings And Appointments
WooCommerce Bookings and Appointments is a powerful plugin that allows you to convert your time, products or services into Bookable Resources. This plugin allows service providers and businesses of all types to easily integrate and empower their WooCommerce website with a booking solution.
This plugin helps to sell bookings by the minute, hour, day, or month and choose how many bookings to allow per time slot. You can set minimum and maximum booking durations and allow users to edit and cancel bookings, within a minimum period before the appointment.
The plugin also syncs with Google Calendar and comes with advanced pricing rules and options.
WooCommerce Bookings
Developed by WooCommerce, this plugin allows your customers to book time slots at their convenience. For your convenience, you can set up 'unbookable' times and add buffers between time slots.
As this has been created off the back of WooCommerce, you can easily add payments to your bookings. Plus pricing can be customized, so you can offer weekend rates or special promotions.
Some of the benefits of this plugin include email notifications or reminders and syncing with Google Calendar. You can customize your booking plugin even more by adding other WooCommerce integrations.
This plugin has one price, billed annually. Take a look for yourself at WooCommerce Bookings.
Final thoughts…
Each of these plugins offers some unique and useful features. If you're working on a tight budget, you may want to try out one of the free versions first. Likewise, if you're not too sure of what you're looking for just yet, use a trial or free version until you find the plugin that works for you.
What's important is finding a booking plugin that increases your efficiency, while ensuring your customers remain happy.