Creating a WordPress gallery is really simple. Whether you're using a WordPress gallery plugin (like FooGallery) or not, it should only take you a few minutes to create your own gallery. Besides, using a gallery has plenty of benefits.
What is a WordPress Gallery?
A gallery is a collection of images (or media) on your website. With WordPress it's easy to create and insert galleries into your pages or posts.
You can use galleries to showcase your work. Photographers or artists, for example, can make great use of galleries as a portfolio. You could use a gallery to showcase products; for example a real estate agent could create a gallery for each property on sale. Or maybe you you have a blog – use a WordPress gallery to show off your pictures or give step-by-step instructions.
Here's an example of a what a gallery would look like on your page. We used some underwater shots from Pixabay.
Do you need to use a gallery?
If you use a lot of images or videos on your site, then it's worthwhile using galleries. Instead of styling individual images, you can simply style your galleries. With a gallery plugin like FooGallery, you can even adjust your defaults so that all of your galleries look the same, which can save you time when creating a new gallery.
There are other benefits as well. A gallery can have a great visual impact. Visitors, though, can scroll through your image thumbnails, rather than the full-size images. This can improve your page speed and their bandwidth usage.
How To Create a Basic WordPress Gallery
In WordPress you can create galleries straight away. You don't need any additional plugins. But the WordPress gallery function is quite limited, meaning you don't have as much versatility and styling options.
To create your gallery using just WordPress, simply click on the Add Gallery block in the block editor.

You can then upload images to your media library or select images already in your library. WordPress automatically inserts these into a gallery for you. If you're using the classic editor, you can add multiple pictures, which the editor then converts into a gallery.
You will have some ability to style the gallery. For example, you can select the number of columns and say whether the images should be cropped.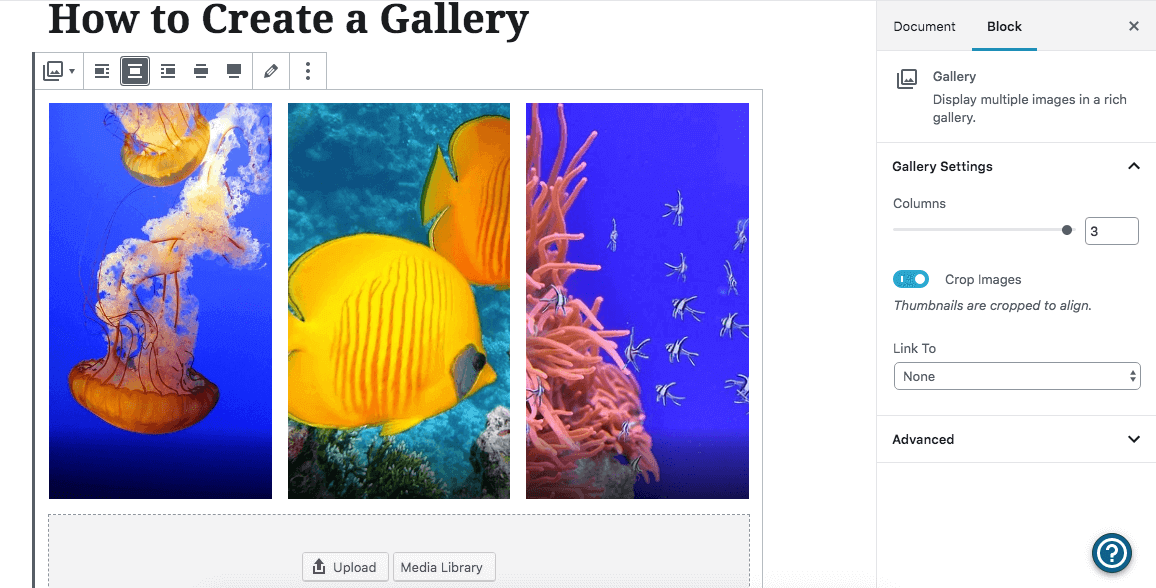 If you're looking for more control over your galleries and how they appear, then the solution is to use a WordPress gallery plugin, like FooGallery.
How to Create a Gallery with FooGallery
FooGallery is an excellent option if you're looking for a free or premium gallery plugin. The free version comes with loads of useful features, allowing you to customize your gallery. It's also easy to get started.
The first thing you'll need to do is install the plugin. To do this, go to Plugins –> Add New from your dashboard. Search for FooGallery, then click on Install Now. Once installed, click Activate. Easy!
Getting Started with FooGallery
You'll now see FooGallery in your WordPress menu. From here you can click on Add Gallery to create your own WordPress gallery.
For your gallery, you can add a title and upload or select images directly from your media library.
Once you have your images, you can start creating! The first thing to do is select the template you want to use. For the above gallery, we chose the Justified Gallery. If you toggle over to the Gallery Preview tab above the images, you can see how your gallery will look on the page.
Then it's all about fine-tuning to suit your needs. You can change the borders, hover effects, captions, and even add paging.
When you're happy with your gallery, hit Publish! If you're using the WordPress block editor on your page, you can use the FooGallery block under Common blocks. Click on Select Gallery and choose your gallery. Alternatively, if you're using the Classic editor you can paste the shortcode (provided on the right of the gallery page) to insert your gallery into your post or page.
Here's a quick guide to get you started.
You may notice a few extra templates and settings in the images above. These features (and the Slider PRO template we used) come with FooGallery PRO. While the free gallery plugin offers you a lot of versatility, the Pro version comes with more options for customization and several advanced features. You can check out the difference between FooGallery free and Pro here.
Ready to get started? You can download FooGallery Free or take a look at the pricing for FooGallery PRO.