If you're serious about engaging your audience, then you'll know that images are an essential element on your WordPress website. But using images can be detrimental to your page speed. One of the best ways to avoid this trap is to use an image optimization plugin.
Large images can take a long time to load, so if you're using a lot of images, or very high-quality images, your load time can be compromised. Image optimization means you can still use the images you want to use, and you can still create beautiful image galleries, without it having a significant impact on your website.
What is Image Optimization?
Optimizing your images for the web means shrinking their size, preferably without losing quality.
There are a number of ways to optimize images for the web, including using the right file format and naming your images properly. Compressing your images is another way to improve image size without sacrificing quality.
Using an image optimization plugin is also an effective and easy way to do this. These plugins generally work by compressing your images as you upload them to your site (or compressing images already in your media library).
While you should still be doing what you can to optimize your images (such as using the right file format), a plugin can also help you with this process. And it means you won't have to manually resize each of your images before uploading them.
So, to help you out, we've put together a selection of some of the best image optimization plugins available.
Which Plugin Should You Use?
As always, when choosing a plugin for WordPress, we recommend comparing the free and premium features for each option. You should also pay attention to when each was updated, and with which version of WordPress it is compatible.
More specifically, when it comes to image optimization plugins, you should be looking at the following:
Type of compression used: Plugins may offer lossy and/or lossless compression. Lossless compression reduces file size without losing quality. Lossy compression reduces image size by removing some elements in the photo, such as the number of colors you can see. The final quality of the image will depend on the degree of compression.
Potential limitations: some plugins will limit the number of images you can compress in a month, for example. Or there may be a limit to the number of images that you can bulk compress – usually those already in your media library.
File formats: if you tend to use jpeg or png file formats then most plugins should work for you. If you use something different, however, it's worth checking that the image optimization plugin will work for that format.
Image Optimization Plugins
To help you improve the performance of your website, we've put together a list of 5 of the top image optimization plugins.
Our customers make use of all these plugins, all of which work with both FooGallery and FooBox. We've also made use of most of these, although we currently use TinyPNG to optimize our images.
EWWW Image Optimizater

With EWWW Image Optimizer, you can optimize any images already on your website, and then automatically optimize any new images. It uses the tools on your server to do this and gives you a good compression-to-quality ratio. Images are also scaled to fit the device size and lazy-loaded.
What Do The Reviews Say?
With over 700 5-star WordPress.org reviews, and a 4.7 out of 5 rating, you know this plugin is going to be a safe bet. Users say they are happy with the plugin, and that it does what it says it will do. Some reviewers add that they have been using the plugin for a long time, and on multiple websites.
There are a number of negative reviews, but the plugin author consistently responds to these and offers assistance.
EWWW IO is free to use. However, the premium version gives you more optimization and more advanced features. There are two plans available, each geared to suit different optimization needs.
Take a look at the free version here.
Optimole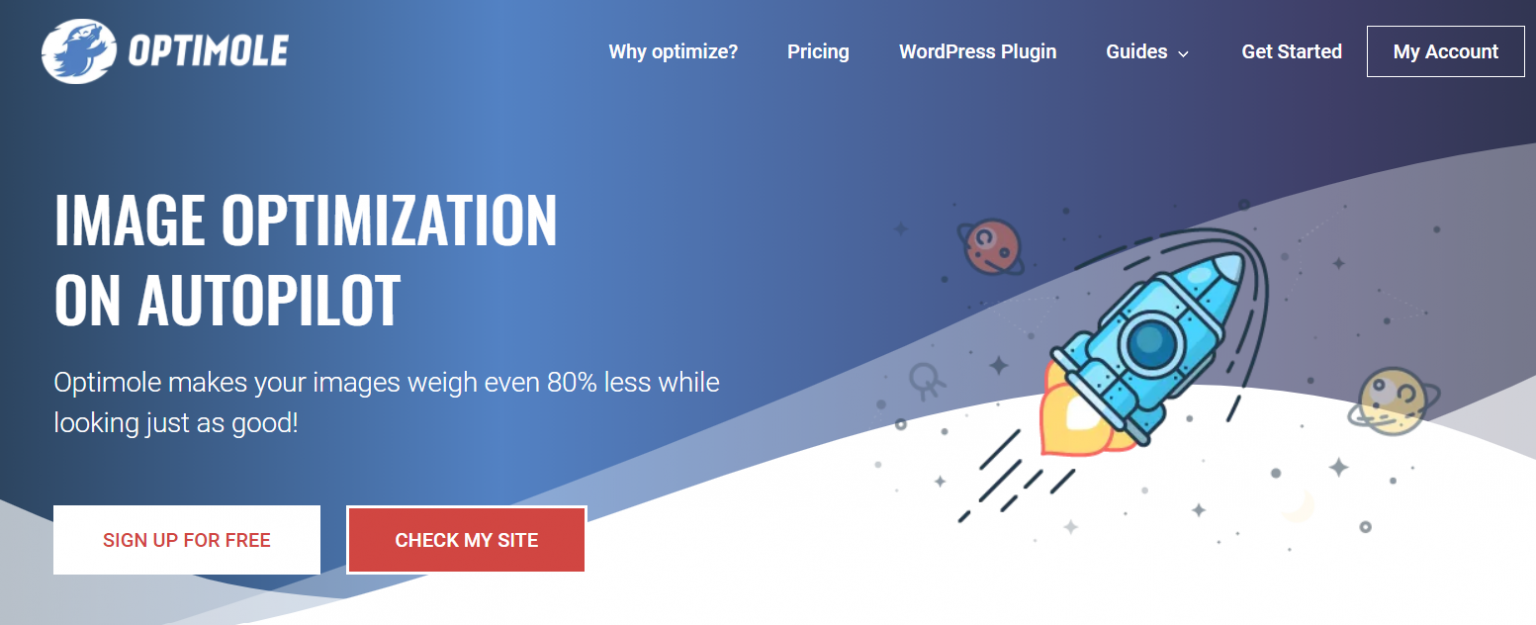 Optimole is a good solution when it comes to optimizing images, because it uses cloud-based optimization and a CDN (Content Delivery Network) to serve images to your users. This puts less of a strain on your website, while ensuring your visitors get correctly-sized, optimized images. On top of this, it uses lazy loading to display the images, all resulting in a faster page load.
What Do The Reviews Say?
Optimole has a 4.8 (out of 5) rating and comes with plenty of great reviews on WordPress.org. These include comments about how well the plugin works, and how good the support is. There are numerous mentions of how easy Optimole is to use.
While there are a handful of negative reviews, the plugin support team has reached out to the individuals to try to solve potential problems.
You can use the free version of Optimole, available on WordPress.org. Alternatively there are a range of plans available, depending on how many site visits you get each month.
Find our more about Optimole.
ShortPixel Image Optimizer
ShortPixel is another popular choice for an image optimizing plugin. It offers both lossy and lossless compression for a number of image formats, including jpeg, png and gifs. ShortPixel also allows you to optimize all of your past images, as well as pdfs.
What Do The Reviews Say?
ShortPixel has almost 500 5-star reviews on WordPress.org, giving it 4.6 out of 5 stars. What stands out the most is the great support. A number of reviews pick up on this, saying that even though there were some problems, the support team has helped fix the issues. Other points worth noting are the great results that you get and that it's easy to use.
There are a few 1-star reviews, some of which are the result of users not understanding how the plugin (and the payment) works. The support team, however, has made an effort to resolve these issues for the users.
The free version of ShortPixel gives you 100 optimized images per month. Plans then go up in pricing based on the number of images you optimize every month.
Check out ShortPixel for yourself.
Smush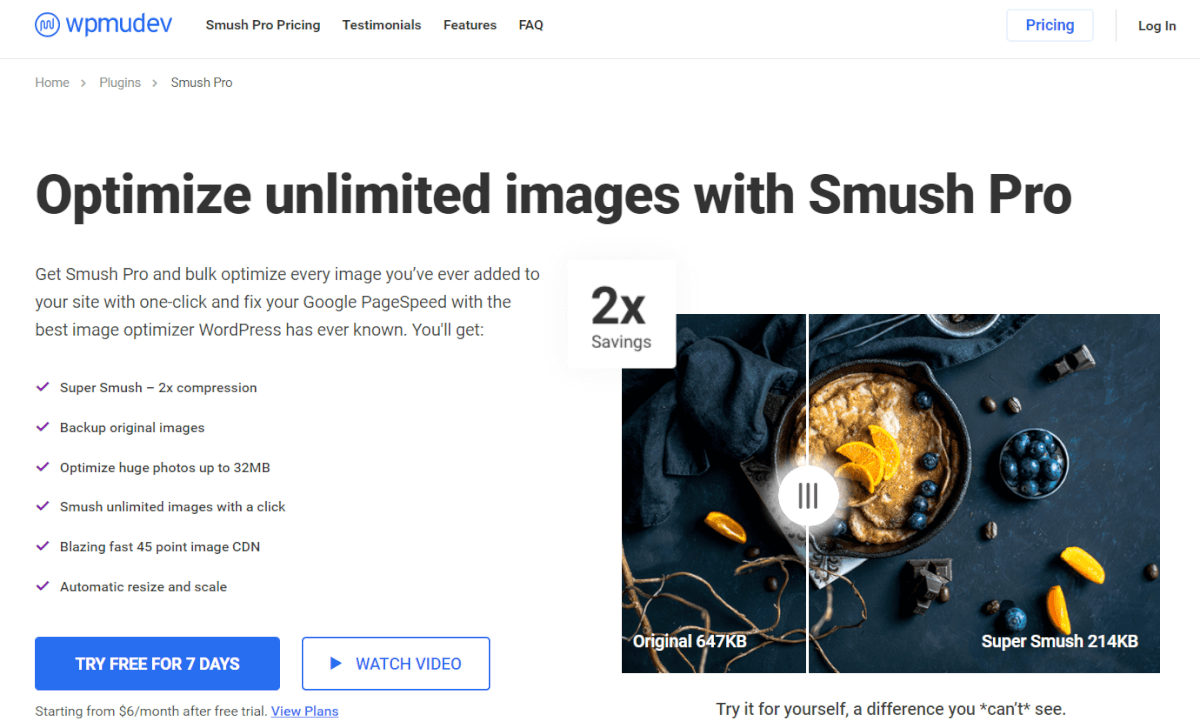 Smush uses lossless compression to strip images of unnecessary data and compress them without having a significant impact on image quality. You can also take advantage of lazy loading, bulk image optimization, automated optimization, and image resizing. The Pro version of the plugin gives you more optimization for more images, and you can make use of a CDN.
What Do The Reviews Say?
Smush boasts an impressive 4.8 rating on WordPress.org, along with well over 4500 5-star reviews. Most of the reviews agree that Smush is a good plugin, that does the job without getting in the way.
There are a number of 1-star reviews, with users saying that the plugin didn't improve page speed or didn't optimize images correctly. The plugin developer and support team have tried to help these users where possible,.
There is a basic free version of Smush, but if you're looking for more advanced image optimization, then you can take a look at the pro plans. These are based on the number of sites on which you want to use the plugin.
Take a look at Smush here.
TinyPNG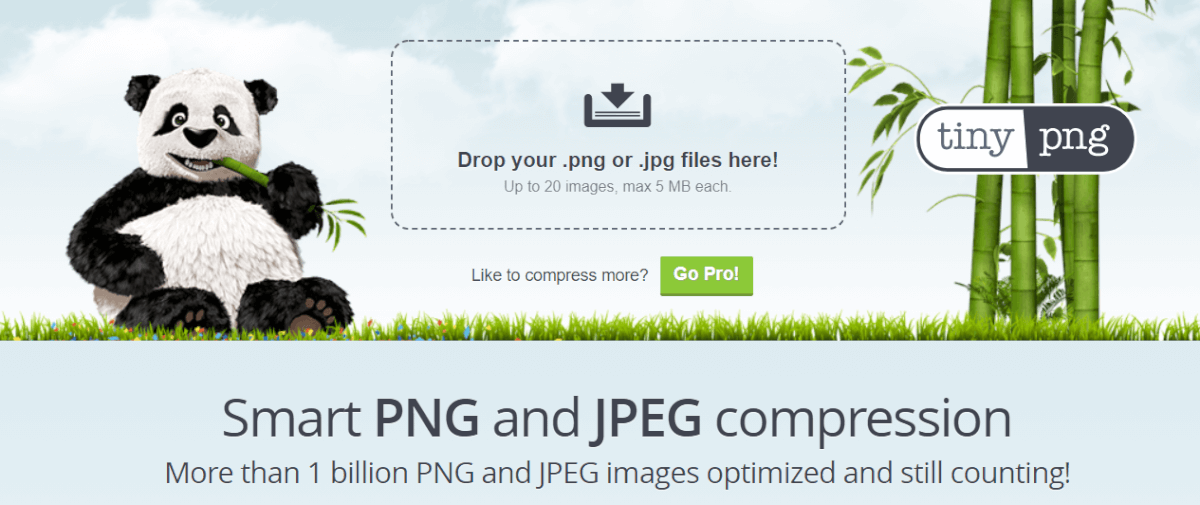 TinyPNG is a popular plugin that uses lossy compression to selectively reduce the number of colors in your image, thereby reducing the file size. TinyPNG combines similar colors together, making the compression difficult to see. It also strips unnecessary metadata, resulting in a much smaller file size.
What Do The Reviews Say?
TinyPNG has fewer 5-star reviews than some of the other options, and has an overall rating of 4.4. But in general, users are more than happy with the results, saying it is an easy-to-use, must-have tool for your website.
There are several bad reviews, but the developer has offered assistance to any users experiencing problems.
TinyPNG is free to use. There is a PRO version as well, which lets you drag and drop multiple images at once, gives you a larger filesize limit, and shows more detailed statistics.
Find out more at TinyPNG.
Final Thoughts
When choosing a plugin, it's often best to try out (and test) the free version first. If you're happy with that, then give the premium version a go.
However, given that many image optimization plugins work on the number of images compressed, it's important to be aware of how the pricing is structured. If you compress a certain number of images, or choose an alternate compression type, you may automatically move into a more expensive pricing bracket.
In the end, the choice of plugin will depend on your needs and your budget. Image optimization is a must for anyone using images on their site, though, so regardless of which plugin you choose, make sure that you are using one. Image optimization is essential if you want to improve the performance of your site.