FooGallery allows you to import your NextGen galleries to FooGallery. This extension is available for FooGallery Free and FooGallery Pro.
Using the NextGen Importer
You will first need to install FooGallery on your website. Once FooGallery has been activated, you will be able to use the NextGen Importer. To get started, goto FooGallery -> Extensions.

You will then see the NextGen Importer Extension. Click on Activate in the bottom right corner.
Once activated, you will see NextGen Importer in the FooGallery menu. Click on this item. You will be redirected to the NextGen Importer page.
Here you will see all of your NextGen galleries. Select NextGen Gallery for all galleries, or the click on the individual galleries you want to import. Then click on Start Import. You can do the same for any NextGen Albums that you may have.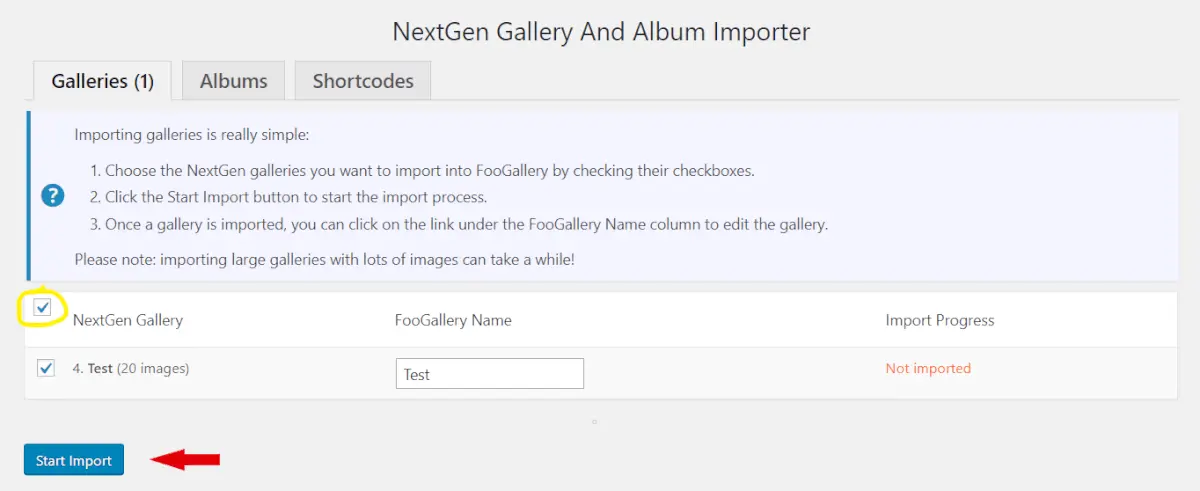 Once the import is completed, you will see a notification under Import Progress telling you that it is done.
You can now access and edit these galleries from FooGallery -> Galleries.
Gallery Shortcodes
You will now also be able to replace any gallery shortcodes that you have used. Click on the Shortcodes tab in the importer, and then Find Shortcodes. You will see a list of all gallery shortcodes and the pages or posts on which they have been used. Click on Replace Shortcodes to replace the shortcodes for the imported galleries with the new FooGallery shortcodes.
Note that if you have been using the NextGen block in the Gutenberg block editor to insert your galleries, the NextGen importer tool won't find any shortcodes to replace.