FooBar PRO is here! Our premium notification bar comes with new templates, increased customization, and more position and visibility settings. Below, we take a look at some of these new features, how you can use FooBar PRO to boost your business, and some FAQ's.
New Features for FooBar PRO
To begin with, we've included a few new bar types in our premium plugin.
Countdown Bar
This notification bar is a great option for driving sales through FOMO (Fear of Missing Out). As the bar counts down, visitors begin to worry that they will miss out on your promotion or special offer. The countdown bar is designed to encourage sales and motivate visitors to make the purchase.
You can use it to launch a promotion, introduce a new product, or build excitement for an upcoming event. This can help increase the success of your launch or sale.
Here's an example of how the Countdown Bar appears:

Sign up Bar
The sign up bar lets you collect email addresses directly from the notification bar. The great thing about this is that people won't need to click away; they can opt into your email list directly from any page on your site.

Depending on your settings, you can make use of an authentication process. This will help cut down on spam and ensure your audience is happy to opt-in. Once someone signs up, they can get a success message before the bar is dismissed.
At the moment, the Sign up Bar integrates with your Mailchimp lists. But you can still collect emails without integrating with an email service, and we will be adding more services in the future.
Customization
Our premium notification bar now comes with advanced customization options. You can add gradient colors (as you can see in both of the above screenshots) and choose custom colors. This means you can customize not only the bar colors, but also the text, buttons, input text, and toggle button.
We've also added a bunch of icons for you to choose from. There are bar-specific icons, like money or price tags for sale bars, or an email icon for a sign up bar. Or you can choose from a range of generic icons, all of which can help you to create a unique look for your FooBar.
Visibility and Position
Another great feature for FooBar PRO is the visibility options. You can now choose to show your bar only with the Shortcode, or you can set the post types on which it displays. Using this conditional visibility means that you can specify a range of posts or pages on which you want the bar to show.
You can add specific items as well, such as a pricing page or a particular blog post. You can also exclude items. So, for example, you can tell your bar to display on all pages, except for your terms and conditions page.
You can also choose from 12 different positions, including an inline bar (like the one below). There are various options for left and right bars, as well as a full side bar. Plus you still have the top and bottom bars available, as in FooBar Free.
Using Your Notification Bar
All of these features add up to one awesome notification bar plugin. All you have to do now, is use FooBar PRO to grow your business!
FooBar, and in particular FooBar PRO, is geared towards helping you boost your business. It can do this by keeping your visitors informed, promoting new products, or building your audience.
FooBar includes basic bars, like the cookie notice, message bar and CTA. FooBar PRO comes with the additional countdown and sign up bars, meaning you now have a versatile bar that can be used for everything from sharing basic information to generating sales.
You can use FooBar to get your visitors' attention. The gradient colors and countdown feature are a great way to do this. FooBar is also easy to close or dismiss, so while you can use it to grab attention, it doesn't become annoying for your users.
The positions and visibility settings for FooBar PRO allow you to place your notification bar where it will make the biggest impact. This might be sitewide, such as for a cookie bar, or on a specific page, like a pricing page. You might want your bar to make a statement at the top of your page, or be a little more subtle on the side of the page.
Demo Notifications
To get you started, we've created demo content in the plugin itself, which you can download, edit and use. To do this, go to Help in your FooBar menu. Under the Getting Started tab, you'll find a Create Notifications button.
Clicking this will generate demo notifications for you, which you can then find in the FooBar Notifications. In fact, you'll get 8 different demo bars, including a countdown and sign up bar. You can use these as a starting point for creating your own announcements, cookie notices, CTAs, general messages and so on.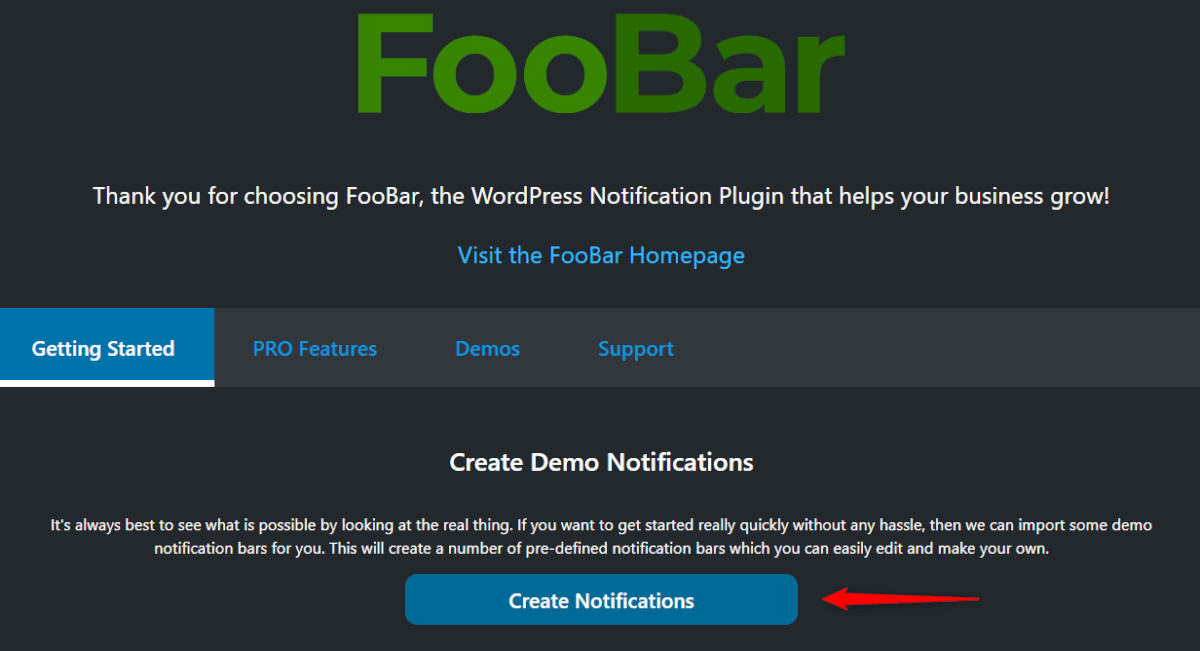 With all the different bar types and customizations, FooBar PRO can easily be used to boost your business and keep your customers happy.
FooBar PRO FAQ
Below we've answered some common questions that you might have about FooBar PRO.
Pricing & Bundles
What do you get with FooBar Pro?
Our pro notice bar plugin comes with the 5 templates and advanced customization options, including the gradient background and conditional visibility. We also offer support and upgrades for the duration of your license.
FooBar PRO is available in a single-site, 5-site, or 25-site license. You can check out the pricing for FooBar PRO here. We also have the free version of FooBar, available for download on WordPress.
Is FooBar PRO included in the FooBundle?
Yes, FooBar PRO is now included in the FooPlugins Bundle. If you purchase any bundle plan, you will also get access to the premium notification bar.
I already have a bundle. Do I get FooBar PRO?
Yes, if you already have a FooBundle license, then you can download FooBar PRO and start using it today. Your bundle license will need to be up to date for this to apply.
To access FooBar PRO, log into your account and go to the Downloads tab. Here you will find the download link for FooBar Pro. Download, install and activate the plugin. The license key will be the same as for your other Bundle plugins.
FooBar Legacy Licenses
I have an old FooBar license. What now?
For many years, FooBar existed on CodeCanyon only. But we have now moved it across to our new licensing system. As such, we will no longer support or develop the plugin on Code Canyon.
But don't worry. You can migrate your FooBar license. We explain more about why we moved our licenses, how to migrate and the benefits of doing so, in this article.
New Features and Bar Types
Will you be adding more bar templates?
Absolutely! We have plans to include several more templates for FooBar, including a Social Bar and a WooCommerce product bar.
Is there a bar type that you're looking for? Let us know in the comments below and we'll look at adding it in.
What about other features?
Yes, definitely. We have loads of ideas on how to make FooBar PRO your goto Notification Bar. We plan on adding triggers, more background options and more advanced customizations for individual bar types.
Again, if there's a feature you're looking let us know in the comments below.