It's nearly November, and you know what that means… Black Friday! It's nearly time for the biggest sales of the year. The sales that everyone waits for, so that they can save big. But if you want customers to spend their money on your products, then you need to promote your Black Friday sales.
Don't wait until the day or the week before. You can start promoting your sale now, so that you can spread the word and get people excited about the big event.
But how do you boost your Black Friday sales before they've even started? And how do you let customers know that you're running a sale?
We've got just the plugin for you! FooBar is a WordPress notification bar plugin that you can use to let everyone know about your promotion. In this post, we're going to take you through some of the awesome FooBar features that you can use this Black Friday.
The CTA Bar
Part of promoting your sale is by drawing attention to it. A Call-To-Action (CTA) bar is a great way to do this. It grabs your customers' attention, and encourages them to take action.
FooBar's CTA bar is included in the free version of the plugin, and with it, you can add your own wording, include emojis and adjust the color to suit your needs. With the free version of FooBar, you get 6 colors to choose from, along with black and white. (If you're using FooBar PRO, you can customize the colors of your bar, text and button.)
Here's a look at a basic CTA bar, that you can put together using the free version of FooBar. We've made it an inline bar, but you can also place it on the top or bottom of your page.
Because the CTA bar includes a button, you can motivate potential customers to take action. You can direct them to a Black Friday sales page, or take them directly to a product or pricing page. Regardless, the CTA Bar can help funnel your customers and increase your conversions during your sale.
The Countdown Bar
The Countdown Bar is similar to the CTA Notification, in that it motivates customers to take action. It is a bit better at this, though, as it adds a degree of pressure by using a countdown. Customers are reminded that the sale will end soon, and are therefore encouraged to take action before the time runs out.
FooBar PRO Includes a countdown bar, with a timer and a button, that you can customize to suit your needs. Here's an example of a Black Friday countdown bar, using FooBar PRO.
With the premium plugin, you are able to change the colors, adjust the font-size and add more attention-grabbing effects (we'll cover these in just a minute). So your bar can really stand out and grab your visitor's attention. With the addition of the timer, you can create a sense of urgency, which is sure to boost your sales!
The timer can work in one of two ways: it can count down to either a fixed or a relative time. If it counts down to a fixed time, you'll set a date and time in the future, and your bar will count down to this. This is an effective way to count down to the end of your sale (or you can use this method to count down to the beginning of your sale).
If you're using a relative time, then the timer will countdown to a relative time in the future, for example, 2 days, 3 hours and 25 minutes. When someone arrives at your site for the first time, the timer will begin counting down. This is a good way to generate FOMO (fear of missing out) as it creates a greater sense of urgency, while giving customers the chance to save.
When it comes to a short Black Friday sale, using a countdown bar that times down to the end of the promotion, is a great way to boost your sales.
Attention-Grabbing Effects
A Call to action is only effective if it grabs your customers' attention. If people can't see it, they can't take action. This is why FooBar PRO includes some awesome attention-grabbing effects.
With the premium plugin, the button and toggle can both be animated (as in the above countdown bar). There are 5 effects to choose from, including a heartbeat, pulse, bounce and wiggle. These draw the visitor's eye, so that they can see the CTA and take that action.
It's a good idea to include one of these effects on both the button and the toggle. The button in your bar should be telling your customers what action to take, for example, Buy, Shop or Save, so adding an effect encourages customers to take the action.
If someone closes the notification, then they should still be able to see the toggle. (This is also the case if the bar is set to be closed when someone arrives at your site, but we don't recommend doing this for sales or promotions.) So you want to remind them that they can still save. Adding an effect to the toggle does just this – it brings the attention back to the bar and encourages customers to take action.
FooBar PRO also includes some fun icons that you can use on your toggle, to show customers that the notification is about a sale for example, or that they can save money. Which is, of course, the whole point of Black Friday sales.
Increased Control When Displaying Your Bar
FooBar PRO now also includes advanced settings for the State of the bar. This refers to when the bar is opened or closed, and these new settings allow for much more control over when the bar is shown.
As you can see in the screenshot below, you can set the initial state to Opened or Closed. Depending on your selection here, you can then select when the bar should close or open. For example, you can start with the bar open, and then set it to close once someone has scrolled down 500 pixels.
A good option for Black Friday, is the Exit Intent setting (as shown in the screenshot below). If a potential customer intends to leave the page, a notification bar is triggered. You can use this to offer a greater discount, for example, or to motivate your visitor to go to a sales page.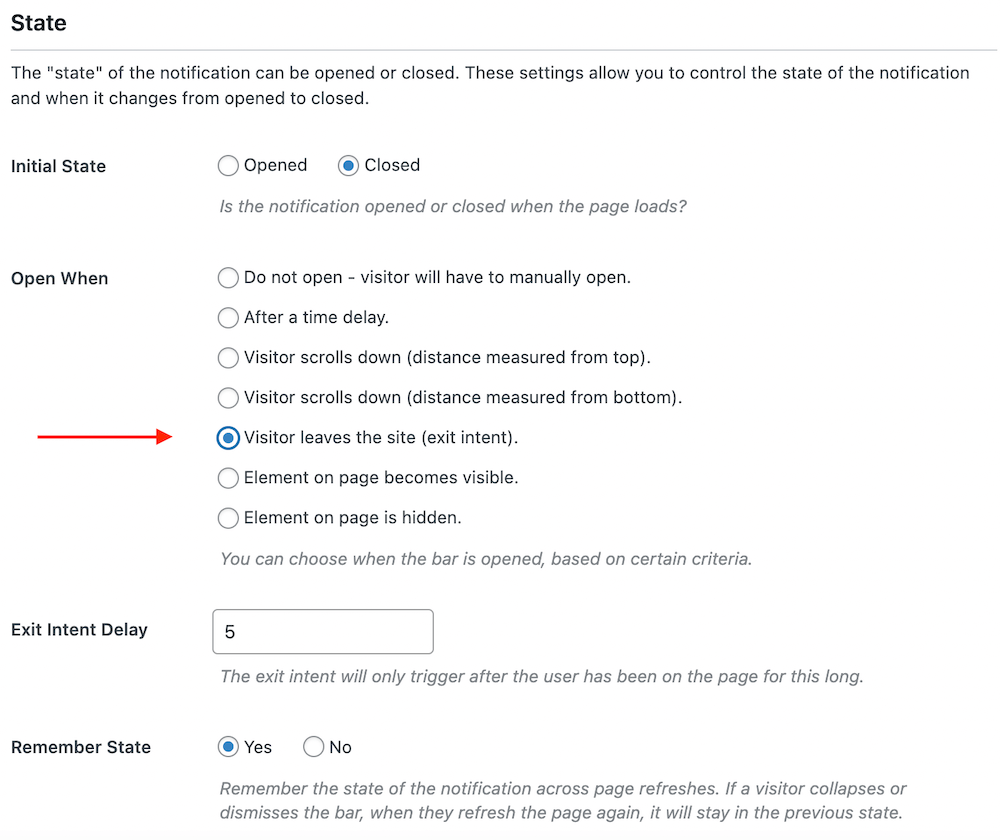 Useful Features For Your Notification Bar
FooBar also comes with a range of other handy features, that will help make life your life easier, and your Black Friday sale more effective.
Visibility
Choose where your bar is displayed, so it can make an impact where it counts. If you only want to show it on your pricing page or select landing pages, then you can use a shortcode to display it on specific pages. You can also show it sitewide. Or set up conditions in FooBar PRO for when you want the bar to show – you can select page or post types, for example, or select certain pages.
Scheduling
With the premium version of FooBar, you can schedule your bar to display from a certain date. And when your sale is done, schedule your bar to stop showing. This is especially useful for sales like Black Friday, when you want to ensure that your sale only gets promoted for the duration of the sale.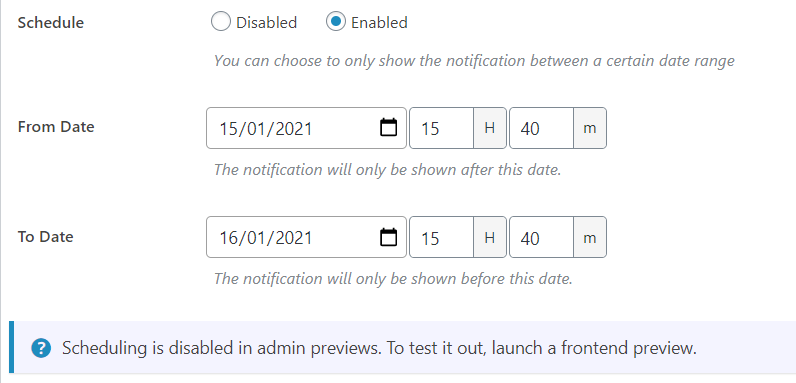 Placement
With FooBar, there are various options for where you can place your bar on your page. You can select the top of the page (which is a good choice for Black Friday sales) or you can choose an inline bar, or the bottom of the page. FooBar PRO gives you even more options with side bars – you can do a smaller bar on the side of your page, or opt for a full length side bar.
Boost Your Black Friday Sales Now
Get 25% Off FooBar
We'd love to help you make the most of your Black Friday sales. So we're offering a pre-sale of our own: get FooBar PRO now and save 25%. This is available on our annual FooBar licenses, and is valid until 15 November 2021.
Simply use the promo code FooBar25 on checkout.
Monthly Pricing Now Available
And we've introduced monthly pricing for FooBar PRO. We realise that you may not need the premium features all year round, and with monthly pricing, you can use FooBar PRO just for the months you need it. Please note that if you opt for a monthly license, premium features will only be available for the duration of the license. When the month is up, you'll lose access to the Pro features.
However you choose to promote your Black Friday sales, it's a good idea to get started now!