Want to alert your WordPress website visitors to new product launches, sales or other exciting news? Then you need a suitable top bar plugin.
A top bar plugin lets you add eye-catching notification bars to your WordPress site. It's an easy, cost-effective way to grab your audience's attention. You can use a top bar for multiple purposes, whether you just run a WordPress site or have a WooCommerce store as well.
In this article, we look at the 8 best top bar plugins for WordPress in 2023, and help you pick the best.
Why Should You Use A Top Bar Plugin On Your WordPress Site?
A top bar may also be called a notification bar, wp notification bar, wpfront notification bar, announcement bar, hello bar, welcome bar, banner bar, floating bar or sticky bar. It's a page element either sitting at the top, bottom or appearing as a sidebar. Most often at the top of the homepage, hence the common use of the term "top bar".

Do not confuse top bars with popups, those intrusive messages that suddenly appear, blocking part or all of the page and demanding you perform an action before you continue browsing. Research shows that pop-ups are typically not effective, because website visitors (usually in irritation) close them quickly and miss whatever information they contain.
Top bars don't obscure page content or the browsing experience. They merely sit on the edge of the page, usually "sticking" in place as the user scrolls up or down the page, uninterrupted. Their background color and design usually complement, rather than clash with, the design of the WordPress theme behind them. They may have a close button, but most users don't feel compelled to use it. Inevitably, top bars catch the user's attention, naturally, like a person standing alone at the edge of the dancefloor (a pop-up, by contrast, would be the person barging their way into your personable bubble on the dancefloor).
A top bar is an easy way to use a custom notification or call to action to increase conversions (i.e., any action you want your users to take). It's great for WooCommerce business owners who want to make sure customers don't miss sales, special offers, promos, or product launches but it can be used for many other purposes, like welcoming customers to your online store, getting them to follow you on social media or inviting them to join your mailing list. You can get really creative with a top bar, with the best top bar or notification bar plugins allowing for customizable design and functionality. Check out our article which highlights ten great uses for a top bar on a WordPress site with WooCommerce.
After reading through our top plugins, we're sure you'll be sold on the value of adding a top bar plugin to your website – but which one?
The 8 Best Top Bar Plugins For WordPress
FooBar Pro is a highly versatile notification bar plugin, compatible with most WordPress themes. You can add unlimited notification bars to web pages in 12 different positions at the top, bottom, or sides of the page.
You can choose from various predesigned but customizable templates including the Announcement Bar, the Call-to-Action Bar (including the CTA button), the Signup Bar (which integrates with Mailchimp), or the Countdown bar. There's a layout to meet the needs of any WordPress/WooCommerce site.

One of the most useful layouts for WooCommerce stores is the Free Shipping bar, which shows customers how much more they need to spend in order to qualify for free shipping on their orders. Offering free shipping can help boost sales and give you an edge over competitors. As they add more items to their basket, the Free Shipping bar tracks their spending at the top of the page – then congratulates them once they qualify and invites them to checkout. It's a great way to prompt bigger purchases and you can add it to every product page.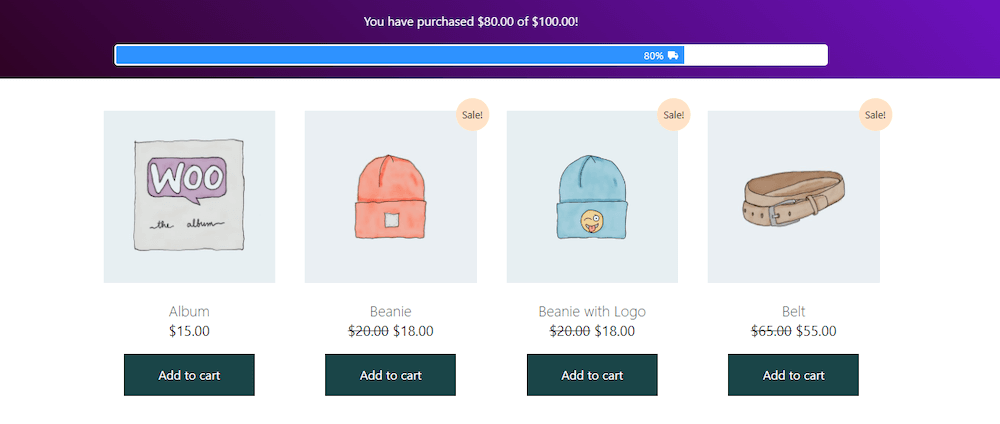 Unlike many top bar plugins, FooBar Pro includes countdown functionality; a great way to prompt urgency before your product sales' start or end date.
You can customize your FooBar top bars by selecting button text, choosing from the standard color options, adding custom color schemes, or adjusting color gradients. You can also add icons and emojis, change the font size and add effects such as pulse, wiggle, bounce, ripple, and heartbeat. It's easy to grab your audience's attention with these creative add-ons.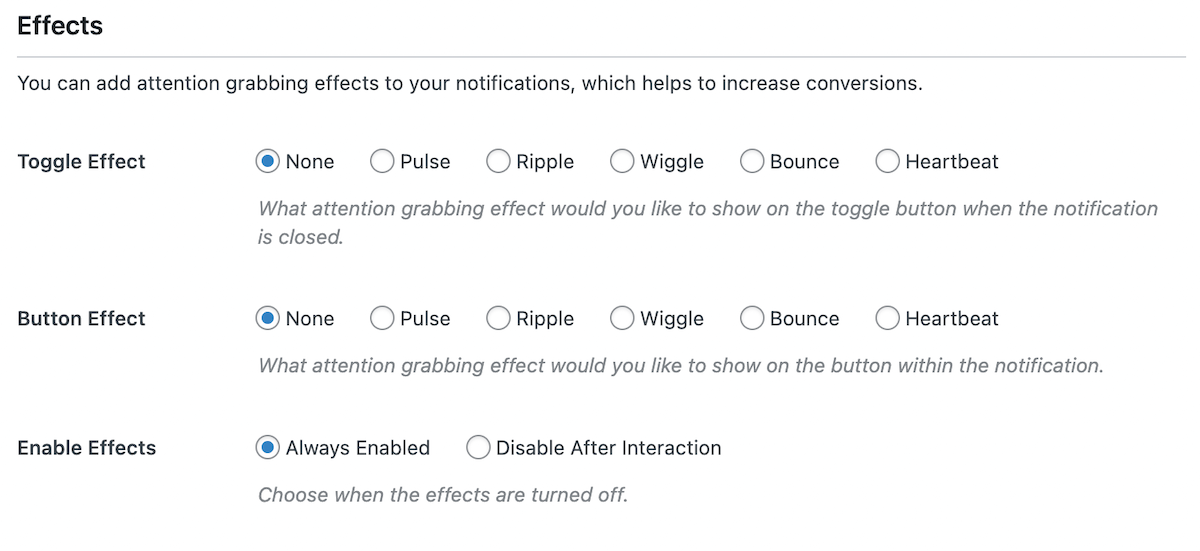 As well as where, you also have full control over when your top bars display, with features like:
Conditional visibility – choose the pages on which you want to show a top bar.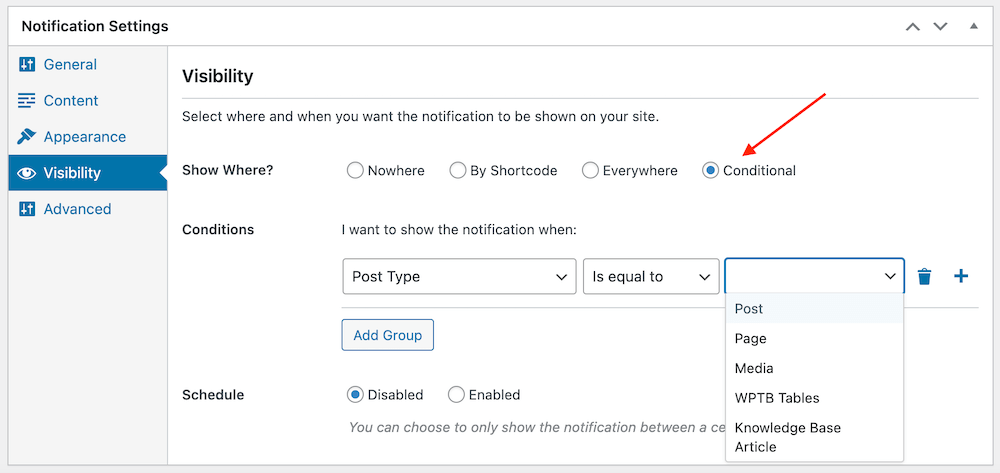 Scheduling – set the start and end times for a top bar (e.g. for limited-duration sales).

Triggering – set a top bar to appear on a page after a lapse in user activity.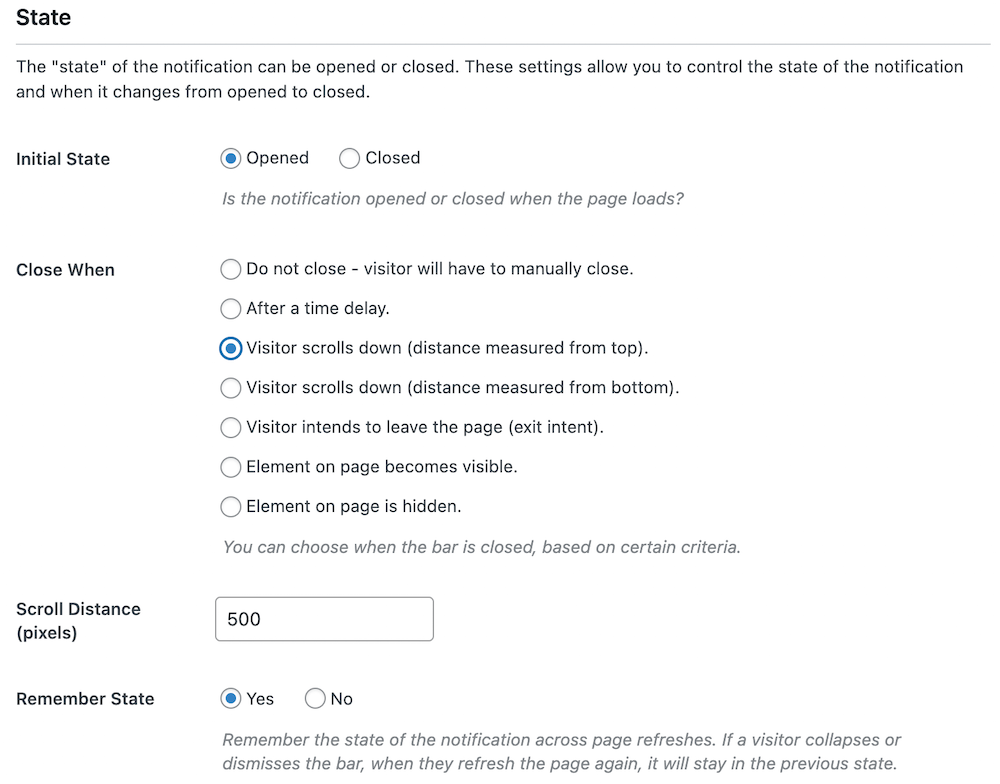 Have a look at some demos of FooBar Pro in action here. To get the most out of this plugin, you'll need the pro version, which offers a lot of value combined with premium features like countdown functionality and effects.
WordPress plugins directory rating: 5 stars.*
The Best WordPress Notification Bar
FooBar is an easy-to-use WordPress notification bar plugin, draw attention, boost conversions and capture leads.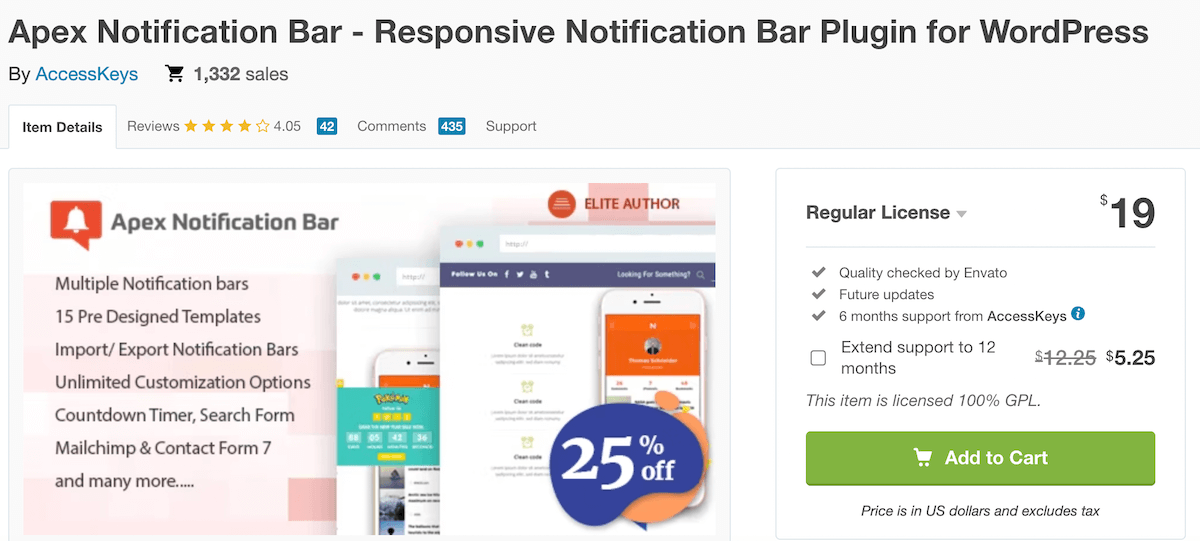 Apex Notification Bar (pro version) is a versatile top bar plugin that includes useful features such as the ability to display multiple notifications on the same page, split notification bars into columns; integrate logos, integrate with Twitter, and more.

There are 15 pre-available templates and lots of customization options. You can set your top bars' visibility by choosing from Sticky, Show after some time, and Hide after some time.
All in all, Apex Notification Bar is a versatile top bar plugin for different notification types, although it hasn't been updated for a while (at the time of writing) and we do like our plugins regularly updated.
WordPress plugins directory rating (free Lite version): 4 stars.

Top Bar Pro gives you quite a few decent features to work with. You can set a time delay before a top bar appears, and a special feature is that you can show/hide top bars to registered users or guests, allowing you to target messaging to both groups, independently.
However, Top Bar Pro doesn't have as many templates, features and customization options as, for example, FooBar Pro. You can customise font size and colors, but you won't be able to draw on engaging icons and effects. Top Bar Pro can be positioned at the top or bottom of the page but doesn't have as many other positioning options as some other plugins.
WordPress plugins directory rating (free Lite version): 4 stars.

Hello, Bar is an intriguing notification plugin that lets you show messages in different ways:
Header and footer bars
Modals (essentially a type of popup)
Floating alerts
Sliders
Full page takeovers
This gives you more options beyond standard top bars, although some feel a bit more intrusive, like the full-page takeover. Hello Bar is highly customizable, offering hundreds of premade templates and a Design Assistant that automatically detects your site design and matches colors, fonts, and styling accordingly, saving you time.
You also get the advantage of analytics, so you can track how your different Hello Bar notifications perform in real time, run A/B tests and pull reports to help you improve outcomes. If social media is a big part of your marketing efforts, Hello Bar is often mentioned as the best WordPress plugin for getting Facebook likes.
Note that Hello Bar's pricing plans are based on how many views of your notification bars you get, rather than just the plugin. The top two (of four) plans are also relatively pricey.

WordPress plugins directory rating: 3 stars.

Notibar is a free top bar plugin that can be used for various announcements such as maintenance notices, coupon announcements, and giveaways. While it's quite versatile and extremely easy to use, it doesn't have the same variety of layouts and customizability that a plugin like FooBar Pro does. It feels like something that might be useful on a straightforward WordPress site for making announcements, highlighting your cookie policy, or sharing site updates.
However, to really encourage engagement or conversions on an eCommerce store, you need elements that create more urgency: free shipping threshold calculators; countdown clocks for sales or giveaways, courtesy thank-you notes when users act on your CTAs, and so on. We would definitely recommend opting for a paid top bar plugin if you're selling anything through WooCommerce.
WordPress plugins directory rating: 5 stars.

The free version of Sumo is an excellent plugin option if you only want to focus on one goal: capturing email sign-ups, but it's not great for much else. For email capturing, it lets you grow your email list with timed popups across your site. Once you've grown your subscriber list you can schedule one-off marketing emails or email drips to communicate with them.
But beyond email marketing? If you upgrade to the Pro version, you get more advanced features including analytics, and a certain range of eCommerce applicability. However, we didn't find any mention of countdown timer functionality, a powerful tool for generating "FOMO" in eCommerce.
Also, there is this notification on the plugin listing in the directory: "This plugin hasn't been tested with the latest 3 major releases of WordPress. It may no longer be maintained or supported and may have compatibility issues when used with more recent versions of WordPress."
WordPress plugins directory rating: 4 stars.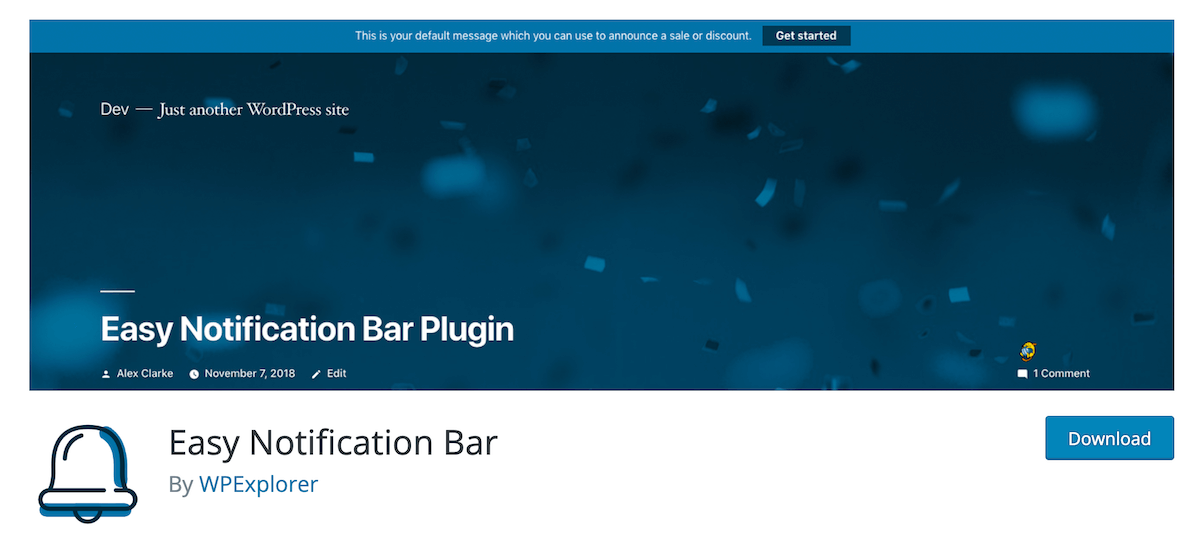 Easy Notification Bar is a free, lightweight, and user-friendly WordPress plugin. It's a good choice for basic announcements and should work with most WordPress themes. However, it only includes a top bar option, so you can't place tactical notifications in other places, too. If you want to experiment with positioning top bar notifications in other places, you won't be able to with Easy Notification Bar. But it's a good choice if you just want a free and easy top bar plugin.
WordPress plugins directory rating: 4.5 stars.
Brave bills itself as "the most powerful and intuitive Conversion widget builder for WordPress" and it certainly offers a lot in the paid plans besides top bars – like newsletter opt-in popups, contact form popups, sticky bars, sidebars, announcements, modals, lightboxes, cookie notices, and slide-ins. It also comes with advanced analytics.
One user writes on the directory listing, "Best software for popups and even lead collection on the market." If you do want popups in your marketing toolkit, you could give Brave a try – but read about the pros and cons of popups here. It's probably the most developed and complex plugin in this list, also making it one of the priciest – but if you're simply looking for a premium top bar plugin, you won't need a lot of what it has to offer.
WordPress plugins directory rating: 5 stars.
Increase Conversions With FooBar, the #1 Top Bar Plugin For WordPress
So what's the best top bar plugin for WordPress sites? When we cut the final options down to the three five-star-rated plugins on this list, it was easy for us to reach a decision. Notibar is free, easy to use, and has a nice clean look – but it lacks a lot of the advanced functionality we think would drive the conversion rate for WooCommerce sales. Brave is technically impressive, highly versatile, and offers all the bells and whistles (at a price), but it's not dedicated solely to "the art of the top bar" so you might pay for more than you need.
Finally, FooBar Pro provides everything you could want in a top bar plugin in terms of design options and customization, placement, functionality, effects, and applications – and it's competitively priced. Whether you have a straightforward WordPress site or one incorporating eCommerce, FooBar Pro is a great way to catch your next visitor's attention.
Click here to get creative with FooBar Pro.
The Best WordPress Notification Bar
FooBar is an easy-to-use WordPress notification bar plugin, draw attention, boost conversions and capture leads.
*WordPress plugins directory ratings at the time of writing.