Do you want to capture the attention of your audience? Then a WordPress Video Plugin is the answer. Video is versatile and it is popular. And a video gallery plugin makes your life a whole lot easier.
In this post, we're going to take a look at why you should use video and how a video plugin can help you do this the right way.
Benefits of Using Videos
Biteable shares some interesting numbers, saying that 60% of people would rather watch videos online than TV. More than 50% of executives would rather watch a video than read a text. Plus, over 70% of customers would prefer to learn about a product or service from a video. YouTube, Facebook and Twitter have all seen a rise in the amount of video watched.
UK Web Host Review says that 90% of internet users watch video online, and over 50% of people use the internet to watch vlogs. In short, more people are using the internet to watch videos.
But what does that mean for you? In short, websites should be embracing these numbers and using video to market to their users. Veedyou reports that over 80% of marketers feel that using video has increased their traffic and their sales, while improving their lead generation. They also say that, compared to other marking channels, video content is a better tool for promoting brand awareness.
From these numbers, it's easy to see why so many websites use video content, and why you should be doing so as well. So what's stopping you?
Using videos on your WordPress site is as easy as installing a plugin. The easiest solution for anyone using WordPress is to make use of a video plugin. One such plugin is FooGallery PRO.
Here's an example of a video gallery, using FooGallery PRO. You'll notice, that when you click on one of the videos, it will open in the PRO Lightbox, from which you can watch the video.
FooGallery PRO and Video
FooGallery PRO comes with video functionality built in – just take a look at the above gallery, or have a look at the demos here. You can create a gallery with both images and videos, or only videos. You can also create a gallery with a single item which is a video in order to showcase that video on a page or post.
How To Use A Video Plugin
Creating a video gallery is simple with FooGallery PRO! Start by selecting the gallery layout that works best for you – all of the FooGallery templates work with video. If you're using images and video, then choose a gallery that works with both. You can then import your videos, style your gallery and publish it. It really is that easy.
Let's take a look at this in a bit more detail though.
Create A Gallery
First you need to add a gallery and select a template. If you're just using the gallery for video the Slider PRO or Grid PRO galleries work well. They both display the videos on the page, while making it easy to see the other items in the gallery.
Import Videos
The next step is to select your media. FooGallery PRO allows you to import videos from multiple sources including:
You can import a video simply by pasting the URL to the video from one of the different channels that are supported. Alternatively, you can easily search for videos on YouTube by typing in a keyword.
To import videos into a gallery, click the Add Media button and then click on the Import Videos tab. You can then paste in a URL, or type in a keyword to search YouTube.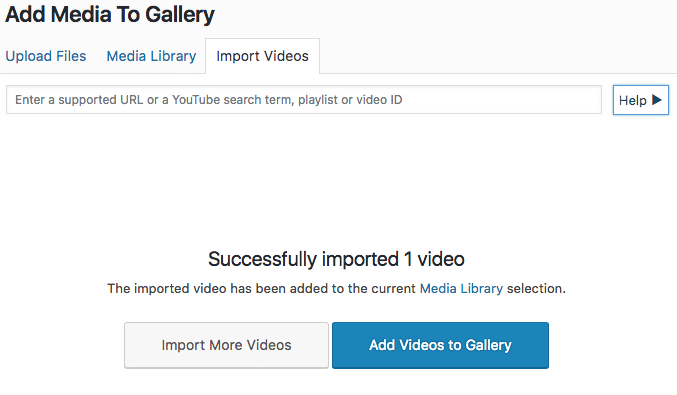 You can upload a self hosted video into your media library, which you can then add to your video gallery. But this is NOT recommended.
It is preferable to load videos from a YouTube channel, or platforms like Vimeo or DailyMotion. This will save on hosting space for your site and reduce bandwidth costs, not to mention improve your page load time. The added benefit of this is that you then have another channel (on the video site) from which you can drive traffic to your website.
Style Your Gallery
Once your media has been added to your gallery, you can customize the look and feel of the gallery. You can change your hover effects, appearance settings and the lightbox, to mention just a few of the customization options available to you.
You can also tweak the video settings. For example, you can change the hover icon, make the icon sticky or change the video size.

You can find out more about the styling options available to you in this article.
Publish!
Once you're done, you can publish your gallery and include it in your post or page by using the FooGallery Gutenberg block. You'll see a preview of the gallery in your editor.
As soon as your post has been published, your audience can enjoy watching videos directly from the gallery. It's as simple as that.
Summing Up
The FooGallery settings are designed to be user friendly, making it simple to create a unique, eye-catching gallery for your WordPress website. As FooGallery is responsive, your audience can also view your gallery from a mobile device. These are all good reasons to use a WordPress video plugin. But most of all, FooGallery PRO makes it simple to add videos to your site, making your life that much easier.