FooGallery makes it easy to add captions to your image gallery. Available on both the Free and Pro versions, the caption settings on FooGallery allow you to choose a title and a description for your thumbnails. Here we show you just how easy it is.
Add Images to Your Gallery
The first step is loading images to your gallery. This may sound obvious, but the important part of this step is in labelling your images. When you add images to your gallery, you'll be able to fill in the Title, Caption, Alt Text and Description for each image.
You can come back and do this at a later stage, but it really is easier to do it right at the beginning. To find out more about what to include in these different fields, read our blog on Titles and Alt Text.
Choose Your Gallery Template
Once you've selected and loaded your images, choose the gallery template you'll be using. Again, you can change this later, but bear in mind that your settings will revert to the default settings when you select a different gallery template.
Add Captions to Your Image Gallery
In the Hover effects tab, you can select when your captions will be visible. Under Caption Visibility you can choose to show captions on hover or make them always visible. You can even choose to not have captions.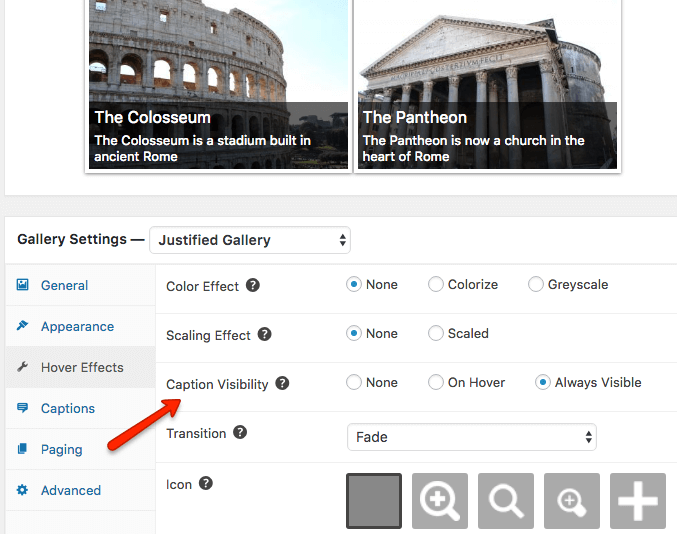 Here's a demo of how it looks when the captions are always visible. At this point you can also select your other Hover Effects – or how your thumbnail will appear when hovered over. These vary depending on whether you have FooGallery Free or Pro.
On a side note, the Masonry Gallery comes with a special feature, where the captions are set to always be visible Below Thumbnail. This is a great look with the Masonry Gallery.
Change the Caption Source
You can also change where your caption data is sourced or pulled from. To do this, go to the Captions tab. (Or you can change this from the FooGallery settings in your menu.) The default settings will be selected, but you can easily adjust the settings to customise your gallery. You can choose to display a title or description only, or you can display both.
The captions use the wording you added when you first loaded your images. So your choices here will reflect that wording. For both the title and description, you can choose from the Title, Caption, Alt Text or Description that you originally included.
To change the wording, simply choose Manage Items (next to Gallery Preview) and click on the small 'i' in the top left corner of the image. Once you've changed the wording you can return to the Gallery Preview option.
The Caption options also allow you to limit the length of your title and description. This won't affect the title and description in the lightbox (when the full size image opens). But you should ensure that the captions aren't cut too short, and that they still make sense if you limit the length.
Here you can see the various settings and how the different captions look:
Explore the options for yourself – download FooGallery and see how easy it is to customise your image gallery.