We live in a multilingual world, and no matter who you're trying to reach with your website, there's a good chance you have a similarly multilingual audience.
Adding WordPress two languages functionality – or even more languages if needed – lets your visitors choose their preferred language for interacting with your site, while also helping you reach more visitors in the first place by increasing your visibility in Google and other search engines.
It's also easier than you might think to offer your site in different languages, and we're going to show you how to add WordPress two languages functionality to your entire site, using a lightbox from the FooBox plugin as an example (you can use the same technique for galleries from FooGallery, as well!).
Why Add WordPress Two Languages Functionality? Two Big Benefits
There are two big benefits to offering WordPress two languages functionality on your site:
You repurpose your existing content to reach more people in Google.
Your visitors can browse your site in their native languages, which is more comfortable.
Let's go through what's happening with these two benefits.
1. Reach More People in Google Search
Offering your WordPress site in different languages is a great way to improve your search engine optimization (SEO) efforts and get more traffic on Google.
It's also unique because it lets you do so without creating new content (or at least needing "new ideas").
Normally when you want to rank for a key term in Google, you might create a new piece of content that targets that term.
But here's an important fact to remember when you're creating content for SEO – only about 25% of the Internet speaks English as a primary language (and the numbers are even lower for other languages).
So there is actually a much larger percentage of people who are searching for the same ideas and phrases you've already written about … just in different languages.
Let's look at an example to illustrate the point.
Say you have a site about dog training and you're looking to increase your traffic from Google. You already have a post targeting the keyword "how to train your dog", which gets 10,000 searches per month (maybe with a nice video gallery of training videos!).
One way to increase your traffic would be to create new content for related search terms. But what if you saw that "como entrenar a tu perro" – the exact same phrase in Spanish – received 5,000 searches per month?
By translating your existing English content into Spanish, you could instantly increase your potential traffic by 50% without needing to write any new ideas from scratch, which is why translating your WordPress site can be so helpful for SEO.
2. Create a Better User Experience
Beyond reaching new visitors, adding WordPress two languages functionality to your site also helps you create a better experience for your existing visitors.
As you'd expect, most people prefer to browse the web in their native language, and that preference leads to them spending more time on websites that offer content in their own language, as well as being more likely to purchase from websites in their own language.
For example, in a Gallup survey commissioned by the European Commission, around 90% of respondents prefer to visit a site in their own language, and 45% just won't browse a website in a language other than their own.
The same concept applies to eCommerce, where that Gallup survey found that 42% of respondents would not buy from a store with content only available in a different language.
Common Sense Advisory found similar trends in a survey of 2,430 web consumers from eight different countries:
72.1% of respondents spend most/all of their time on websites with content in their native language.
72.4% of respondents are more likely to buy a product when they can get information in their own language.
And here's the really important thing to remember:
Even if you're only targeting a limited geographic area, you still probably have a multilingual audience. For example, the US Census Bureau estimates that, in California, a little under half of all people age 5+ speak a language other than English at home (44.6%).
While that number drops for the USA as a whole, the Census Bureau still estimates that around one-fifth of all US residents age 5+ speak a language other than English when at home.
To get a basic idea of which languages your site visitors prefer, you can use the Geo: Language report in Google Analytics: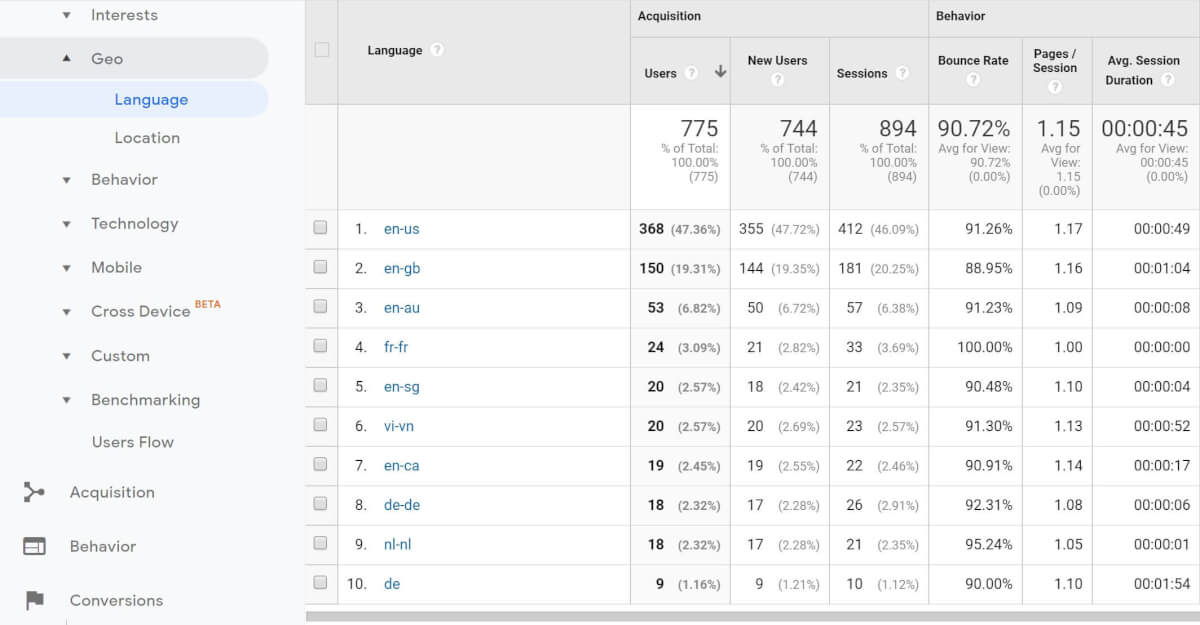 How to Add WordPress Two Languages Functionality to Your Site
As the evidence shows, there are some very real benefits to adding WordPress two languages functionality to your website, but now for the important questions…
How you do actually start offering your WordPress website in multiple languages? Is it going to require significant time commitment? Do you need to hire a developer? Do you need to translate all your content from scratch?
In reality, the process is surprisingly simple.
While there are a lot of high-quality translation plugins that can help you offer WordPress two languages functionality at your site, one of the easiest to get started with is Weglot because it uses machine translation to automatically translate 100% of your site, including any content from FooGallery and/or FooBox.
Once you have that automatic translation foundation, you can go back and manually refine your translations or outsource them to professional translation services.
Here's a quick guide for how to use Weglot to translate a lightbox from FooBox, though you'll be able to use the same basic principles to translate other parts of your WordPress site as well.
Step 1: Activate Weglot and Choose WordPress Two Languages to Offer
To get started, you'll need to install the Weglot plugin from WordPress.org and register for a free Weglot account. Once you've done that, you can add the API key from your Weglot dashboard to the plugin's interface to connect the two.
Then, you're ready for the fun part – making your WordPress two languages selections. You'll choose:
The language that your site currently exists in.
The additional language into which you'd like to translate your site's content.
For example, if you have an English site that you want to offer in Spanish, you'd configure it like so: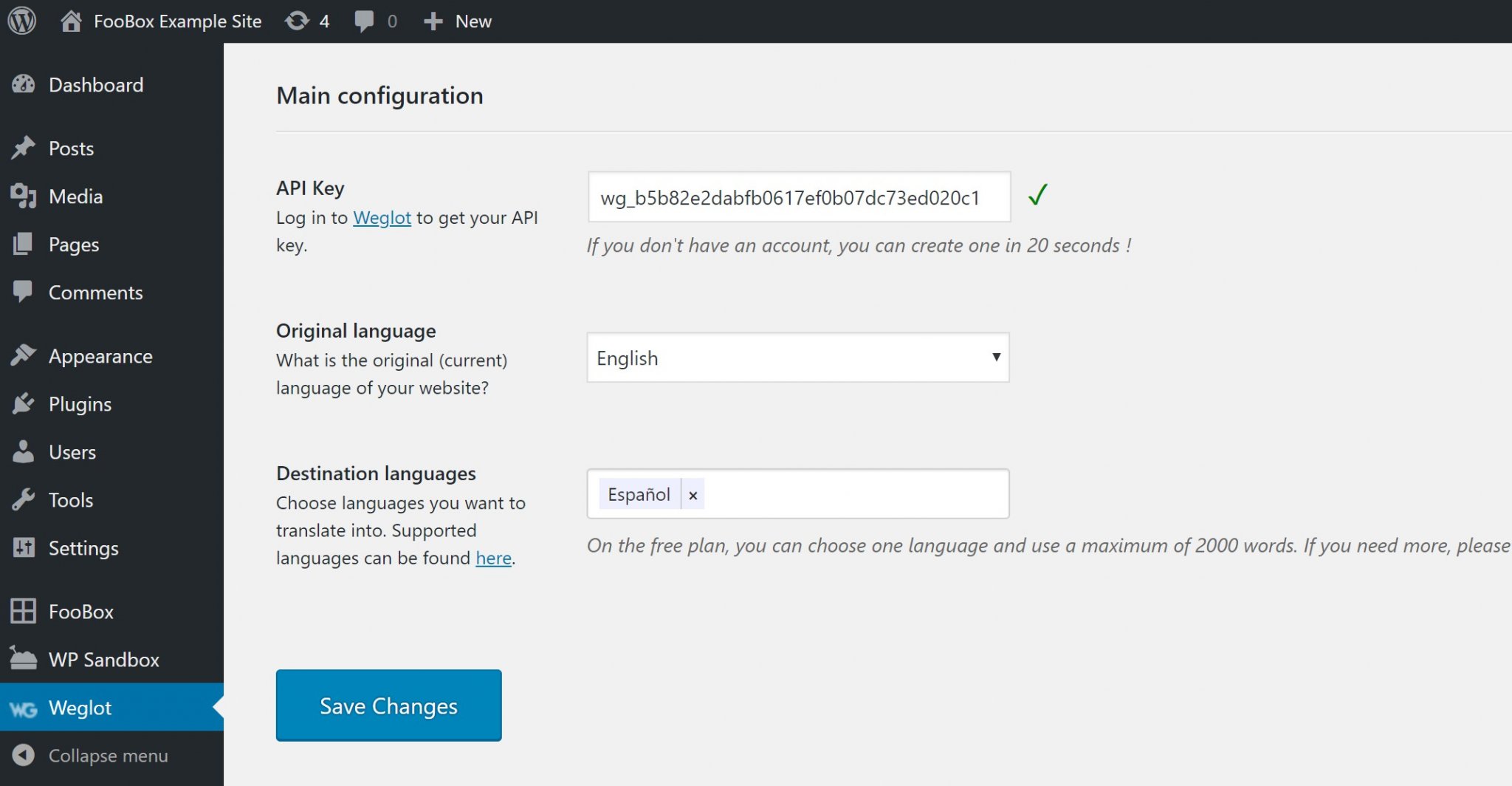 Once you make those selections and click Save Changes, Weglot will use automatic machine translation to translate your entire site and add a front-end language switcher button. You can see the language switcher underneath the FooBox lightbox on our example site: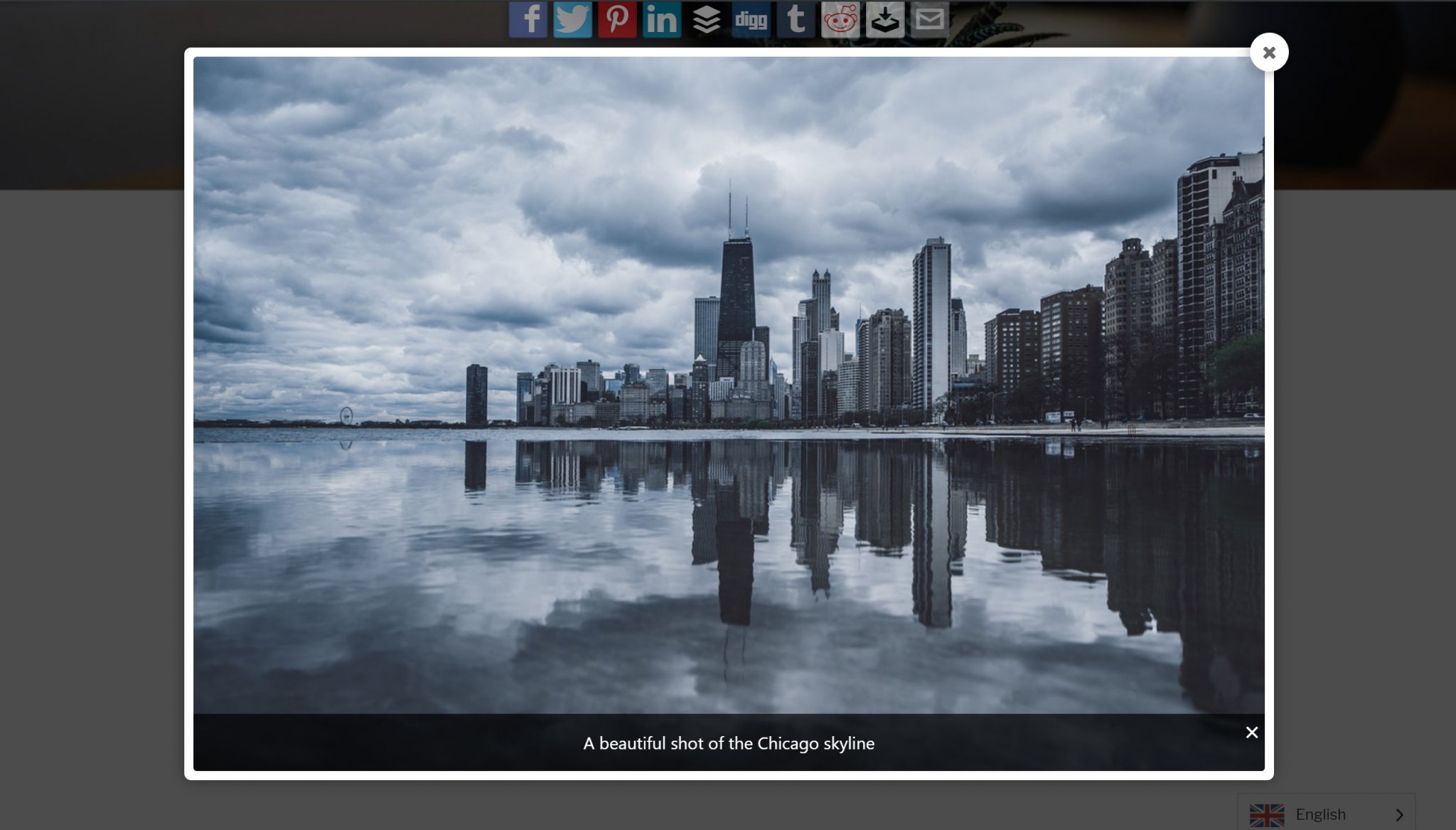 By default, Weglot automatically translates the caption in FooBox. Here's the same caption in Spanish: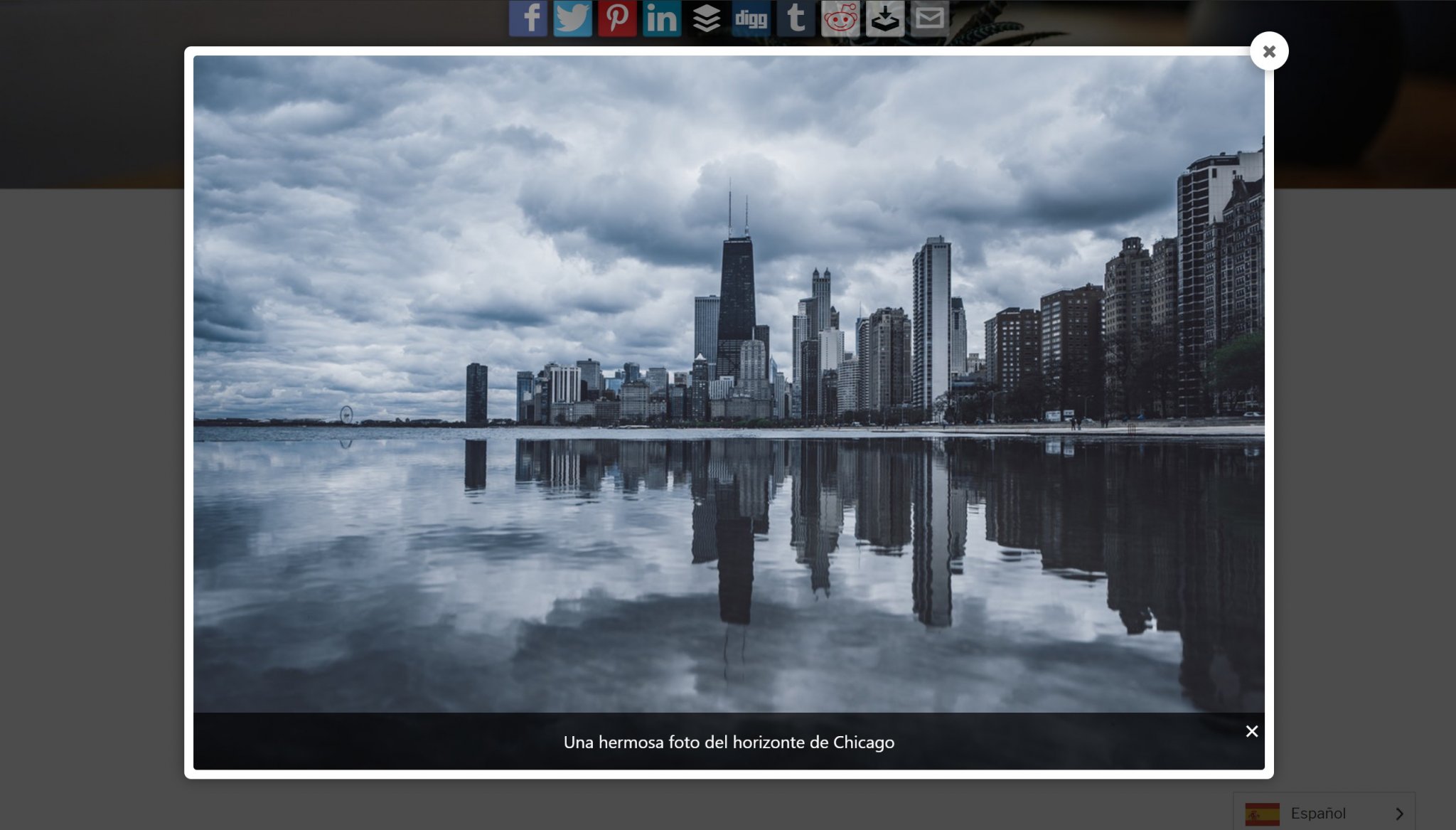 However, you can also go in and manually edit your translations if desired.
Read about how to translate images on your site here.
Step 2: Manually Refine Translations for WordPress Two Languages Content
To manually edit your site's translations, you can use the side-by-side translations list in the Weglot cloud dashboard to search for the relevant FooBox caption or other text. You can also outsource translations to professional translation services from this interface: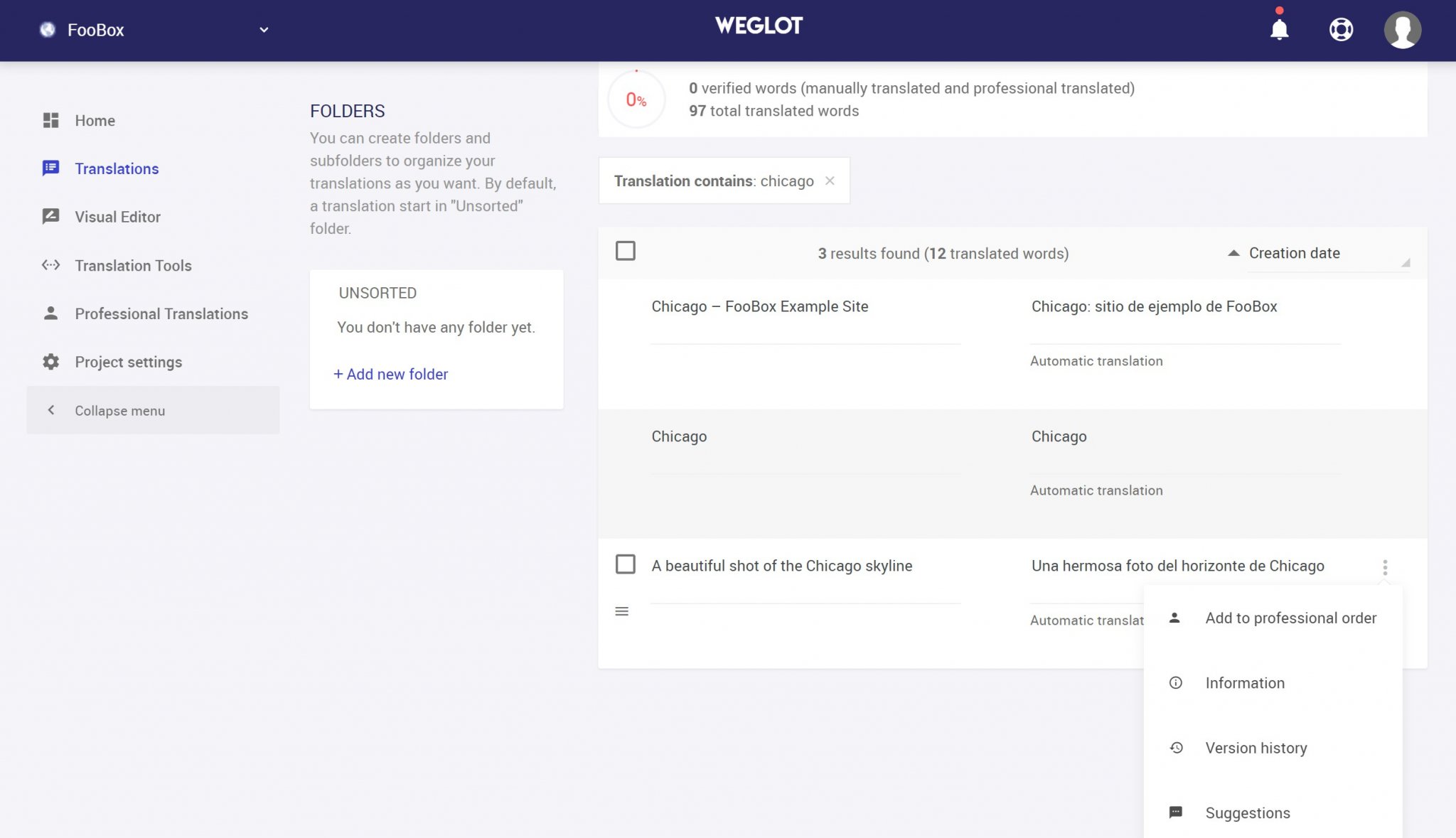 WordPress Two Languages: Get Started Today
In the global, multilingual world that is the Internet, adding WordPress two languages functionality is a great way to improve your website because:
It lets you repurpose your existing content to reach new visitors in search engines like Google.
Your existing audience would much rather browse your website in their native languages.
To add WordPress two languages functionality to your website, you can use a WordPress translation plugin like Weglot to get up and running in no time.