A Detailed, Honest Comparison of FooPlugins, NextGEN and Envira.
FooGallery is a WordPress gallery plugin, and we think it is the best on the market. But we wanted to put this to the test. After all, we can't call ourselves the Best WordPress Gallery Plugin if we don't measure up.
So we decided to take a closer look at what FooGallery has to offer and how it performs, in comparison to two other popular WordPress Galleries. NextGEN and Envira are both well-established galleries with a large following. NextGEN has been around for quite some time, so it has a more established customer base. And both FooGallery and Envira have a competitive number of users on WordPress.org.
To figure out how FooGallery measures up, we'll be taking a detailed look at some of the key considerations for any WordPress gallery plugin. We'll look at the features offered, which of these are free and which you have to pay for. We'll also take a look at how the plugins rate in terms of performance (page speed and page size).
WordPress Gallery Plugin Comparison
It's fair to say that each of these WordPress gallery plugins comes with a load of features. With each of them, you can build creative galleries. You can customize your thumbnails, add on features and tweak as you go. All of them include a gallery block which shows up in the Gutenberg block editor in WordPress. Plus, all of the plugins are responsive, meaning they adjust to the size of the screen on which they're being viewed.
But there are some questions you should ask yourself before settling on a gallery plugin:
Does this gallery plugin include the features I need? And how easy is it to customize these features?
Are these features for free or do I have to pay for them?
How does the gallery plugin effect my page speed and overall site performance?
To help you answer these questions, we've taken a closer look at what FooGallery, NextGEN and Envira have to offer.
Feature Roundup for Each WordPress Gallery Plugin
FooGallery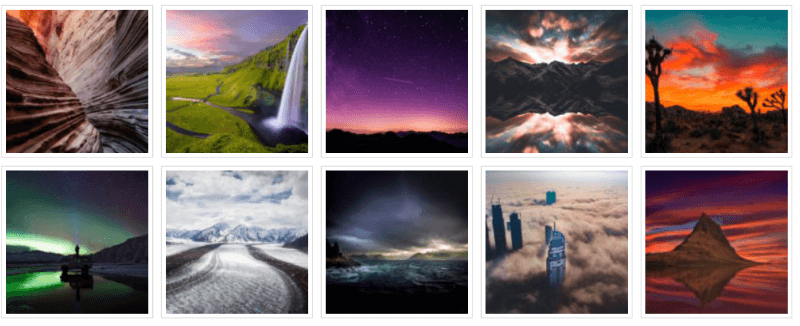 FooGallery Free comes with a lot of features. We decided to include the basics for all the features, so you can include Pagination, or hover effects, and so on, even with the Free version. FooGallery Pro simply offers more of these, plus a few extras. These additions to Pro include things like Video, Filtering, and the ability to add images from another datasource.
FooGallery Free stands on it's own legs as a world-class WordPress Gallery Plugin. It comes with six gallery templates, lazy loading, live previews in the admin area and tons of settings for total customization. There's Drag n Drop reordering of images and galleries and you can use the built-in media library to manage images. As mentioned, all of these gallery plugins are Gutenberg-friendly, but FooGallery takes it a step further as you get live previews in the page editor itself.
Other features include copy-to-clipboard shortcodes and a page usage metabox with one-click gallery page creation. You can also add Simple Pagination in the form of dots. You can even set a gallery as the default via settings, so you can reuse the same settings for future galleries. This makes it really simple to customize your gallery style. There are lots of other features, including the NextGEN importer tool, which you can see on WordPress.org.
FooGallery Pro comes with all of this, and a whole lot more. Top of that list is Video. With any of the FooGallery Pro plans, you can easily import videos into your gallery. You can import from YouTube, DailyMotion, Vimeo, and Facebook, among others. The other really great addition to Pro is that you can pull in galleries from other datasources, such as your media tags or Adobe Lightroom. Filtering of media tags or categories is another awesome feature, that allows users to filter galleries on the frontend.
FooGallery Pro also improves on what the free version offers. You can choose from three additional templates, such as the Slider Pro. Instead of customizing the hover effects, you can simply use one of the hover presets. There is more advanced pagination, including Infinite Scroll and Load More options. Plus there's a host of extras like the loading icons, thumbnail filters, and deep linking.
NextGen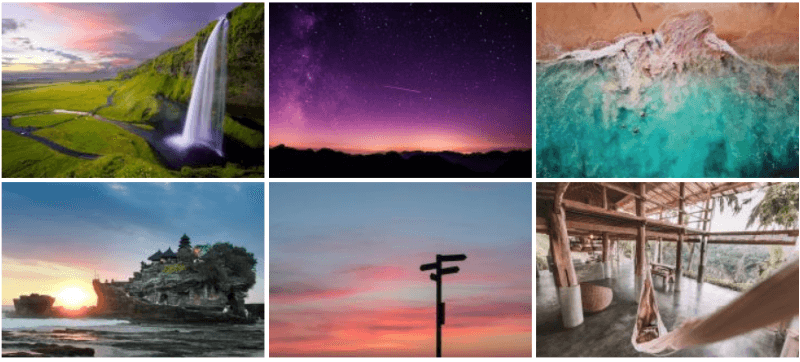 NextGEN also has a lot to offer. The free version comes with three gallery styles and two album styles. It includes a batch upload feature, and you can reorder and sort photos, edit thumbnails, and put galleries into albums. Plus you can customize the gallery appearance with transitions, lightbox effects and more.
The NextGEN Plus and Pro versions include more display options along with eCommerce and proofing capabilities. These plans come with a pro lightbox with it's own customization options. The lightbox includes deeplinking, sharing and commenting features.
The top two plans include the Imagely Lightroom plugin, while the 'All Themes & Plugins' plan also gives you access to all of the Imagely Themes.
It is notable that NextGEN works a little differently to FooGallery and Envira in that it doesn't use the WordPress media library. Instead it creates it's own library images stored in the database. This means it adds to the number of folders and database tables for your website. The interface is also different to the other plugins, and in our opinion, not as intuitive and user-friendly. For example, we found it quite difficult to edit the thumbnails – from what we could see, the only place to do this was from the general settings, so this change would apply to all galleries rather than just a single gallery.
Envira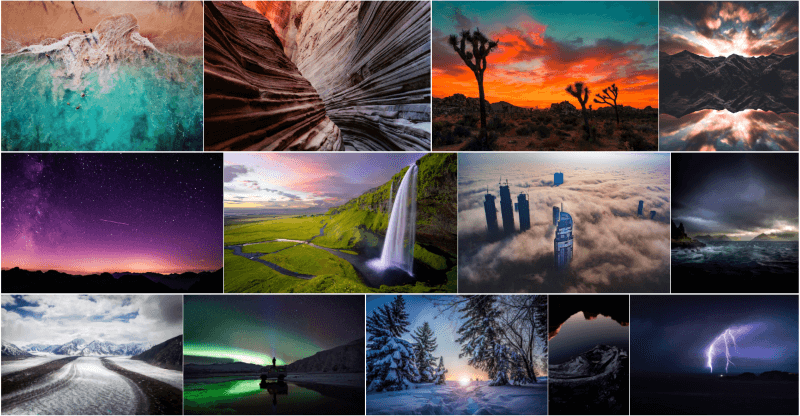 Envira Gallery Lite, the free version of Envira's plugin on WordPress.org, includes your basic gallery features. There is Drag n Drop reordering. You can adjust certain items, like the number of columns in the gallery and your margins. You can also tweak a few of the lightbox settings. And once you've selected your gallery in the block editor, you will see a preview of that gallery. A nice feature was the ability to do some basic edits from within the page editor.
But for more advanced features, you'll need to look at buying the plugin. Envira Gallery is available in four plans (more on that below), each offering increasingly more features. The Basic plan gives you the ability to add standalone galleries and fullscale images. There are various Importer Addons, as well as Slideshow, Protection and Printing Addons.
The next plan, the Plus, gives you the same features as the Basic plan plus you get Gallery Themes and Featured Content. There is also Password protection, Pagination and a Tags Addon. Other Addons included in this plan are the Schedule, Watermarking, Zoom, Pinterest and Instagram Addons.
The Pro and Agency plans include even more. You can save your default settings, add breadcrumbs, and work with WooCommerce. These plans also have Video, Albums, Deeplinking and Proofing capabilities. Some of the additional Addons include Lightroom, a Zip Importer, Downloads, Social and Fullscreen.
The Envira interface is fairly similar to FooGallery, and we think this makes it easier and more intuitive to use. But we did find it a bit frustrating that, from the mobile settings onwards, you need to upgrade to a paid plan.
Pricing Comparison: Free & Premium plans
All three plugins offer a free and a premium version. As mentioned above, the free versions for each include some of the features but, obviously, not all of them. FooGallery, for example, offers you enough features on the free version to create and customize your galleries. But if you require something more, such as Video, then you may need to look at one of the paid plans.
Envira's and NextGEN's free plans do not include a lot of features. NextGEN does offer a bit more, such as a few more gallery and album templates. But with these gallery plugins, you'll be able to create basic galleries. For any advanced features, templates or extras, you'll need to buy one of the plans.
Envira Gallery comes in with the cheapest plan. Their basic plan gives you access to the plugin for one site for $29 a year. But you're not getting a lot of features and addons with this. FooGallery's Personal Plan is the next cheapest at $59 a year. This includes all of the Pro features, and lets you validate the plugin on one site. Envira's Plus plan is $69 annually, and can be used on three sites. NextGEN's starting plan then comes in at $79 a year.
Envira's Pro plan is $99, includes all of their features, and is valid for 25 sites. NextGEN Pro is also $99 and includes all of their Pro features, but none of the Imagely themes, and it looks like it only applies to one site. FooGallery's Professional plan is $109 for 5 sites – this also includes all of the Pro features.
In the final pricing tier, NextGEN comes in at $139 offering all features and themes, but again only for one site apparently. FooGallery Business, at $199, gives you all features for 25 sites. And Envira's Agency plan is for unlimited sites, at $299.
Plugin Performance
Another important point of comparison is the impact each of these WordPress gallery plugins has on page speed and page size. So we ran a few tests to see how FooGallery stacked up against NextGEN and Envira.
Who, Why and What We Tested
To properly compare plugin performance, we wanted to test page speed, size and requests. These are the factors that have a significant impact on your site's performance, so we had to be sure that our plugin could do the job you need it to do. (In case you're wondering, it can!)
How We Tested The WordPress Gallery Plugins
We tested each plugin in exactly the same way, so that the only thing impacting on the results would be the plugin itself. We started with a fresh install of WordPress and created a Gallery Test Page. This page formed our baseline measurements. We ran a page speed test on WebPageTest and recorded the results for speed, size and requests.
Following this, we added 20 images to the media library. These were mostly between 100kb and 200kb in size, and none of them bigger than 295kb. We then installed each WordPress gallery plugin. We activated the first plugin and created a gallery using the 20 images. This gallery was added to a new page, which was then tested on WebPageTest. Once the page had been tested, we deactivated that plugin and activated the next one, so that only one gallery plugin was active at one time.
We used the basic default gallery of the free version for each plugin. We decided to adjust the thumbnails so that they were the same size (150×150) for each gallery. Apart from this, we didn't make any changes to the galleries or the images. Each gallery used the same 20 images. We ran the test 20 times for each plugin and used the average results. Each test used the same test location and browser.
The Results
| | | | | |
| --- | --- | --- | --- | --- |
| Plugins | Initial Page Load | Fully Loaded Time | Page Size | Requests |
| Baseline | 0.756 s | 0.824 s | 78 kb | 15 |
| NextGen | 1.833 s | 1.918 s | 696 kb | 53 |
| Envira | 2.792 s | 2.826 s | 1147 kb | 45 |
| FooGallery | 1.187 s | 1.261 s | 197 kb | 30 |
Above are the results for each page, giving the Initial Page Load time, and the Time, Page Size and Requests for the fully-loaded page. Based on our tests, we found that FooGallery was faster than both NextGEN and Envira. Our page size was also smaller and there were fewer requests.
A note on Envira: We had some trouble setting the image size to the thumbnails (150×150) as the settings kept reverting to the default. Our solution was to change the image size. However the smallest this could go, without causing the thumbnails to blur, was 300×300. The page speed and page size would, in all likelihood, be lower if we could get the thumbnails smaller, but this wasn't working for us.
You can have a look at some of the test results here, for NextGEN, Envira and FooGallery. These results show you the median for 8 tests. We combined these with the results for another 12 tests, to get a better average.
Our Conclusion
FooGallery is certainly competitive with NextGen and Envira. But we think it has some other advantages as well. For starters, the free version comes with a lot more options and customizations than the other plugins.
Many of these options are available in the other plugins, but as add-ons or as part of the premium version. FooGallery Free, however, gives you all the basic functions (and more). Gallery templates, pagination, hover effects and caption customization all come with the free version. You just get more of these options, along with more advanced settings with FooGallery PRO.
All of the FooGallery Pro plans include Video, Filtering and Loading Galleries from Other Sources. In fact, all of the plans include all of the pro features. The only difference is the number of sites on which you can use the pro version – so even if you only want video on one site, you can do this with FooGallery.
Admittedly, we don't have proofing capabilities. But if you're using FooBox Pro together with FooGallery Pro you do get deeplinking, social sharing and even more customization capabilities. You can even sell images with the FotoMoto extension.
At a glance, it may seem that Envira's first two plans are preferable in terms of pricing. But Envira does not guarantee priority support on these plans. You also don't get key features like Video. NextGEN's plans start off higher than the other plugins, and it looks like the licenses are only valid on one site. You also don't get nearly as many features as you do for FooGallery and Envira. They do offer premium support for all of their plans though, as does FooGallery.
In terms of performance, FooGallery comes out on top for initial and fully-loaded page speed, page size and requests. This means that FooGallery will give you beautiful galleries, without having a negative impact on your site's performance.
For a free WordPress Gallery Plugin, you can't do better than FooGallery. It has the most features and delivers on performance. But what about FooGallery Pro? All three of these plugins are competitive on features, pricing and performance. But given that FooGallery offers so many features, and all from the starting plan, we think it pushes ahead, especially on features and performance.
Our conclusion is that FooGallery is the best WordPress gallery plugin. We've put it to the test. You should too.