As a creator, you can't be lugging around physical copies of your art for showing off.
Instead, it's so much more convenient to display your best works on a beautifully crafted website, that you can easily share with others by providing a URL.
But to have such a website, you're going to need a great photo gallery plugin – as well as a well-suited platform for hosting your website.
So no matter your craft – whether you're an artist, actor, photographer, designer and so on – read on to learn how you can easily create a stunning website with a photo gallery for showcasing your work.
What to look out for when choosing a website builder
In the past, if you had wanted a website, you might have had to code it from scratch. But fortunately, these days you can create a website simply by using a website builder.
Such platforms take care of most of the technical issues involved in building a website for you, so you don't have to worry about not being a tech geek, or being able to code.
That said, there are many website builders out there. When choosing a website builder for your website, we recommend looking out for one that offers:
Professional-looking results. People visiting your website will be influenced not just by the works that you showcase on it, but also by its overall look. You'll want your website to look polished and professional to inspire confidence in your artistic abilities.
High performance at an affordable cost. Your website should load fast and bug-free, while displaying perfectly on all device types. It should also offer enough storage space to accommodate all the media that you'll be uploading to your website. But you don't want such features to cost the moon either – in this regard, look for a website builder that offers great value for money.
Flexibility and customizations. The website builder should be flexible enough to help create a website that meets your desired look and specs. This can involve supporting your chosen website theme, and allowing you to install plugins that add extra features to your website.
Ease of use. Most of your time should be spent on what you do best – namely, creating art – instead of trying to figure out how your website works. So look for a user-friendly website builder that's easy to pick up and navigate. You may want to check out the website builder's customer support features too, for the times where you need help.
Why use the WordPress.com website builder?
FooPlugins is the proud developer of the FooGallery WordPress image gallery plugin, among other WordPress plugins, which means it is fully compatible with WordPress.com.
WordPress.com is a managed hosting solution that helps you build and host your website. You don't need to manage a web server, download any software or pay for any hosting.
All you have to do is to create a WordPress.com account, and you'll be able to start setting up your website. (More details on these steps later!)
As you research website builders though, you may also come across something called "WordPress.org." But be aware that WordPress.org is not the same as WordPress.com.
WordPress.org (which many people refer to as just "WordPress") is open-source software used as an operating system for websites. To use WordPress.org for your website, you'd need to host your website yourself.
This involves paying for hosting and managing the technical backend of your website, among other complexities. WordPress.org has a steeper learning curve compared to WordPress.com, which is why we'd recommend WordPress.com if you're looking for a simpler solution.
Creating a WordPress.com account is free, but you need to upgrade to a paid plan – such as the Business plan – to access premium features like adding third-party plugins.
If you use WordPress.com's Business plan, you'll get access to a solid website builder for building your creative website.
Here's why:
Flexible customization options
WordPress.com offers a wide variety of themes, many of which were designed with creative professionals in mind.
This means setting aside space for a photo gallery, and minimalist backgrounds to keep visitors focused on the visuals.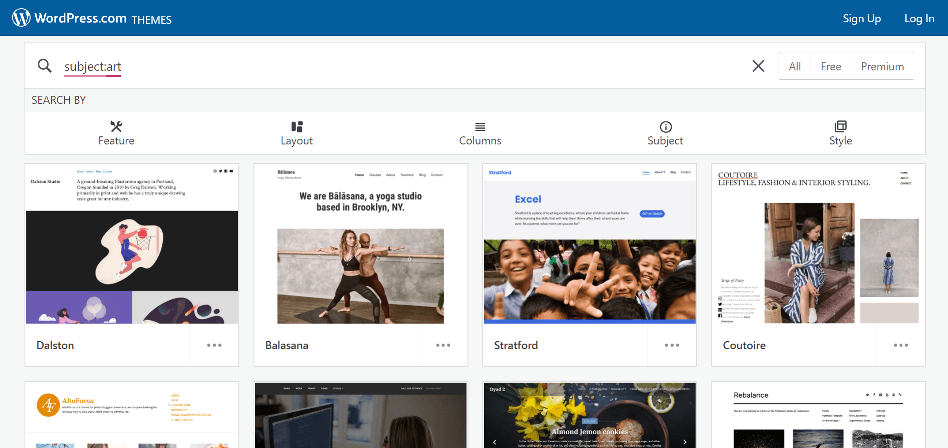 Or if you have already obtained your perfect WordPress.com theme from elsewhere, you'll be able to upload it for use.
With a Business plan, you can also upload your favorite third-party plugins to extend the functionality of your WordPress.com website.
For example, you could install a WordPress image gallery plugin to add an eye-catching photo gallery to your website, or a testimonial plugin for showcasing client testimonials.
Easy to learn and use
The WordPress.com dashboard is simple to navigate. All your main tools are found in a sidebar on the left, and they are intuitively labeled to help you easily find what you're looking for.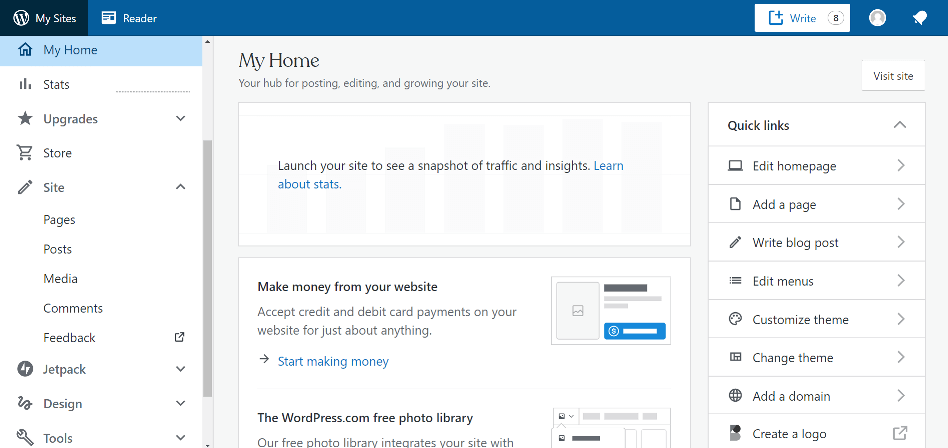 When you first log into your WordPress.com website, you'll also see a menu of quick links.
These help you jump straight to common website actions, such as writing a new blog post or customizing your theme.
Writing new blog posts on WordPress.com – such as for promoting a newly created artwork – is also a joy, thanks to a distraction-free post editor.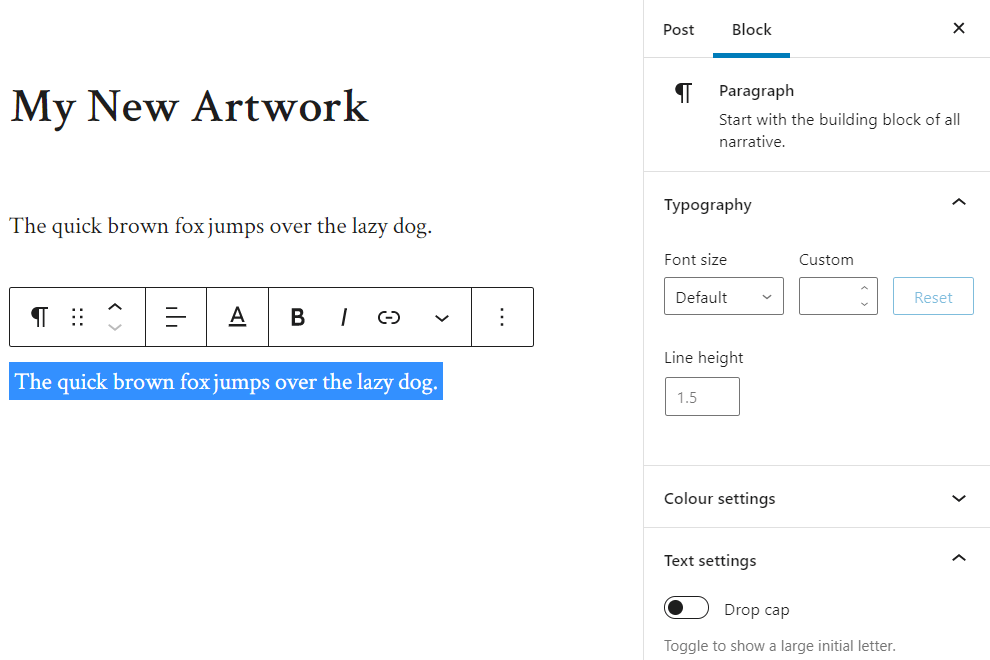 Technical backend is taken care of for you
WordPress.com is a managed hosting solution, so it handles the technical aspects of running a website for you. Such as:
Hosting your website
Search engine optimization or SEO (especially for technical SEO, such as sitemap creation)
Automated daily website backups
Keeping your website's security features up to date
By having all this managed on your behalf, you'll be able to focus on creating a beautiful website, rather than getting bogged down by technical complexities.
Customer support
Although WordPress.com is designed to be easy to use, you may sometimes want to reach out to ask customer support a question or two.
Email support is available on all paid WordPress.com plans, while WordPress.com users with an annual subscription to the Business plan will also enjoy 24/7 priority live chat support.
So if you ever need a hand while working on your WordPress.com website, you can be reassured that help is never too far away.
How to build a creative portfolio website with the WordPress.com Business plan
Building a website for showcasing your creative works using the WordPress.com Business plan is a breeze. Here's a quick rundown of the procedure:
1. Sign up for a WordPress.com website
First, head over to WordPress.com and sign up for a free account.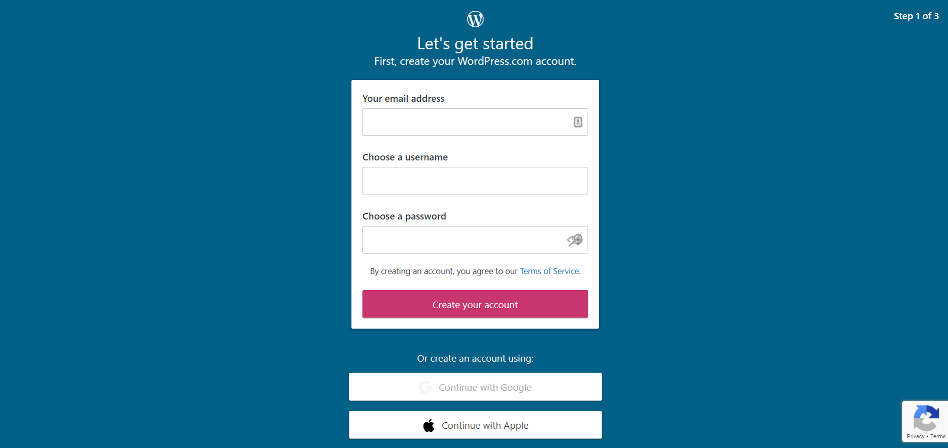 When you've done so, you'll be asked for your domain name. This is the website address that people will use to access your website.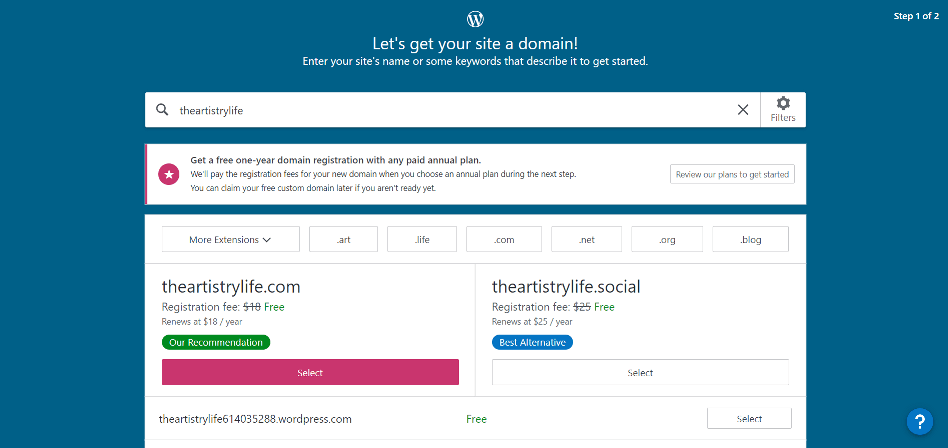 After that, you'll choose a plan for your WordPress.com website. As mentioned, our recommendation is the Business plan, but pick whichever plan works best for you.
You can also try out the free version of WordPress.com (and upgrade later if you need its paid features).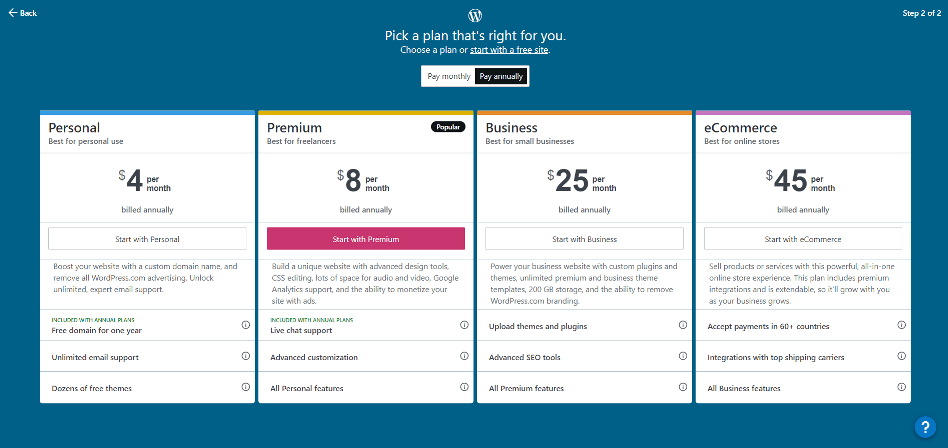 2. Choose a website theme
Once you've created your WordPress.com website, it's time to start making it your own!
A major step in this process is choosing a website theme. This will determine the main look of your website, so it's important to pick a theme that meets your goals of starting a website.
That said, don't stress too much if a theme that you love doesn't have a photo gallery. You can always add one using a WordPress image gallery plugin – more on this later.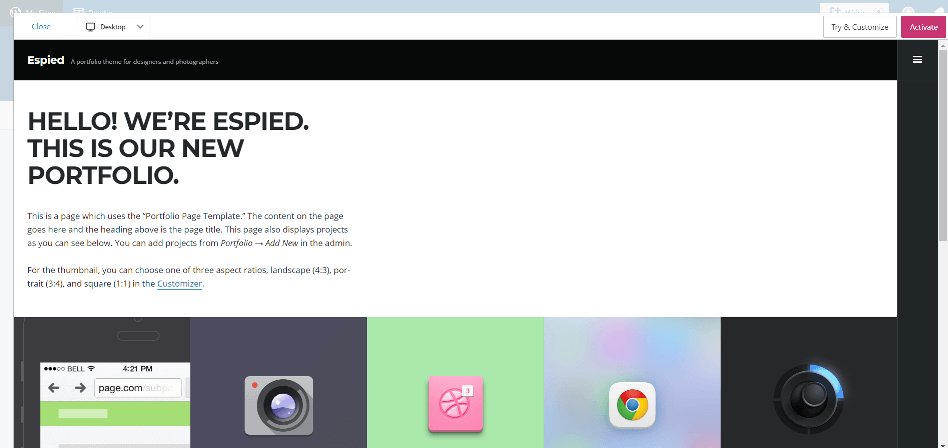 3. Build out your website
With your website theme in place, you'll then flesh out your website's contents.
This can involve adding:
New pages and posts, such as an About page, Contact page and blog posts
Menus, such as a header navigation menu and a footer menu with copyright information
Widgets, such as social media feeds and a music player.
And of course, you'll want to add your media, such as text, photos and videos!
In particular, you may want to feature your work in a photo gallery on your website. Here's how, using our WordPress image gallery plugin:
Adding a photo gallery to your website using the FooGallery WordPress image gallery plugin
In some cases, your website theme may already come with a built-in photo gallery that you can use.
But as mentioned above, if your theme doesn't have such a photo gallery – or you don't like the photo gallery that your theme comes with – using a WordPress image gallery plugin like FooGallery is a great choice.
FooGallery is a WordPress image gallery plugin built to help creatives showcase their works in a professional-looking photo gallery.
It is packed with premium features, such as:
A wide variety of appealing photo gallery templates
The FooGallery WordPress image gallery plugin offers nine sleek photo gallery templates for featuring your works.
For example, if you're using FooGallery free or Pro, you can display your work in a masonry gallery: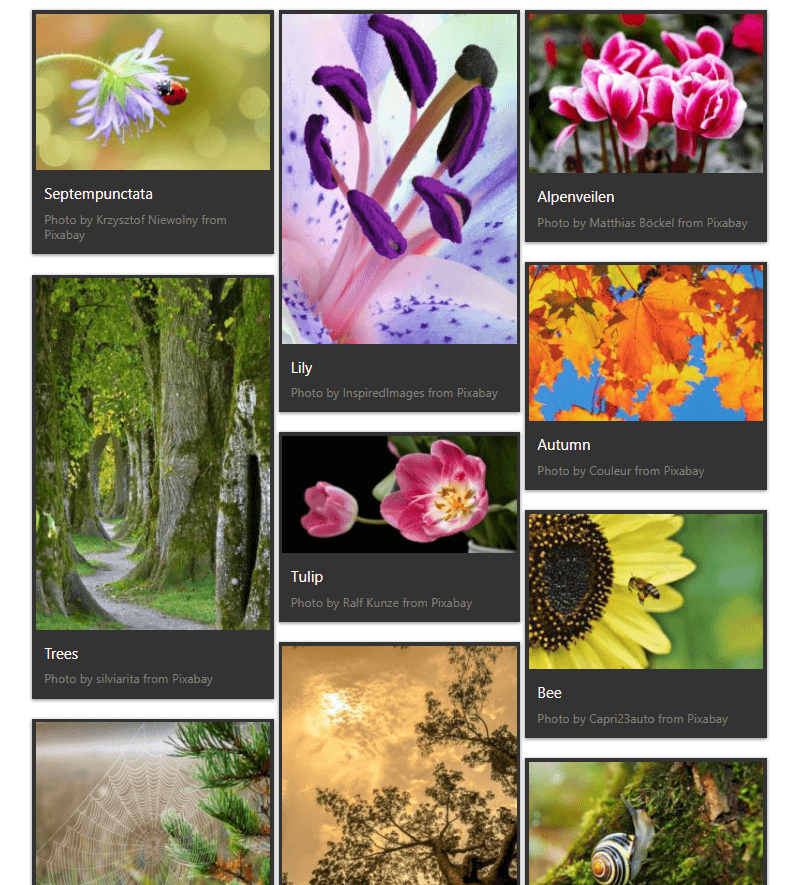 Or in a grid format (with images opening in their own panel when clicked on):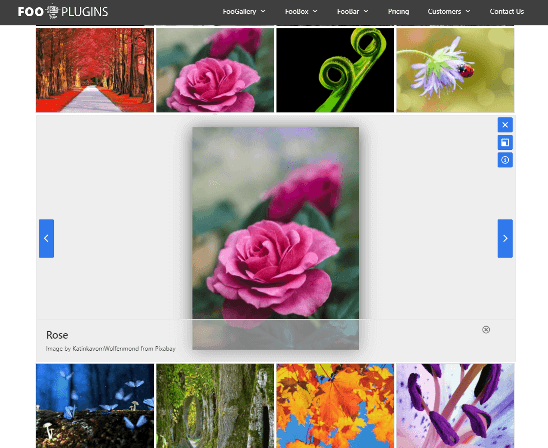 A video gallery is also possible with the premium FooGallery WordPress image gallery plugin!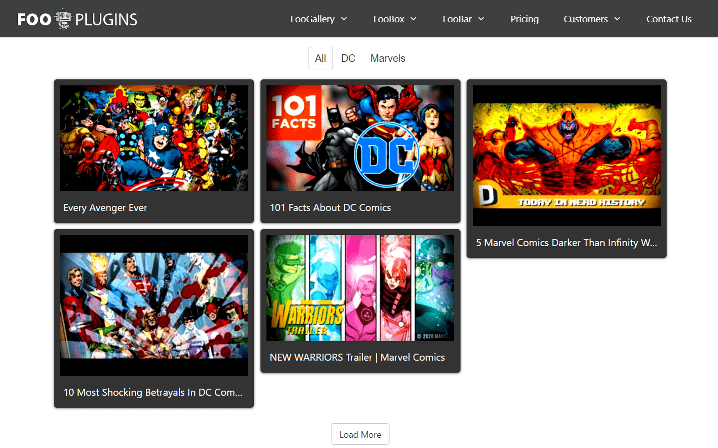 Filtering of photo gallery content
Sometimes, you may want to be able to categorize the works in your photo gallery.
For example, a wedding photographer may want to categorize their photo albums according to indoor and outdoor shoots.
With the premium FooGallery WordPress image gallery plugin, you can easily set up a filtering system for your photo gallery by adding tags and categories to your images.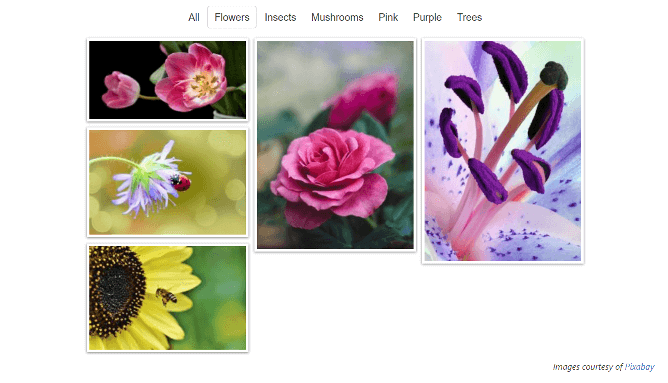 This helps your gallery viewers (especially potential clients) view only the works that they're interested in.
Lazy loading for fast website speeds
Images and videos tend to have large file sizes, which can really slow down your website's loading time.
And if your website takes too long to load, your visitors might not stick around to wait – which means that they won't see the beautiful works that you've painstakingly created.
Well, whether you're using the free or pro version, the FooGallery WordPress image gallery plugin helps get around this issue by lazy loading your media.
"Lazy loading" means loading the media only when they come into view on the visitor's screen, such as when the visitor scrolls to the section where a certain image is to appear.
As a result, your web pages take less time to load.
Create a gorgeous photo gallery website that is a work of art
Regardless of the type of art you create, you'll probably want to display it in the best possible light. So why should your website, where your work will be featured, be any different?
Creating a sleek and professional-looking website for your portfolio will go a long way in illustrating your expertise and eye for beauty. At the same time, your website should also be performant and secure to offer visitors a smooth user experience.
Depending on your needs, building your website using WordPress.com's Business plan and the FooGallery WordPress image gallery plugin may be a great match to achieve your objectives. If you haven't already, we suggest checking out WordPress.com's pricing plans to view what they offer.
Using the right hosting platform and WordPress image gallery plugin, you'll be able to create a website that not only shows off your creations, but that is also in itself a work of art.
This post was written by Siew Ann Tan