FooGallery has recently been updated with some great new additions. FooGallery Free has an Import / Export feature, while FooGallery PRO Commerce now includes White Labeling.
Let's take a closer look at these two new features.
Import / Export Now Available in FooGallery Free
With FooGallery Free, you can now import galleries from one WordPress install and export them to another. This is great news for anyone wanting to copy galleries across to a new website, or duplicate galleries across WordPress websites. The Import / Export feature can now save you loads of time, as you won't need to upload all of the individual images or re-build entire galleries.
Here's a quick look at how this works:
We've added a new menu item under FooGallery for Features (previously called Extensions) and if you click here, you'll be able to activate the Import / Export feature.
Once activated on your WordPress site, you can select all of the galleries on that site, or just the specific galleries that you wish to export. As you can see in the screenshot below, you simply need to select the individual galleries and click on Export. The export data will then become available to you, which you can copy.

Now you can import these galleries to your destination server. To do this, all you need to do is install FooGallery (remember this works with FooGallery Free as well) and activate the Import / Export feature (as you did before). Then find the Import section, paste the data from your export and click on Import. It couldn't be easier!
Doing this will also import all of the gallery images from one media library into the other, saving you from having to upload them all again. However, this won't work for dynamic galleries that use a source other than the media library. You can find out more about this feature in this Import / Export article.
White Labeling Now Available in PRO Commerce
The White Labeling feature has been specifically designed for agencies and freelancers who wish to rebrand their customers' galleries or hide specific menu items, so that only admins have access. This gives you a lot more control over the galleries, and it is why White Labeling has been included in our FooGallery PRO Commerce plan – it's built for businesses!
White labeling allows you to remove the name 'FooGallery' on your customer sites, and you can replace the wording with something else (like your agency name, for example). Some of the applications of this feature include:
Changing the plugin name and shortcode
Selecting which FooGallery menu items are visible
Selecting which user roles can see various menu items under FooGallery
Changing the names for the Settings, Features and Help menus
Disabling specific datasources for creating dynamic galleries.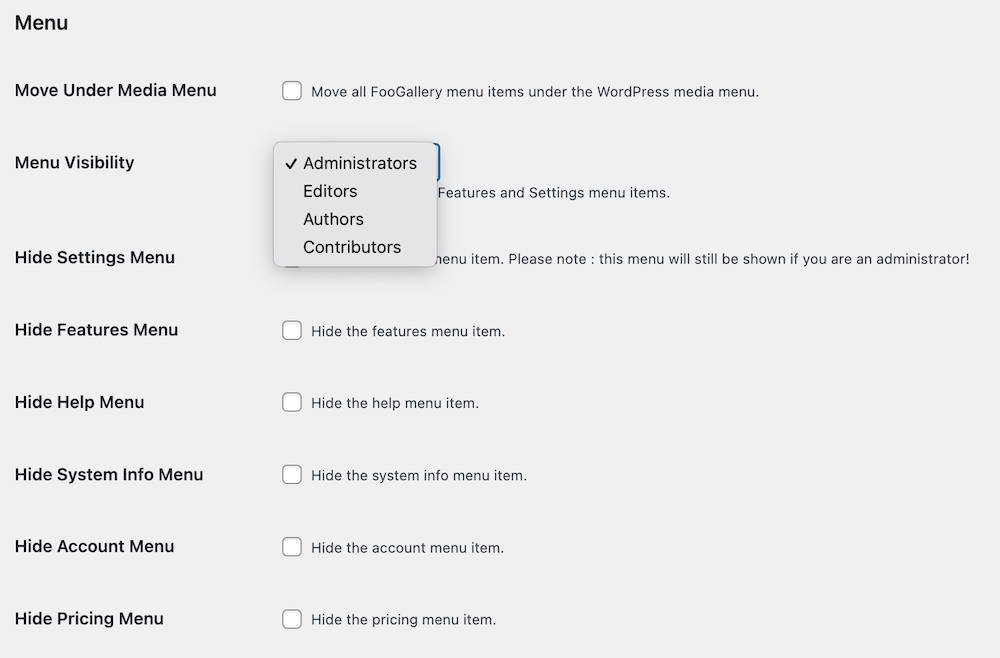 This feature can be activated in the Features section under FooGallery, for PRO Commerce users. Once activated, you'll find the various options for White Labeling in the global settings for FooGallery.
We go into more detail about this new feature, and all of the settings, in our article on White Labeling.
Updates And Fixes
As well as the above awesome new features, we've also added, updated and fixed several others. Here's a list of what's new and improved in FooGallery Free:
We've added settings to hide nav/paging/progress for Carousel.
There is an added filter 'foogallery_render_template_template_override' which allows developers to override the gallery template.
We've fixed custom JS & CSS being saved as double encoded
We've also removed filter support for older AIOSEO versions.
The layout issues with the Carousel gallery and the issue when the carousel was not working when no lightbox was available have been fixed
There is now better integration with FooBox and FooGallery.
We've removed PHP warnings in albums extension.
And finally, we fixed the RTL styles on FooGallery admin pages
In PRO:
We added a setting (Server Folder Root) which allows you to choose your server folder root on some server setups.
We added new min/max price filter for the product datasource (in PRO Commerce)
We undid the previous server folder root change which broke server folder galleries on some installs.
The custom JS & CSS being saved as double encoded has been fixed
And we made the FooGallery attachment taxonomies non public
We're always working on additional features for FooGallery all the time, so watch this space to find out what's new and what's coming soon.