Want to turn your WordPress website into a profitable business? Whether you're selling photography, artwork or t-shirts, your website could be a profitable source of revenue for you. All you need is the right tools.
WooCommerce is one of the top ecommerce plugins available for WordPress, so this is a good starting point. But if you're using FooGallery or FooBar, then you also have access to some useful ecommerce features. Below, we take a look at how to use your FooPlugins to boost your online enterprise.
FooGallery
One of the more popular WordPress photo gallery plugins, FooGallery allows you to build image galleries in just minutes. The free version gives you everything you need for eye-catching galleries, but if you want to use your galleries to as a potential revenue stream, then you should opt for FooGallery PRO Commerce. Here's why…
Product Gallery
Available in FooGallery PRO Commerce, the product gallery is designed to improve your online sales. It boasts a clean, simple look – so as not to distract from the products themselves – and comes with filtering already set up. The filtering works with the product categories that you've used for WooCommerce, or that you've set up manually for your items, making it easier for customers to find what they're looking for.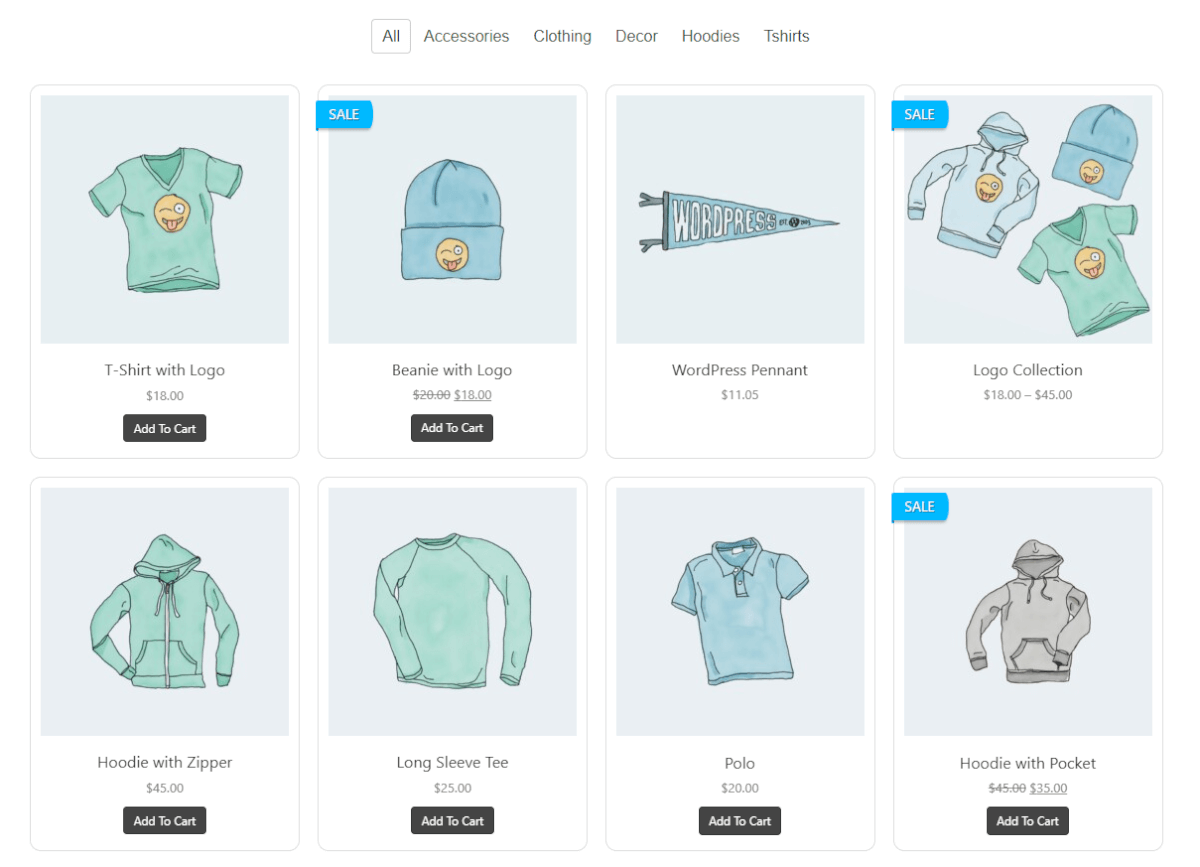 The Product Gallery layout also includes Add to Cart buttons and Ribbons – keep reading for more details about these features.
WooCommerce Integration
WooCommerce is one of the more widely used ecommerce solutions in WordPress, so integrating this with your product gallery just makes sense. The WooCommerce integration built into FooGallery PRO Commerce makes it simple to set up product galleries that pull in the products, as well as all of the information included in your WooCommerce product listings. You can select which product categories show in your gallery, the product price range and more.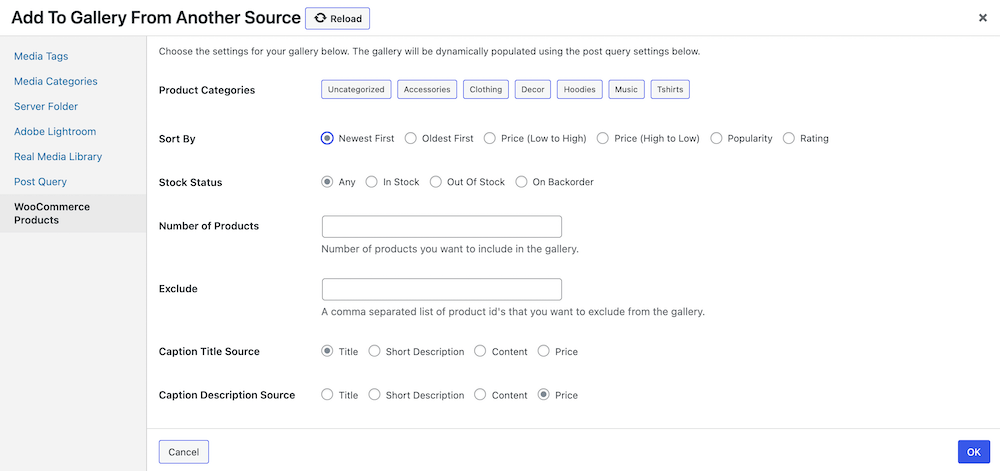 Your gallery can also include product descriptions, prices, product variations and even sale items. This saves you from having to manually do everything – simply use the dynamic gallery settings to create a product gallery with the items you need.
With this, customers can add items from the gallery directly to their cart. This cuts down on the steps it takes for someone to checkout, making it easier to sell your products.
Master Products
Using WooCommerce as your gallery datasource certainly makes it easier to set up product galleries. But if you're selling photographs, for example, it can be tedious to set up each individual image as a product, especially when you're offering all of the images in the same size variations. With the Master Product, available in FooGallery PRO Commerce, you can save yourself hours of time.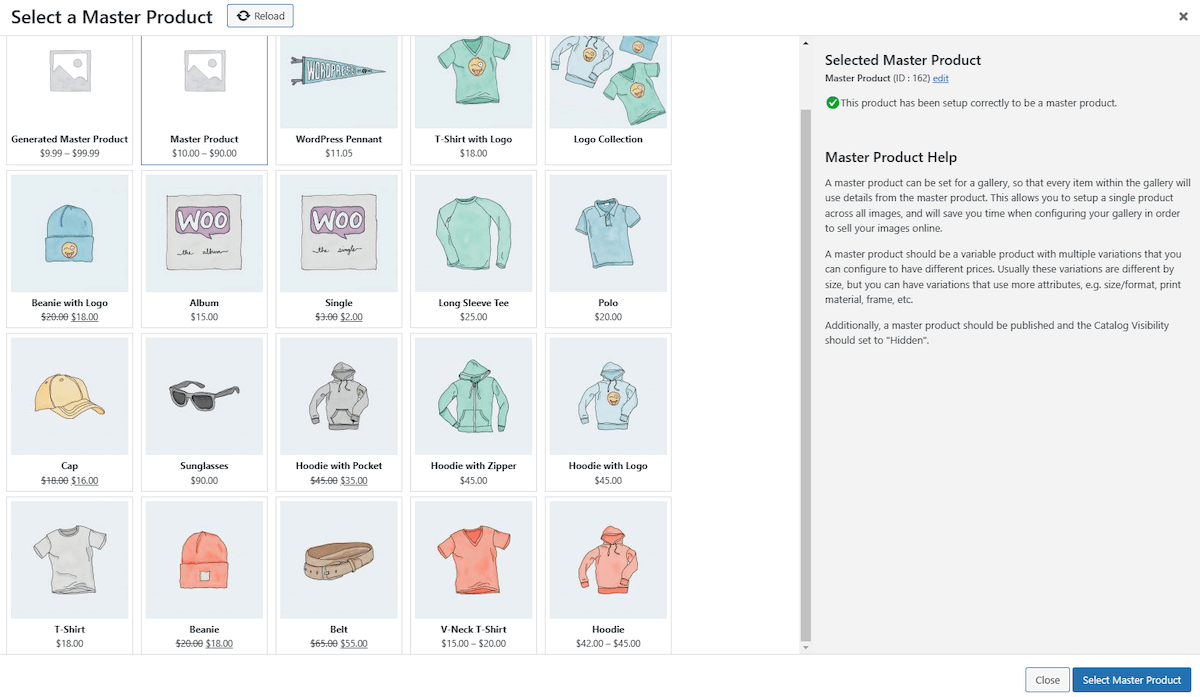 The Master Product is essentially a single product that you set up in WooCommerce. You then set up your gallery, and select your one product to act as the master. All of the other images in the gallery then inherit the same product variations as the master, meaning you don't have to set up individual products. This is a very simple explanation, but you can find out more details about how the master product works here.
(And look out for our new File download feature … coming soon!)
Buttons
Included in FooGallery PRO Commerce, you can add call to action buttons to your galleries. If you're using the WooCommerce integration with the product gallery (see above) then buttons can be set up with this, allowing customers to add items to their cart directly from the gallery. But you can also set up buttons to take customers to product pages or direct them elsewhere, depending on your needs.
You can also add buttons to individual images manually – this is easy to do with the Advanced Attachment Modal – so you can use buttons in your gallery to direct visitors exactly where you want them to go.
Sale Ribbons
Highlight top-sellers, draw attention to sale items, or promote specific products, all with the Sale Ribbons available with FooGallery PRO Commerce. You can add these ribbons using the WooCommerce Integration, or manually – as with buttons, it's even easier when using the Advanced Attachment Modal.
The ribbons come in 6 pre-styled shapes, colors and positions, giving you a range of options for highlighting your products. You can also add your own wording, to suit your needs.
To give you an idea of what you can do, here's a demo gallery using ribbons and buttons:
FooBar
Any site can benefit from a notification bar, to add messages, include cookie notices or motivate visitors to take an action. But no ecommerce site is complete without a notice bar that can increase conversions, build customer lists, help launch products, or promote sales, to mention just a few of the advantages. FooBar PRO is a versatile notification bar plugin, that lets you do all of this and a whole lot more.
Free Shipping Bar
Built to work with WooCommerce, the free shipping bar does three things:
It lets customers know that free shipping is available for orders over a certain amount.
It then shows customers how much they have spent, and how much more they need to spend to qualify for free shipping.
And finally, it lets them know once they have spent enough to get the free shipping.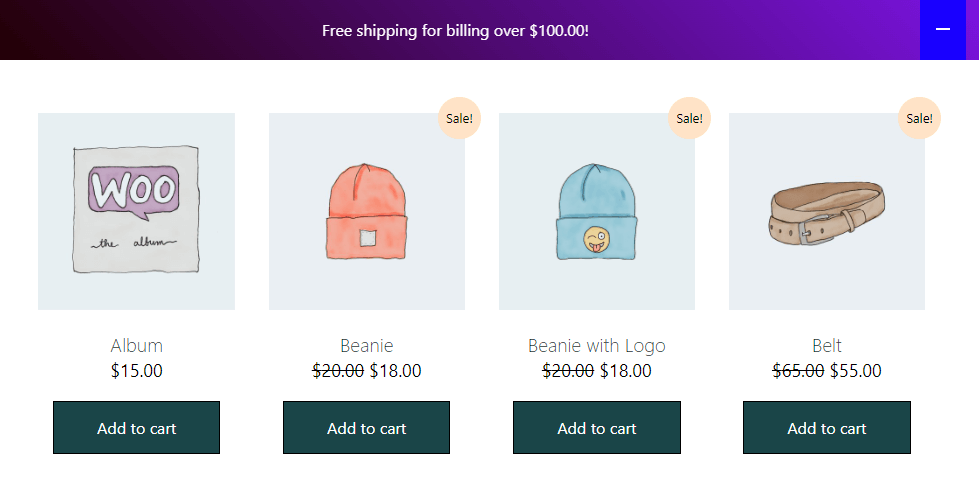 This eye-catching bar is a great way to incentivise users to add items to their carts, and to spend enough to get the benefit of the free shipping. Once you've set up the free shipping offer in WooCommerce, it's simple to integrate this bar – you can even select WooCommerce-specific pages on which to show the bar.
Countdown Bar
The Countdown bar features a timer, showing users how much time they have left before a sale finishes or a product launches, for example. The countdown motivates customers to take action – it could encourage them to buy before the sale ends, or alternatively, get them excited about a new product or feature that is launching in the near future.

Using a timer is a good way to encourage FOMO (fear of missing out), which pushes users to take a certain action. For ecommerce sites this is a must-have, especially when it comes to running big promotions or end-of-season sales. FooBar's countdown timer can work as a fixed timer (counting down to a set date or time) or as a relative timer (counting down to a relative time in the future).
Sign Up Bar
Need to build your customer base? The sign up bar is an essential tool for doing this. You can encourage new customers to sign up for info on new products or deals, or you can ask existing customers to sign up for special releases or offers. This can help increase your reach, and your potential sales.
FooBar PRO's sign up bar can be integrated with Mailchimp, or you can use it to collect email addresses without the integration.
Exit Intent and Other Triggers
Triggering a notification bar is another useful technique to drive sales for your ecommerce business. An exit intent trigger, for example, can set a notification bar to appear when someone is about to leave the page. One effective way to use this trigger is to prompt a sale by offering a discount before someone leaves your site.
FooBar PRO includes a number of triggers, so you can open or close your bar when someone has been on your page for a certain amount of time, when they reach a specific element on your page, or when they are about to exit the page.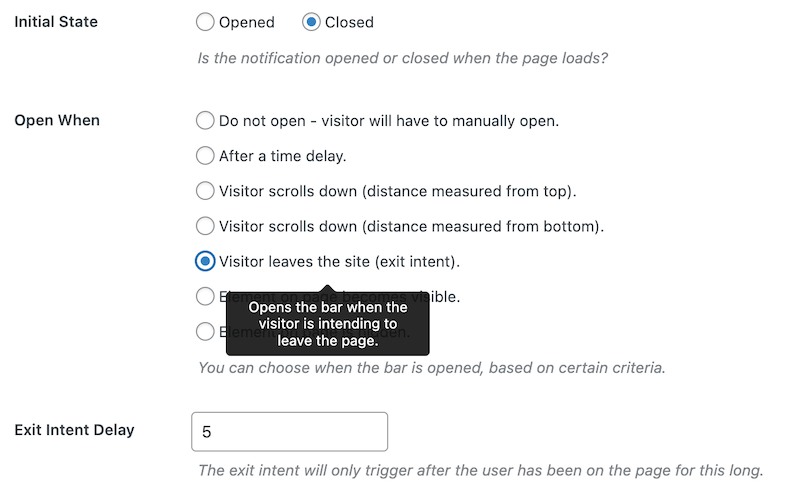 Use FooPlugins to Boost your Online Store
While online shopping is certainly on an upward trend, generating an income from your WordPress site can be difficult, especially given all of the competition out there. But there are ways to boost your efforts, including using the right tools.
With it's WooCommerce integration and features like sales ribbons and buttons, FooGallery PRO Commerce is a great choice for a product gallery plugin. Likewise, FooBar PRO is not only versatile, but can help catch visitor's attention and promote your products, deals and more.