Very often, you choose a plugin because you think it's going to work for you. But this isn't always the case, and then you're stuck with that plugin, whether you like it or not. But not any more. FooGallery Migrate gives you an easy way to move from your existing WordPress gallery plugin to FooGallery.
FooGallery Migrate is a new, free plugin that lets you migrate your existing galleries from one of five plugins over to FooGallery. It currently works for the free versions of Envira, Modula, NextGen, Robo Gallery and 10Web with the Pro versions due to follow soon.
It's a simple process, and it means that you can now easily move to FooGallery without having to replicate 10's or even 100's of galleries. You can simply select the galleries you want to move over, and FooGallery Migrate takes care of the rest.
One thing to note is that FooGallery does have more templates and settings in the free version than many of the other available photo galleries, but won't always offer the exact same settings. So FooGallery Migrate does it's best to match your existing galleries as closely as possible, using the available layouts and settings available. This may not be an exact match though.
We'll show you how to migrate in just a short while. But first, let's look at why you might want to migrate.
Why Move to FooGallery?
FooGallery is one of the most-established gallery plugins, and has been around for many years. So we're familiar with many of the other gallery plugins out there. And we may be biased, but we really think that FooGallery Free is by far the best free WordPress gallery plugin available.
This is because it is packed with features! The free version offers you 7 different templates, including a masonry gallery and a carousel. You also get tons of customizations – so you can adjust the borders, add shadows, change the size of your thumbnails, and so much more. Just take a look at our demos and documentation for FooGallery Free, to get an idea of what's available to you.
Some of the other features, included for free, are custom CSS, an Albums feature, lazy loading and password protection. You can even add simple paging to your galleries with the free version of FooGallery. Plus you can create unlimited galleries.
While many of the existing gallery plugins offer some of these features in their free versions, they don't offer all of them. It is more likely that you will need to pay for one of their premium plans before you get the added functionality.
And, full disclosure, FooGallery also has premium plans, and we do include a lot of our more advanced features in these plans. But if you're looking for a variety of basic, free features, FooGallery is one of the best options for you.
Step-by-step guide For Migrating To FooGallery
Luckily, moving to FooGallery is now very simple. FooGallery Migrate identifies your existing galleries, and simply moves them across to FooGallery, settings and all. There are a few steps you'll need to follow, but they are easy, and your galleries will be migrated in no time.
Step 1: Installation
The first thing you will need to do is install both FooGallery free and FooGallery Migrate. You can do this from the plugins page on your site. Go to Plugins -> Add New, and search for FooGallery. Click install and then Activate. Then do the same for FooGallery Migrate.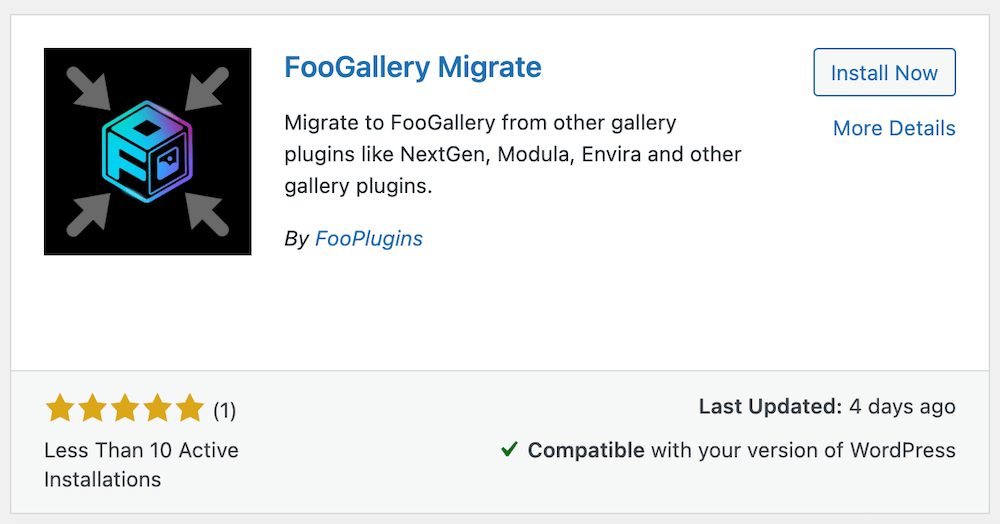 Step 2: Identify Existing Galleries
Once activated, find Migrate in the FooGallery menu and click on this.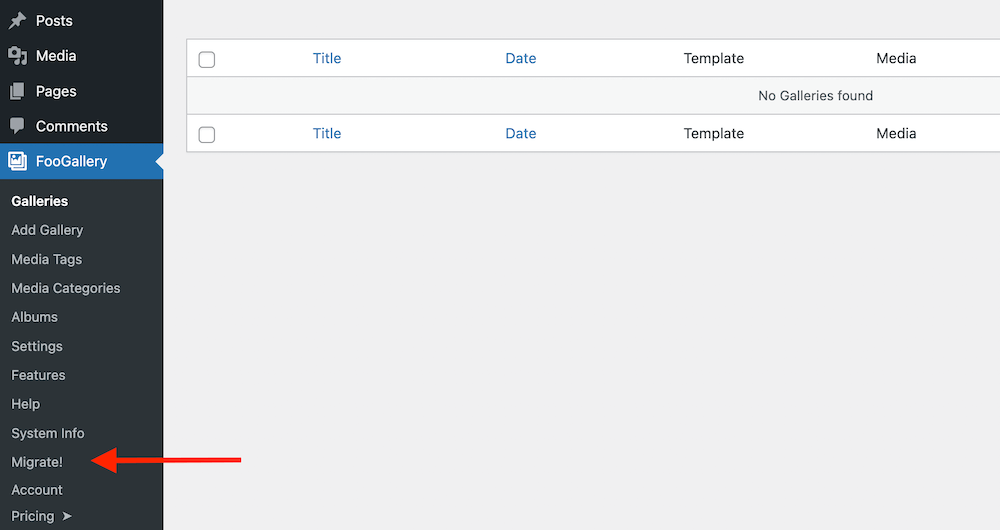 The first page you see will show you all of the current galleries you have for either Envira, Modula, NextGen, Robo Gallery or 10Web. If you don't have galleries for one of these plugins, it will show an 'x' next to that option.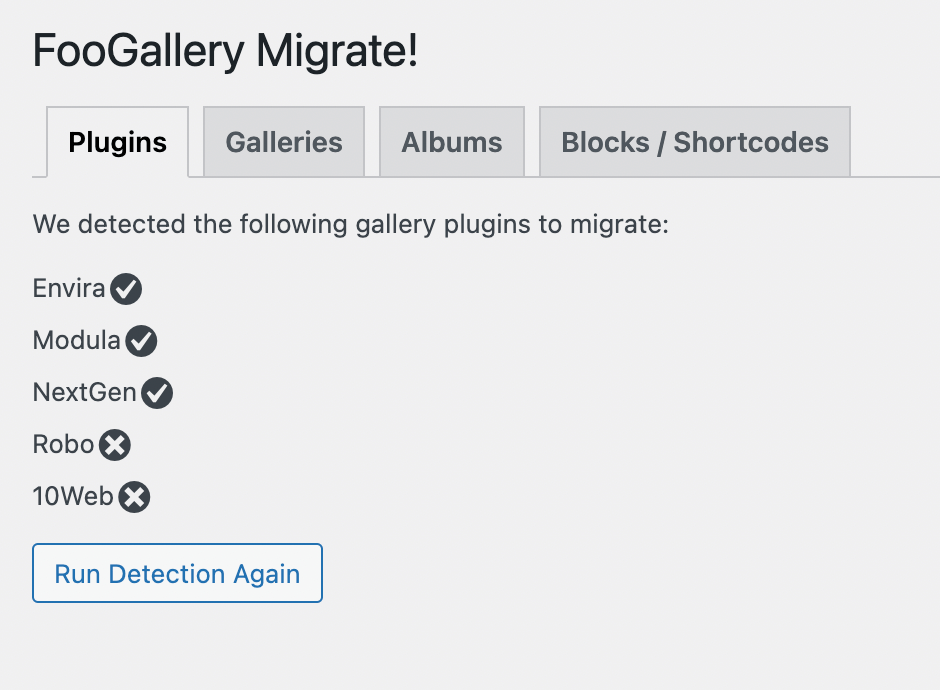 Step 3: Select Galleries
In the next tab, you can select the galleries you want to migrate. You can select as many or as few as you would like.

Once selected, click on the Migrate button. Your galleries will now start to move from your current plugin to FooGallery. You will see the progress of the migration next to each gallery as this happens.

Once the migration is completed, you can go to FooGallery -> Galleries to view all of your image galleries in one place.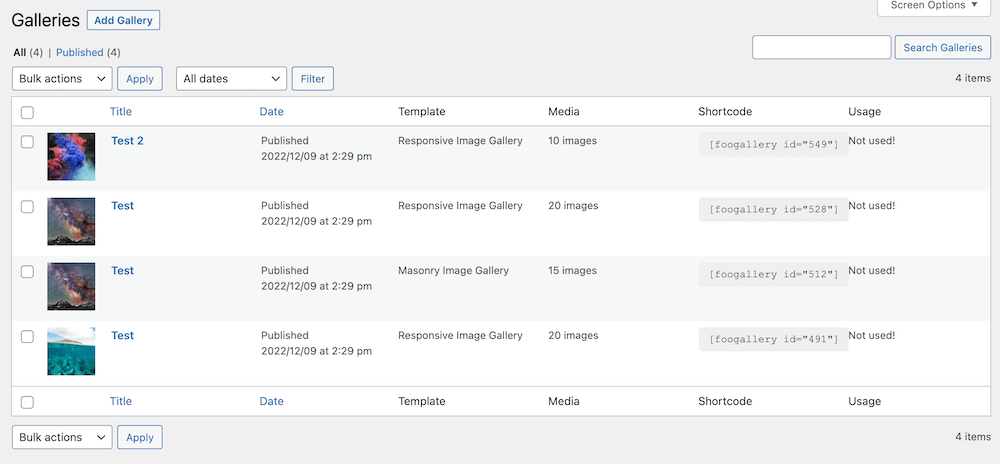 Once you've moved your galleries across, there are plenty of settings you can use to make your galleries look amazing. Take a look at the FooGallery Documentation to get an idea of what's available to you, including setting up a default gallery, using password protection, adjusting the templates, borders, hover effects and more, or even adding simple pagination to your gallery.
A Few Notes
You can choose to rename galleries before you migrate. You will see a Migration Galleries panel, you will see a field for FooGallery name. Here you change the gallery name to whatever your preference is.
You can reverse the migration at any point by clicking on the Reset Migration button, shown below the galleries you have migrated. However, you should be aware that this will not delete the new galleries in FooGallery – you will need to do this manually.
If you do reset the migration, and then start the process again, your galleries may be duplicated.
Ready To Migrate?
If you're finding that your current gallery doesn't give you the features you need, then maybe it's time to try something else. FooGallery Migrate lets you do this easily, without the hassle of recreating all of your galleries.
As you can see, it takes just 3 simple steps and your galleries will be moved to FooGallery in no time. You'll have access to the amazing range of features available in our free gallery plugin. And if you decide to upgrade, we have a range of plans and pricing options, so you can find the solution that works best for you.
Regardless, FooGallery Migrate is a simple solution to finding a WordPress gallery plugin that gives you the features you need to create stunning photo galleries.