Are you looking for a solution to embed videos in WordPress? Video content is a powerful tool that can engage audiences in a way that other visual elements can't. In fact, worldwide, people watch approximately 84 minutes of video a day.
Embedding videos can increase engagement, and help you retain more of your audience. People consume information in different ways so not only will embedding video improve user experience but you will also be offering users a different way to engage with your content. On top of this, you can use different types of video to reach an even wider audience.
WordPress makes it easy to embed videos and in this article we will show you five main ways to do this with step-by-step instructions. We will also cover how to embed videos in WordPress manually and use plugins to get more advanced video-related features.
Use Cases for Embedding Videos in Your WordPress Website
Video is a format often used on social media channels. But there are many different ways that you can maximize your site's potential by leveraging the impact of video as a format on your WordPress website. Here are just a few examples.
Vlogging
The benefits of vlogging (or video blogging) include direct and authentic audience engagement, increased online visibility and reach, and diversification of content and brand enhancement. This medium can be used to humanize your brand, while building customer relations, all of which can improve conversions.
Creating Tutorials & Workshops
As an online creator, tutorials and workshops help establish you as an authority or expert in your field. They allow you to provide value to viewers, foster loyalty and trust, and drive consistent traffic and engagement due to the evergreen nature of this content. Creating video courses will also ensure return visitors to your site.
Here's a tutorial video on vlogging:
Storytelling With Sequences
Engage the audience deeply by creating emotional journeys which tell your story in relatable sequences. This can enhance memory retention and understanding through structured narrative and build a stronger connection and resonance with the viewer or reader.
Hosting a Q&A
Q&As build trust and transparency with the audience or customers, provide immediate feedback, leading to better understanding and insight. Very often, a Q&A will answer questions that users themselves have, so these types of videos can go a long way towards strengthening community engagement, and fostering a sense of connection. Live streaming Q&As can also effectively engage your users.
Behind-the-Scenes Footage
Behind-the-scenes footage humanizes the brand or creator, fostering deeper audience connection. Seeing how something has come about also provides transparency, which increases trust and credibility, and offers unique insights that set creators apart from competitors.
Here's a Behind the Scenes look at product photography:
Testimonials & Client Stories
These build credibility and trust among potential customers or clients, because they offer authentic, relatable experiences that resonate with viewers. Hearing about someone else's good experience can motivate other users to purchase or sign up. In this regard, testimonial videos can help to drive conversions by reducing uncertainty and validate the product or service's value.
Product Demos
Show how your product works in a simple how-to video that showcases key functionality. Product demos are a must-have for online shopping sites, as they give customers a better sense of the product they're buying. But they're also useful for educational, DIY or other practical sites, where users can 'experience' the product. These videos help drive conversions by answering key questions about why viewers may need, or just want, a product.
An impactful example is this Nespresso video:
Why You Shouldn't Directly Upload Videos to WordPress
As you can see, embedding videos into your WordPress site is a good way to connect with your users. However, self-hosting videos, i.e. uploading videos directly to your WordPress site is not advisable because it can have potentially serious negative consequences:
Bandwidth issues: Directly uploading your own videos to WordPress consumes significant bandwidth and this can use up valuable server space. Apart from possibly exceeding your allotted storage space, excessive bandwidth consumption can have a bad impact on loading times and slow down the site loading speed. This will also adversely impact SEO.
File size limitations: Direct uploads often have file size restrictions. Considering a 1 minute video could be upwards of 100MB, you're likely to be hampered by these restrictions. A possible solution would be to compress the video files, but later on we'll give you some more practical ideas.
Slow loading and freezing videos: No one wants to wait for a video that's buffering or worse, frozen completely. Directly uploaded videos can lead to slow loading times or freezing during playback which will affect user experience. This is likely to result in slower load times, and higher bounce rates, all of which impact on SEO.
Compatibility with browsers: Not all video formats are compatible with every browser, potentially leading to videos not playing for certain users. Again, if visitors face issues with video playback due to compatibility, they will likely leave the site early which will send negative signals to the search engines.
These are just some of the potential downsides of uploading video directly to your site. With increased bandwidth comes additional costs, but paying more won't necessarily mean more conversions, especially if customers are leaving your site before even viewing your videos.
One potential solution is to use popular video hosting services like YouTube or Vimeo, and then embed them on your site by using plugins, which automatically ensure compatibility. Let's take a look at some ways to do this.
Five Methods to Embed Videos in WordPress
There are several recommended methods of embedding videos in WordPress; we'll take a look at these below:
Embedding Videos Directly in the Gutenberg Block Editor
It is possible to embed videos into a page or post by pasting the URL from the video hosting platform directly into the Gutenberg block editor. This will be read by the in-built embed block.
To do this, copy the video URL that you want to use, like this one:

Then head back to the WordPress page where you want to display the video. All you need to do is paste the URL into the page. The video will now automatically be displayed.
This works with video platforms such as YouTube (for public videos), VideoPress, Vimeo and several other platforms, but may not work with all video hosting services. On top of this, you'll have limited options for displaying the video player interface. You can add captions and adjust the alignment, but that's about all you can do.
Using a Video Block in the Gutenberg Editor
Another alternative is to use the video block in the gutenberg editor. To do this, click on the New Block icon and search the block library for the video block; then click on Insert from URL. You will see options to Upload or use the Media Library, but as we have already discussed, this isn't recommended.

You can also use the YouTube, VideoPress or Vimeo blocks for URLs from these specific platforms. These will work in much the same way; click on the YouTube block, for example, and enter the URL of the video.

Once the URL is embedded in the page, you'll see the block with the video in it. You'll also see options to adjust the alignment and add a caption.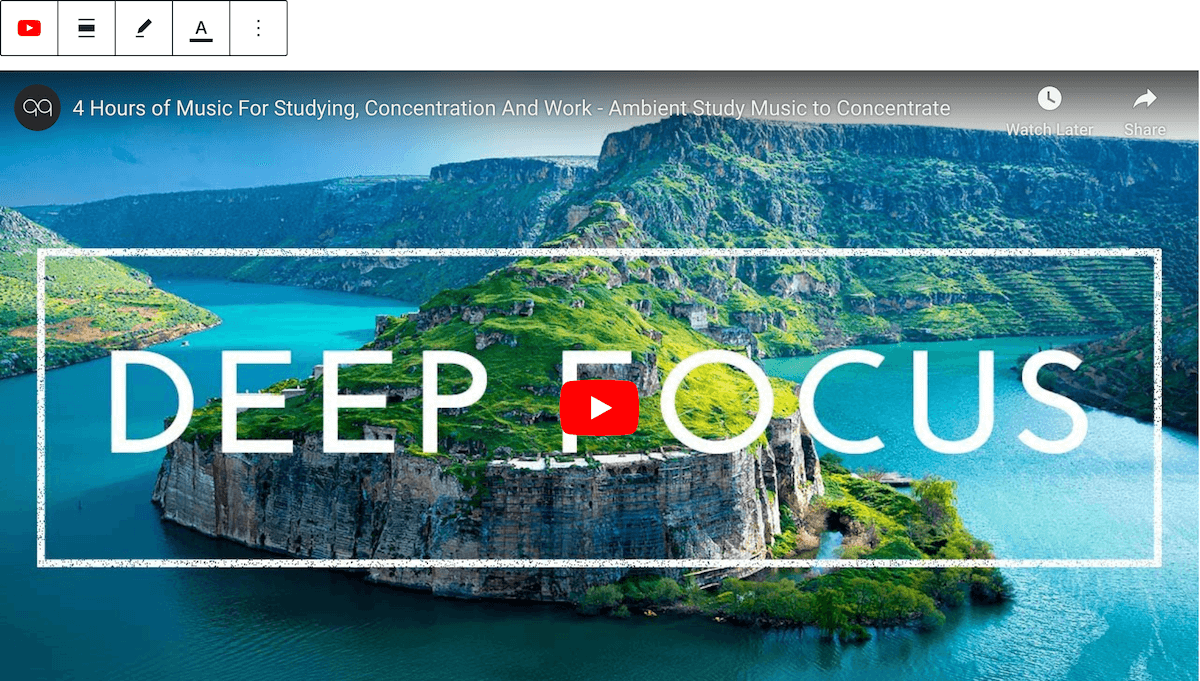 The theme you are using may have in-built video player blocks, such as a YouTube or VideoPress block. However, you might also use a plugin that offers a more advanced video player block. A popular example of this is Presto Player.
Embedding Videos Using the Classic Editor
When using the Classic WordPress editor for video embedding, you'll need to paste the embed code from the video source directly into the text editor. While you can simply paste the URL into the visual field, this leaves you with a fullscreen video on your page, which isn't advisable. Here is a better way to embed your videos:
Find the video that you want to embed on your page. You can then right-click on the video and select < > Copy embed code. Alternatively, click on the Share button below the video.

This will open the iframe link that you can use to embed the video. You'll also see options here for the time at which to start the video, whether to show player controls, and an option to enable privacy-enhanced mode. Click on Copy to save to your clipboard.
Now head to your page. In the Classic editor, click on the Text tab and paste the embed code into the text field.

If you switch over to the Visual Editor mode, you will see the video embedded on your page.
Embedding Videos in the Sidebar & Footer
It is also possible to embed videos in the WordPress Sidebar or Footer. Rather than using blocks, though, you would need to use widgets for this. You can navigate to your widgets from your WordPress dashboard, usually located under Appearance.
There are three ways to video embed with widgets.
Using a Video widget: Navigate to your widgets, and in the relevant section (e.g. Sidebar or Footer), click on the + icon and search for Video.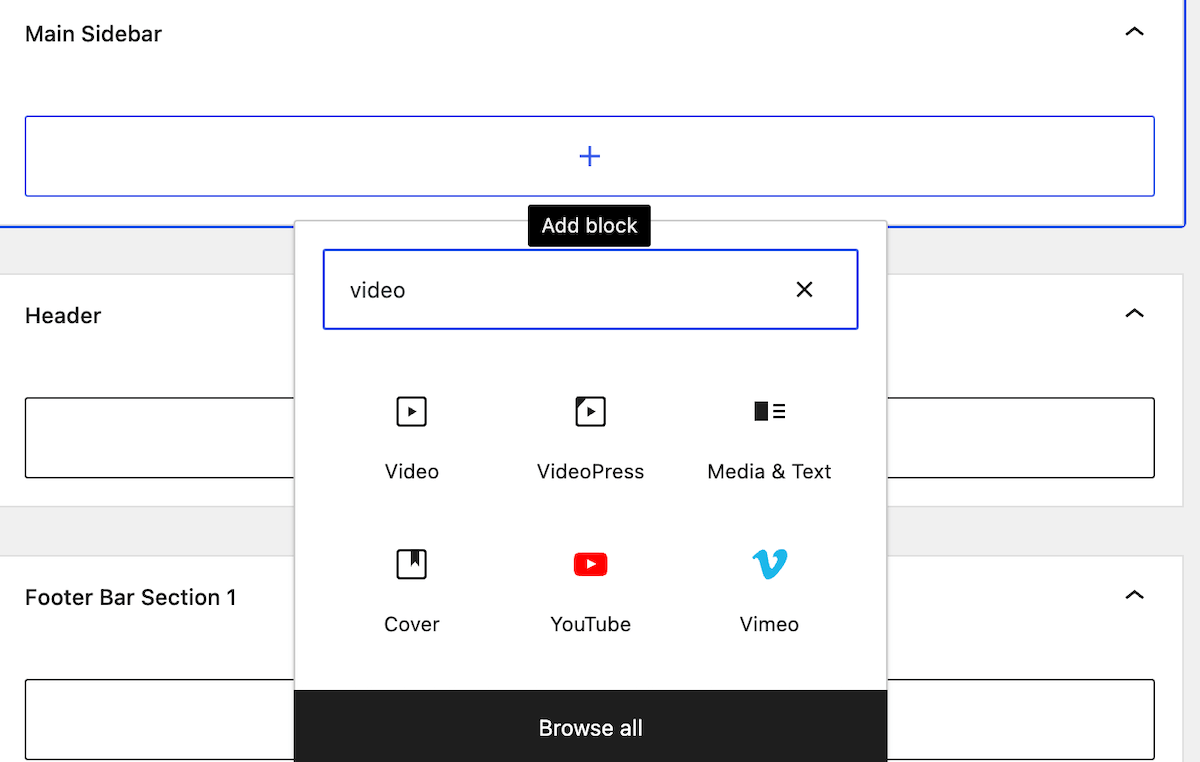 Using a platform-specific or the general Video block insert the video from the URL. You can also then add a caption.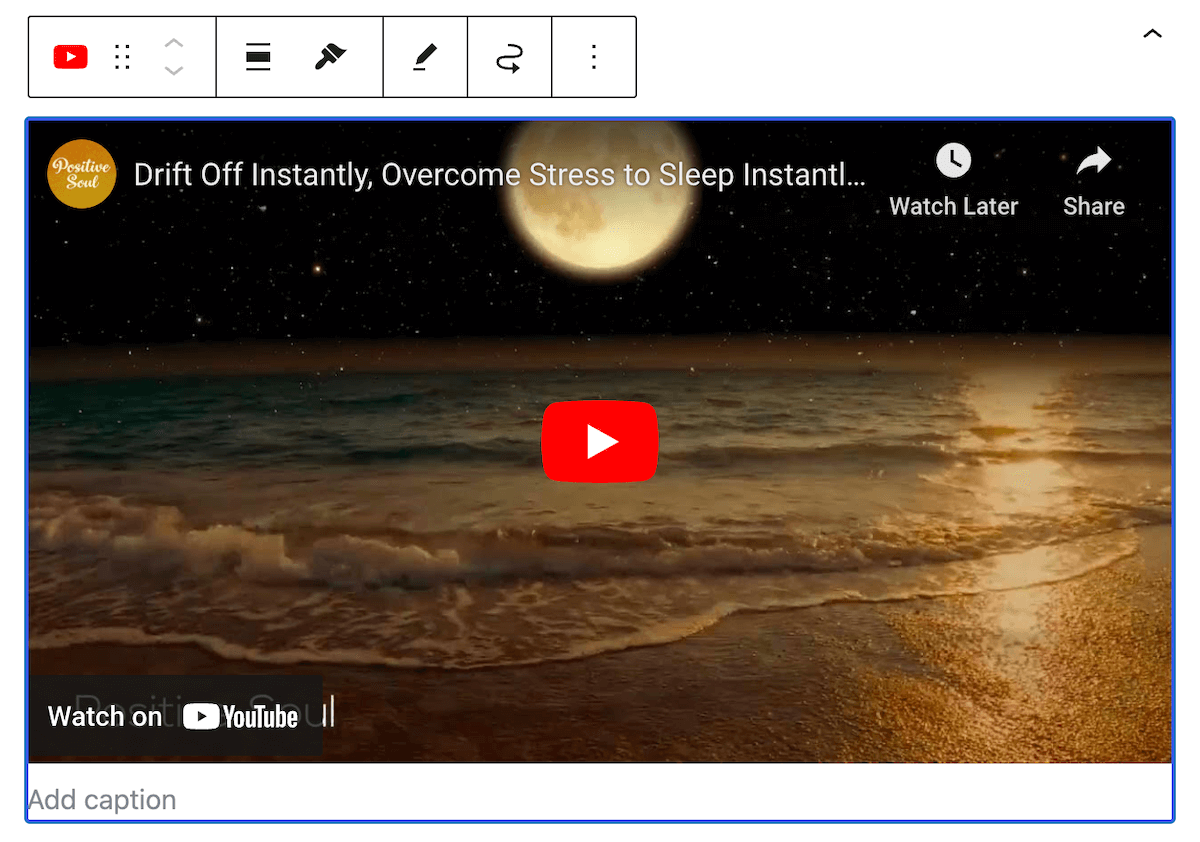 With a Text widget: You can also use the text or paragraph widget, in which you can simply paste the video URL.
Or with Custom HTML widgets: For this option, you would use the embed code to display an iframe in your sidebar. To do this, find the embed code for the video you want to display and copy this.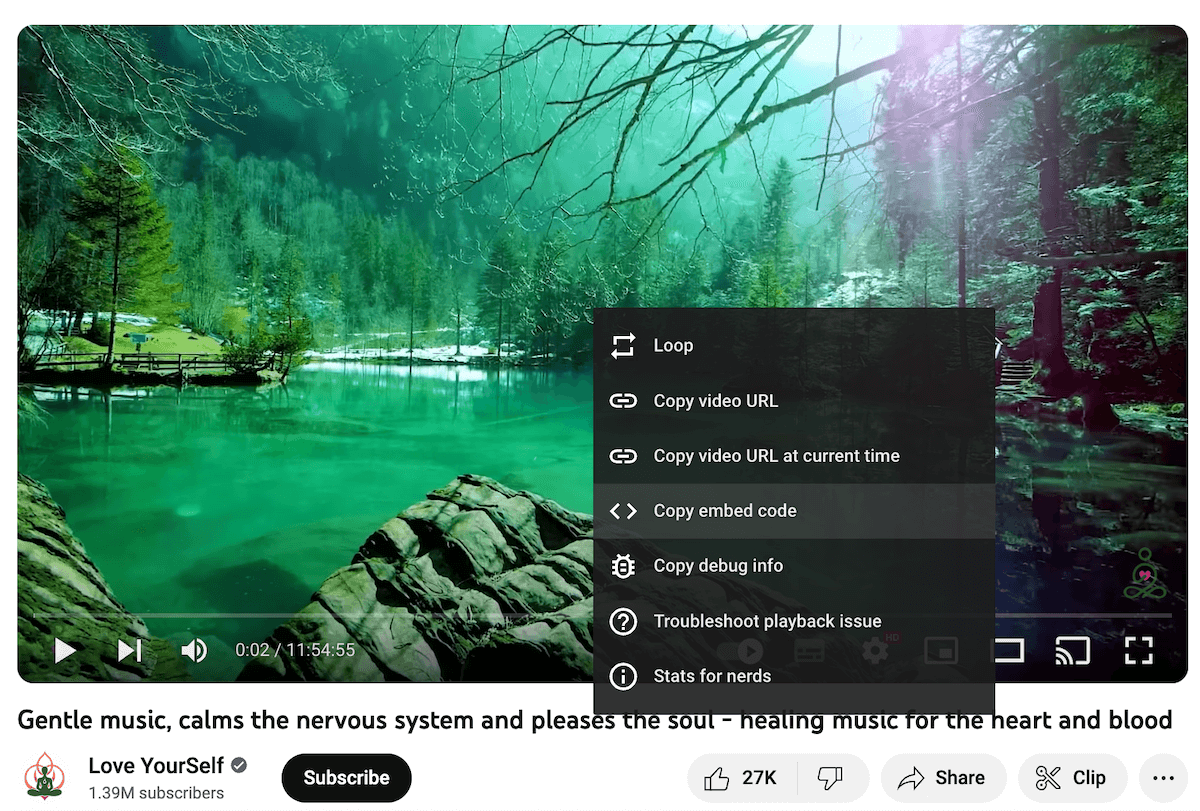 For your widget, search for the Custom HTML block and insert the code into the HTML field. You can switch to the preview mode to see how the video is displayed.

Adding Video to Image and Product Galleries
As a final option, you can use a video or image gallery plugin to embed videos. There are a few reasons why you'd want to use WordPress plugins to do this – it's an excellent way to display behind the scenes footage for artists and musicians, and for businesses. It's an easy and efficient way to host product demos, Q&As, or testimonials. And you have a much greater ability to customize how your video is displayed.
FooGallery is an excellent user-friendly solution for this, allowing you to easily add videos to image or product galleries. You would need at least the FooGallery PRO Expert plan to do this. However, if you have a business that wants to embed videos in product galleries, FooGallery PRO Commerce will be the plan you need.
The Best WordPress Gallery Plugin
FooGallery is an easy-to-use WordPress gallery plugin, with stunning gallery layouts and a focus on speed and SEO.
How to Embed a Video in a Gallery with FooGallery
FooGallery PRO Expert (or PRO Commerce) lets you easily add videos to any of the gallery templates, such as a Masonry gallery, a Grid or a Slider. You can import video from various platforms including YouTube, Vimeo, DailyMotion, and Facebook. Here's how:
First, select add new gallery and then add your media. You can add videos and images to the same gallery, or you can create a video-only gallery. If using images, upload these or add from your WordPress media library.
Next add your videos. To do this, click on Add from Media Library in your Gallery Items panel. Now click on the Import Videos tab.
In the field provided, insert the video URL. The video thumbnail should now appear below the URL. Confirm that this is the correct video and click on Import to add it to your gallery.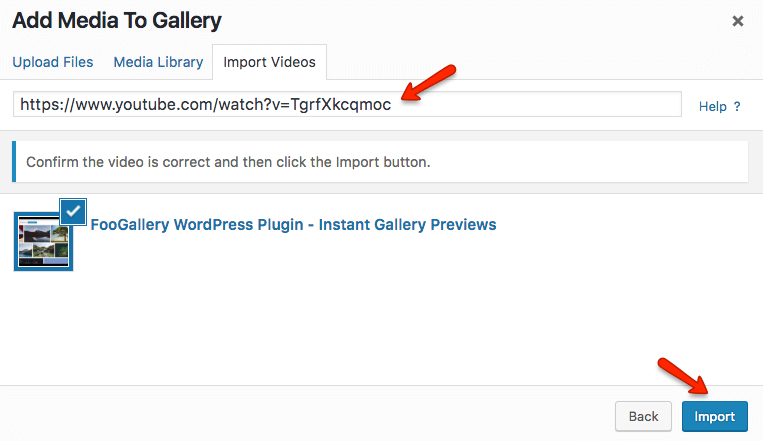 There are a few points worth noting:
Once you have imported your videos, it's time to customize your gallery.
Here you can select the Video Hover Icon. This icon lets visitors know that this is a video and clicking on it will open and play it in the lightbox. You can also make this icon sticky, so that it always displays, whether someone hovers over it or not.
If you're using images in your gallery, there are different icons to choose from for viewing the full-size image. This helps differentiate between the images and videos in your gallery.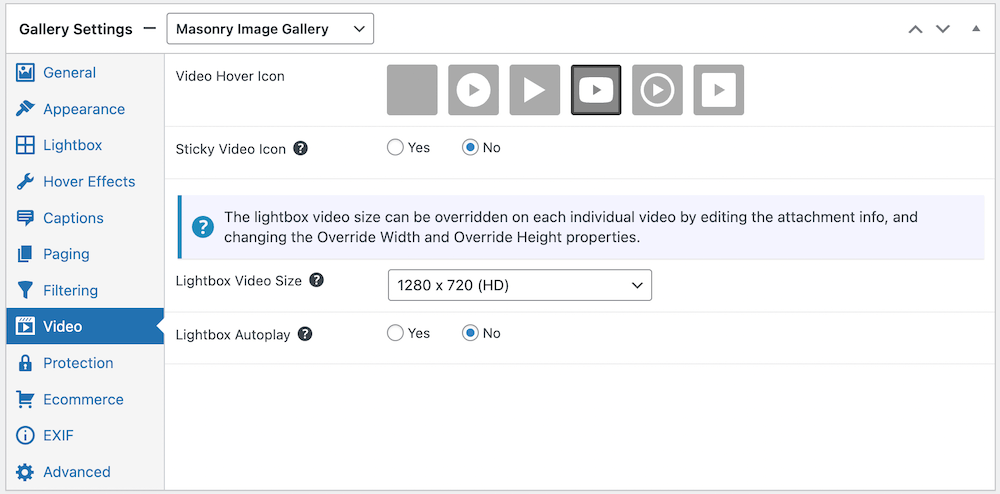 In the Video settings tab, you are able to adjust the size of the lightbox popup. There are several preset sizes, which include both an HD and Full HD option.
The Lightbox Autoplay option determines whether the video will autoplay when opened in the lightbox. However, this only works for videos hosted on YouTube or Vimeo.
Once you are happy with your settings, you can save and publish your video gallery and use the gallery shortcode, or the FooGallery block in the Gutenberg editor, to add to your page or post.
Below is an example of a video gallery created with FooGallery PRO Expert.
Start Embedding Videos on Your WordPress Site Today
As we've discovered, using video on your WordPress site can be very beneficial, helping you appeal to and reach a wider audience. But this needs to be done with caution, as uploading videos directly to your site can be potentially harmful.
While it is possible to embed videos in a variety of ways, your options to customize how these are displayed are limited. Using an image or product gallery gives you far more flexibility. Not only can you create galleries with both images and videos, but you can adjust how the videos are displayed.
Using a WordPress video plugin like FooGallery PRO Expert or PRO Commerce gives you even more advantages. You have access to different gallery templates, all of which can be styled to suit your needs. These galleries can be placed anywhere on your site, ensuring that you capture your audience's attention.
Harness the power of video, and try FooGallery Pro Expert today.