How secure are the photo galleries on your WordPress site? Using WordPress galleries on your site can go a long way towards improving the appearance and content of your site. But without the right gallery protection features, you could be open to problems.
We're going to take a look at why you might need gallery protection, and how to implement different layers of protection with FooGallery.
Why Use Image Gallery Protection?
There are two main scenarios for when you might want to add an extra level of protection to your photo galleries:
Firstly, if you're using photo galleries to display client photos or designs, then you most likely don't want anyone else to see these. Your client probably won't be happy, either, if the general public can view images or designs for which they're paying you.
Secondly, if you're a photographer or designer, then you'll know that putting high-quality images on your site comes with certain risks. Someone could take your photos or designs and pass them off as their own. In this case, you'll probably want to add an extra layer or two of protection to prevent this from happening.
Gallery Protection in FooGallery
When it comes to gallery protection, FooGallery has a few useful features.
Password Protection
Password Protection (available in FooGallery Free) is a great feature if you want to prevent just anyone from viewing galleries. You can easily enable this setting on any gallery, which will then only allow those with the password to view the gallery.
This feature is useful for anyone who wants to show clients photos, videos or designs, for example, but without opening them up for general viewing. Perhaps you've done a photo shoot and you want your client to select the photos they like. Or you've created a range of designs, and you need your client to approve. Password protection for galleries makes this simpler.
All you need to do, is enable this feature when you create your gallery. In the gallery settings you'll see the Publish panel on the side of your screen. By default the Visibility for a gallery will be set to 'Public', but you can edit this and click on 'Password protected' instead. You'll then be able to add a password of your choosing to the gallery. When you're done, click on Update.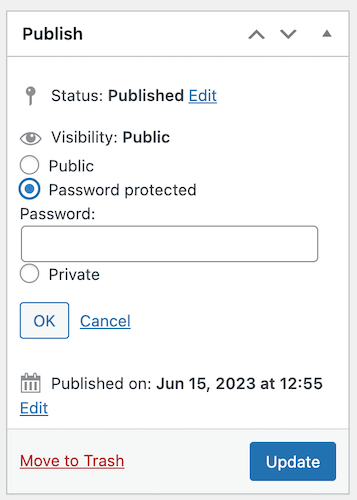 You can then add a page, insert the gallery (using the FooGallery block or the gallery shortcode) and share this (and the password) with your client. They'll be the only ones who can view the gallery.
Add Watermarking to Your Gallery
Adding Watermarks to your gallery can increase the level of protection for your images. But there are pros and cons to watermarking, and you probably don't need this feature unless you are uploading very high-quality images to your site.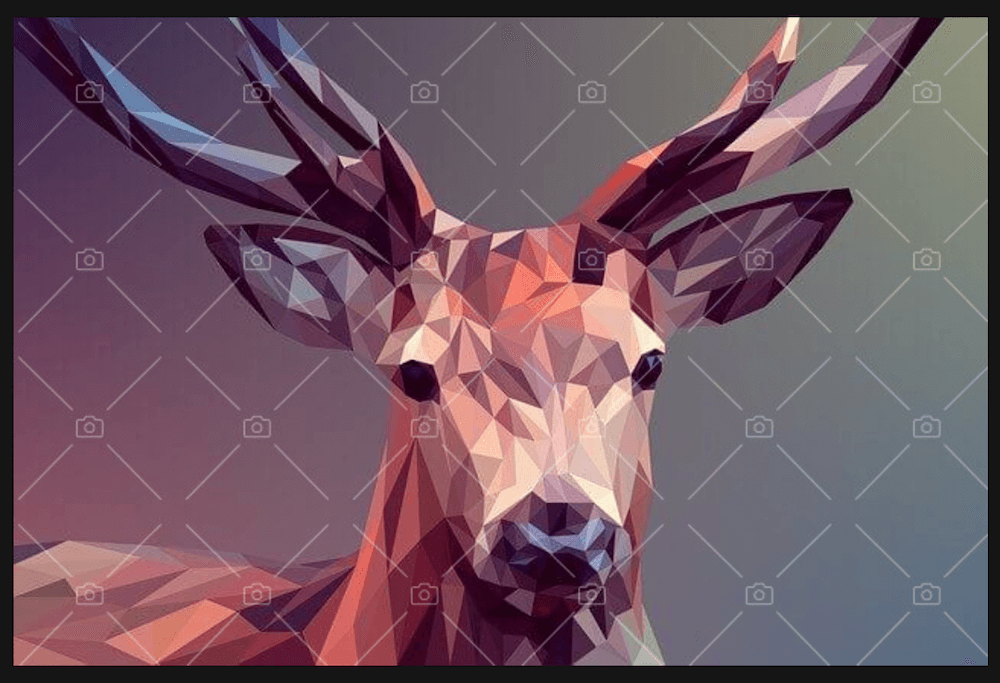 But if you do want to add it, then FooGallery PRO Commerce allows you to do so at a gallery level. In other words, you choose which galleries include watermarking. You might wonder why this would make a difference, but watermarks can be distracting or get in the way of the image itself. So if you don't want to include it on some galleries, you don't need to.
The watermarks also only show on the full-size images. Your thumbnails are generally going to be too low-res to need protection, and this way, your customers can view the thumbnail images without any distraction. And your full-size, top-quality images remain protected.
To set up watermarks in FooGallery PRO Commerce, you would first create the watermark in the global settings for the plugin. Here you can choose one of the available options or upload your own mark, and you can choose to repeat it across the picture or just to show a single mark. You would then enable this for each gallery in which you want the full size images to show the watermark.
Using Right Click Image Protection
Another way to improve the protection of your gallery images is to enable right click protection. This feature, available in FooGallery PRO Commerce, prevents someone from right-clicking on any of the full-size images in your gallery, in order to copy or save them for themselves.
Right click protection is a useful deterrent and can stop opportunists from copying your photos. It may not be as obvious as watermarking, but can go a long way to improving the protection settings on your gallery.
To enable this, simply go to the Protection settings in your gallery and select Enabled under the Right Click Protection field.
Here's a gallery using both Watermarking and Image protection:
Add Gallery Protection with FooGallery
So whether you want to keep your galleries private, or you want to protect your creative masterpieces, FooGallery offers you a solution.
Password Protection, available in FooGallery Free, gives you the ability to keep galleries private. But if you're looking for more rigorous measures, in the form of right-click image protection and/or image watermarking, then FooGallery PRO Commerce could be just what you need. Take a look at our plan comparison and find the FooGallery that works for you!