FooGallery PRO's Polaroid template is both versatile and fun. With this gallery layout, you can create a unique and interesting WordPress gallery that really makes your photos stand out.
The Polaroid frame, together with the photo 'labels', give your gallery a unique style. This layout has a built-in effect that straightens the images on hover, adding to the quirky style of this gallery. But you can take this all up a notch with just a few small tweaks.
To help you on your way to making an amazing Polaroid gallery, we've put together a few ideas that you can try out. Here's an example of the Polaroid gallery template, using abstract art images that we found on Pixabay.
Now let's take a look at some of the ways you can customize the Polaroid gallery to create a unique look and feel for your images.
Picture Frames
The Polaroid template gives you the perfect photo frames for your gallery images. The template uses Polaroid frames as your thumbnails, creating the appearance of a collection of photos. The captions add to this style; but we'll go into a bit more detail about captions later on.
You can change the appearance of the 'picture frames' in the gallery's appearance settings. In the above gallery, we really wanted our frames to stand out. To get this effect, we used a medium border size with a medium drop shadow. We chose a light theme and no rounded corners, as this is more in keeping with the Polaroid style.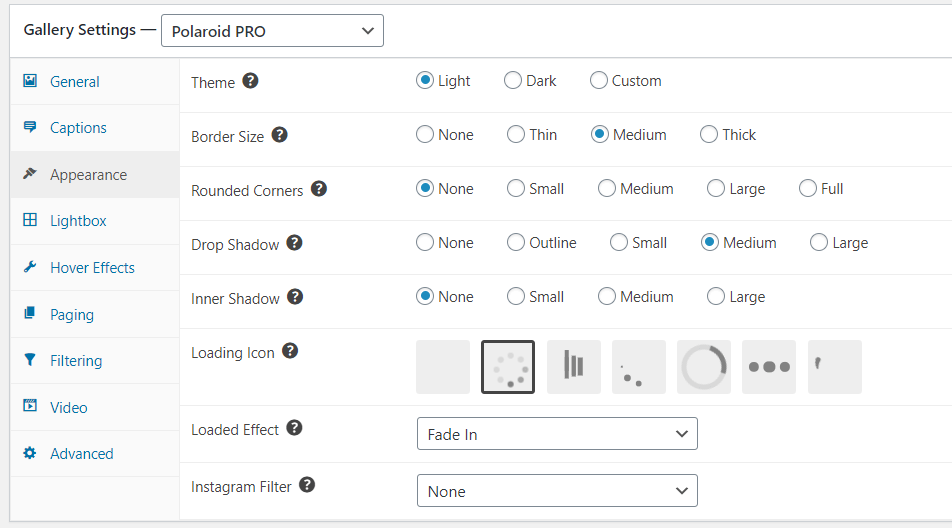 You can also change the size of your thumbnails in the general settings. For example, if you're creating a gallery from Instagram (which we discuss in just a bit) then you can set your dimensions to equal height and width. This will give you a square image with the caption below.
Captions
Label your Polaroid photos with creative captions. By default, the Polaroid template uses an italicized font for the captions, giving it the look and feel of a handwritten label. The frame also includes a caption below the image (although you can set this to appear above the thumbnail).
In the above gallery, we've used the image caption as the photo label. The Polaroid template has space for one label – by default this is the image caption. However, you can change this to the Title or Alt Text in the caption settings.
Polaroid Template Portfolio
Use the Polaroid gallery to create a portfolio. Creating a portfolio has become a popular way to display listings, such as a staff, property or holiday portfolio, just as a few examples. The Polaroid gallery template gives your portfolio a unique and interesting style.
Here's an example:
This gallery shows how you could use the Polaroid layout to create a portfolio for property or for holiday destinations. Here we've changed up the Appearance settings to create a slightly different look.
We've used large rounded corners and a small drop shadow, with no borders. In this way, the image takes up the entire frame, with the caption or label below. We also went with the dark theme and dark hover effect, for a bit more drama.
These are the Appearance settings that we used: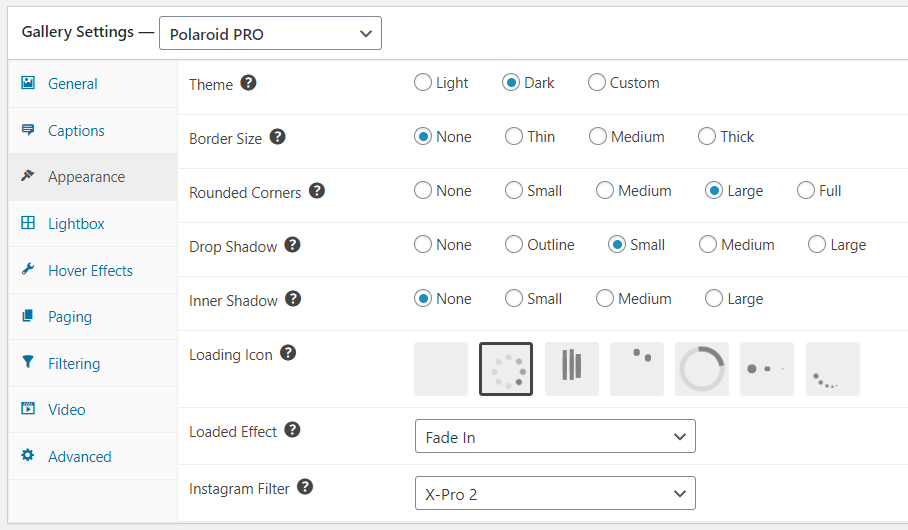 Thumbnail Filters
Adding a filter to your thumbnails can add an even more distinctive look to your gallery. The thumbnail filters can be used to complement your images, enhancing the overall impression you want to create.
For example, if you're showcasing images of historical significance, then a filter such as Brannan or Walden can give your thumbnails a more 'aged' appearance. The X-Pro 2 or Lo-Fi filters, on the other hand, can help make your thumbnails pop a bit more.
As you may notice in the above gallery, we've used X-Pro 2 for this purpose. It works well with the dark theme of the gallery and makes the thumbnails stand out.
Styling the Ultimate Polaroid Template
As you can see, with FooGallery PRO it's easy to create your ideal Polaroid gallery, just by making a few simple tweaks to the settings.
In order to create your unique look, you need to consider what type of images you're using and the purpose of your gallery. This will help add the right elements to your gallery, giving you a look that suits your images. In any case, the Polaroid template can be used effectively for a variety of galleries. It works well as a portfolio, and can also be used to add a touch of fun to your website.