We've recently released an update to FooBar (free and Pro), geared towards improving user experience. The FooBar update will also make it easier for you to get the most out of your notification bars.
Below we take a look at what's new in FooBar:
Realtime Previews
It can be frustrating, not to mention a waste of time, if you have to reload your notification bar every time you make a change. This is why we've built in realtime previews when editing notification bars in admin.
Any time you make a change to your content or color-scheme, your preview bar will reflect this. There's now no need to reload your bar to see how it will look. You also don't need to wait until the bar is published on a page to get an idea of how it will appear.
Realtime previews mean that you instantly see the changes you make. And the good news is that these are available in both FooBar Free and Pro!
Advanced Custom Settings Field
This FooBar update includes an Advanced Custom Settings field in both FooBar Free and Pro. This field lets you alter the bar by adding custom settings.
These will work with the existing FooBar settings, however, so we only recommend that developers use this field.

Scheduling Now in PRO
FooBar Pro now includes scheduling! You can now set up your notification bar, set when you want it to start showing, choose when you want it to end showing, and let FooBar do the rest.
To set up scheduling, click on Visibility and select Enabled under Schedule. You can then set the start and end date and time for your bar. You can use the other visibility settings (that is Shortcode, Everywhere or Conditional) to determine the pages on which it will show, but the bar will only show when scheduled.
If you do not want it to be scheduled, in other words you want it to show straight away, then select Disabled under Schedule. Note that it is set to Disabled by default.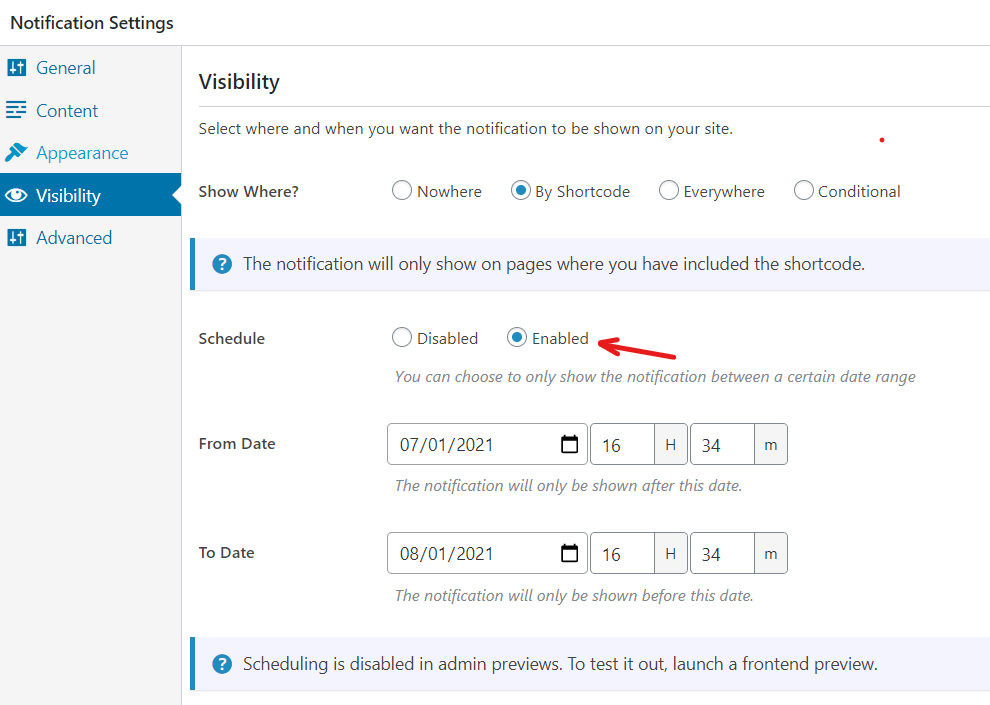 Attention-Grabbing Effects
FooBar Pro now comes with 5 effects, designed to draw attention and boost conversions. These can be added to elements on the bar, such as the button or toggle.
The 5 effects can be found in the Appearance settings and are:
Pulse
Ripple
Wiggle
Bounce
Heartbeat
You can keep the effects enabled all of the time, or you can choose to disable them after a user interacts with the bar.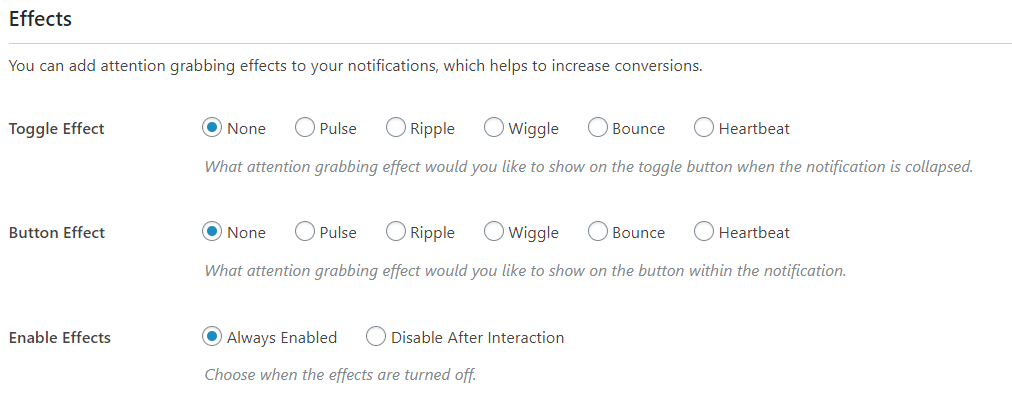 Here's a demo FooBar showing some of these effects. We've used an inline CTA bar with a custom gradient color scheme and a circle toggle button. For the effects, we've used the Heartbeat effect for the button and the Wiggle for the toggle. To see the toggle's Wiggle effect, close the bar and wait a few seconds.
FooBar Update is Better For Business
The latest FooBar update means it's easier for you to set up your FooBar, while saving you time. The realtime previews make for a smoother process when setting up or editing your bar, which cuts down on wasted time and unnecessary frustrations.
Another time-saving benefit is the scheduling, now included in FooBar Pro. This handy feature means you can set up your bar, schedule it, and carry on with your business. You set when the bar appears and when it disappears, so you don't need to waste time setting up reminders or logging in on weekends.
The FooBar update also makes it easier to grab the attention of your visitors, which in turn can lead to conversions. The new effects allow you to catch the eye and draw attention to your CTA, Sign-up bar or message. This will result in higher interactions and increased results.
These updates to FooBar Free and FooBar Pro are all geared towards making your life easier, while helping you grow your business.