We've all heard of content marketing! It's the idea behind using content to improve your SEO, boost your traffic, build your relationship with your audience … you get the idea. But what is visual content marketing? And how can it help you?
What is Visual Content Marketing?
This form of content marketing makes use of images, video or other visual aids to convey information about your topic or your business.
You can use a variety of visuals to improve your content. We'll go into more detail about this later on, but to give you an idea, you could use infographics, photos, cartoons, gifs and so on. Any image or graphic that contributes to your content can help your content marketing.
Why? Because people generally respond better to visuals. They remember more of what they see, rather than what they read or hear. If you think of a well-known brand (Twitter, for example) do you think of the word or the logo first? Odds are, your mind sees the little blue bird Twitter icon. Or take an infographic – if it's relevant, people will take the time to examine this rather than read the corresponding text.
Hubspot recently took a look at some of the 2018 stats for visual content marketing. Apart from finding that infographics engaged visitors for longer, they also discovered that videos and visuals are being used increasingly as a form of marketing. People respond better to, and are more successful with visual instructions or directions. (How-to videos or step-by-step photos are a good way to make this work for you.)
They also found that mobile is a factor! Your audience is using tablets or phones to view your content. So if you want to keep them (and the search engines) happy, you need to ensure that your photo, video and gallery plugins are mobile-friendly.
Benefits of Image-Rich Content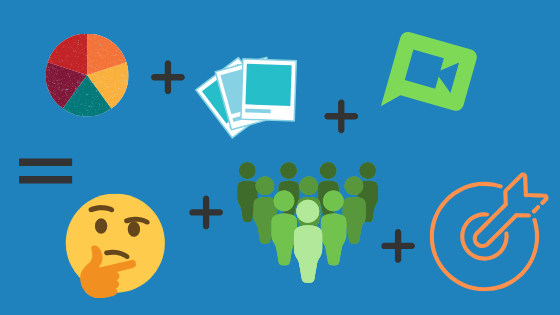 Using images has a few more advantages. We know that Search Engines think long-form content is preferable to short content. The time someone spends on your page also factors into the mystical algorithm for search engine ranking. But people no longer want (or have time) to wade through lengthy paragraphs and posts thousands of words long.
This is where your visuals can help. They break up the content into easily-digestible nuggets, aiding you in retaining your audiences' attention. They help people understand and process the content. And they improve the readability of a text. All of this makes it easier for people to continue reading, which keeps them on the page for longer.
Images can also be used to improve your image SEO. If you use appropriate titles and Alt text you can help search engines 'see' your images. This is a great strategy to get ranked in Google's Image Search.
Implementing Your Visual Content Marketing Strategy
So we've established that you need to use visual content if you really want to get ranked, grab your readers' attention and make an impact with your content. Now the question is 'How?'
There are lots of different types of visual content. These include photos or graphics, videos, gifs, screenshots, infographics and logos. Part of your strategy should be to use a creative mix of these. You also need to consider how you present your visuals.
Choosing Your Visuals
Using a variety and mix of images and videos can create more dynamic, interesting content. If you're always using comic gifs, for example, your content may start to feel a bit too flippant and lose its appeal. Too many infographics, on the other hand, could feel overwhelming or intimidating.
You may be thinking 'But where will I get a variety of images?' There are plenty of options available to you, and some won't cost you anything. If you're looking for good-quality photos, try Unsplash or Pixabay. Another great option is PikWizard, where you can find a great selection of royalty-free and premium images.
You can find all sorts of interesting photos for free; just remember to credit the photographer whenever possible. And try to avoid the standard, cliched stock images and go for something meaningful and attention-grabbing instead.
Need a graphic? You can hire a designer, but there are also places where you can design your own. Canva is a great option – you can create a variety of graphics, it gives you size recommendations and it's easy to use. You can even create your own logo.
It's best, where possible, to use your own material. It makes your content more real and appealing, and means you can avoid any pesky copyright issues. But make sure the quality is of a high standard.
Choose relevant visual content. In order for audiences to be engaged and to stay engaged, the visuals need to mean something. If they don't relate to your content, no matter how high-quality or entertaining they are, they're not going to help your cause.
Presentation Is Key
How you choose to display your images is of critical importance. That may sound a bit dramatic. And sure, if you're just adding a photo to a post, you can simply add it from your Media Library without going to too much fuss. But if you're using a lightbox to open image thumbnails, if you're using video, or if you're including a photo gallery, then presentation matters.
Let's say, for example, that you run a travel website. You want to entice your customers to purchase an all-inclusive trip to Bali. Small images stuffed into a cramped gallery aren't going to work, regardless of the wording you use or offer on hand. You want big, bright images that capture the essence of the place and portray what your content is talking about.
A WordPress photo gallery like FooGallery will allow you to do all this. In the gallery below, you can click on the images to see a full size photo. The images open in FooBox, a lightbox that opens above the gallery, allowing your users to truly appreciate the images (and to really want to go to Bali).
With FooGallery PRO you can even add video. We found the video in this gallery on YouTube (using the super-easy import tool built into FooGallery PRO) but you can include your own videos just as easily.
Whether you're using photos and graphics, or galleries and video, it's important to pay attention to how they are displayed. If you're creating a step-by-step gallery, something like the FooGallery Image Viewer (see the gallery under Choosing your Visuals) or Slider PRO gallery displays slightly bigger thumbnail images with captions on your page.
Someone running a boutique clothing store may prefer to use a Responsive Image Gallery to display their stock online. Alternatively, a Single Thumbnail gallery is a good option. Take a look at the first image / gallery in this post. It's a single image, but once you click on it, it opens in a lightbox. You can also add more images to the gallery – only the single thumbnail shows on the page, but once you open the gallery, you can scroll through the others.
Some Final Thoughts
Visual content marketing is no longer something that can be ignored. So it's important to use images throughout your content. But you need to carefully consider the types of visual content you use. In other words, your visuals should support and reinforce your wording, or they'll leave your audience confused and disinterested.
Equally important is the way in which you present your visual content. Your presentation needs to serve a function – it too needs to support your content and improve the readability. FooGallery and FooBox are versatile enough to help you do this. Both FooGallery and FooBox are also responsive – something you need to consider in your efforts to maintain a mobile-friendly site.
Download FooGallery for free or get started with FooGallery PRO now.