You can now tag media from within your galleries! FooGallery PRO makes it simple to add, edit or remove tags or categories, from within each of your galleries. Best of all, you can do this in bulk.
You may be wondering how this will help you, and why you would need to categorize or tag media. We're going to look at how it can help to use media tags in your galleries. Plus we'll chat about the benefits of using the new Bulk Taxonomy Manager in FooGallery PRO. And keep reading for a quick guide on how to use this new feature.
Benefits of Using Media Tags
Add tags and/or categories to your images isn't possible with WordPress, so you would need a plugin to enable this. There are several options available – just search WordPress for a media taxonomy plugin. Another option is to use a media gallery, like FooGallery PRO, which gives you the ability to add tags or categories to your media files.
One of the benefits of doing this is to allow you to sort and categorize your media files. The standard media library won't allow you to sort by media tag or category, but you can make use of a media library management plugin to help you organise your library. (Some of these may also allow you to add tags or categories.) Sorting your library will make it much simpler to find images on the backend of your site.
But tagging is also useful for filtering your image galleries. This allows users on the frontend to find the images they're looking for in your galleries. With a filtered gallery, you can sift through potentially hundreds of images, just by clicking on the filters.
Here's a quick example of how filtering works in a gallery, with the media tags appearing as filters above the images:
These filters are generated by the tags or categories assigned to the images. So when you tag media you are able to incorporate filters into your galleries. By doing this, you're also going to improve user experience.
But what if you haven't added tags to any of your images yet? It would take an incredibly long time to sift through your library and tag media items one-by-one. Our solution? Bulk tagging using FooGallery PRO's Bulk Taxonomy Manager.
Why You Need Bulk Tagging
Before we introduced our Bulk Taxonomy Manager, adding or removing a tag from media was NOT easy! The process would probably go something like this:
Create a gallery and add Filtering.
Preview gallery only to realize one of your tags is missing an image, while another shouldn't have that media tag.
Exit gallery and open Media Library.
Scroll through library to find the right photo, hoping that it isn't right at the end!
Open photo and add tag. Save and exit.
Search through library again to find the next photo.
Open photo and remove tag. Save and exit.
Exit Media Library and open gallery. Preview to check that everything is correct.
Sound familiar? Our bulk tagging feature is designed to eliminate this process and make your life a whole lot simpler, while saving you loads of time.
Now you can add tags and categories to multiple images in your gallery. If you're just getting started with tagging or filtering, this will save you plenty of time. Even if you have added tags to all of your images before now, you can use bulk tagging to add one or more new media tags to multiple images.
But it's not just useful for adding tags. You can also use the Bulk Taxonomy Manager to remove tags and categories as well. So if you find an image in your gallery that doesn't belong to a specific tag, you can now easily remove the image from that tag.
The Bulk Taxonomy Manager is available from within your gallery, making it simple to access and edit the tags directly from your gallery.
How To Bulk Tag Media
Using the Bulk Taxonomy Manager is really simple. Below, we go through the basic steps, but you can also take a look at this article for a more detailed guide.
Once you've created a gallery, you can access the Bulk Taxonomy Manager from your media panel.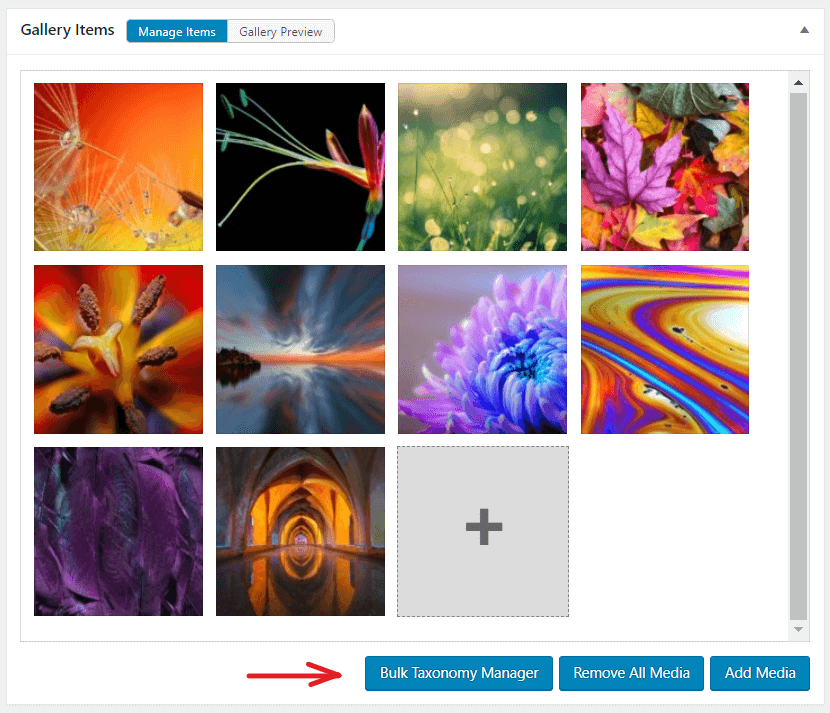 Clicking on this button will open a new panel displaying all of the images in your gallery. From here you can choose whether to work with tags or categories from the drop down at the top of the panel.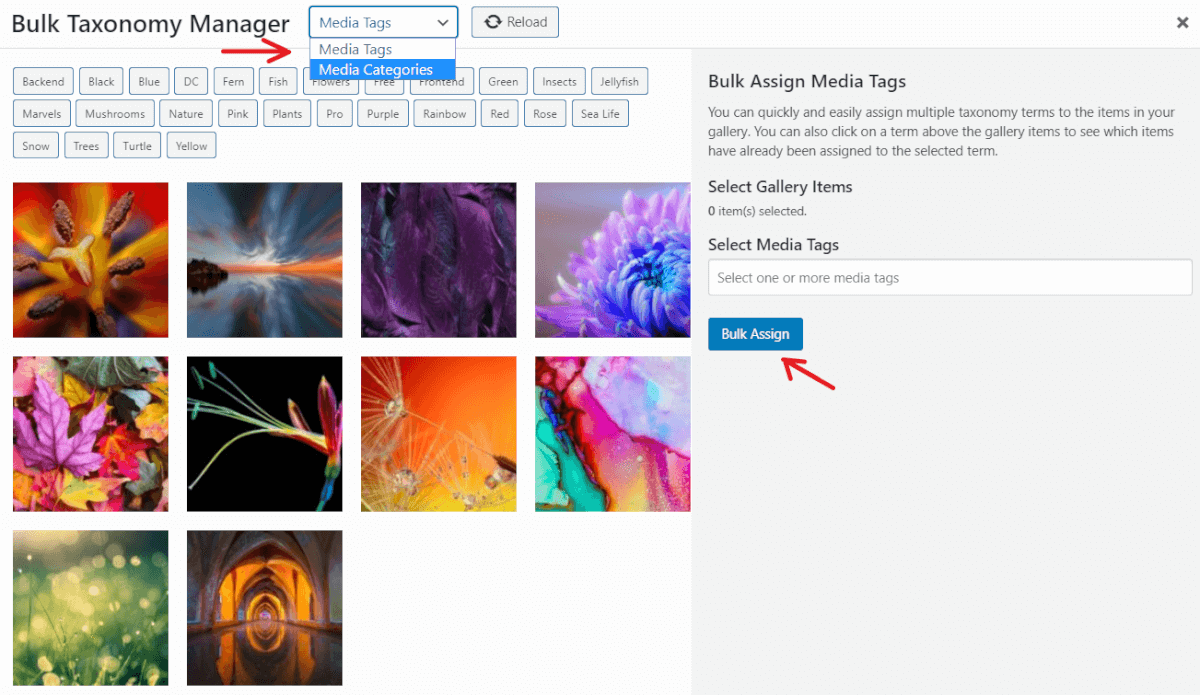 You'll see all of the tags (or categories) available on your site above the images. You can click on individual tags to see which images have this tag. From here you can also remove images from a tag.
Alternatively you can select images and add tags using the field on the right of the panel. When you're done click on Bulk Assign and return to your gallery.
As you can see, this feature makes it really easy to edit tags and categories right from your gallery. This is bound to make it simpler to create amazing galleries, while saving you time.