We're updating FooGallery Pro, and this latest update will include a built-in lightbox! This addition to our Pro gallery plugin has been something we've been wanting to do for some time. It's also a feature many of our users have been looking for.
So we decided to take a quick look at why we chose to add this feature, before going into how it will work, and what the benefits are for you.
Does The New Lightbox Replace FooBox? No!
For a while now, we've been looking at the possibility of building a lightbox into FooGallery Pro. Since it's inception, we've recommended FooBox as the lightbox of choice for FooGallery. They were (quite literally) built for each other.
But it meant downloading an additional plugin, which meant extra work for you, our users. So in an effort to streamline your experience, we have opted to add a lightbox into FooGallery Pro.
First things first; this won't replace FooBox, which will continue to exist as an independent lightbox plugin, that works with FooGallery, WordPress galleries and other popular gallery plugins. FooBox, particularly the pro version, comes with a great selection of awesome features, and these won't all be duplicated in the new gallery lightbox.
Secondly, the built-in lightbox will only be available in FooGallery Pro. This is because, apart from making it a more seamless experience, it will allow us to build in more Pro benefits down the line. (Keep reading for more insights on this.)
Benefits of a Built In Gallery Lightbox
The new lightbox feature is going to have a ton of benefits. You'll be able to style the lightbox from within the gallery settings, allowing you to potentially create a unique lightbox experience for each of your galleries.
This will also give you more control over your lightbox settings for individual galleries. You can adjust and fine tune everything from the theme of the lightbox to how the captions are displayed. Plus if you want to revert to FooBox for a particular gallery (or your preferred lightbox) then this is simple to do.
Probably the biggest advantage of adding a lightbox to FooGallery, is the opportunity it provides for WooCommerce integration. The aim is to integrate eCommerce functionality directly into FooGallery, allowing you to sell your images or products directly from your gallery. This is still a work-in-progress, though, so will only be included in a later update.
How Do I Enable The New FooGallery PRO Lightbox?
We're nearly ready to release this update, but in the meantime, here's a look at how it would work.
To begin with, you would need to select the new built-in lightbox in your settings. You'll have a choice of lightbox options (as always), but now you'll also be able to select the new FooGallery PRO Lightbox.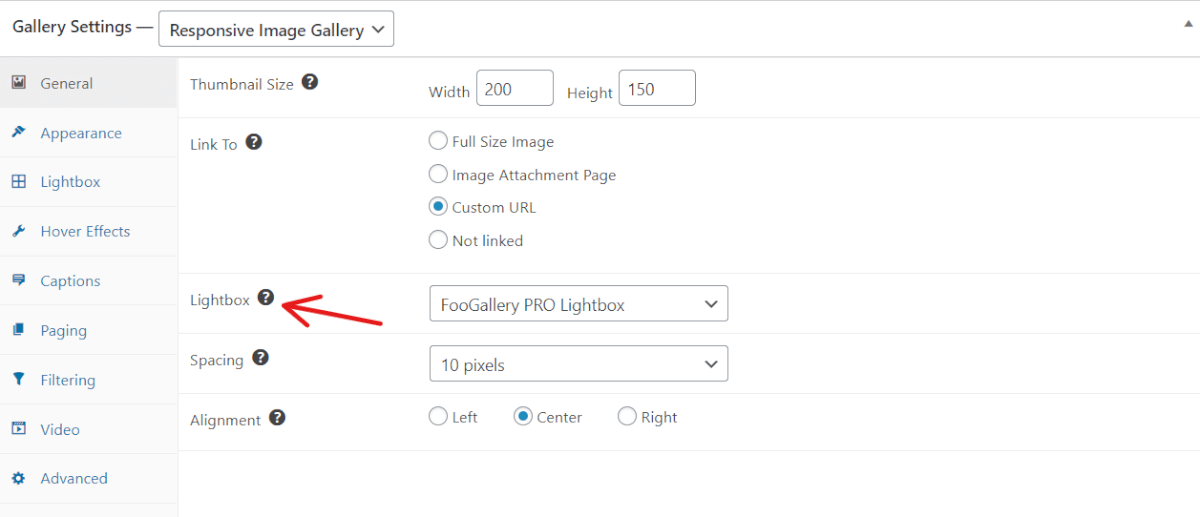 You'll now also see a tab in the gallery settings for the Lightbox. If you click on this, you'll find all the available options for setting up and styling your gallery.
Below is a screenshot of how we expect the settings to appear. We'll cover these in more detail once this new feature is ready for release. But as you can see, you're given plenty ways to customize your lightbox appearance and functionality.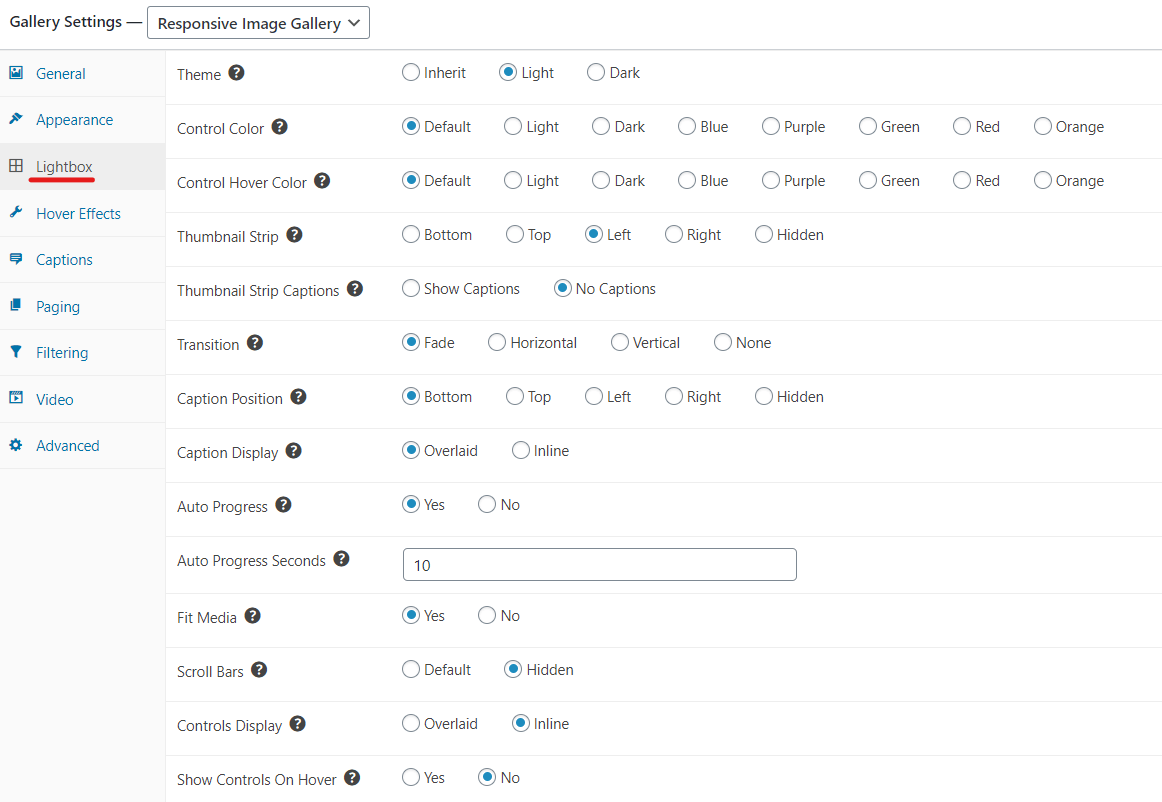 Features We Are Excited About
Thumbnail Strip
Auto-progress
Transitions
Apart from being able to change the theme and coloring of your lightbox, you can also tweak the display of thumbnails, captions, scrollbars and controls. More importantly, you can display a thumbnail strip and set the images to Auto Progress – where a new image will load every few seconds. You'll also be able to change the CSS transition when flipping between images.
As with FooBox, the lightbox will adjust to the size of the screen from which it is being viewed, meaning it is mobile-friendly. Depending on your choice of settings, the on-screen buttons are also easily accessible.
Here's a look at how the lightbox could look: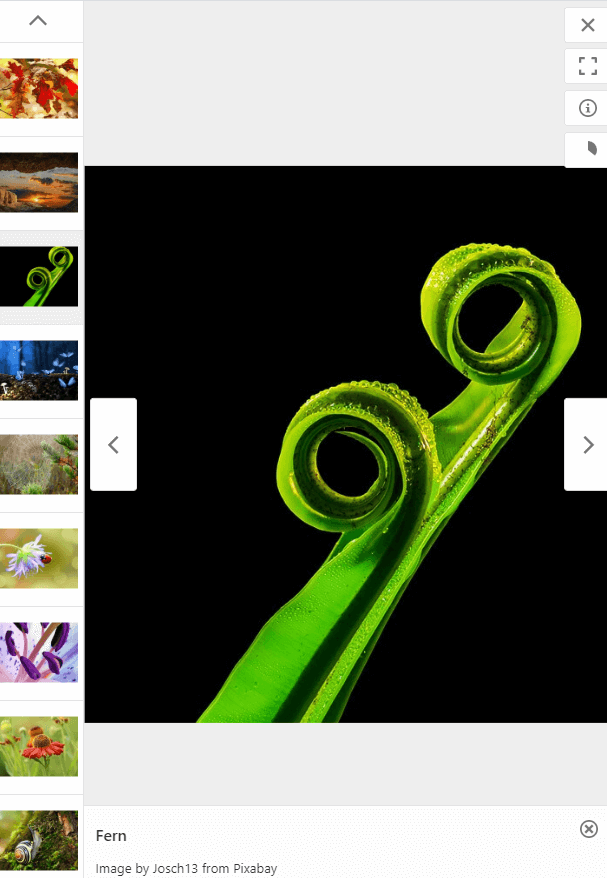 It's worth noting that the new Lightbox won't be available in the Slider Pro gallery, as this template doesn't open images in a separate lightbox. And for the Grid Pro gallery, you'll find these settings under the Panel tab in your gallery menu.
Beta Testing Coming Soon
We're hoping to start Beta Testing for this update soon. If you want to be the first to try out this awesome new feature, make sure you sign up for beta testing today. Note: this is only available for current FooGallery Pro users.
If you have any questions or comments, feel free to post in the comments below. Otherwise keep an eye on our blog page, Facebook and Twitter for more updates.