Want to display stunning video galleries on your WordPress website? The best way to do that is by installing a suitable plugin – but which one?
There are countless video gallery plugins to consider in the WordPress directory. To save you time, we explored and listed some of the best options, then whittled the list right down to our 8 best video gallery plugins for WordPress in 2023. While one is our own, we've consciously taken an objective approach to all of them.
So press play, compare the different features, and pick your winner, and then keep reading for a detailed guide on how to set up your own video gallery.)
The Top 8 WordPress Video Gallery Plugins
There are many possible reasons for having video galleries on a WordPress site. Perhaps you're a videographer and want video gallery functionality to showcase your playlist. You could group your videos into different galleries by category: music videos, short films, corporate work, advertising, and so on. You might own a business and want to demonstrate your products and services with a series of videos. Well-made product demos have been shown to be one of the most compelling marketing tools.
Maybe you want to give online lessons or tutorials and feel that video is the most engaging way to do so. Research shows that videos are helpful supplementary content on educational platforms. Whatever your goal is, one of these 8 video gallery plugins will be key to your success. We've outlined their different pros – and the (few) cons we found. Let's dive right in.
FooGallery is an all-in-one gallery plugin that is compatible with most WordPress themes. It comes with four different plans, including free. FooGallery's PRO Expert plan supports video and you can embed an unlimited number of videos from popular sources such as YouTube, Vimeo, TED, Facebook, and Dailymotion using URLs (in the case of YouTube, you can also use a YouTube API to import videos using a search term, playlist, or video ID). You can also feature self-hosted videos, or mix together videos and images in the same gallery.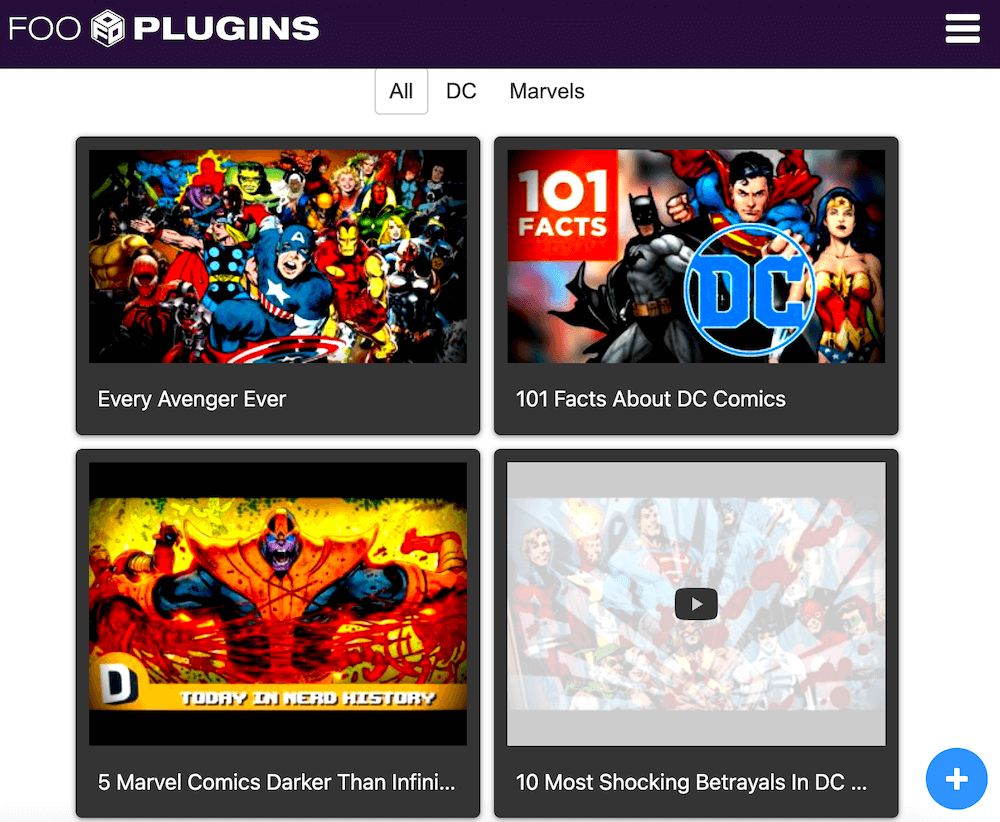 Some of FooGallery's top features:
There are 10 versatile gallery layouts to choose from including a carousel slider – and you can customize the look of your chosen gallery layout in several ways. In the backend you can set transitions, hover effects, gutter widths, thumbnail sizes, add filtering, and more. See demos of the different gallery layouts here.
You can embed videos from YouTube, Vimeo, DailyMotion, and multiple other platforms, as well as add your own self-hosted videos or videos from your media library (although, hosting your own videos is generally not recommended).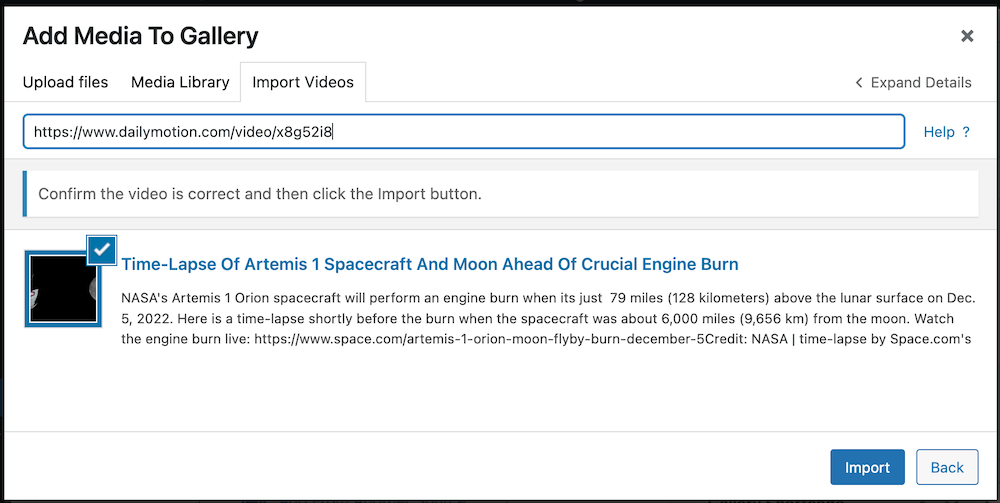 All gallery layouts are optimised to reduce page load times and improve your core web vital scores. FooGallery has been specifically optimized to score better for Google's Core Web Vitals since 2021. The speed of its javascript code has been optimized, as has the visual stability of all gallery templates.
FooGallery is responsive and plays smoothly on mobile devices.
You can include a lightbox effect in your galleries. You can set the lightbox dimensions for your videos and set videos to autoplay when opened in the lightbox. Read about how lightboxes improve user experience and engagement in this article.
It's responsive, retina-ready, and has automatic lazy loading for better page performance and page load speed.
Drag and drop reordering lets you change the order of your gallery videos instantly.
You can add Custom CSS for all galleries.
The highest premium plan, FooGallery PRO Commerce, integrates with WooCommerce, to drive sales directly from gallery to checkout.
The back end is easy to use when creating and customizing video galleries. The screenshot below shows you how the gallery settings look at the back end. You can set different settings to your preferences, before or after uploading videos to a gallery. Once you've seen the results in Gallery Preview mode, you can come back and tweak any of the settings if necessary.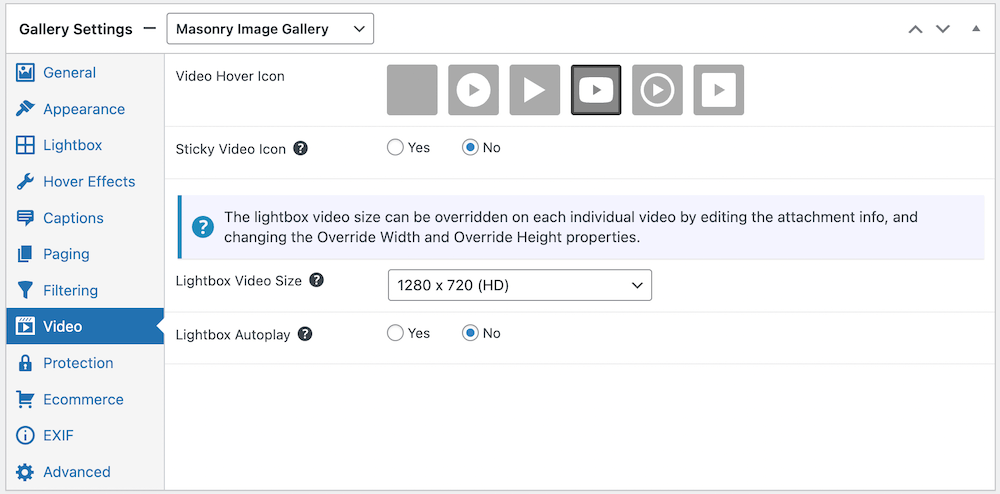 It's simple to add new video galleries to your WordPress video gallery in the Gutenberg editor; you simply click on the FooGallery block and select the new gallery.
The Best WordPress Gallery Plugin
FooGallery is an easy-to-use WordPress gallery plugin, with stunning gallery layouts and a focus on speed and SEO.
Modula calls itself the "The WordPress Gallery Plugin for Non-Technical Users." It's an image gallery plugin for WordPress, which lets you create video galleries as well. It's compatible with several popular page builders including Divi, Elementor, and Beaver Builder.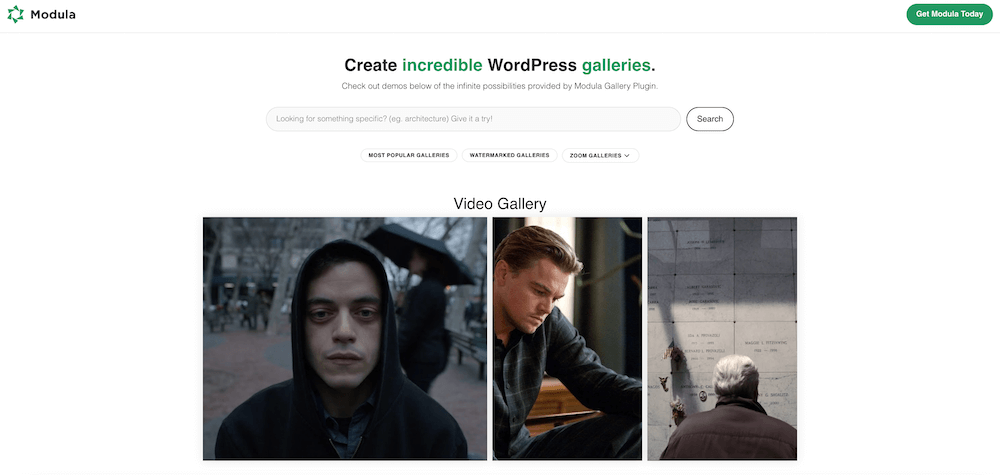 Its three most notable features are:
SpeedUP™, a proprietary solution that ensures image and video galleries stay crisp but don't slow down your site (a common issue with WordPress galleries), through a combination of file optimization algorithms and fast CDN functionality. This would help your site with Google Search rankings.
Creating galleries is super easy, by means of a simple drag-and-drop builder. While it's not difficult to use and galleries are customizable, Modula only has four main gallery layouts: custom grid; creative gallery, masonry, and slider.
Modula delivers "device-aware" gallery layouts, through a combination of smart cropping algorithms and responsive web design. This makes galleries render reliably on any device or screen size.
It's worth noting that many Modula users credit it with providing excellent customer support. If you're looking for a simple, uncomplicated gallery plugin for your site, this is a good fit.
Envira Gallery gives you the flexibility of using a drag-and-drop builder or pre-built templates to create your video or image galleries for your WordPress website. Like Modula, it integrates with a number of builders including Divi, Elementor, and Beaver Builder, so you can sync your video gallery with your page builder of choice.
Envira allows for a wide choice of content sources. You can embed videos from YouTube, Vimeo, Wistia, DailyMotion, Twitch, or VideoPress, as well as self-hosted videos.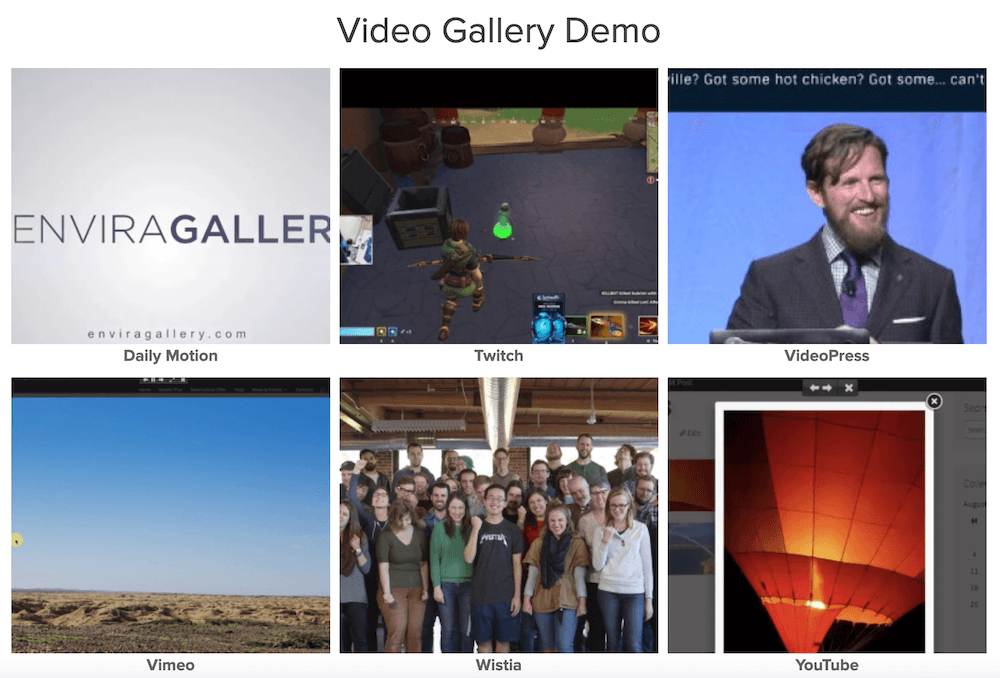 It feels like a very good choice for image galleries, as it has a number of useful addons: a watermarking addon; a proofing addon, and an albums addon. Note that, if you are intending to use it for video, you'll need to get one of the premium plans.
Halfway through our review of WordPress video gallery plugins and we come to this popular free plugin. It offers a custom HTML5 video player that supports "MP4, WebM, OGV and embeddable players like YouTube, Vimeo, Dailymotion, Facebook, and more".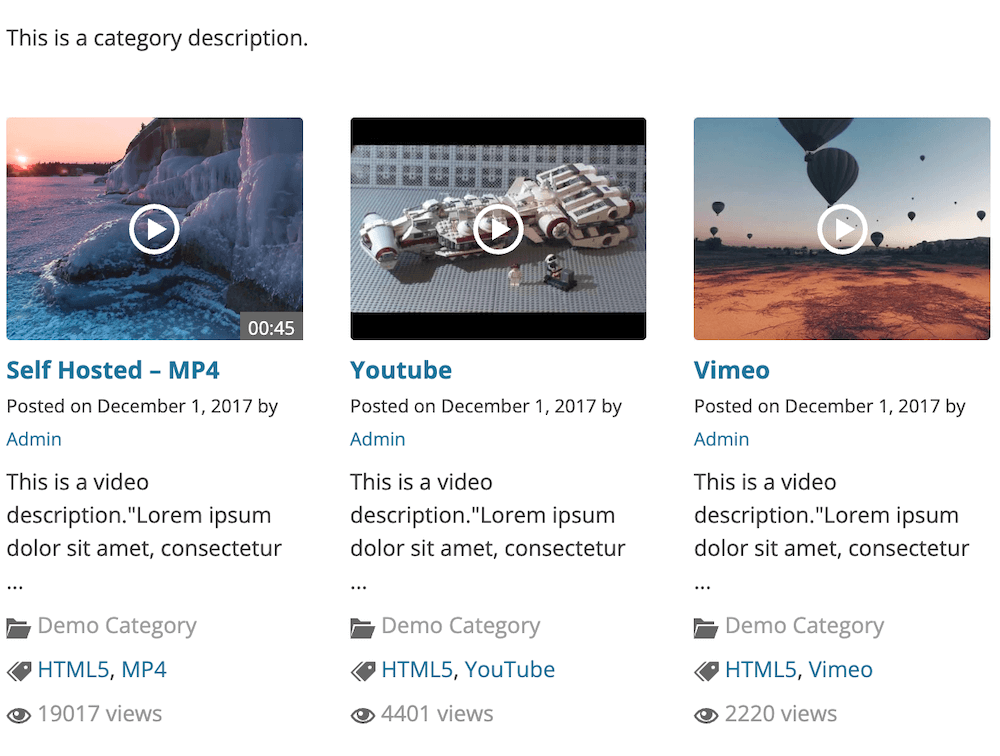 The plugin makes it easy to add videos to your WordPress site and to group them using categories or tags. A notable feature is the variety of player controls: play/pause buttons, timer, progress bar, duration, quality switcher, speed control, volume button, full screen button, share buttons, embed button, download button, and subtitles on/off. It also provides widgets to list categories, list videos, display a single video, or search videos.
All-In-One is quite straightforward to use and a good option if you want a free video gallery plugin, but it doesn't come with a choice of stylish pre-built gallery templates, or a lightbox. On the premium version, you can get two gallery template options: popup and slider.
This is a good plugin to choose if you:
want to spend minimal time organising video content for your WordPress site.
don't have much technical expertise.
use YouTube extensively, with multiple playlists, and want a plugin that is geared specifically to ensure an automated flow of your new YouTube content onto your site.
It has a lot going for it – how your video displays look is highly customizable; it provides customizable actions for when a video is paused or ends, like displaying a link to a product page or displaying thumbnails of your other videos; it won't slow down your site speed like a lot of other YouTube plugins, and it lets you add curated content to your site – content made by other YouTube members that you think would be relevant to your audience.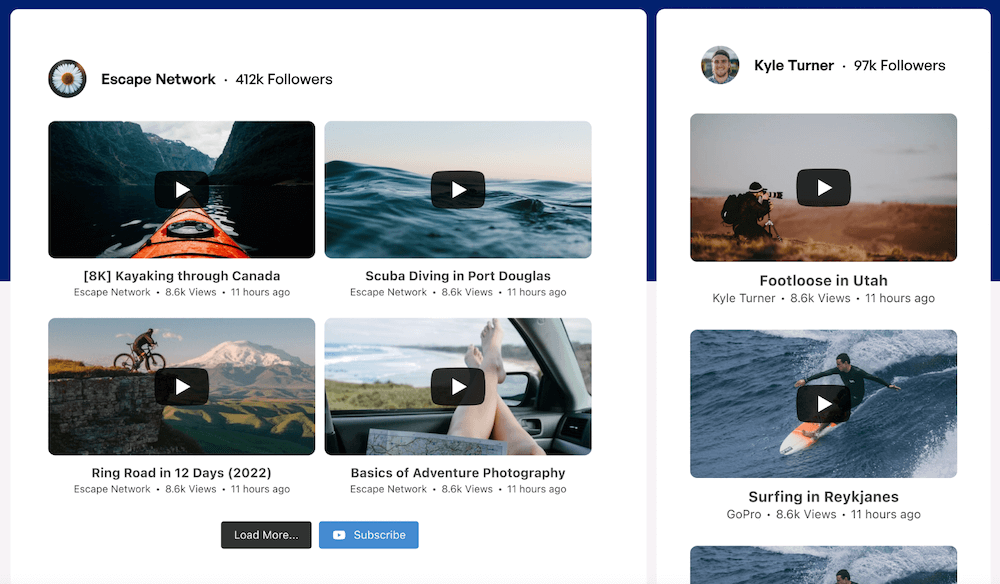 But this would not be the right plugin for you if you want to embed video content from a wider variety of platforms.
This plainly titled plugin does what it says on the box: lets you smoothly upload videos from Vimeo or YouTube, or mix both in your video galleries. It's lightweight and shouldn't slow down your website, even if you create numerous video galleries. You can display videos within seven different templates:
Video/Content Popup
Content Slider
Lightbox Video Gallery
Video Slider
Thumbnails Gallery View
Justified Gallery View
Blog Style View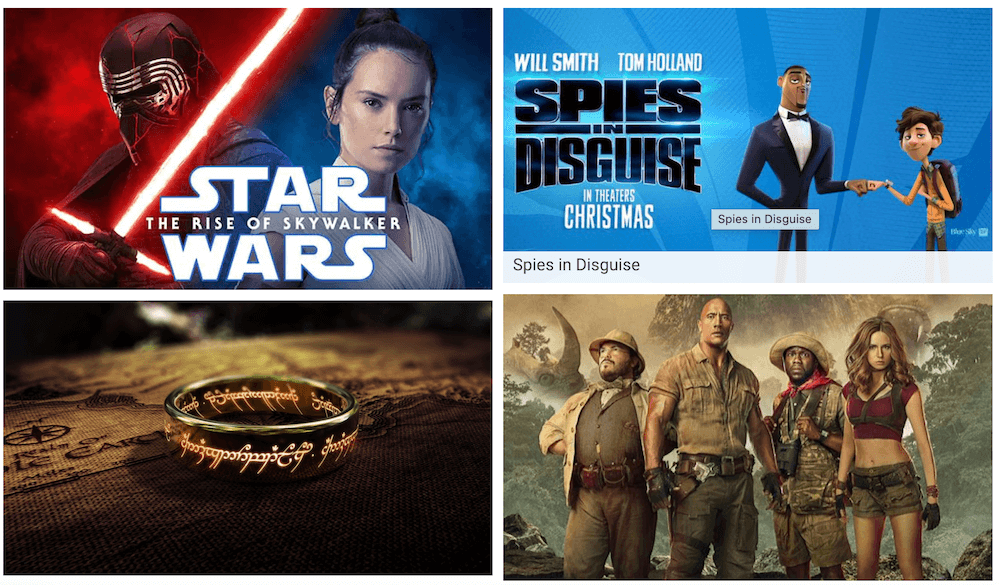 This is a good gallery plugin to choose if you work only with YouTube and/or Vimeo content and want something that is simple to use, although it lacks some of the advanced functionality other plugins may offer. Note this message in the WordPress directory, though: "This plugin hasn't been tested with the latest 3 major releases of WordPress. It may no longer be maintained or supported and may have compatibility issues when used with more recent versions of WordPress."
In general. "healthy plugins" are those that have been tested and updated within the last few months. So, if you want to try this plugin, we recommend trying the free version first.
This is another plugin that is best suited for WordPress site owners who want to integrate their YouTube channel and display it on their site within a gallery-style layout. It's useful if you want to host live streams or YouTube premieres and stream them directly on your website.
While the plugin gets great reviews on the WordPress directory, quite a few users say they quickly upgraded from the free version to one of the pro versions, which offer more functionality including advanced gallery customization; automatic video SEO markup; mobile compatibility check; fine-grained volume initialisation; an analytics dashboard, and a high degree of customer support.
This is a slick plugin that lets you pull images and videos from popular platforms, including social media platforms like Instagram. It's straightforward and easy to use while also offering extensive customization and flexibility, including 50+ customizable templates and a versatile visual skin editor.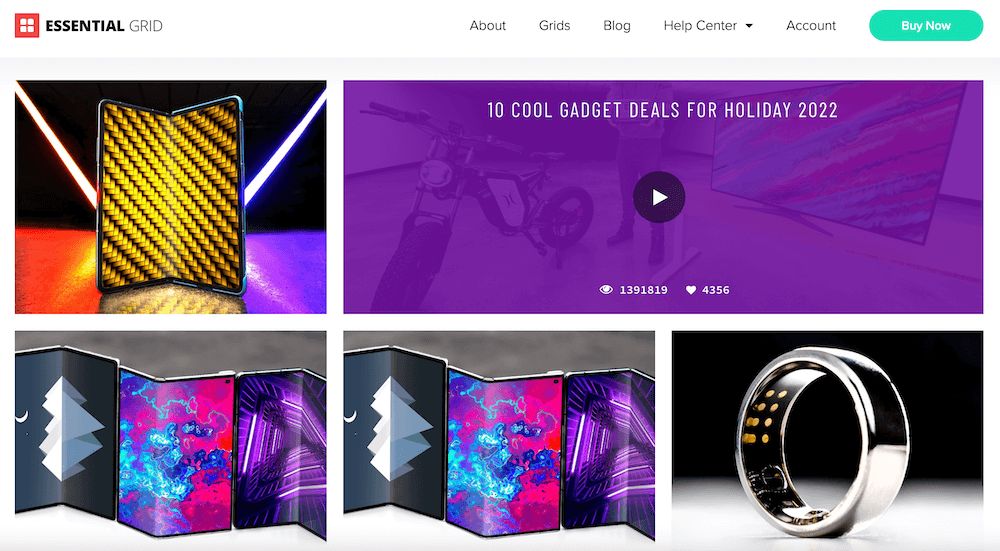 In our view, the only downside to Essential Grid is that you can only display galleries as grids (although you have quite a few customization options within that) and the pricing feels excessive for a grid gallery plugin.
What's The Best WordPress Video Gallery Plugin?
From all of the video gallery plugins we've looked at, our team agrees that FooGallery (PRO) offers the most features and value to WordPress website owners:
You can embed videos from all of the major platforms, as opposed to several of the other WordPress plugins in this list which are limited to YouTube only, or just a couple of platforms.
You get ten completely different gallery layouts to choose from and all of them are a good choice for embedding video content.
Very useful if your galleries feature product videos (like demos or unboxings), FooGallery Pro Commerce integrates deeply with WooCommerce, enabling customer journeys direct from product videos to checkout.
You can easily customize how gallery layouts look and work, using Gutenberg in the backend, by changing the many settings (no tutorials required). You can add powerful filtering, effects, and more, to create a video gallery that really stands out.
"The best gallery app on Earth" says user @grisu63 about FooGallery in the plugin directory. (You can see all of the ratings and reviews here). Overall, FooGallery gets a five-star rating in the WordPress plugin directory, along with two other plugins on this list (at the time of writing).
How To Create Video Galleries In WordPress With FooGallery
Here are the steps for installing the FooGallery plugin to your WordPress site, creating a video gallery in the back end, and adding it to a page on your site:
Purchase your FooGallery license: Click here to select the plan that's right for you. Remember that you'll need the PRO Expert plan if you want your gallery plugin enabled for video content – and the PRO Commerce plan if you also want to integrate your product videos (demos, ads, etc.) with WooCommerce.
Install FooGallery: Once you've purchased your Pro plan, you'll receive an activation email and license key. Download the .zip file containing FooGallery and save it to your computer. On your WordPress dashboard, go to Plugins –> Add New. At the top of the screen, click on the option to Upload Plugin, and the below screen will appear:

Drag and drop the .zip file into the area provided, or browse for it. Once it has been uploaded, you're almost ready to install and activate it. Note that, if you've been experimenting with the free or PRO Starter version of FooGallery up till now, you'll need to uninstall it from your website first.
Activate FooGallery: Now activate the FooGallery PRO plugin on the Plugins list in your WordPress dashboard (you will need to enter your license key – provided in your activation email from FooPlugins – to activate it).
Create a new video gallery and add it to a web page: To get started, click on Add Gallery in the FooGallery menu. The new gallery page will open, and from here it's easy. You'll need to add a title, and then select your media. Images can be added from your media library. For videos, take a look at the next step.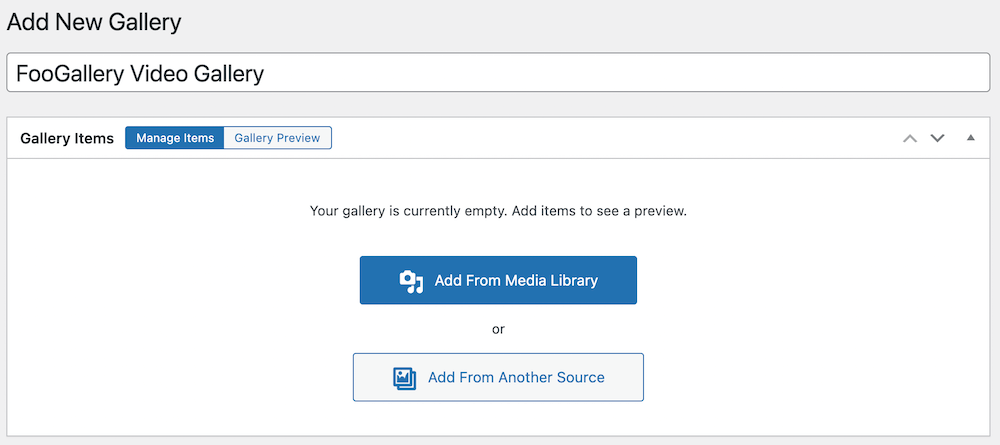 Add videos with FooGallery PRO: To add videos to your gallery click on Add From Media Library. You can then go to the Import Videos tab and enter the URLs for any videos you want to add to your gallery. You can enter URLs from YouTube, Vimeo, Facebook, or any other supported platform. Every time you add a URL in the field provided, the video should appear below, automatically. Check that it's the right video, then click on Import at the bottom of the screen: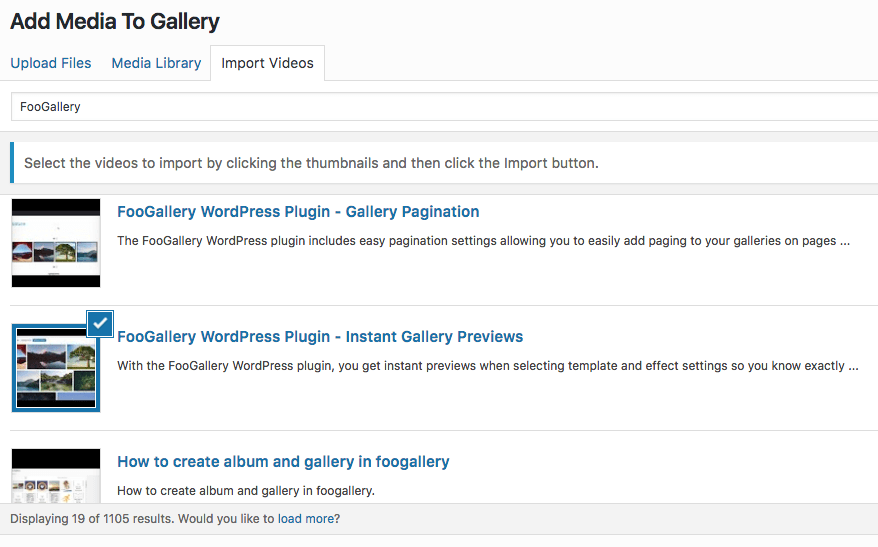 You can also add YouTube videos by entering a YouTube search term, playlist, or video ID. For this, you'll first need to get a YouTube API key. Once you've added it, you can enter search terms in the field, instead of URLs. Relevant videos will appear below and you can scroll through them to select the one/s you want in your gallery (you may need to refine your search results).
Once you have imported all of your videos, click on Add Videos to Gallery. All of the videos you have imported and selected will now go into your WordPress video gallery. Remember, you can change the order of individual videos at any time, through simple drag and drop.
You can add self-hosted videos to your gallery if you want to (supported formats:.mp4, .ogv, .wmv, and .webm files). Depending on the file size, we would recommend first uploading them to a storage platform like Amazon S3, to minimise bandwidth. Then simply add the URL from there into the field and your video should appear below it.
Finally, you can also add videos to your gallery straight from your Media Library, if they are stored there. But this isn't recommended – videos take up too much server space and can have a negative impact on your page load times.
Customize your video galleries: With FooGallery, your video galleries will be highly customizable. Here is how the Gallery Settings page appears: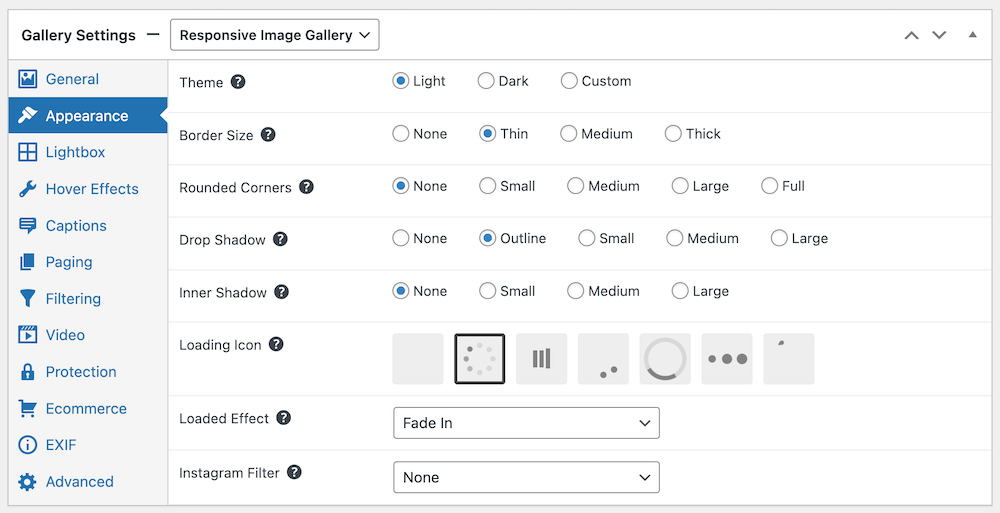 Here, you can adjust the customization options for your video galleries, including:

selecting the gallery template you want;
adjusting the thumbnail settings;
adjusting video settings and playback options, including autoplay (only for YouTube and Vimeo videos);
activating the video hover icon (you can make it sticky, so that it shows even when you're not hovering over the thumbnail), and
adjusting the size of the lightbox in which your videos play.
Play around with the gallery settings and, if you're still confused about anything, get in touch at any time via our dedicated Support Channel.

Embed your video gallery: Once you've customized your video gallery, you can embed it on any post or page on your site using the FooGallery block in Gutenberg. Alternatively, each gallery has a shortcode, which you can paste onto a post or page, using the shortcode block.
Ready To Create Stunning Video Galleries With FooGallery?
Whether you're a professional videographer, want to enhance engagement between your WooCommerce products and your customers, or simply want to make an images-only WordPress site more dynamic, adding video galleries that display in a lightbox will enhance your visitors' experience greatly.
Because it can pull videos to your WordPress website from multiple sources, is user-friendly and highly customizable, five-star FooPlugins is a great WordPress video gallery plugin to install. Once you've tried it out, we don't think you'll look back.Click here to get the FooGallery PRO Expert or PRO Commerce plugin – and have fun using it.
The Best WordPress Gallery Plugin
FooGallery is an easy-to-use WordPress gallery plugin, with stunning gallery layouts and a focus on speed and SEO.