Online graphic design tools can be used to add something extra to your images, blogs and WordPress site. There are a number of tools freely available, or some with free versions. And the great thing is, you don't need to be a graphic designer to use them.
From designing blog title images and Facebook graphics, to creating infographics or charts, here are 18 online design tools that you can use to boost the visual appeal of your WordPress site.
Canva
Canva is accessible and easy-to-use, even for non-designers. It provides a nice variety of templates, taking the guess-work out of choosing the right size for your image. You can design social media graphics, posters, infographics, and more.
It also comes packed with photos, illustrations, fonts and backgrounds. Or you can load and edit your own images. So once you have your template, you can add images, text, lines, illustrations and anything else you need to create the ideal image.

Canva is free to use, giving you access to plenty of templates and design options. You can also buy individual images, or use one of the professional plans.
Piktochart
Create your own infographics, presentations and printables for free. Piktochart gives you access to hundreds of templates. Once you've selected your template, you can add images or icons, or change fonts and colors. You can even display your information with charts, graphs, and maps. And then import your data.
Piktochart offers a free account, which lets you create unlimited graphics with access to icons and images. The Pro and Team versions give you added functionality and increased customization options.
Snappa
Create your own online graphics with Snappa. It comes with pre-sized templates, an easy-to-use graphic editor with drag and drop functionality, and plenty of royalty-free graphics for you to choose from. You can resize your graphics and upload your own fonts and images.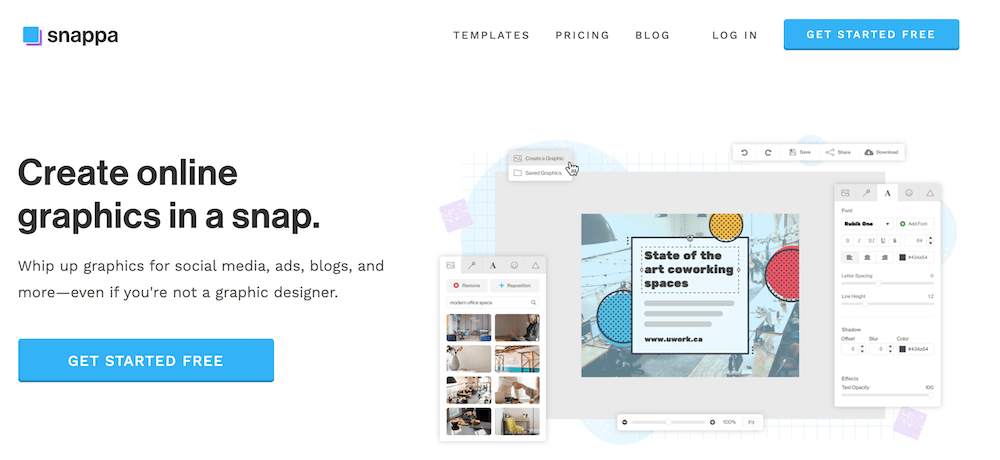 The free account gives you 3 downloads a month, while the Pro and Team versions give you social sharing and unlimited downloads. So have a look at Snappa as an option for a free online design tool.
Pixelied
This tool gives you a stack of templates to work with, along with some great design options. These include features like illustrations, mockups, and color blending to help you find the ideal color combination for your design.
There are pre-sized templates for a variety of social media, as well as things like Kindle book covers or Etsy banners. But if you still can't find the right size for your project, you can enter in your own dimensions.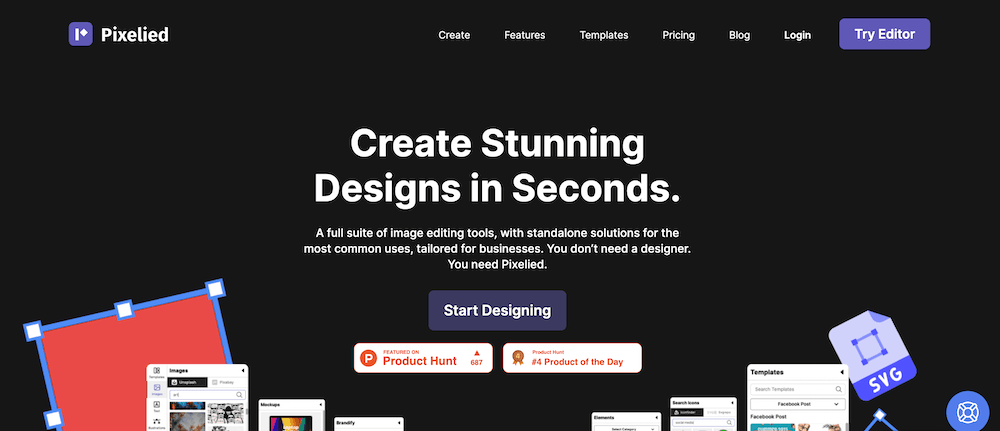 Pixelied comes with a free plan or you can go with the PRO option for advanced options and increased customization options.
Desygner
Being able to create your own infographics or create stunning banners that are bound to catch the attention of your audience would allow you to give a boost to your website. While you might not have the expertise when it comes to graphic design, the right online design tools can help you create visuals that will amaze people who visit your website.
This is where Desygner comes in. Though this tool can be used to design or edit graphics for your WordPress blog, that's just one of the possibilities. Desygner gives you access to millions of layouts and a large number of free images, fonts, and icons. So you can use this tool to prepare photos for various social media platforms, as well as creating web ads, or designing book covers.
All the templates are highly customizable, and you can use the many features to edit your designs, to make sure that the result is as close to perfection as possible. If you already have a photo that you would like to enhance, you could use this tool to add some interesting effects, change the color palette, or just resize the image.
However, if you don't have much time, and would rather go through the process as quickly as possible, you can choose from one of the thousands of unique templates. With a selection this large, you are bound to find a theme that will suit your website, and make it even more aesthetically pleasing.
Desygner is a great choice for online design and can be used for free. There are also premium licenses with added features.
Creatopy
Creatopy is another online design tool that allows you to create designs that will look great on your websites or social media channels. With this tool, you'll be able to design graphics for all mediums, without having to worry about their quality. It is very easy to navigate, and even those who don't have much experience with graphic design will find that it's easy to use. Plus, it offers some more advanced features.
Email banners, GIFs, or animations – all of these can be designed with Creatopy. What's best is that, thanks to its intuitive interface, you don't have to be a particularly internet-savvy person to create beautiful pictures.
With Creatopy, you'll have access to more than 100,000 stock photos, 1000s of design layouts, and plenty of video libraries. While using this tool, you won't have to download anything on your computer. Your files and design elements will be stored online, which also means that you can sync your account across different devices.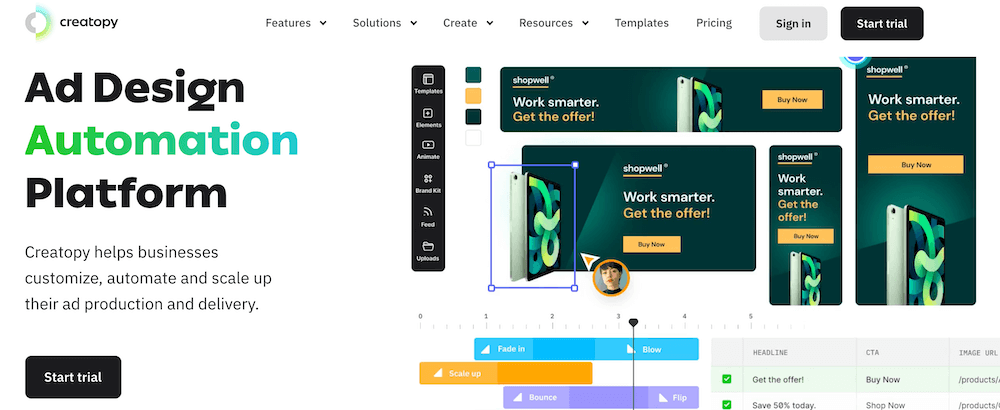 We must mention that the free version of Creatopy only allows you to create static designs, whereas if you want to create video or animated content, you'll have to choose one of their subscription plans. The free version also allows you to export photos in a JPG format, but if you use other formats, you'll have to choose the premium version.
If you are looking for a graphic design tool that is easy to use, but which, at the same time, allows you to create engaging content that will help your website stand out from the crowd, then Creatopy is worth considering.
WhatFont
While most of the design tools mentioned on this list focus on creating your own graphics, or choosing from a large selection of templates, this tool is a little different. When browsing the internet, you might come across elements that you think would work well on your own website. You could, for example, spot a beautiful font that would look absolutely great on your blog.
The problem is that you aren't likely to know the font's name. Now, you could ask the owner of the website, but it would take a while, and they might not want to share their secret. Luckily, there's a simpler way.
With the WhatFont extension, all that you have to do is to hover over the text, and you'll get the information about the name of the font. This way, you'll be able to find fonts that will make your website look great! However, we would like to warn you – sometimes, it's better to use simpler fonts. A great-looking font won't be of much help if internet users can't read it easily!
Soapbox
If you run a website, then you know how important it is to remember about visual content. Walls of texts can make it harder for your audience to be motivated to read the article in its entirety. But adding images every once in a while can help you grab your users' attention.
If photos can help you attract the attention of your visitors, then think what videos can do to help. Our brains are better at focusing when there's movement involved. But while creating video content is a great way to make your page even more fascinating, you may be worried about your lack of video editing skills.
We've got good news – you don't need to be an expert to record and edit a video. Soapbox extension allows you to go through the entire process in a matter of minutes, making it a great tool if you want to make video content an integral part of your website.
One of the interesting features of this graphic design tool is that it allows you to edit videos even after they've been shared with the rest of the internet. Because of that, you won't have to worry about making some tiny mistakes – you'll have an easy way to correct them later on without much trouble!
Awesome Screenshot
There are many reasons why you might want to share screenshots with your audience on your blog. You might want to explain a subject more thoroughly, or perhaps, show proof of something.
Now, you can use an image editing tool of your choice to edit your screenshots. However, if you share screenshots on a regular basis, you might want to use a tool created specifically to make this process easier and faster.
Awesome Screenshot allows you to take screenshots and edit them directly in your browser. You can add annotation or circle the important part, making your screenshots even easier to read. Awesome Screenshot also allows you to record your screen and camera! Once you are done, you can also easily share the video on social media platforms or your blog.
Hexagon
Sometimes creating an infographic or editing a photo might not be enough, as your project could require you to create 3D models. This certainly isn't easy, and when it comes to tools that allow you to design detailed 3D models, they are rarely free. However, it doesn't mean that there are no free options available. One such example is Hexagon.
Hexagon is not a tool that can be mastered in just minutes, and it requires a bit more practice than some of the other tools. However, given the fact that it's free and comes with features such as sculpted primitives and freehand modeling brushes, we think that it's absolutely worth checking out.

Behance
Although Behance is not a graphic design tool that you can use to create an infographic, or resize a photo, it will help you get inspired by the works of the best artists around the world. In short, Behance is a social media platform for designers and content creators.
There are plenty of platforms that you could use to watch great projects and designs, such as Pinterest, Facebook, or even Instagram. However, Behance allows you to interact with other artists, follow them and learn about their designing techniques. You can also stay on track with the latest trends in your niche and check what your favorite artists are up to.
At the same time, if you share your works on Behance, you'll get feedback from other artists, and because of that, it is likely to be more helpful than other major social media platforms.
Infogram
As the owner of your website, you might want to explain some trends, show a correlation between two elements, or present a new theory. But your audience might not be equally enthusiastic if the format is a bit bland. Luckily, you can use an online design tool to present the information in a captivating way!
One such tool is Infogram, which can be used to create reports, infographics, or interactive charts that will keep your audience excited. It even allows you to make elements on your presentation move, and remember what we've said before – people find it easier to focus when there's movement and not just static images.
Infogram allows you to create maps or charts that look tidy, thanks to tabs and legends, which can be easily added so that your graphics won't look cluttered. At the same time, this tool is well-suited if you want to make sure that the visual content that you create is displayed correctly on all types of devices, as it is mobile-friendly.
Even with a tool such as this, you shouldn't throw tons of data at your audience. Too much information can leave your audience bored or overloaded with details. But Infogram is useful for creating palatable infographics that help you keep your audience engaged.
Krita
Now, the graphic design tools that we have mentioned so far are similar in at least one regard: they don't require much skill to get decent results. Most of them were created to help people with limited experience still be able to create a graphic or a banner for their website.
However, Krita is a bit different. It is a painting application that is an excellent tool for illustrators and artists who already know a thing or two about graphic design. You can customize the layout of the interface to suit your preferences so that you could focus 100% on painting. Choose from a large selection of brushes, or if you don't find anything to your liking – create your own brushes. Or, you could import the brushes created by your favorite artists – with Krita, that's also a possibility.

If you are worried that your hand might shake after long hours spent on perfecting the graphic, you'll be happy to know that this tool allows you to add stabilizers to smooth your strokes. And, there's more! You can also create simple animations and share them on your blog or with your friends.
Unsplash
We all know that when preparing the content to be published on our websites, it is best to use our own photos. However, this simply isn't always possible. So you might need to find a decent source of stock photos.
Unsplash is a great place to start your search when looking for high-quality photos that will make the content on your website more interesting. Plus it's simple – just type a keyword or two, and you'll see hundreds if not thousands of stock photos that you can use for free. If you are uncertain about which keywords to use, though, you can choose one of the categories, where you'll find an endless supply of beautiful photos.
There's also no need for attribution. But if possible, we suggest giving credit to the photographer.
Pixlr
While looking through your photos, you might discover that a part of one photo would be great for your website. Unfortunately, even though there are plenty of tools that allow you to cut out a fragment that doesn't interest you, this process involves a lot of cumbersome work. You'll have to keep your hand perfectly steady, and the end result might be less than satisfactory.
If you are looking for online design tools that will allow you to remove background from photos, then Pixlr is an excellent choice. It's completely free, and thanks to a sophisticated algorithm, it provides great results, allowing you to save time and nerves on manual work.

Dribble
Just like Behance, Dribble is not a tool that you'll be able to use to edit a picture, or create visually stunning charts. Or at least, not directly. Instead, you can use it to learn about design, or, find experienced artists to do the work for you.
If you choose this route, it won't be free (though the platform itself is), but you won't have to rely on your skills only. You probably don't want to hire a professional artist for simple projects that can be done in a matter of minutes using one of the graphic design tools, but if you choose to do so, at least you'll get your money's worth.
The platform allows you to search through the artist's portfolio so that you'll have an easy way to check whether their skill set is adequate for the type of project that you have in mind. On the other hand, if you discover that graphic design is your passion, you might use Dribble to find a job.
Design Wizard
Design Wizard is an excellent graphic design software for image and video creation. There are over 1 million images in the library and tens of thousands of video templates. Standout features of the tool include a custom color palette, free font library and resize feature. There are also excellent integrations with Hubspot, Marketo, Buffer and Intercom.
Perfect for social media marketers, business owners and bloggers, Design Wizard aims to inspire with its visual content. There is a basic free plan, or you can try the Pro, Business or Enterprise plans for more features.
Flipsnack
Be up to date and design your own flipbooks! Flipsnack is a user-friendly digital publishing tool that allows users to create their own marketing materials from scratch or spice up their social media content.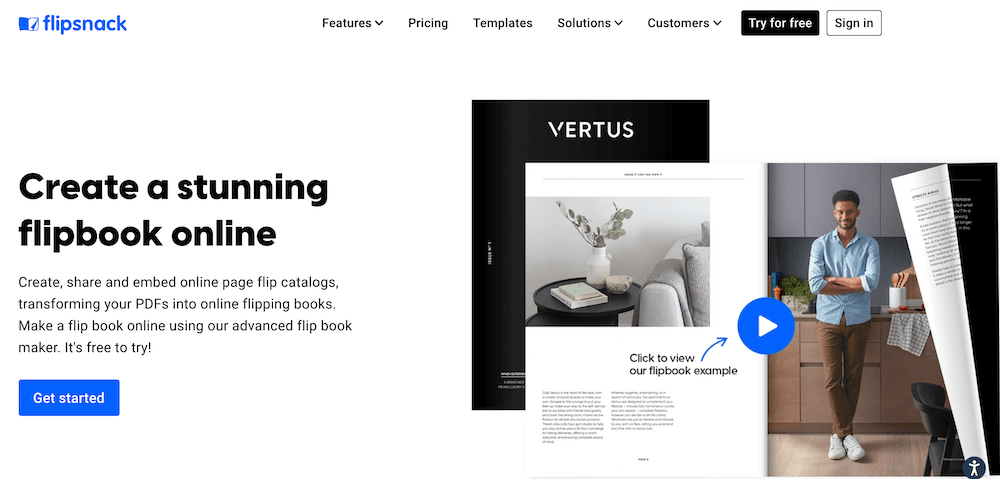 Users can easily upload, edit and publish previously designed materials in PDF format. With Flipsnack, users can design their own brochures, flyers, catalogs, magazines, business cards, and more. Plus all your publications can be made-to-measure.
Flipsnacks intuitive interface comes to the rescue for those who are not particularly tech-savvy with a large variety of pre-existing templates ready to fit every taste. All the templates are easy to customize, and users can add videos, audio, GIFs and create impressive flipbooks.
If you want to get a glimpse of what this platform can do for you, the free plan allows you to create and design up to 3 catalogs of 30 pages each. Or check out the premium plans for more flexibility.
Google Drawings
If you need to create a chart, mind map or another diagram, then Google Drawings offers a quick and easy solution. You can upload images as well as adding lines, shapes and text. While it doesn't come with templates, it does allow for collaboration and easy sharing. Plus, Google Drawings is free.
Online Design Tools Summed Up
It may seem a bit daunting to design your own graphic elements for your site or social media. But many of these tools make it simple to do so, and for free. While you can upgrade to premium packages for more features, you can often accomplish what you need with the free software.
You can also use online photo editors to edit photos and add elements such as text to the images. Sites like BeFunky and PicMonkey offer graphic design elements, as well as photo editing, to help you create your perfect image.
Once you are happy with your graphics, remember to display them with a responsive lightbox like FooBox, or even a gallery plugin, like FooGallery. This way you'll be sure to add that WOW factor to your website while keeping your audience engaged.