Our free FooGallery plugin has over 200 000 active installs and that number is still climbing. Since its release, Albums have been one of the most requested features.
As a result, FooGallery Albums are included as an extension for our Free gallery plugin.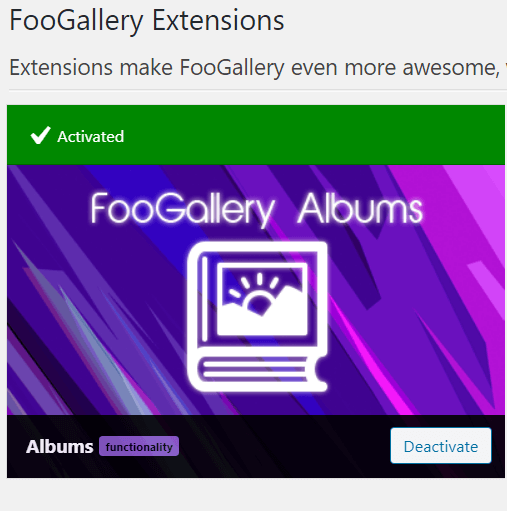 Albums as an Extension
FooGallery was built to be extensible. We've included several features as extensions and Albums is one of these extensions. Not everyone uses or needs the Albums feature but for those that do, it's a freely available option.
The FooGallery albums extension allows you to group galleries together to create an album of galleries. This is useful if you have several galleries that you would like to display on one page, but this may take up too much space or increase your page load time too much.
The solution is to use an album to make these galleries more accessible. It's also really simple to set up albums and edit them.
Using FooGallery Albums
First off, you'll need to download and install FooGallery Free. You can do this from WordPress.org or by adding the FooGallery plugin from your WordPress dashboard.
Once installed you can create some galleries. Then, to make use of the Albums feature, you can simply activate the Albums extension. To do so, go to FooGallery -> Extensions. Here you'll see Albums; click on Activate and you will see a new Albums menu item under FooGallery.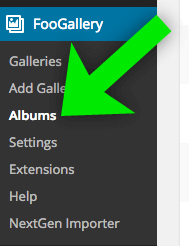 From the Albums page, you'll be able to add new albums or edit existing ones. To add an album, simply click on Add Album. You can then add a title and choose the layout for your album (we'll look at the layouts in just a bit). You can then select which galleries you would like to display in your album. Save and publish the album, and use the shortcode to insert it into your page.

If you would like to edit the Album and add additional galleries you can do so by clicking Edit below the album name. Here you can remove or add galleries to your album, or update any of the other settings.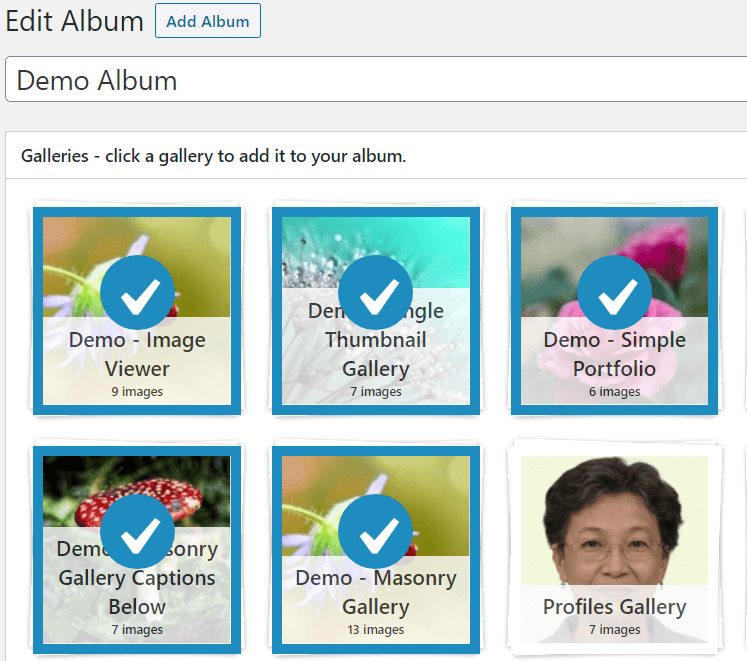 You can find out more about how albums work in this article.
Album Templates
The FooGallery Albums extension includes two templates from which you can choose: Responsive and Stacked.
Responsive Template
The Responsive layout uses a similar template to the responsive gallery. The thumbnails in the album open the individual galleries. When opened, the galleries display as they have been set up. For example, if you open a Masonry gallery in the Responsive album, it will use the Masonry layout.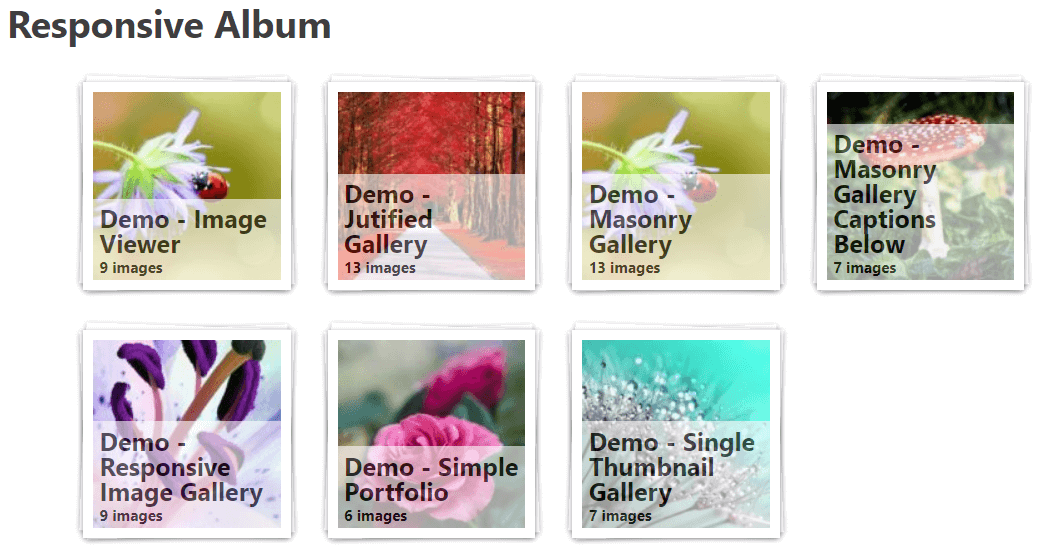 Stacked Album Template
The Stacked Album template allows you to easily display and expand the galleries contained within your albums. Once an individual gallery is expanded, you can easily collapse it and view all galleries within that album again.
With the Stacked album, individual galleries assume the layout of the album. So even if the gallery uses a Masonry layout, it will use the default layout in the album. Below is an example.
Here is how the album displays: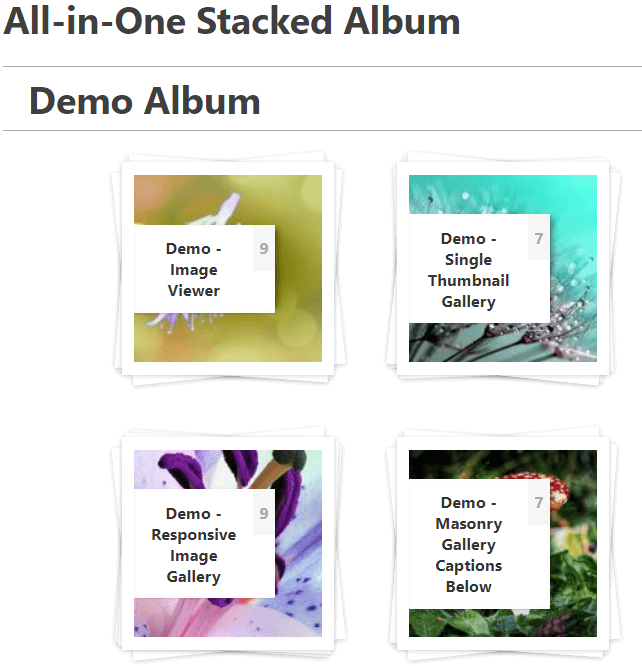 Now if you click on the Masonry gallery thumbnail, you will see this:

You can see how the albums work in this demo.
Custom CSS Metaboxes
You can now target individual galleries or albums with your own custom CSS really easily.
At the bottom of Gallery and Album edit screens, you will see a handy metabox, complete with the correct gallery or album to target.
NextGEN Importer Includes Albums Import
If you're currently using the NextGEN Gallery plugin or if you've switched it in the past, you may already know that we have a NextGEN Gallery Importer feature included as a free FooGallery extension.
FooGallery Albums are now included in the importer. If you are using NextGEN and are interested in trying FooGallery, you can easily import all your galleries and albums. After a successful Album import, you'll have a FooGallery Album!
Final Thoughts
Using albums is a useful way to group similarly themed galleries or simply to condense multiple galleries, thereby saving on your page's real estate. FooGallery makes it simple for you to do this, and best of all, this extension is available with FooGallery Free.
The album layouts give you some flexibility when it comes to how you display your galleries. If you want uniformity across your album, then the All-in-One Stacked Album is a good option. However, if you prefer the individual galleries to use the layouts you've set up for them, then we recommend using the Responsive Album.
Whichever option you choose, if you're looking for a WordPress gallery plugin that includes albums for free, FooGallery is a good choice for you. You can get started right now!