The increasing trend of users turning to online image editing apps can be attributed to their accessibility and ease of use. With the proliferation of smartphones and the constant need for visually appealing content on social media platforms, these online tools have gained immense popularity. However, it's important to note that many of these photo editor tools may lack the robust user interface and performance quality offered by other dedicated software applications.
VanceAI is aiming to bridge that gap through its AI image editor tool called VanceAI Photo Editor. Content creators, including bloggers, influencers, and social media managers, find it valuable for enhancing their visual content quickly.
VanceAI Photo Editor – Features and Benefits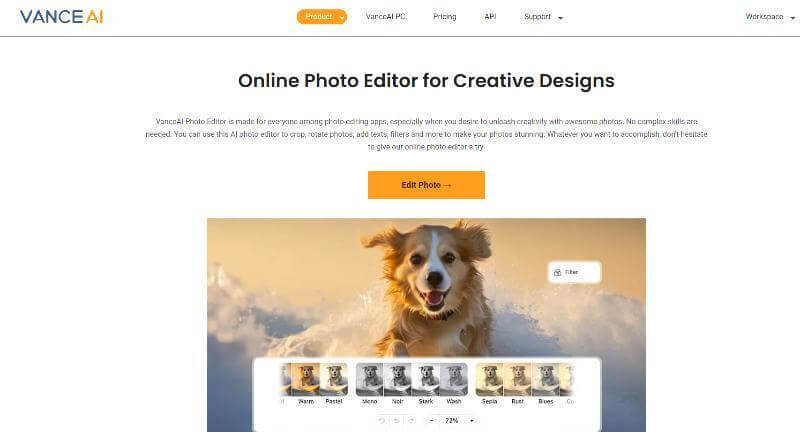 VanceAI Photo Editor, owing to its modern UI design and pricing, can be a good replacement for software applications. It enables professionals to concentrate exclusively on their image editing needs. This targeted strategy conserves both time and finances, guaranteeing that the editing process remains streamlined and efficient. VanceAI Photo Editor's user-friendly interface enables users to effortlessly explore its array of editing tools, facilitating swift adjustments and modifications without the steep learning curve typically associated with advanced graphic design software.
Its user-friendly interface and powerful editing tools make it accessible even to those without advanced editing skills. Additionally, businesses and marketers can leverage VanceAI Photo Editor to polish their product images, ensuring they stand out in the competitive online market. Finally, individuals looking to enhance personal photos, create stunning graphics, or retouch portraits can also find this tool highly advantageous.
A modern and intuitive UI can significantly enhance the image editing experience for users. It streamlines the editing process, making it more efficient and user-friendly. When it comes to VanceAI Photo Editor, its UI design exemplifies these principles perfectly. The interface is not only professional-looking but also highly responsive and remarkably simple to navigate. It presents users with a clean and organized layout, neatly listing down all the available features. One notable design element is the strategically placed upload button at the center. With this intuitive UI, users can effortlessly upload their images, select the desired editing feature, and start enhancing their visuals with ease.
VanceAI Photo Editor – Various Tools
VanceAI Photo Editor boasts an impressive array of image editing tools, neatly categorized into two distinct sections to cater to a wide range of user needs. In the first category, you'll find a suite of AI-based tools. These include the AI image upscaler, which enhances image resolution while maintaining quality, the photo colorizer that breathes life into black and white photos, the old photo restorer that magically rejuvenates vintage images, and more.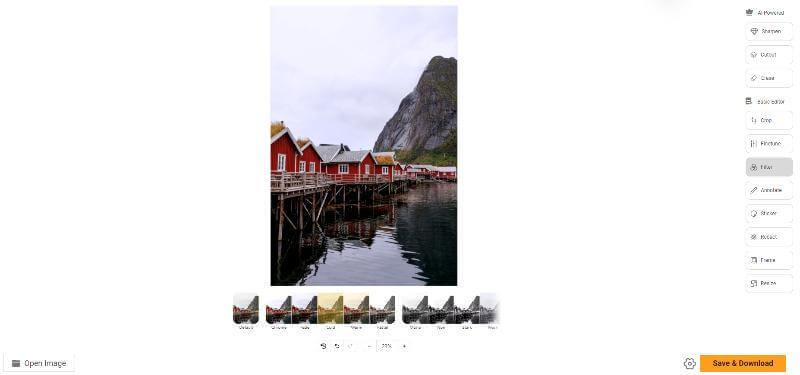 In the second category, VanceAI Photo Editor provides a set of fundamental image editing tools. Users can easily crop and rotate images to achieve the desired composition and orientation. Text can be effortlessly added to images, making it ideal for creating captions, titles, or watermarking. Additionally, a diverse range of filters is available for those who want to add artistic effects and stylizations to their photos. These basic tools empower users with the flexibility to fine-tune their images and achieve their editing objectives.
As an example, you can see the above image has been enhanced with a filter. The AI Image Editor offers many filters and they can be instantly applied to your images with impressive outcomes. The image used in the Photo Editor looks much more authentic and fitting to the scenery after the filter.
How to Upscale Images with AI Image Editor
Upscaling images can improve their quality and you can do so within seconds by following these steps.
Step 1: Begin by accessing VanceAI Photo Editor online through the provided link. This link will redirect you to the website. Upon arrival, locate and click on the "Edit Photo" option.
Step 2: Once inside the editing interface, proceed to upload the image you want to enlarge. Below the image, you'll encounter two specific enlargement options. Select one of these options by giving it a click, and the image will be automatically resized accordingly.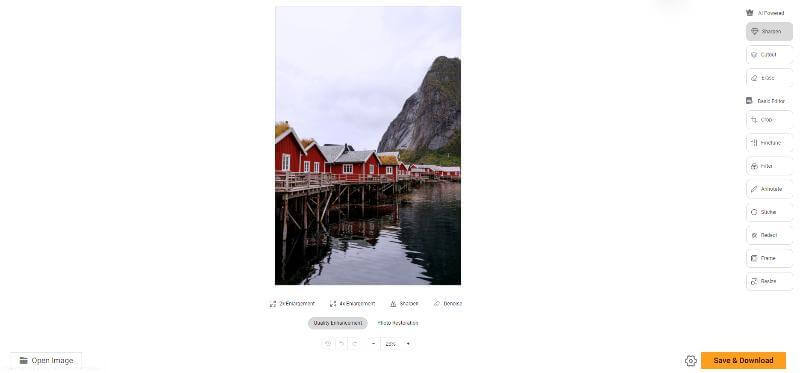 Step 3: Once your enlarged image is ready, it's a breeze to save it to your device. Simply use the provided download option and click the download button. Your edited image will then be promptly saved onto your device.
Make Your Photos Look Better with AI Photo Retoucher
VanceAI Photo Retoucher adds better colors or lighting, depending on your choice, to your images to give them an edge in quality. This can be useful to users who are into photography, marketing, content creation, etc.
Step 1: Use the link to get to the page. There, you will spot the "Upload Image" option. Click on it to proceed ahead.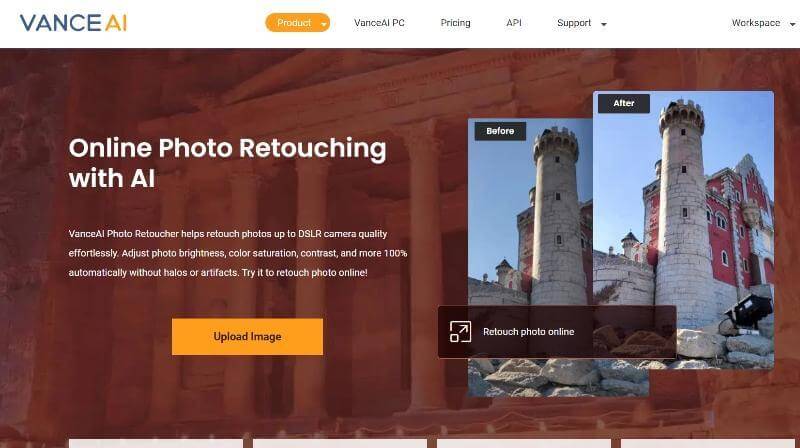 Step 2: In the Workspace, you will first need to upload your image and then choose whether to focus on the image's colors or lighting. Once decided, click on "Start to Process".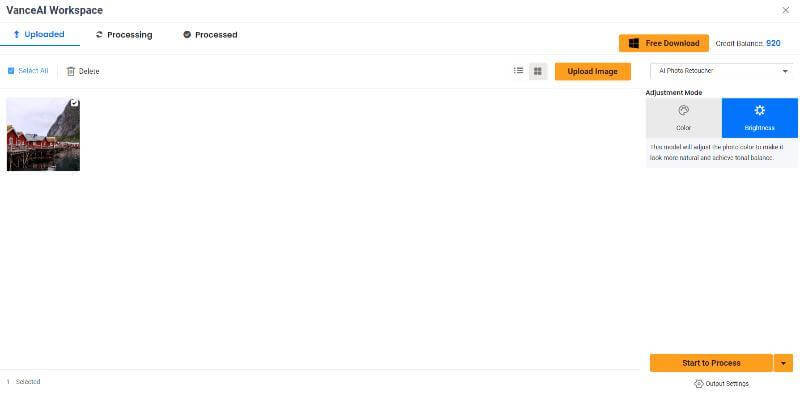 Step 3: Within a few seconds, you will see that your image has been processed. Click on the Preview icon on the right and check the results. Use the download button to get the photo.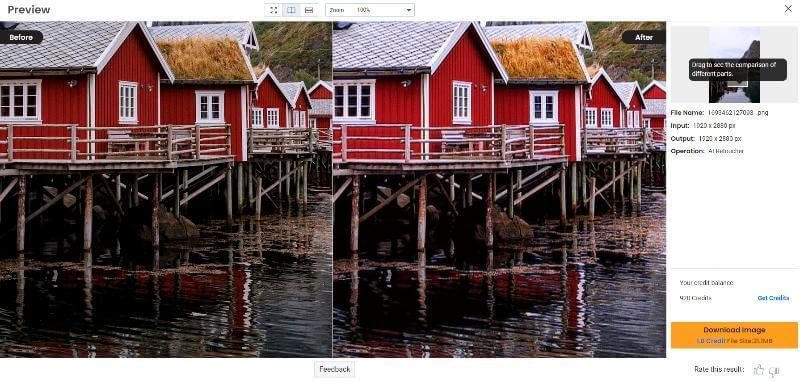 VanceAI Price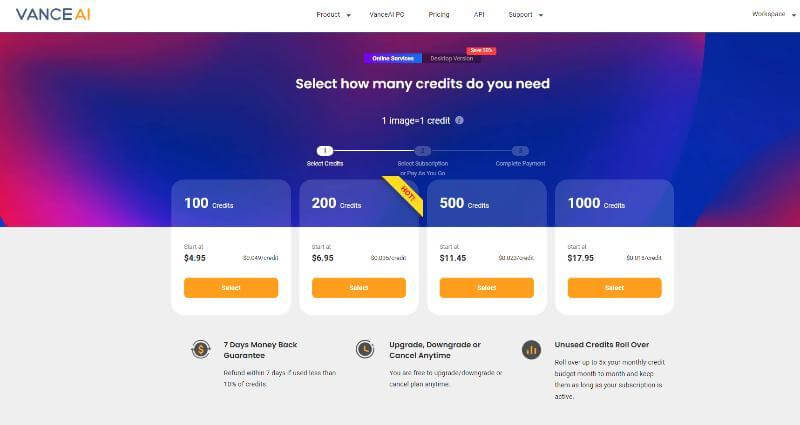 Once users have successfully gone through the registration process, they receive a monthly allotment of 3 image credits. These credits are versatile and can be used to access the platform's extensive range of editing features. For instances where users find themselves in need of additional credits and access to advanced functionalities, the platform presents subscription options at budget-friendly prices. Starting at just $4.95 per month, these plans provide users with 100 image credits and various supplementary advantages. Opting for these plans empowers users to make the most of features like batch processing, enabling them to edit multiple images simultaneously.
Additional Features from VanceAI
VanceAI offers VanceAI PC, which can be considered as the software version of the online platform. By bringing these tools to the desktop environment, VanceAI PC greatly enhances convenience and efficiency throughout the editing process. An outstanding feature of VanceAI PC is its offline functionality, ensuring that users can edit their images without relying on an internet connection. This guarantees a smooth editing experience, free from interruptions due to connectivity issues.
Furthermore, alongside VanceAI PC, VanceAI offers a dedicated platform called VancePDF.com, designed exclusively for the management and editing of PDF files. This platform provides users with a straightforward and effective solution for handling their PDF documents, streamlining the editing process and simplifying necessary changes.
Conclusion
VanceAI Photo Editor stands out with its modern and user-friendly UI design, offering a visually pleasing and intuitive editing experience. This interface not only looks good but also delivers commendable performance, ensuring that users can swiftly and efficiently enhance their images. The toolset it provides covers a wide range of common editing requirements, making it a versatile choice for various editing tasks. The continuous addition of new features is certainly a welcome change, as it keeps the platform up to date and responsive to evolving user needs.
This article was provided by VanceAi, an AI Photo Enhancement and Editing Tools Provider.