Great news! FooGallery is now a WP Engine Recommended Plugin.
What is WP Engine?
WP Engine provides solutions to help you create online experiences, from campaign sites to E-commerce extensions.
The numbers speak for themselves. Over 70,000 customers in 140 countries trust WP Engine with their digital experiences. 500,000 digital experiences are powered by WP Engine. And over 5% of the online world visits at least one experience powered by WP Engine every day.
Their focus is on innovation, integration, and agility. WP Engine's goal is to give you the opportunity to deliver experiences instead of worrying about the systems that provide those experiences. This is an award-winning company that helps businesses realize their goals better and faster.
Why do you want a WP Engine Recommended Plugin?
WP Engine is an authority when it comes to WordPress sites. So you know their recommendation counts, and that a plugin that they have recommended will do the job.
As a media gallery plugin, FooGallery is efficient and effective, making it a must-have for your WordPress site. FooGallery gives you the flexibility to create the perfect media gallery for your site. It also integrates seamlessly with the WP Engine platform.
Look out for our WP Engine Recommended Plugin Badge on FooGallery: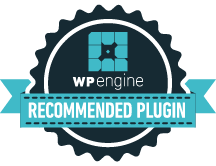 Or download FooGallery now!