Like many entrepreneurs, you probably hope to see your digital agency become a leader in the industry, but the process of achieving this goal is slow and gradual, with very few shortcuts along the way. By having a focus on scaling your agency, rather than chasing growth blindly regardless of your business's current state, you've already made the first step towards sustainable success and a long-running competitive edge.
Though there's no miracle cure to the challenges of scaling a digital agency, you can improve your chances of success by making sure you have all the right tools in place to ensure your agency is delivering to a high standard.
In this post, we'll list off some of the most essential software suites, plugins, and other tools to help your agency scale.
Workflow Automation: Monday.com
As a digital agency, you're going to be working for a wide range of businesses from a range of industry niches, each with their own unique marketing tech stacks to pursue a range of nuanced goals. In order to make sure all these tools are performing efficiently and providing as much value as possible, you need to embrace a workflow automation platform that will minimize repetitive tasks, and ensure that the important ones are getting the most attention.

For our money, Monday.com is the workflow automation platform that will provide the best results for most modern digital agencies. Automatic due-date notifications make it easy for management and individuals to schedule tasks based on capacity and project parameters, while file sharing and communication features allow marketers to update campaign roadmaps to keep account managers up-to-date and on-schedule.
It also has a number of pre-built views specifically for marketing professionals, enabling you to plan your marketing strategy from a high-level view, streamline the approvals process for assets and copy, and track campaign performance against stated goals.
SEO Management Software: SEMrush
The SEO management software niche has been around for a long time now, and there are many different options that will serve a fast-growing agency in the current climate. However, SEMrush boasts one of the most comprehensive range of features and a highly accessible interface, making it perfect for small, newly-assembled teams.

With its eclectic range of functions, SEMrush will soon be your agency's best friend as you help your clients to master their content marketing, inform stronger PPC campaigns, and manage all their social media profiles in one place.
Some of the key tools within SEMrush include:
Website audit: Identify pages with technical SEO errors, thin content, slow loading times, and other issues that could be hurting your clients.
Keyword position tracking: Select target keywords and keep track of how your client's site is performing in Google's SERPs.
Backlink audit: Analyze your client's backlink profile, identify toxic backlinks, and find starting points to research fertile link building opportunities.
PPC keyword tool: Inform your PPC efforts with detailed keyword research, taking advantage of stats such as volume and CPC.
SEMrush also has its own writing assistant WordPress plugin, with features such as a plagiarism checker, readability analysis, and a keyword suggestion tool that will find semantically-related keywords for a given piece of content and display information on their volume and competitiveness, pushing your on-page optimisation that much further.
Best of all, SEMrush not only offers massive value for your client-side work, but can also be used as a highly effective in-house tool for finding brands that may want to use your services.
Prospecting Platform: Outbase
If you're just starting out as a digital agency, your sales team is going to be under immense pressure to generate leads, meet quotas, and help the business grow efficiently. To help them work at their best, and to ensure you're hitting your goals in those all-important first years, you need to give them the means to find better-qualified leads, save time on more manual prospecting tasks, and work towards better top-of-funnel communications.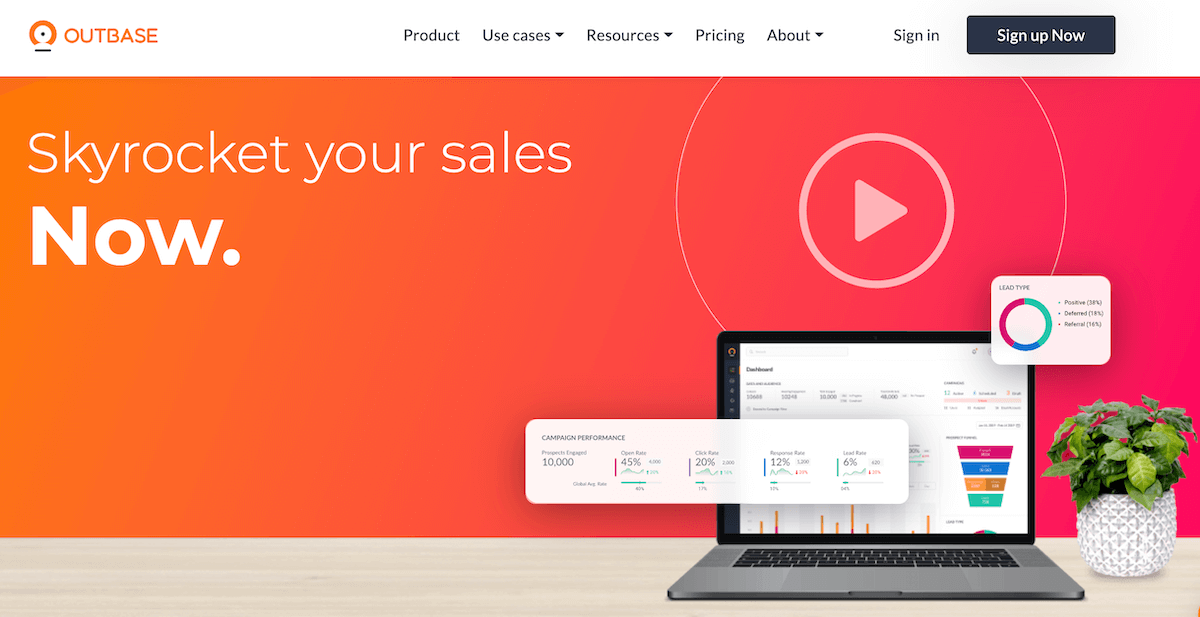 The end-to-end prospecting platform Outbase has a wealth of functionalities designed to make it easier for sales professionals to discover and communicate with high-quality prospects, delivering more leads onto their colleagues.
Aside from giving you access to a vast, enriched database of industry contacts, Outbase has features that will allow you to segment your audience for better-targeted outreach, test new markets, and leverage powerful machine learning capabilities to automate your sales process. It also has features specifically for optimizing and testing your copy, making Outbase an especially good choice for marketing agencies.
WordPress Lightbox: FooBox
If you have anything to do with curating and optimizing the visual assets on your client's site, then FooBox is an absolute must.

This WordPress lightbox plugin allows you to add images to a client's site that can be enlarged with a single click, placing the asset front and center and graying out the page behind it. The user can then click through the other "lightboxed" images on the page in an engaging, user-friendly gallery, making this WordPress plugin especially handy for clients who sell in a visually-oriented niche, such as art, stock imagery, or furniture and decor.
FooBox PRO is also compatible with video content, and comes with integrated social sharing icons to help disseminate your clients' unique content. In the same vein, FooBox has built-in deeplinking, allowing users to generate a unique URL for each individual media element.
In a marketing arena where consumers are inundated with visual content, seamless media viewing experiences are a non-negotiable necessity. Lightboxes provide an easy and reliable way to get your clients' sites up to standard, and ensure a positive user experience that's conducive to healthy conversion rates.
On-Site Lead Generation Tool: OptinMonster
All good marketers understand the potential for lead generation in site sessions, even the ones that don't make it very far down your conversion pipeline. Site elements that actively try to harvest visitor information can help in this area. However, if they're executed the wrong way, they can easily become an annoyance that drives a wedge between your clients and the people that they're trying to reach.

OptinMonster is a web design tool and WordPress plugin that allows you to create quality pop-ups, subscription forms, and other lead generation tools, all while keeping the quality of the user experience in mind.
With this plugin, you can use their easy drag-and-drop interface to create professional-looking pop-ups and forms that will function seamlessly with any WordPress site. It also integrates smoothly with a number of popular email marketing suites, providing your clients with powerful lead generation elements to grow their contact lists and upgrade their marketing campaigns.
Social Sharing Plugin: AddtoAny
Countless brands have owed a large part of their marketing success to social media over the years. To give your clients the same opportunity, you need to ensure their site works as smoothly as possible across all platforms where their audiences are spending their time.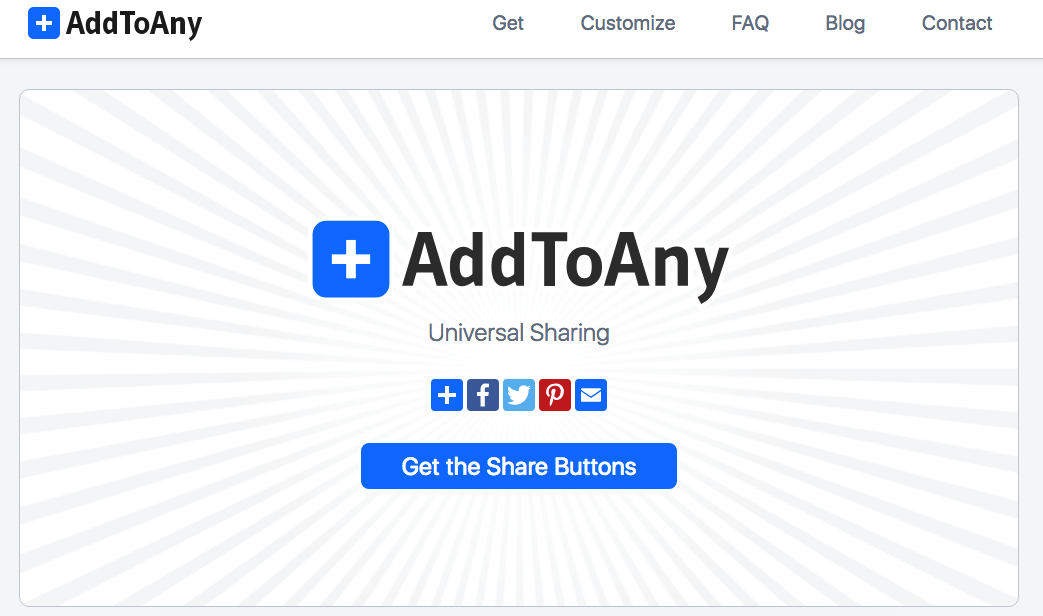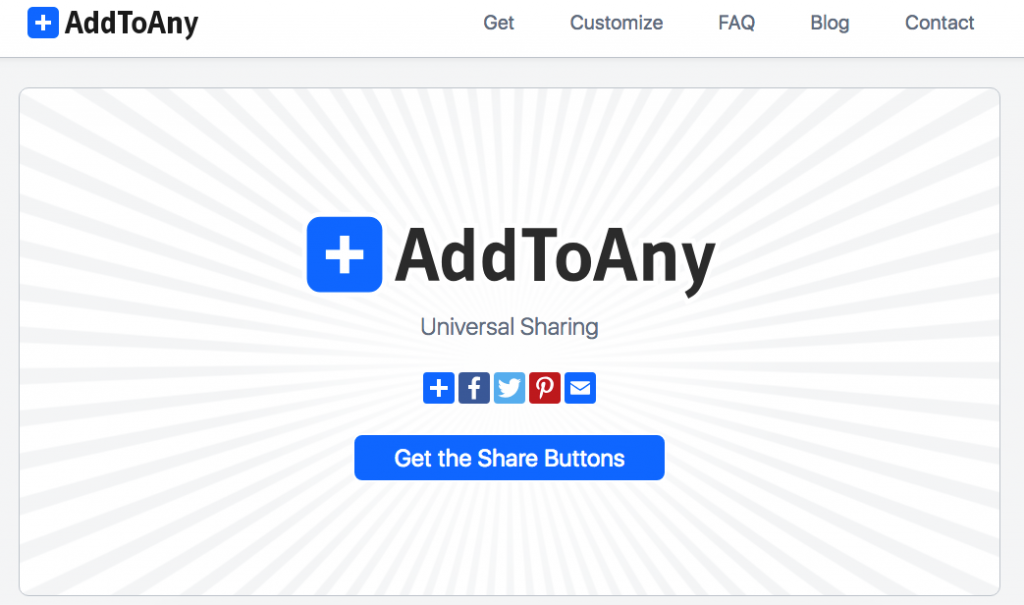 If you're building WordPress sites for your clients, then AddtoAny is one of the best ways to maximize their chances of building social traction with every visitor session.
This nifty marketing plugin makes it easy for any site visitor to share your clients' site content across a vast array of platforms, from social media giants like Instagram and Twitter to more niche platforms like Baidu and Amazon wishlists. Designed for universal use, this plugin's share buttons are responsive across all mobile devices, and its lightweight code allows it to load across any browser and location with great efficiency.
It can also be configured to show follow buttons on whatever site it's used for, allowing visitors to follow brands on social media in an instant, and driving traffic and engagement.
SEO Plugin: Yoast SEO
There are a great many WordPress plugins that are designed to make SEO work easier, but in terms of user-friendliness and efficacy, Yoast SEO has always reigned supreme.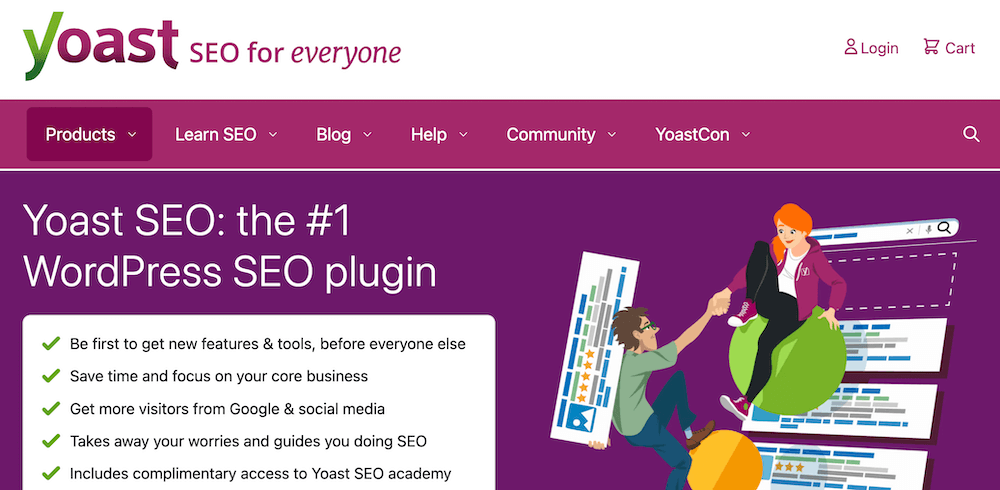 This hugely popular plugin gives you and your employees a single tool to control a wide range of SEO signals. These include keyword optimization for titles, meta descriptions and content, structured data to help your clients earn featured snippets, and "SEO workouts" that will guide you through routine SEO checks, ensuring that any site you work on is kept in good health. It also has a range of automation features designed to help you set SEO-friendly URLs and title templates, taking a lot of manual SEO work off your team's shoulders.
One of our favorite features of Yoast SEO is the explainer windows attached to the plugin's interface, allowing users to quickly mouse over a certain SEO element and learn exactly how it affects a site's chances of ranking. This is incredibly helpful for startup agencies that are training up a lot of young talent, and want to empower them with straightforward vocational training.
Final Thoughts…
Your tech stack is only one part of your success as an agency, but with the right tools on board, there'll be nothing stopping your agency from delighting your clients and conquering new marketing milestones.
As you nurture and scale your business, we hope this round-up of our favorite agency tools has helped you get off to a strong start, and equipped you with the right capabilities to ensure a long, prosperous future.