WordPress is such a popular CMS for website owners that it powers over 30% of websites on the Internet. A WordPress site is a great way to give your brand online exposure but, if you want to launch a profitable online store in WordPress, you'll need to invest in some eCommerce plugins to make your store a hit with online shoppers.
Plugins are extra pieces of software that you can install to upgrade your basic online store in several ways: provide a better customer journey; improve SEO performance; build engaging product galleries, streamline the sales process and more. Yet with thousands of WordPress plugins to choose from, where should you start? We suggest ten of the most practical and cost-effective plugins.
By the way we're proceeding on the basis that you have installed, or will install, the free WooCommerce plugin, which powers around a quarter of online stores worldwide. To run an efficient and profitable online store in WordPress, WooCommerce is a must, in our view. It will enable you to manage your products, orders, payments and shipping efficiently. Now, what other ecommerce plugins would enhance your online store?
JetPack
Cost: free or $3.50 per month for Pro
JetPack will help you to get the most out of your online store, by adding advanced online store functionality to WooCommerce for issuing professional PDF invoices and offline packing docs; automating exchange rate displays for international customers; customising the shopping cart and checkout experience for customers, and organising payment gateways based on currency, shipping method or location. Also handy, it enables you to add customer testimonials.
Rank Math
Cost: free or $59 per year for Pro

Rank Math will help you to hold your ground, or advance, in every online store owner's greatest battle: SEO. If your SEO is ineffective and your online store is only coming up on page 4 or 5 of Google Search results, it will be practically invisible to Internet users.
Via a clean and simple user interface, Rank Math will help you trouble-shoot your site's basic SEO settings for increased browser-friendliness and then give you the tools to monitor and improve your SEO going forward, including SEO analytics; integrated Google Analytics; rank checking and, importantly, keyword monitoring. Keywords are the words that, when highly relevant, signal the search engine bots to rank your site content more highly in searches. Rank Math gets a five-star rating on the WordPress plugin store. Watch a demo here.
ShortPixel
Cost: free for 100 images pm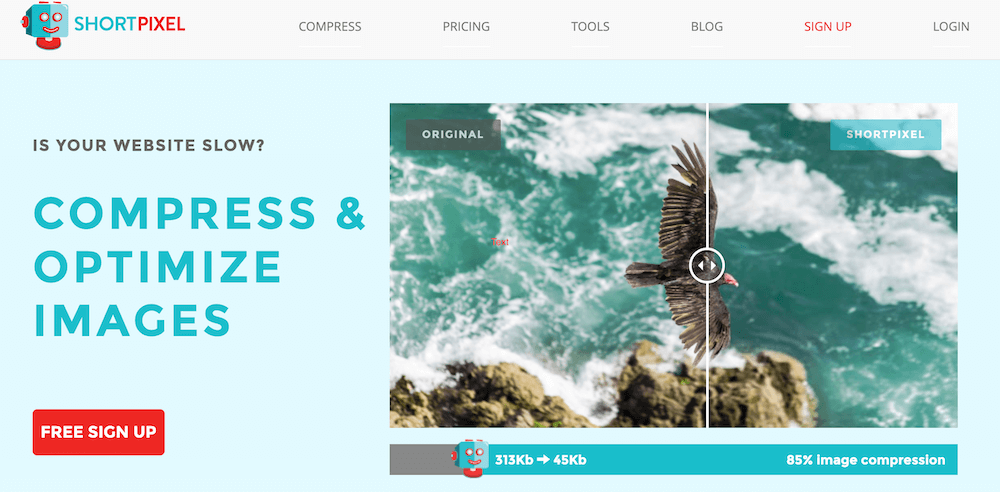 Images make up much of a website's content. If your online store has a lot of images, they will need to be compressed and optimised in order to ensure both good website speed and SEO (we covered image optimisation in this blog post). If large file sizes slow down your web page loading times, customers and prospects may get frustrated and log off. Meanwhile, the search engine bots penalise sites that load slowly, which will dent your SEO ranking.

ShortPixel is an image optimiser plugin that uses advanced compression technology to reduce image size without a visibly notable loss of quality. If you're a photographer selling images online, that's important – find more insights on ShortPixel for photographers here.
WP Rocket
Cost: $49 per year
How best to explain "caching"? When your website is enabled for caching, it allows a search engine browser to download all the original content elements of your website (which takes time) just once, the first time someone visits it. The browser then stores copies of your site content in temporary storage – think of them as digital "memories". When someone next returns to your site on that browser, it quickly "remembers" and loads the saved copy content – meaning faster load time, a better user experience and, as with image optimisation, stronger SEO.
WP Rocket ensures that your site is enabled for caching by all major browsers and deploys additional tactics like lazy loading, in which browsers load only the visible part of a web page (the rest of the page only loads when you scroll over it).
CloudFlare
Cost: Free or $20 pm for Pro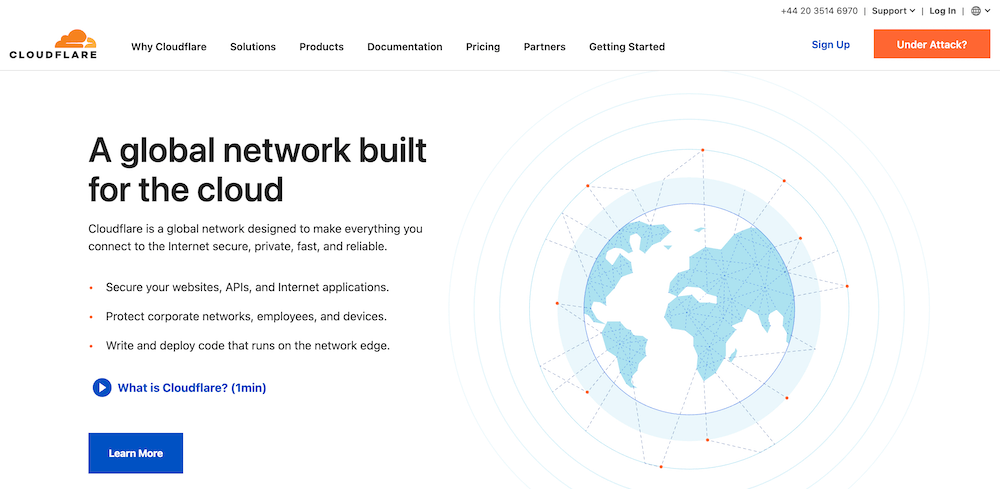 CloudFlare is one of the best Content Delivery Network (CDN) plugins for WordPress. A CDN relates to the physical properties of the Internet which, although largely carried on the ephemeral-sounding "cloud" these days, is still stored in physical servers all over the world. If your online store caters to an international target market, the geographical distance between your local server and their location might be vast – meaning your website will load slowly for them because your website has a greater distance to travel, to get to them.
A CDN like CloudFlare will cache your website content in a cluster of servers worldwide. If someone from the other side of the planet visits your website, CloudFlare will identify the nearest server to them which already has your content cached. The result: your online store will load and run briskly, worldwide. CloudFlare includes caching functionality, so you could go with WP Rocket if your customer base is local/regional or CloudFlare if it is partly international.
Gravity Forms
Cost: $59 per year
When you run an online store, it's essential that two-way communication is always available to ensure better customer service, provide greater customer satisfaction and stimulate healthy sales. It's not enough just to have an impersonal "contact us" form, which doesn't cater to specific customer needs. A good form builder plugin will allow you to create almost any type of form – subscription forms, user surveys, polls, file upload forms, support requests, online orders, quizzes, and questionnaires. The result is a more engaging customer experience and better customer service, and more customer insights for you.
Gravity Forms is our pick for a WordPress site forms builder; it is easy to use, while being more advanced than some of the other form builder plugins. Read a review and learn about its key features here.
ProveSource
Cost: Free or $18 pm for Starter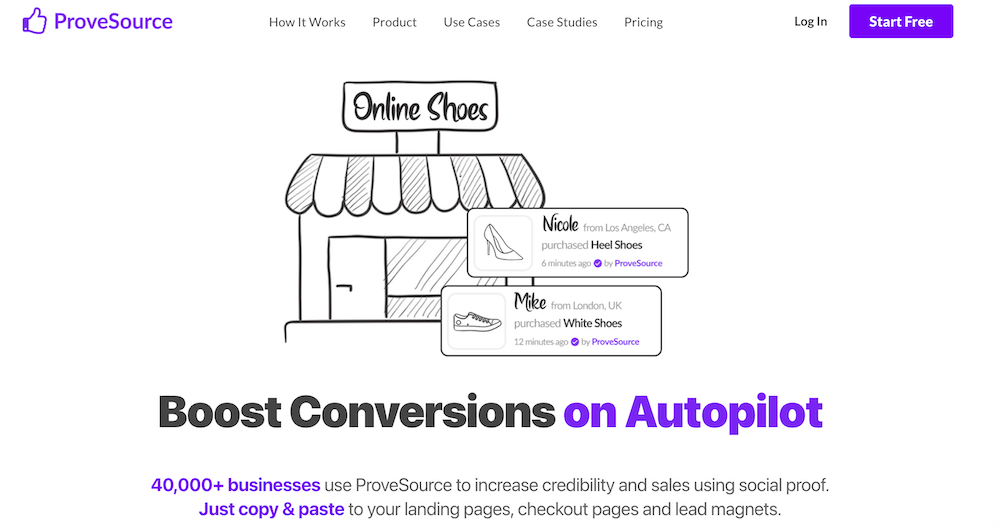 ProveSource leverages the power of social proof to stimulate sales. Social proof is the tendency for people to take their cue from the actions of others around them. For instance, when a movie achieves high box office sales in its first few weeks, we feel more motivated to see it. If we see everyone swimming at the beach, we are more likely to test the water ourselves – and if a plugin has thousands of five-star reviews, we're more likely to view it as a winner. Which ProveSource is.
ProveSource displays customer activity on your website including recent sales orders, page visits and current traffic count. Automated sales pop-ups can redirect visiting customers to just-purchased products, creating valuable cross-sell opportunities. In short, ProveSource will give your website visitors the impression of a bustling, popular store – making them more likely to stay, browse and buy. Of course, it would be wise to optimise your SEO first so that you do get decent website traffic – see Rank Math above. ProveSource is pricier than other social proof alternatives, but a noticeable increase in sales revenue may justify the difference.
FooGallery
Cost: Free or $99.99 per year for PRO Commerce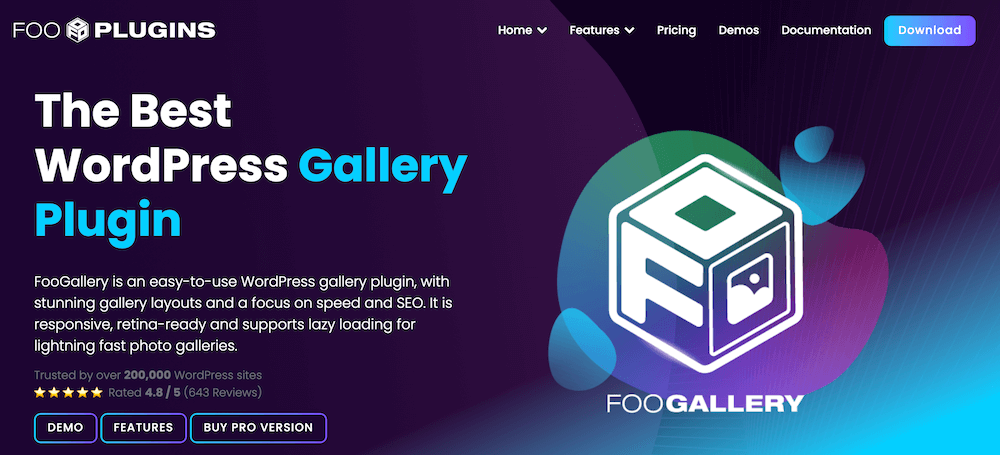 If you have an online store in which the visual appeal of your products is important (fashion; décor; design), or you sell professional images (photography; illustration), it will be worthwhile investing in an advanced gallery plugin, like the highly-rated FooGallery. FooGallery is a user-friendly WordPress gallery plugin that lets you build beautiful, responsive, and SEO-friendly image galleries, with a technical focus on image load speed and SEO optimisation.
The recently released Pro Commerce plan incorporates full integration with the WooCommerce purchase pipeline, and encourages customers to move smoothly from viewing gallery products to buying them thanks to convenient Add to Cart buttons, sales notifications, product descriptions and more.
FooBar
Cost: Free or $29.99 per year for Pro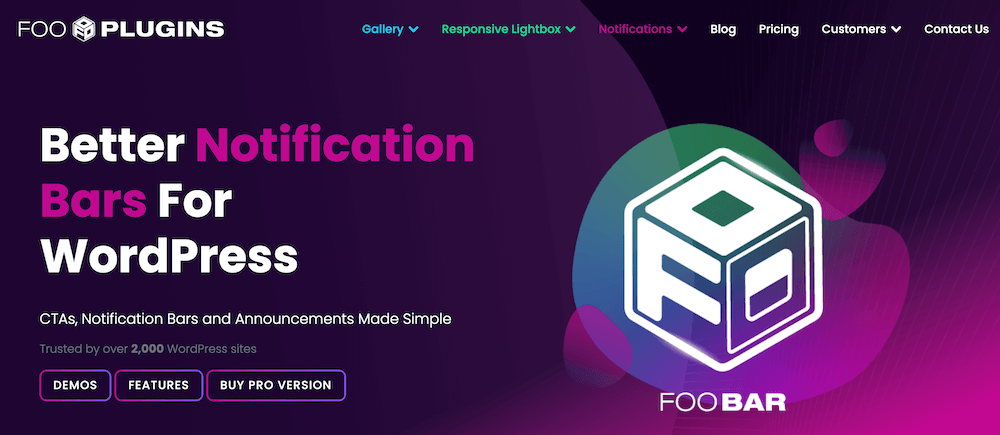 Online shoppers are often just casually browsing, or don't really know what they're looking to buy. You can prompt them into action through compelling Call to Actions (CTAs). Announce new sales or product specials, add countdown bars to limited term discounts and add eye-catching banners to you online store, instantly or pre-scheduled.
FooBar, a complementary sister plugin to FooGallery, makes it simple to keep your online customers -informed and engaged, building trust in your brand and a greater chance of sales. Once you install FooBar, have a look at these handy tips on creating CTAs that drive conversions.
WooFunnels
Cost: Free or $179 per year
With WooCommerce, creating your online store is easy. It gives you all the infrastructure you need. However, an online store has no charming salespeople on your shop floor to assist and gently nudge shoppers towards the tills, imminent purchase in hand. You will need a digital alternative. After all, according to WP Beginner, only around 10% of online shoppers add products to their carts – and 60 to 80% of them abandon their carts without completing their purchase.
By installing the right sales funnel plugin, you can:
Dissuade shoppers from abandoning their carts
Use email marketing to engage customers
Promote best-selling products
Offer discount coupons
There are plenty of sales funnel plugins to choose from but remember, this is going to be your store's "salesperson"; it is worth investing in the best! Our recommendation is WooFunnels, a five-star-rated plugin that automates a lot of the work you need your sales pipeline to do: tracking abandoned carts, pre- and post-sale customer communications, customer segmentation (new, repeat, high-value, etc). As ecommerce plugins go, it's a great solution for having a 360-degree view of your online customers and selling, cross-selling or up-selling to them. A bit pricey but, as with CloudFlare, you may find that increased revenue will cover the cost.
WP All Import
Cost: From $149 Lifetime
WP All Import/Export can be used to import/export all WooCommerce data including data from customers, products, and orders. It also automatically works with any data from WooCommerce extensions or add-ons, as well as any WordPress data, all while using the same intuitive drag & drop interface.
One of the most common uses of WP All Import/Export is to bulk edit WooCommerce data. For example, you can export product information, modify it with your favorite spreadsheet, then import it back into WooCommerce with minimal effort because WP All Import remembers the settings that you used for the export. Another common use is to create a product feed for Google Shopping. Just use the same drag & drop interface and let WP All Export handle all the requirements for the Google Merchant Center.
All in all, a must-have tool for any WooCommerce store that needs to import/export data either internally or externally.
Advanced Coupons
Cost: Premium (Single Site License) $59.50/year or Advanced Coupons All-In-One Bundle $119.00/year
Advanced Coupons is the perfect solution for expanding your WooCommerce coupon features and marketing your store more effectively. Thanks to this fantastic plugin, about 15,000+ store owners have taken their coupon marketing game to a new level!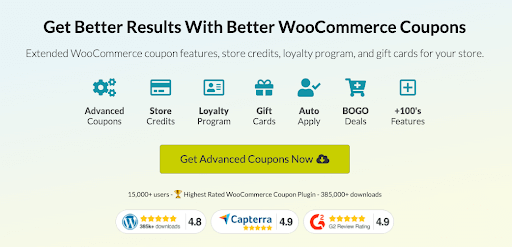 Here are just a few of the indispensable features of the Advanced Coupons plugin:
Create "Buy One Get One" deals with single products, groups of products, or even whole product categories.
Incentivize and reward your customers with loyalty program points they can redeem for coupons later.
A complete store credit system is included right out of the box. Don't pay for a feature that should be free.
Check for products in the cart, subtotal amount, final order products, and many other advanced cart conditions.
Schedule coupons so they're only used when they're meant to, and show customers a lovely message.
Let customers apply coupons by visiting a URL. Great for use in email campaigns, social media, and support.
Create flexible shipping deals than just free shipping. Give a special discount on any shipping method.
Finding The Right Ecommerce Plugins
You may not be able to invest in as many as eleven ecommerce plugins right away, but we hope you have discovered one or two useful additions to your WordPress plugin store here. Consider what is best for your online store based on what you sell, to who, and where. Is it vital for people to find your store before competitors' stores, meaning you need a great SEO plugin? Do your products need the visual appeal a gallery plugin will provide? Or is an efficient payment gateway your immediate priority?
There is a wealth of ecommerce-specific WordPress plugins to browse to meet all of your online store needs, besides our top picks. Just remember the five drivers of successful ecommerce in settling on your plugin spread: business sense; fast shipping; competitive pricing; social media engagement, and great customer service (via Forbes).
We wish you steady sales and thank you for reading.