You asked, we listened! And FooGallery Free now comes with a built-in lightbox.
Why did we decide to add a lightbox to our free plugin? The built-in lightbox was included in our FooGallery PRO Starter plan. But we've had numerous requests for this in our free plugin and we realized that this was one of the big downfalls for FooGallery Free. While our free plugin is awesome, we wanted to ensure that it came with everything you needed to create a basic gallery.
FooGallery Free (from version 2.3.3) now comfortably covers all bases. If you are looking for a gallery plugin that allows you to build varied, beautiful galleries, with a lightbox, then FooGallery is what you need.
Here's a taste of what you get with FooGallery Free:
Unlimited Galleries: That's right – build as many galleries as you want with FooGallery.
7 gallery layouts: From a responsive masonry gallery, to a stunning carousel layout, there are plenty for gallery templates for you to choose from.
Varied customizations: These allow you to adjust thumbnail size and borders, add shadows, include loading animations, add hover effects, and more.
Simple pagination: Add paging to longer galleries to lessen the burden on page load times; FooGallery Free gives you paging dots for this.
Captions: Add captions and descriptions to your images.
And now, you also get a built-in customizable lightbox!
The FooGallery Lightbox
The built-in lightbox will work in FooGallery Free by default. When you first create a gallery, the FooGallery lightbox will be enabled, so you don't have to do anything extra to get it to work with your gallery.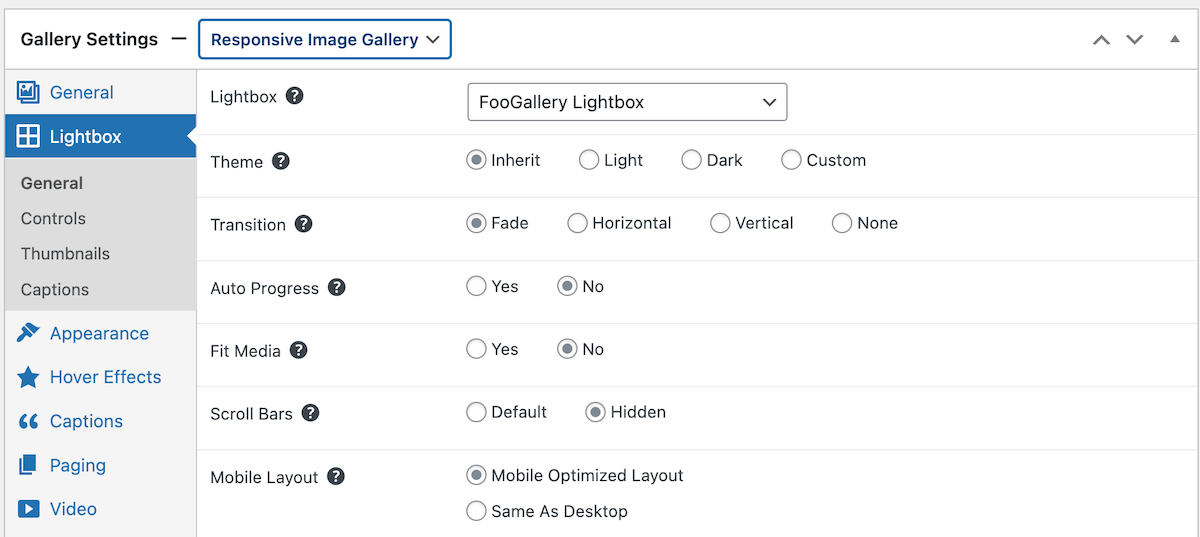 This lightbox has a unique style and is quite different from many other lightboxes, such as FooBox. But it works works beautifully with your galleries, blocking out the background for distraction-free viewing of your full-size images. Here's how it looks: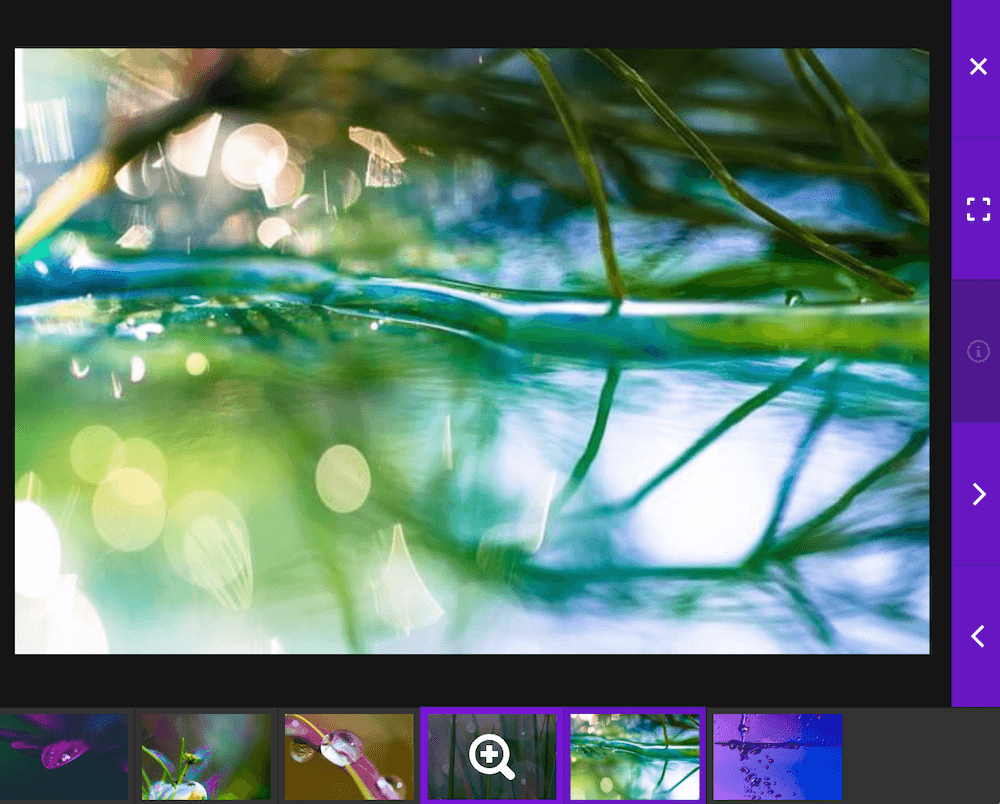 The lightbox can be configured to show image thumbnails on the top, bottom or sides (or not at all). And it comes with navigation arrows, all of which make it easy to scroll through your photo galleries. Other helpful features include hover effects, an info icon (to display or hide captions), and a full screen icon.
In the above screenshot, you can also see that the icons and hover colors are purple. The built-in FooGallery lightbox includes customizable color schemes, allowing you to style your gallery to suit your website, webpage or overall brand. Of course, you can also keep it simple and set the lightbox to inherit the theme used for your gallery (light or dark).

The big advantage of having a built-in lightbox, though, is that you won't need to install a separate plugin to function as your lightbox. You'll now have everything you need packed into one awesome gallery plugin – FooGallery.
FooGallery PRO
While we think FooGallery Free is the best free gallery plugin out there (especially with a lightbox thrown in), you may find that you need something more. That's where our Pro plans come in. We've structured our paid-for plans to give you added functionality and features, to take your galleries to the next level and beyond.
So what do you get with our premium plugin plans? FooGallery PRO Starter essentially supercharges what you get in FooGallery Free. There's more advanced customizations, predesigned hover effects and thumbnail filters, all to help make your gallery stand out.
FooGallery PRO Expert gives you all of this and more. Apart from the advanced customizations, you now also get additional features for a more professional gallery. This includes dynamic galleries from sources like Adobe Lightroom, media tags, or server folders; video imports; EXIF Data display; multi-level filtering; and advanced pagination.
The final tier, FooGallery PRO Commerce, gives you everything you need to turn your gallery into a profit-making tool. With WooCommerce integration, master products, file downloads, sale ribbons and buttons, you can generate WooCommerce product galleries and sell items directly from them. Because the focus here is on business, this plan also includes watermarking, right-click image protection and white-labelling.
There are plenty of other features as well, so when you're ready to take your galleries to the next level, you can find the plan that works for you.
FAQ
Will FooGallery still work with other lightbox plugins?
Yes! Just because we've included a lightbox in the gallery doesn't mean you can't still use a different lightbox with your galleries. We can't promise that FooGallery will be compatible with every other lightbox plugin out there, but it does work with many popular lightbox plugins – FooBox included.
If you are using a different lightbox, you can enable it in your gallery, in the general lightbox settings. Here you'll see a lightbox dropdown which should give you the option to select from the FooGallery lightbox, or any others installed.
What if I already have FooBox – do I still need it?
As we've just mentioned, FooGallery will still work with FooBox. And FooBox PRO still has a number of features that FooGallery doesn't include, such as social sharing and analytics. What's more, FooBox works as a standalone lightbox, with which you can open media, and with the PRO Version, html, videos, forms and more.
So if you do have FooBox PRO, it is still worth your while to use the features available with it.