Effective October 31st: Business licenses will allow for validation on 25 domains. Unlimited domain validations will no longer be offered. For those customers who need more than the 25 domain limit, you may purchase additional licenses.
Why We're Making This Change
FooPlugins has been in business for just over three years. We've experienced the highs and lows that come with product creation, marketing, support and other tasks that come with running a business. We're always learning and trying to improve ourselves for the benefit of our customers and for the longevity of our company.
The WordPress premium plugin landscape has also changed quite a bit since we started. We've seen premium plugin providers come and go and we've also seen several companies that have flourished. Because of this, we started to more closely monitor our business practices and those of our colleagues in order to learn how to sustain our business in a way that was acceptable to our customers and also our philosophy of providing standards compliant, bug free, and updated Open Source software products.
Simply put, offering unlimited licenses isn't a sustainable business model. In fact, during our research we learned that the premium WordPress plugin business is one of the few software communities to still offer unlimited licensing.
We realize that at first glance some might see this as a negative but consider this…if we aren't able to scale our business, we aren't able to dedicate the time and effort required to build and support our products (both free and premium) and that would ultimately be a disservice to you.
We're committed to our customers and the future of our business (and theirs) so if you don't currently own a Business license, read below to see how to upgrade now and get unlimited licensing before it ends.
Purchase or Upgrade to Business Now and Take Advantage of the Unlimited Business License
If you're a new customer or a current Personal or Multi license level holder, you can still purchase or upgrade to the Business license and get unlimited domain validations. You must purchase or upgrade before 12:00 midnight EST.
Existing Customers: How to Upgrade Your Current License
Log into your current account and go to the My Licenses page. From there, you will see your current Personal or Multi license along with a link to "Upgrade to Business". The cost for upgrading your Personal or Multi license to a Business license is simply the difference in cost between license levels.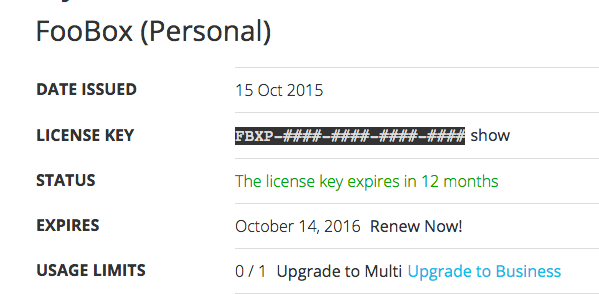 As an example, if you're upgrading your FooBox license from Personal to Business, the cost is $70. That's the difference between Personal – $29 and Business – $99. Upgrading from Multi to Business would be $30.
New Customers: How to Purchase the Business License
This is straighforward. Simply choose the Business license when adding any of our plugins to your cart. Make sure to do this before midnight on October 31st to take advantage of Unlimited domain validations.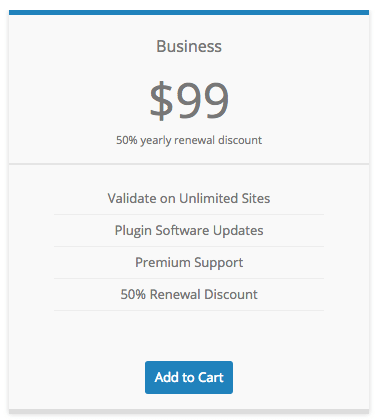 Please note that this change does not affect our current annual licensing terms for access to support and plugin updates.