We've just pushed an update to FooBox that brings it to v2.3.1.1. It's now available as an automatic update for current license holders. This update includes some pretty cool new features.
You can read the entire Changelog at the end of this post, but we'll list some of the most interesting additions first.
Opening and Closing Lightbox Animations
Under the Look & Feel tab, you'll see a new section named Opening/Closing Animations with these fancy new options.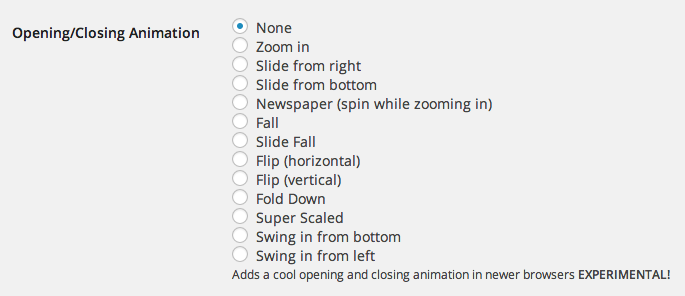 Here's a quick GIF image to give you an idea of how the animations look.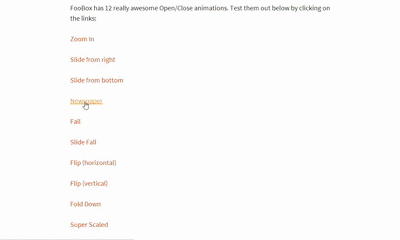 Bottomless Design Theme Partner
We've again partnered with a premier theme developer, Adam Mills of Bottomless Design.
Adam's themes are tested and proven to be 100% compatible with FooBox and not just that, but they are really clean and beautiful!
Have a look at the Bottomless Design themes right here, or you can always find them listed in the FooBot Says… tab in your FooBox Settings.
Envira Gallery Lite Integration
Along with the existing WordPress Galleries, Jetpack Tiled Gallery, Justified Image Grid, and NextGEN Gallery integrations, we've also just added support for the Envira Gallery Lite plugin.
And lots of tweaks and squashed bugs…
FooBox V2 Changelog
Last updated 28 May 2014
2014.05.28 – version 2.3.1.1
Added better REL attribute support
Pull effect from container data-affect attribute
Fix social icon blinking
2014.05.27 – version 2.3.1.0
Fix fullscreen positioning issues
Keyboard addon updates and key event propogation fix
2014.05.27 – version 2.3.0.5.3
Fixed count message settings bug
2014.05.23 – version 2.3.0.5.2
Improved Tumblr image sharing
2014.05.21 – version 2.3.0.5.1
Fix for social multiple binding on mobile
2014.05.21 – version 2.3.0.5
Fix for iFrame auto size fix
Added integration with Envira Gallery Lite
Added setting to choose opening/closing animation
Moved caption settings into their own tab
2014.05.13 – version 2.3.0.4.5
FooBox DOM only created when needed
WP gallery captions bug fix
2014.05.09 – version 2.3.0.4.3
Fix for keyboard event bubbling in some cases
2014.05.08 – version 2.3.0.4.2