Photo Sales with WordPress
We're happy to announce the release of the Fotomoto FooBox extension plugin for WordPress. This is an addon plugin for our popular FooBox media lightbox plugin allows you to insert your Fotomoto photo sales links directly into the FooBox lightbox modal window.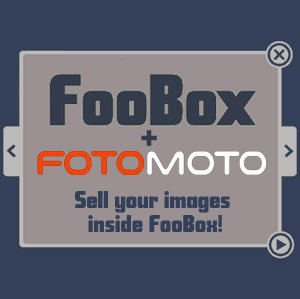 eCommerce for FooBox
This plugin came directly from user requests. We're thankful to have such passionate and committed users of our plugins, especially FooBox.
A large number of our FooBox customers are photographers and many of them full time professionals.
We received a number of requests to build eCommerce functionality directly into FooBox, but as you can imagine, building that from scratch would have been a large task, not to mention a whole other business model we didn't want to pursue directly.
So we started looking at existing photo sales services to see what options were available to us (as developers).
Why we choose Fotomoto integration?
Fotomoto has been around a long time and a happy FooBox owner asked how to integrate the two on one of the Fotomoto company support threads. Once we were made aware of that thread, the wheels were set in motion.
More extensions for FooBox?
Our FooBox extensions list is growing with several available now, but the Fotomoto extension is the first one that integrates with a service that can help one's revenue grow directly. We like the idea of continuing to integrate with these types of services.
We already consider this extension a success after just a couple days on the market and we're already strongly considering integration with other services that photographers and artists are using.
What image, photo, or other services would you like to see integrated with FooBox?
Let us know in the comments…