Christmas is here, and this year we wanted to say thank you to all of you. FooPlugins wouldn't be what it is without your loyalty and support. You're the reason we can improve on our product offering.
Every day, we get suggestions on how to improve or ideas on what we can fix and make better. Without that, we wouldn't be able to grow and improve on what we deliver to you. So we have you to thank for making FooGallery and FooBox what it is today!
2018 in a Nutshell
This year, we have worked hard to give you what you've asked for. Most significantly, we have added video to FooGallery PRO. This change meant that our PRO customers only needed one plugin instead of two.
We've added more features and templates. We've made sure our plugins are Gutenberg-ready. And we've worked hard on improving the support we offer.
Why? Because you matter to us. We've tried to deliver a superior product, with good support, wherever possible. We'll continue to strive to meet your needs and new challenges in the coming year (and beyond).
A Time for Giving
At this time of year, we all take stock of how far we have come, what we have accomplished, and how far we still need to go. We realise that without you guys, our customers, we wouldn't be able to accomplish nearly as much as we would like.
So from us to you, a very big THANK YOU!
And to show you how much we appreciate you, we're offering you a Christmas special. In fact, we've teamed up with a few other special people to make your WordPress Christmas even better.
7 Days of Christmas
From 17 to 23 December, we're offering you special deals on select WordPress products. We've got deals on themes, plugins and more. Each day, we'll be running a new special. Simply check back here, or follow us on Facebook or Twitter to see the daily special.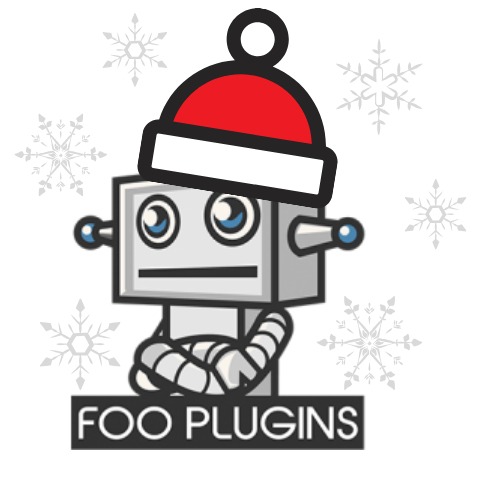 So Happy Holidays. All of us at FooPlugins wish you and your families a safe and relaxing holiday season. We can't wait to see you back in 2019!