How can I sell images or artwork on my WordPress site? This is a commonly asked question by quite a number of amateur and professional photographers and artists who want to sell their images on their WordPress sites. Fortunately, WordPress makes it easy to sell literally anything online!
In this article, I will be taking you through the process of how to sell images in WordPress using FooGallery PRO and WordPress' WooCommerce plugin.
I will be using my personal collection of unique Justice League artwork to demonstrate this process for you. But the same process can be applied to any digital artwork for sale such as photos, paintings, drawings and so on.
We will break down the process into the following three simple steps:
Step 1: Install and activate WooCommerce then create the digital products.
Step 2: Install and activate FooGallery PRO Commerce and create a product gallery.
Step 3: Add the gallery to your site's page and start to sell images or any digital products.
Now let's jump right into the first step!
Step 1: Install WooCommerce and Create Digital Products
The first thing that you'll need is install and activate WooCommerce. The WooCommerce plugin is an amazing tool that helps you to easily build an eCommerce store using WordPress. It takes the basic WordPress operating system and transforms it into a fully functioning eCommerce store.
Once the plugin is installed and activated, you'll simply create a new product for each image or digital product that you wish to sell. (If you're selling photos, take a look at how to create a Master Product with FooGallery PRO Commerce – it'll save you loads of time!)
It's important to note that when creating the new product in WooCommerce for your image, you should click the "Downloadable" box on the General tab. Alternatively, if the product will not be shipped, you can click on the "Virtual" box as demonstrated below:

Setting the product as "Downloadable" will enable customers to simply download the image or artwork from their customer accounts. Setting the product as "Virtual" will eliminate the need for shipping and the customers will instead be able to simply download the digital product from their customer account. Here's a guide on how to enable and set up customer accounts.
Lastly, don't forget to create product categories for the digital products and add each item to the various categories. You'll see why this is important for the next step.
Once you are done with creating a product page for your images and other digital products, you'll then move to the second step, installing and activating FooGallery PRO Commerce and creating your product gallery.
Step 2: Install FooGallery PRO Commerce and Create a Product Gallery
Once you are done with creating a product page for your images and other digital products, go ahead and install and activate FooGallery PRO Commerce on your WordPress site. Note that you will need to subscribe to the FooGallery PRO Commerce plan and have a PRO Commerce license key to implement this.
Our FooGallery PRO Commerce plan was developed for photographers and artists like you, to enable them to have a simple and effective way to sell images (or any products) online. We integrated the plugin with WooCommerce to bring you innovative tools to help you sell more with hardly any effort. The best WordPress gallery just got a whole lot better!
Once you have FooGallery installed and the PRO Commerce Plan activated, while still on the WordPress admin dashboard, navigate to FooGallery -> Add Gallery as shown below to create the new gallery that you'll use to display your products.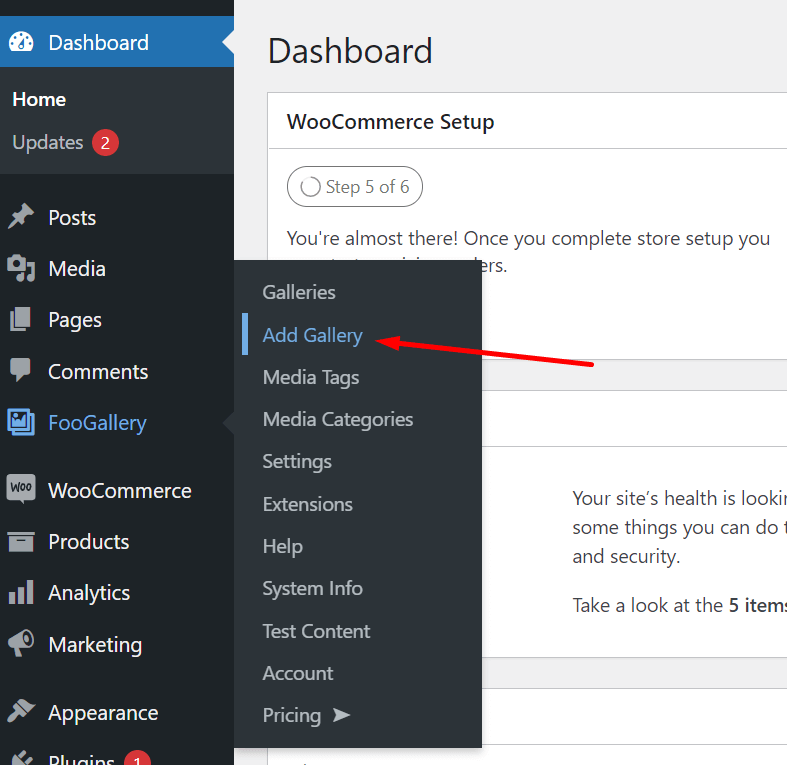 You'll then give your gallery a gallery name and click on the "Add From Another Source" option shown in the image below to be able to add your digital products to this gallery.
Once that's clicked, a menu will pop up. If you have a look at the left of the panel, a number of image sources will be displayed. Select the last option: "WooCommerce Products".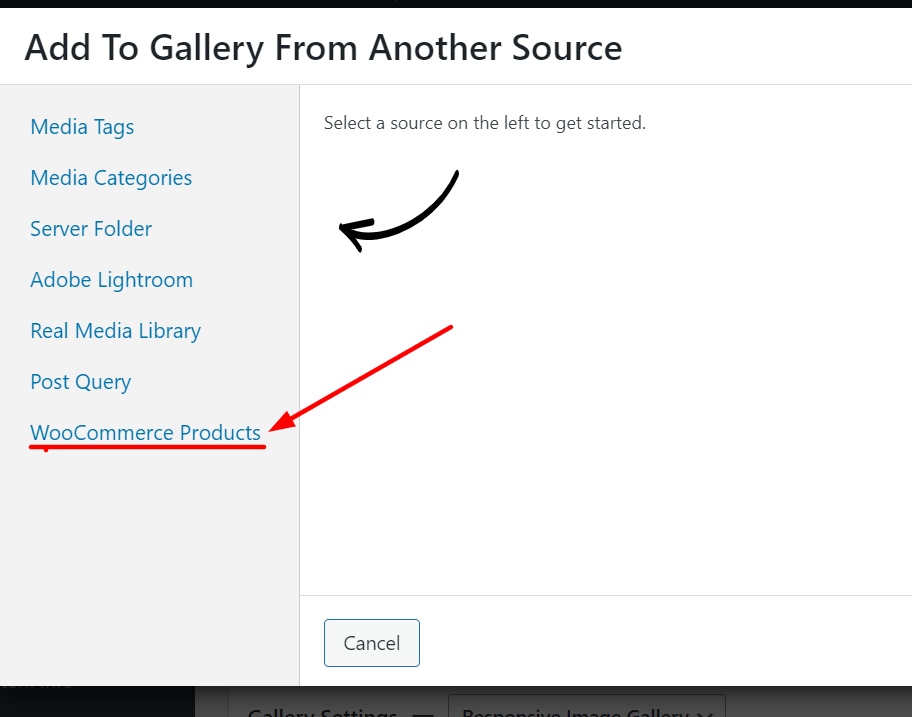 You'll now see a section where you'll be able to select the Product Categories (which you set up in the previous step when creating your digital products). Here you can select one or multiple Product Categories and all the digital products in these categories will be displayed in your product gallery.


On top of that, there are a few other configuration settings. Here's a quick breakdown of the options available to you:
Sort By – Enables you to decide how the digital products will be sorted.
Stock Status – Determines which stock status the digital products must currently fall under for them to be displayed in the gallery.
Number of Products – Number of products you want to include in the gallery.
Exclude – A comma separated list of product IDs that you want to exclude from the gallery.
Caption Title Source – The source of the caption title that will be displayed in the gallery.
Caption Description Source – The source of the caption description that will be displayed in the gallery.
Lastly, when creating the product gallery, FooGallery PRO Commerce does have a dedicated gallery layout that has been specifically created and configured for the product gallery, the Product Gallery template. You can select this option from the Gallery Settings section as shown in the image below: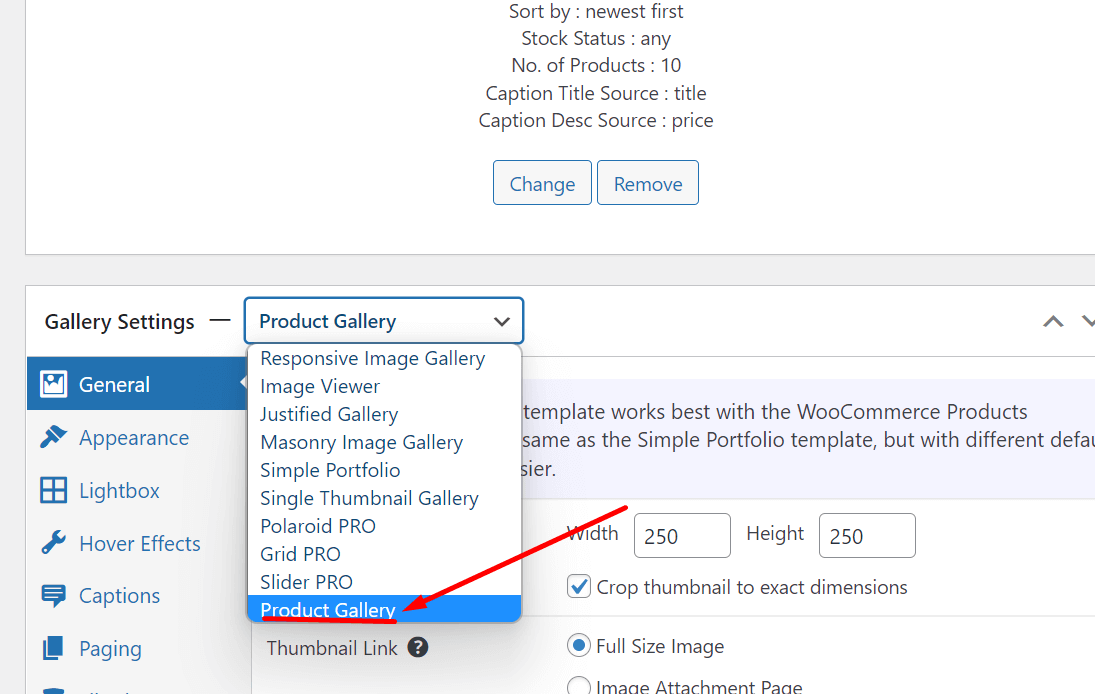 The Product Gallery layout is already set up with a few handy features, including Add to Cart buttons, frontend filtering and more. Of course, you can adjust any of these settings, but this layout makes it quick and easy to set up and sell images or any other digital products.
Here's a short gif recording showing how you can set up your new gallery with your preferred Product Categories:

Now that you have created the product gallery and selected the Product Category(ies) that will be used for that gallery, you can go ahead and publish the gallery. Now you can move on to final step to start selling your products.
Step 3: Add the Gallery to a Page and Start Selling Images or Digital Products
Once you have created and configured your gallery to your preference, and then published it, you can add it to your site's pages.
The easiest way to do this is by using the FooGallery block (in the Gutenberg editor). Once you have set up the page or post where you want to display your gallery, you can select the FooGallery block. You'll then see a selection of all the galleries on your site – simply choose the gallery you want to display (in this case, your product gallery) and you will see a preview of the gallery in the page editor.
The second way this can be done is by using the gallery's generated shortcode. When you publish a FooGallery gallery, a shortcode unique to that particular gallery is generated. The shortcode can be found just under the "Publish" section of that particular gallery as shown in the image below.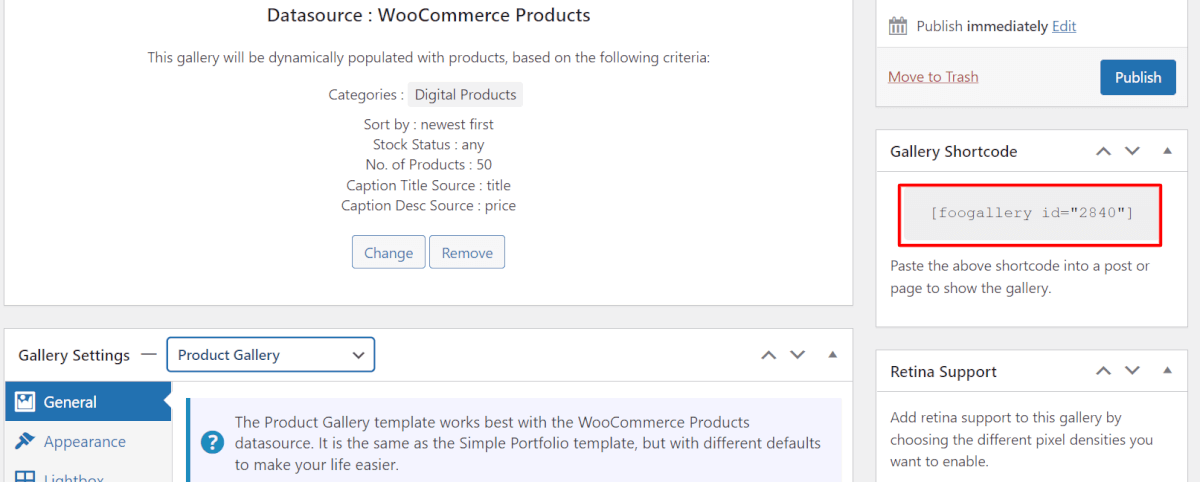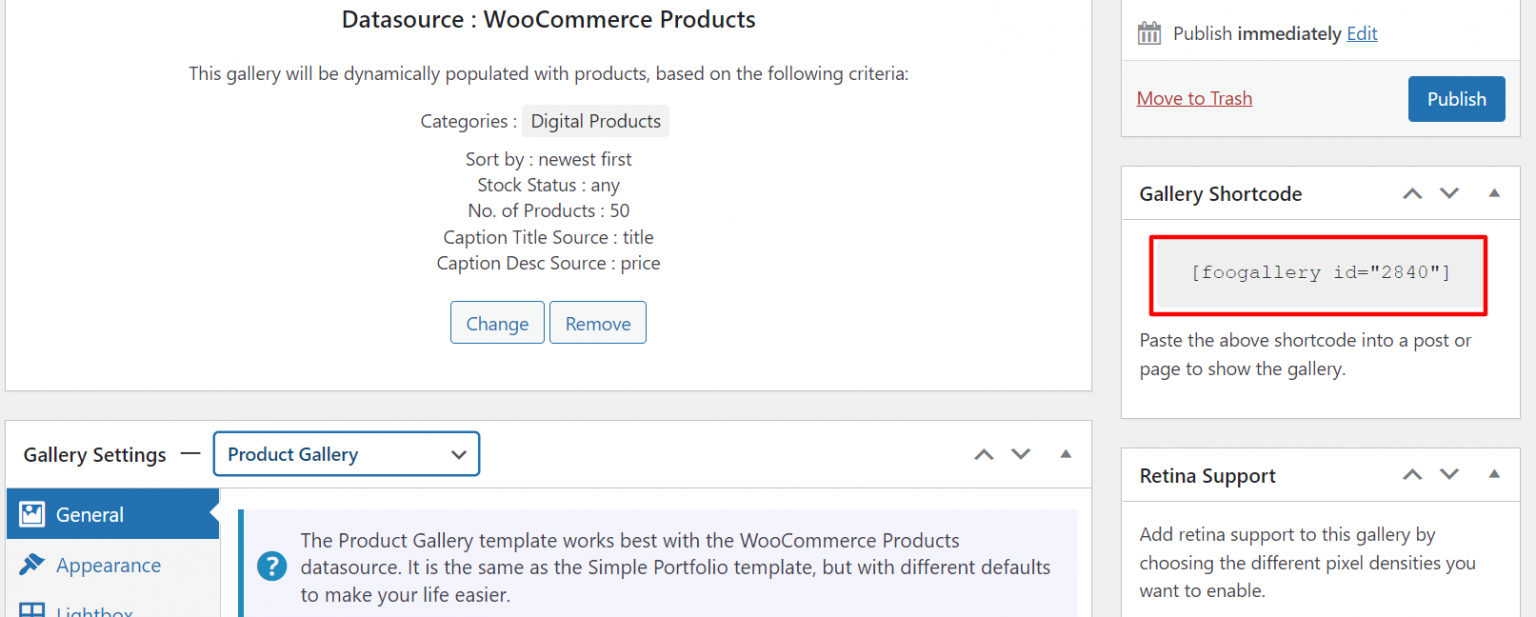 You can add the shortcode to any page or post on your site and that particular gallery will be displayed on that section of the page or post.
Note that, based on the page builder you're using, the method to add shortcodes to a page or post will vary. For example, when using the default Gutenberg Editor, you'll need to add a new Shortcode block first as shown below and then add the shortcode into the block.


The gallery will be displayed once the page is published as you can see from the recording gif of my final Justice League NFT collection gallery page:

Alternatively, this can also be done by simply creating a page for the gallery using FooGallery. FooGallery gives you an option to quickly create a new page for your gallery after the gallery has been published.
All you'll need to do once you've published the gallery is to go to the top right and click on the blue "Create Gallery Page" button similar to the one shown in the image below: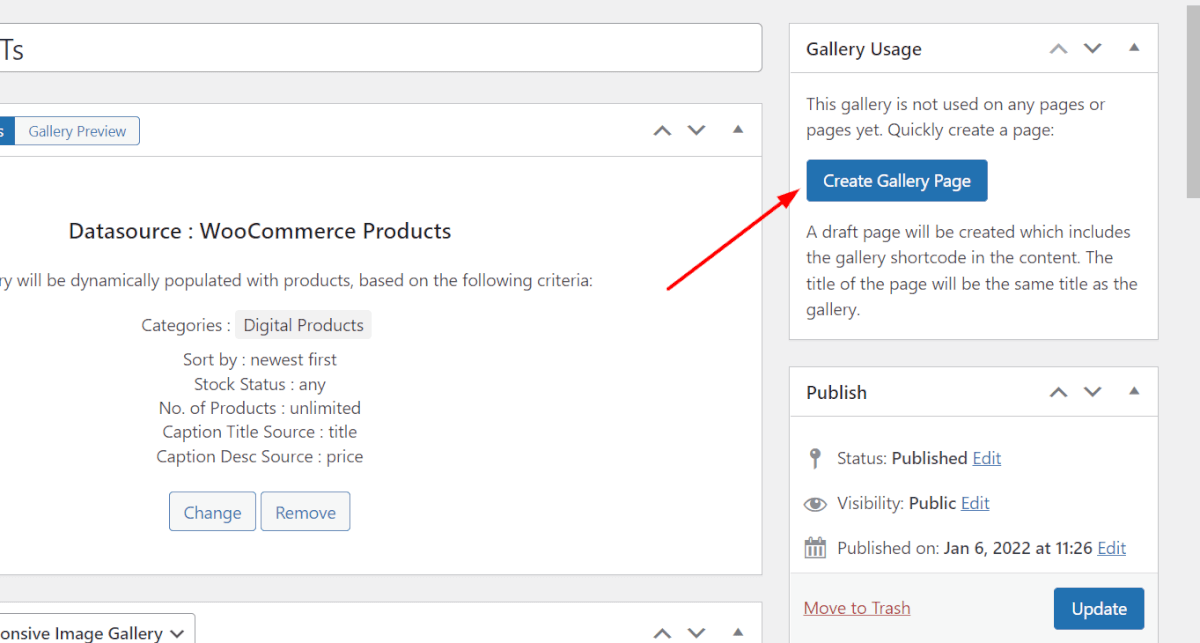 A new page will be created and you can navigate to that page and view that particular gallery's shortcode added to that page automatically. You can then edit that page further if needed and add more content to it.
Once all of this has been done, visitors will be able to view your images or any digital products in the gallery. More importantly, they can then add the image or product to the cart using the Add to Cart buttons. And they can then easily checkout if they are interested in buying the images or digital product.
Final Thoughts
In this article, we looked at how to sell images or other forms of digital art online using FooGallery PRO Commerce and WooCommerce. As you can see, the entire process is really simple.
Having an online WordPress photography store can be a rewarding experience for beginner and professional photo and digital product sellers, especially once it becomes a profitable venture. FooGallery PRO Commerce was developed to further simplify the process of selling your digital products and we do hope that this guide will help you get started.