When we started our business years ago, we decided to use Easy Digital Downloads as the backend that powered our product sales and management and we still utilize EDD to this day. It's an incredibly powerful plugin with hundreds of extensions to handle whatever eCommerce feature a user may need.
EDD offers a license creation and management extension that is solid and robust but at the time we started FooPlugins we needed a few more features than the EDD License extension provided.
We decided to build our own digital license key management tool named FooLicensing along with an EDD Connector plugin.
Both of these plugins are now open source and available for developers to utilize for their own sites and contributions to the core plugin and EDD extension are welcome and encouraged.
And here's the best part…it was built to be extensible and isn't just for Easy Digital Downloads.
Our goal for FooLicensing was to build additional integrations for other eCommerce plugins and digital sales platforms but it quickly took a back seat as our FooBox and other plugins like FooGallery gained popularity.
There's only so much time in a day.
If you want to have a look at the code and (hopefully) get involved in its further development, both can be found on BitBucket.
FooLicensing – https://bitbucket.org/fooplugins/foolicensing
EDD Connector for FooLicensing – https://bitbucket.org/fooplugins/edd-foolicensing
Please note that documentation does not yet exist, but will be coming. Again, so much time in a day.
What It Looks Like for Users
If you're a FooPlugins customer you've seen the result of this tool in within your user account. When combined, these two plugins allow users to manage their licenses themselves and takes the pressure (and time spent) off of site administrators and support personnel.
The main features for users are:
View and manage the validated domains for your EDD license level
One click EDD license upgrade/add to cart
One click EDD license renewal (with associated discount) /add to cart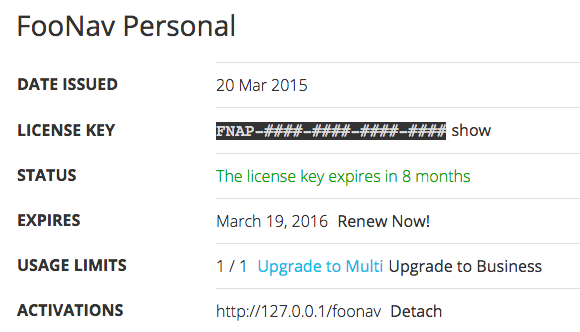 What It Looks Like for Admins
If you're an Admin utilizing FooLicensing (and specifically the FooLicensing EDD Connector plugin) you'll have several license creation and management tools available to you.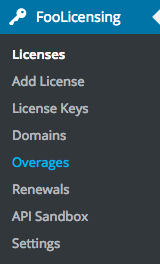 Here's a brief breakdown of the menu above:
Licenses

A list of all the licenses you've created.

Add License

Add new licenses to attach to an EDD product. In our case, Personal, Multi, and Business.

License Keys

A searchable list of all license keys that have been created and assigned, complete with attached domains.

Domains

A list of all domains with attached licenses.

Overages

A list of all license keys with overages. Used to display "Your license has exceeded the allowed number of domains." message to users and prompting them to either detach some domains or upgrade to a higher license level.

Renewals

A list of licenses that have been renewed.

API Sandbox

Testing license validation and update checks.

Settings

Management area for various messages (domain attach, detach) and for license renewal discount amount and emails.
The Future of FooLicensing and Additional eCommerce Extensions
As of today we don't have plans to create additional extensions for FooLicensing ourselves. This may change in the future but for now we're focusing our attention on FooBox, FooGallery and the upcoming FooTable v3.
However, we do fully encourage and support those who choose to utilize FooLicensing, decide to contribute to its continued enhancement and development, and those who create additional FooLicensing extensions for other eCommerce platforms.
Will FooLicensing gain widespread usage? We hope so, but that depends on you.