FooGallery PRO Commerce deeply integrates with WooCommerce to give you the best possible platform for your online store. Whether you're selling images, downloads, clothes, home decor, or anything else, PRO Commerce is the ideal solution for showcasing your products. The WooCommerce integration transforms your gallery into a shop, allowing you to generate revenue from your gallery!
Whether you already have products or not, we cater for both scenarios! These are the features you need to know about:
WooCommerce Product Datasource
We've made it as simple as possible to create your product gallery. In fact, if you're using WooCommerce, it could take you just a few minutes to set up your product gallery and start selling! This is because FooGallery PRO Commerce can use your WooCommerce products as a datasource, and automatically generate a gallery from these.
While this makes it super-quick to set up your gallery, it has the added benefit of keeping your gallery updated. Any changes you make in your WooCommerce products will then reflect in your gallery. So you don't need to continually update your gallery – we take care of that for you.
Instead of adding media to your gallery, you simply need to add from another source and then select WooCommerce Products: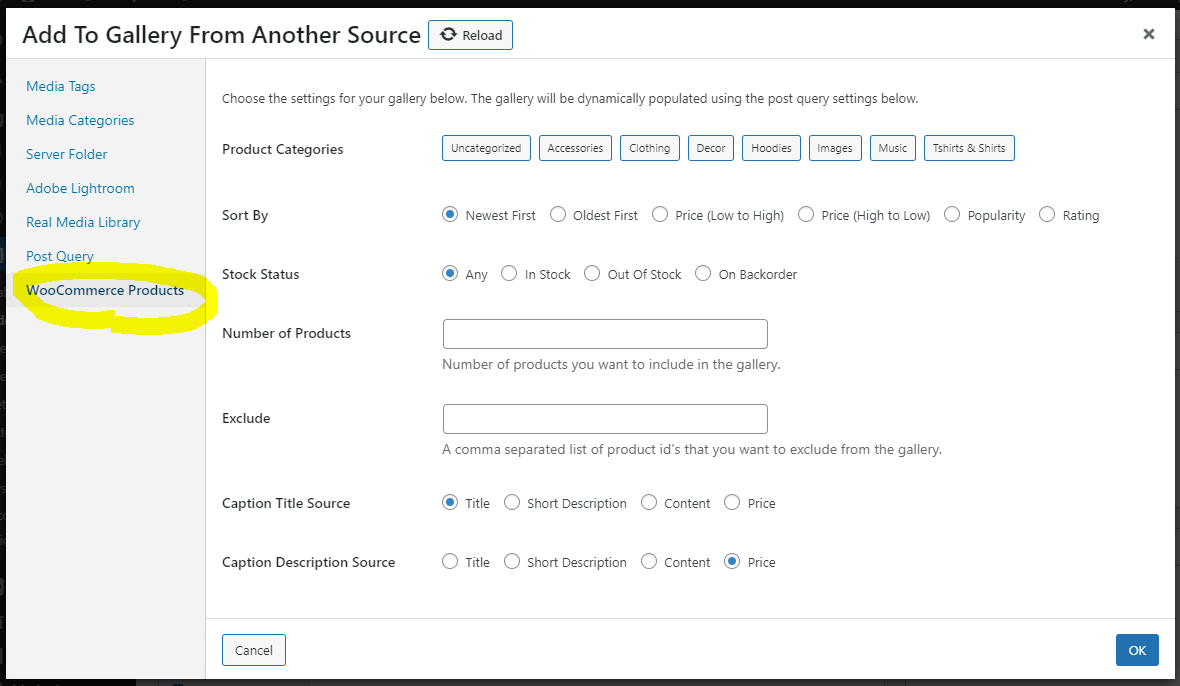 There are many settings available, including the ability to choose which product categories you want to include, choose how they should be sorted, choose stock status, etc. The product datasource works with all gallery templates, but we recommend you use the new Product Gallery, as we have chosen all the best settings for you by default. The result can be seen in the screenshot below: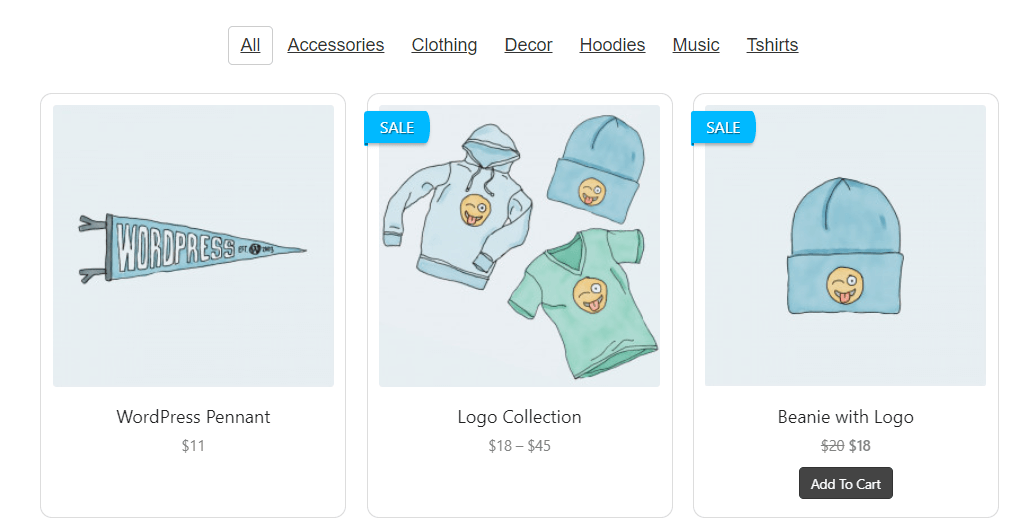 Filtering By Product Categories
Frontend filtering is enabled by default in the product gallery template and uses your product categories from WooCommerce as the filters. This enables customers to search by product, so they only view the items in which they're interested. You can see it in action in the above screenshot, where the Accessories filter has been selected.
You can change the position and appearance of the filters (or disable filtering) by going to the Filtering tab in your gallery settings. Here you can change the theme from light to dark, and you can change the position from top to bottom. For more settings, click on Advanced.
And if you want to see a real demo of this:
Sell Images With A Master Product
If you have no WooCommerce products setup, but want to sell your gallery images, then we can help you make that happen with as little work as possible. All you need to do is set up what we call a "Master Product" which you apply to all your images in the gallery. This then makes all your images purchasable. You can also use variations for your Master Product, which allows you to offer different sizes and licenses at different prices.
Want to build your own Stock Image Website? No problem – that can easily be done using FooGallery PRO Commerce!
Below is a screenshot of what your gallery could look like with a Master Product. All images in the gallery become products that your customers can buy!
The best part is that when your customers place orders, all the relevant info is transferred to your cart, and later to the order. This helps you, as the store owner, to know exactly what variation of the image was purchased. Here is a screenshot of what the cart would look like: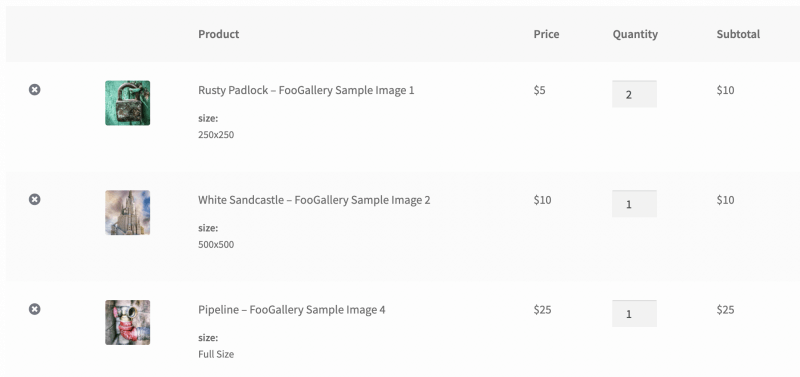 Read our documentation on how to setup a Master Product – it walks you through the process to get started and start selling your images online.
Add Call-To-Action Buttons To Your Galleries
We've made it simple for your customers to add products to their cart with our CTA buttons. You can add buttons on the gallery item thumbnails as well as when images are opened full-size. This allows for multiple opportunities to make a sale.
The button can be an AJAX Add To Cart button, or it can redirect to the product page, or it can add the product to the cart and redirect to cart or checkout. The choice is yours!
As you can see in the below screenshot, you can select the wording you use for the button, allowing you to customize your product gallery. If you're adding items manually to your gallery, you can change the wording for individual items.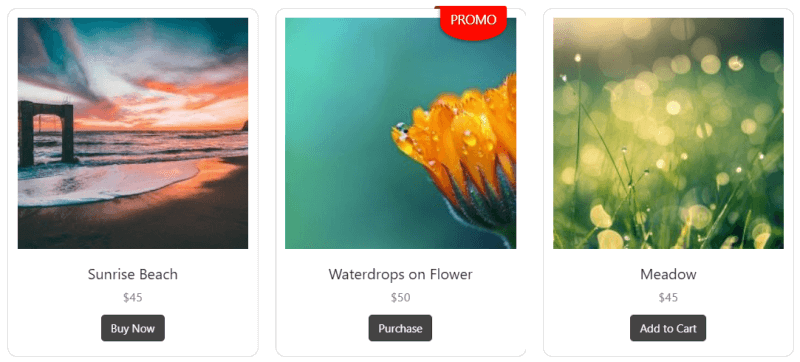 As we've included product variations with our WooCommerce integration (see below), buttons for these items would only show in the lightbox.
Product Variation Support
Having product variations, such as different clothing colors or different image sizes, increases your opportunity to sell. But how do you show this in a gallery? Rather than including each different photo size as a different product, FooGallery PRO Commerce picks up your variations in WooCommerce and displays these in the lightbox.
Customers can then select the variation they want, and add this directly to the cart. This makes it easier and quicker for customers to purchase, which increases your chances of making the sale.
Sales Ribbons
Highlight which of your items are on sale with our selection of sale ribbons, which makes it easy for customers to see sale items. Your gallery will pick up these items automatically from your WooCommerce products, and add in the reduced price and sale ribbon for you.
FooGallery PRO Commerce includes several Sale Ribbons templates for you to choose from. Plus you can change the wording for the ribbons.
Product Gallery Template
FooGallery PRO Commerce includes a gallery layout specifically designed to display your products in the best way possible. The Product Gallery template includes features that every online shop should use.
Creating a WooCommerce Product Gallery is simple. Once you have your products set up, it takes only minutes to generate a product gallery from these, using WooCommerce as your datasource. Plus this gallery layout includes several must-have features for any online store.
To get an idea of how the product gallery looks and works, take a look at our demo commerce site here:
As you can see, the WooCommerce Product Gallery comes with a few essential features baked in! This includes the filters, ribbons, buttons, and product variations. These are already set up for you, but you can adjust the settings for each of these, or customize the appearance of your gallery to suit your online store.
For added peace of mind, we've also included image protection with FooGallery PRO Commerce. Find out more about the right-click image protection and watermarking features.
Want to see more demos? Click here.